OK, this is my first writeup. It seems TW has all kinds of 2nd gen writeup and stickies, but not many for 1st gen, so I figured it was time to be a part of the solution...
When I bought my truck used, it had a cap with a tinted back window, and I quickly found that I couldn't see worth a rat's ass when backing up at night, because I had two tinted windows to look through: the slider in the back of the cab, and the Snug-top door. I couldn't see when backing into my driveway (which is SOP), and was concerned that I was going to back into another car or pole while parallel parking at night.
This is a stock daily driver with a cap, and I wanted something pretty simple and cheap—nothing involving welding, 10 PIAAs, and a second battery and alternator to light up the woods.
I looked at several off-the-shelf kits from Hella and KC that were each more than $80, and then I found this nice little hitch-mounted kit from Pilot. Although I don't have a hitch, I will likely get one eventually, and the kit looked pretty well made, wiring harness and all. The mounting brackets are specifically for a hitch mount, so I knew I'd have to come up with a mounting alternative, but I didn't want to drill into anything, and there wasn't going to be any welding. Like many of us, I ain't got no fab shop in my garage, just a good basic set of tools. I also wanted to put some protections around the lights and wiring to protect then from debris and water; they will live right behind the back wheels. So here's what I did.
Here is what you get in the Pilot Navigator NV-803 kit. Notice the special brackets for mounting to a square tube hitch. It comes with two 55w lights. Stainless fasteners, and the lights are adjustable in three axes. Cost me $35 bucks at a local store. You can get them from
JC Whitney
:
http://www.jcwhitney.com/navigator-b...61&zmap=368176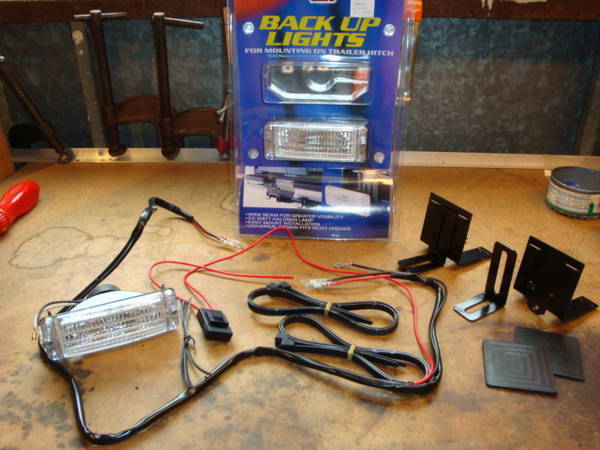 Here is a close-up of the back of one light. It has a good rubber seal for the wiring connection, and the light housing has a drain slit that you can see in this picture (the light is upside down here). But I would improve on the wiring's water protection, which I will show later.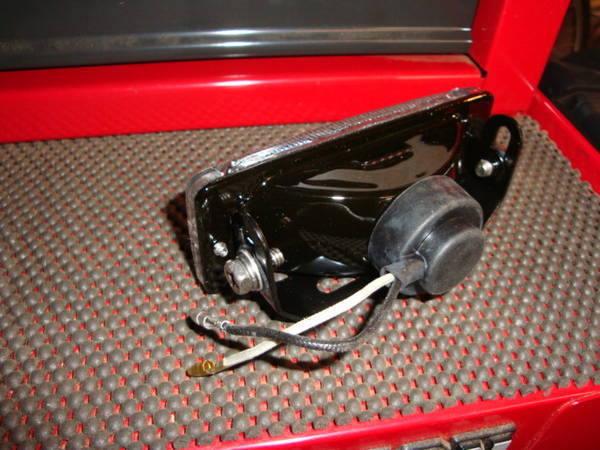 Mocking up the mounting location. I wanted it as high as possible out of the way for good clearance. I was using 1.5 in. aluminum angle I had lying around.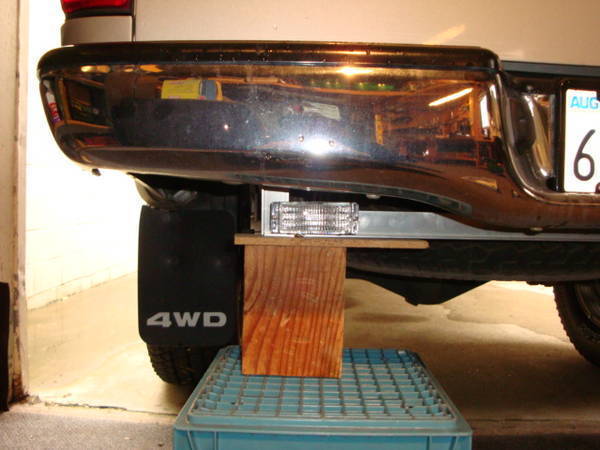 This is where I decided to attach it. For orientation, this is driver side outside of the frame looking inboard. The aluminum is inside the frame. I didn't want to drill, so I was trying to work with existing holes. Although this oblong hole with a high pressed flange may seem like an odd choice, it was in the perfect location, and this is a lightweight application. And I had another idea to keep it snug…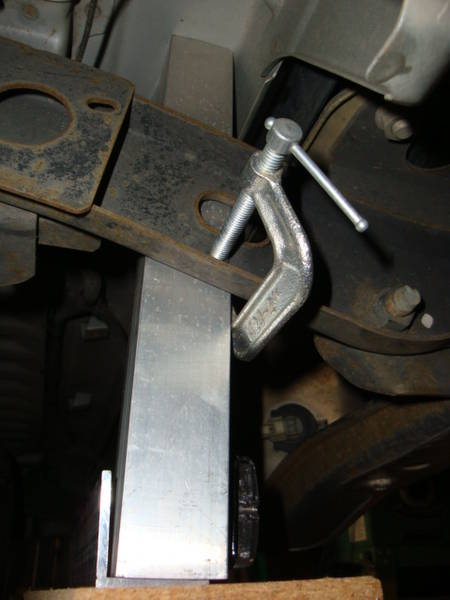 So here is the actual bracket fabrication. Again, 1.5 in. aluminum angle that I had lying around, get it at any hardware store. Hacksaw, files, drill, and countersink bits are all you will need. NOTE: If I did this again, I would recommend 2 in. angle. These were a tight fit with the lights. The uprights were, if I recall correctly, 11 in. long (flush against the bottom of the bed), and the bottom 6 in. wide.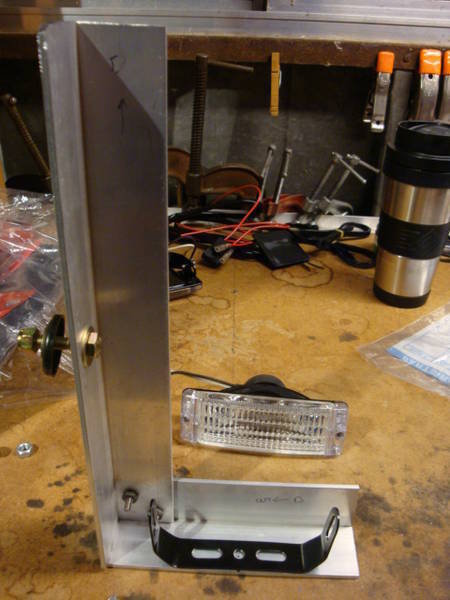 Here's the back side. To join the angles together, I used stainless screws countersunk and stainless nylock nuts. The frame attachment hardware on the upright is just zinc with a nylock nut, too, but note the dark, flanged washer…anybody able to recognize those? Did you say "that's a 22RE valve cover bolt grommet washer"? You were right. Had a few old ones from the deceased '93 pickup in the hardware bins.
Next two pictures are a final mockup to make sure it's the way I want before doing the paint and wiring.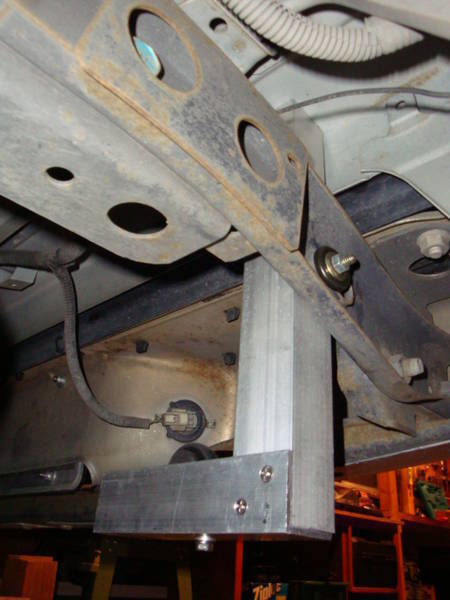 On the pigtails coming out of the lights, I added as much heatshrink as I could to help stop water intrusion. They would also be wrapped in split loom.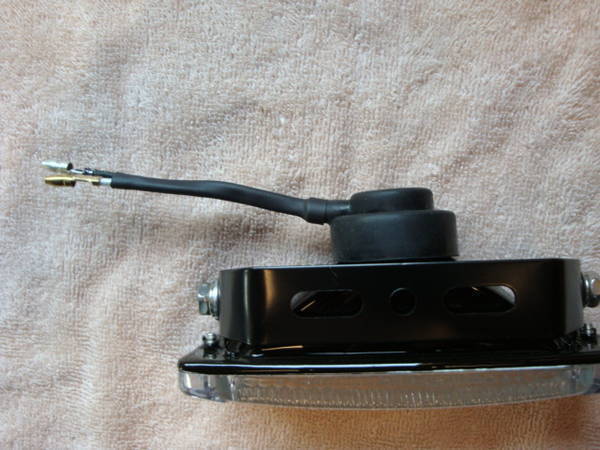 Here are the bracket pieces after dressing the edges and painting. This is probably as close as anyone will ever get to them, but I like stuff to be good. Yeah, I could have left them raw aluminum. Naw.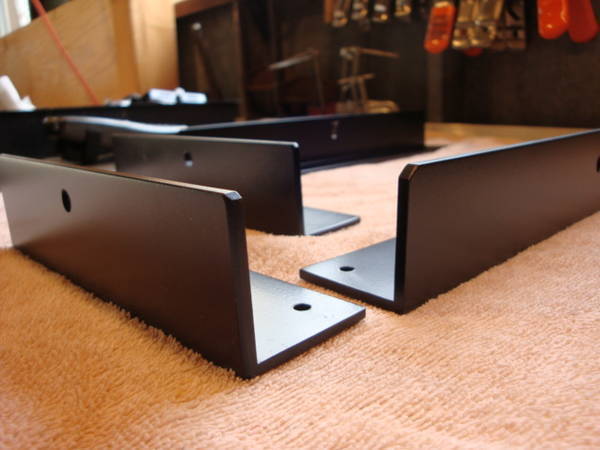 After scuffing the raw aluminum and cleaning with acetone, I used all Duplicolor: etching primer, then satin black all over, then, a week later, I sprayed only the "front" side (the sides facing the tires) and bottom with rubber undercoat to help protect them from becoming a chipped mess. We'll see how long that lasts…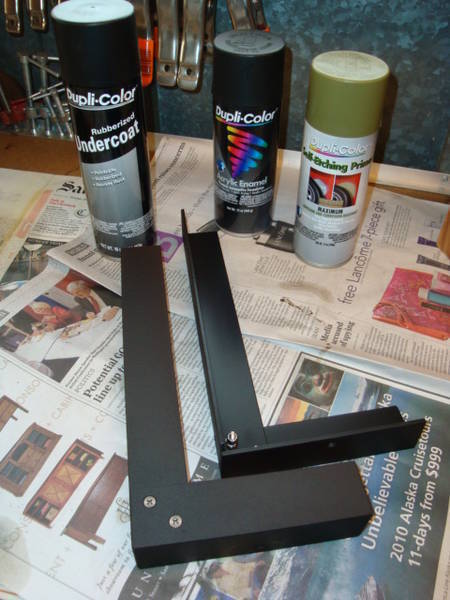 Here they are ready to go on the truck.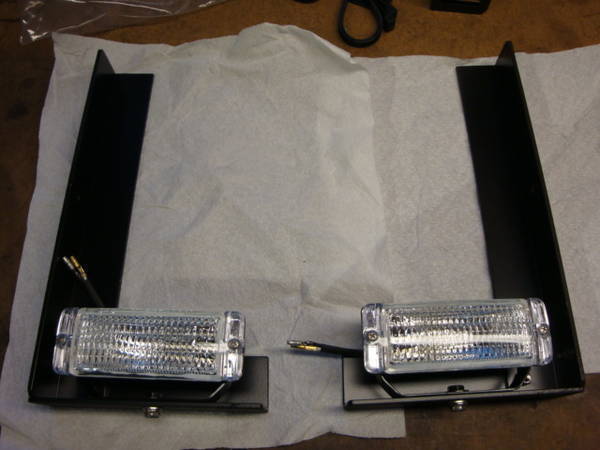 And here's how that crazy 22RE washer works: the washer flange grips around the frame flange, preventing any movement vertically or horizontally. Normally, I would never attach anything to anything else using only one fastener, especially if I wanted it to stay in the same position. But the flat end of the upright is flush against the bottom of the truck bed, preventing the bracket from rotating. I was able to grab the bracket and move the truck without the bracket budging. Also, I realized that if this bracket got whacked, it will likely rotate up and away before it broke, possibly saving all the hardware and light. I can live with that. Yeah, OK, I tend to overthink things.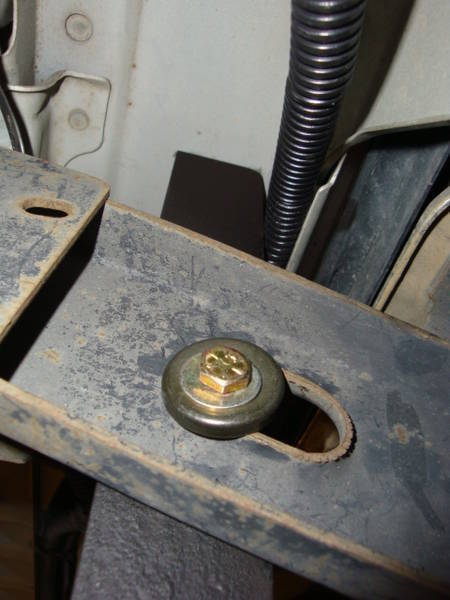 OK, time for the wiring. If you look back at the light kit picture at the beginning of the writeup, you'll see that the harness has tubing (black) on it, but not split-loom, and it didn't go all the way down the wires. Not good enough. I added more shrink wrap (gray) and then covered it all in spilt loom.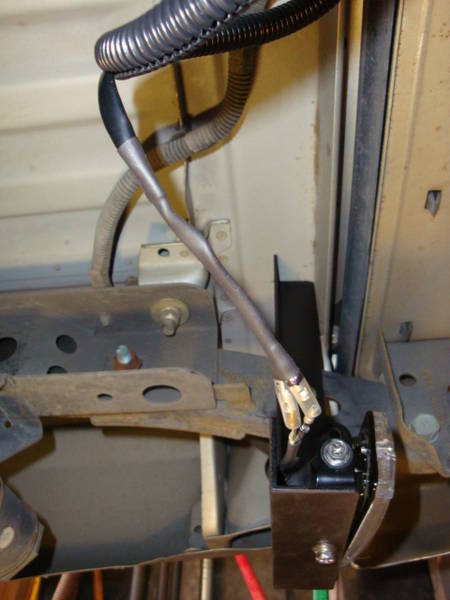 Passenger side looking back. This is how rocks and spray will see the lights and wires. This shows the protection I wanted. You can see the rubber undercoat here, too.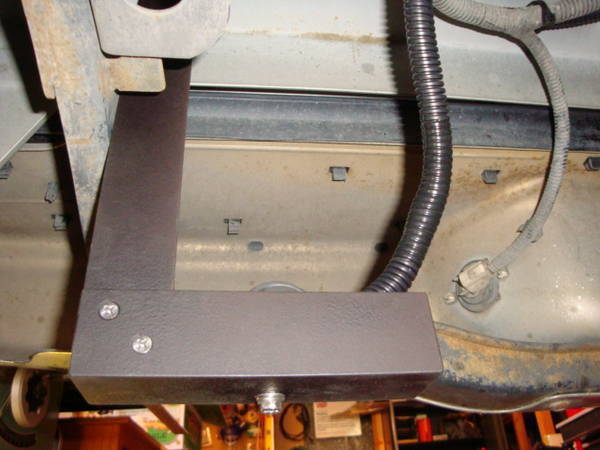 Driver side, as seen from centerline looking outboard. Notice how the rubber cover on the back of the lights is a bit mashed against the bracket? This is why I think 2-in angle would be better, but I didn't have that lying around. Note also how the wire loom fit nicely right out of the box; the wires were just the right length for this setup. Some gentle curves, not much to spare.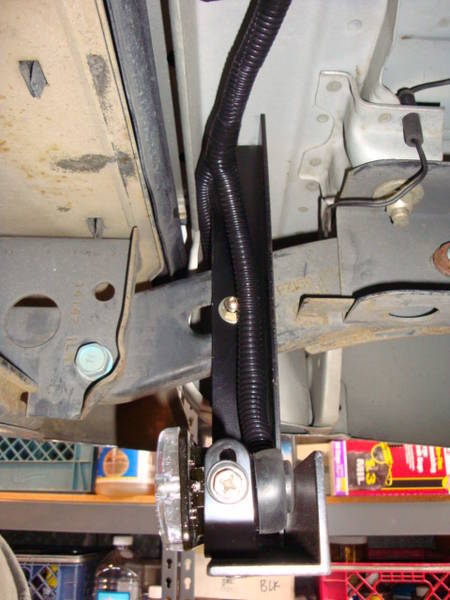 This shot is across the back from the drivers side, and shows both brackets and almost the entire loom. I zip-tied the loom to the existing loom for the tail lights and license plate lights.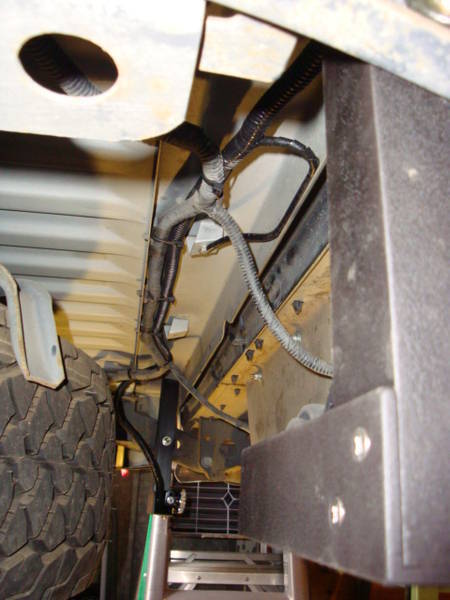 I was also able to attach the light kit's prewired ground wire to a convenient tapped bracket. I happened to have a perfect fine-pitch bolt that fit. Bonus. That never happens.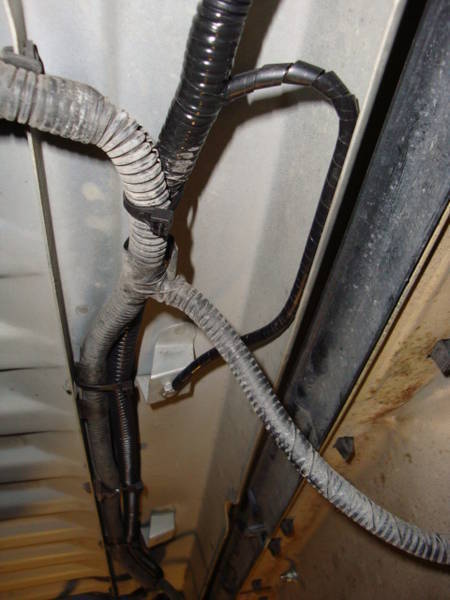 Here we go up the driver-side end of the bed to tap into the taillights. You can just see the red hot lead and inline fuse from the kit up there in the dark.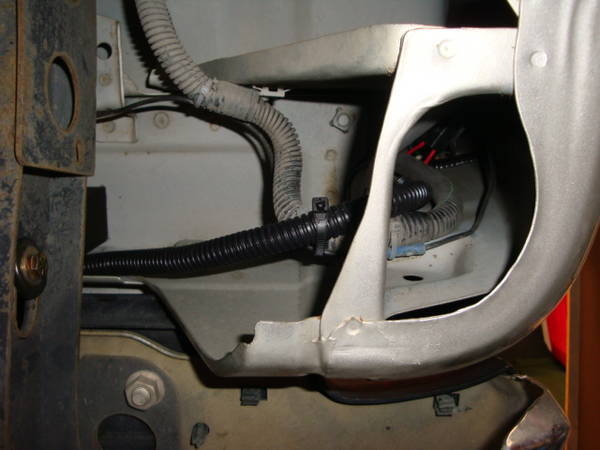 Looking down into the taillight housing. I put some split loom across the sharp edge of sheet metal to stop abrasion and shorting of the growing mass of wires behind the taillights…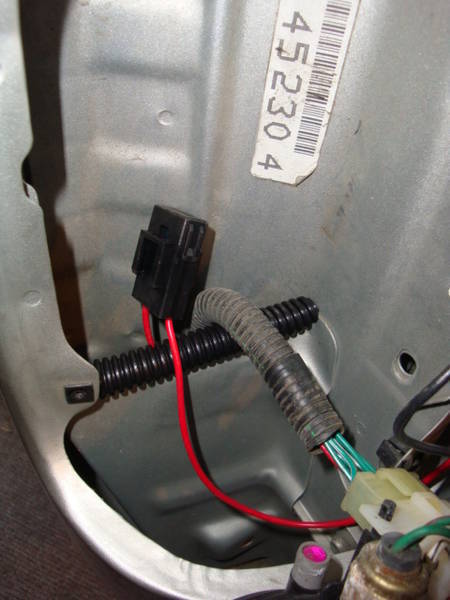 …because there were already two taps for the Snug-top's dome light and 3rd brake light. The red hot lead for the backup lights taps into the reverse light hot lead (green).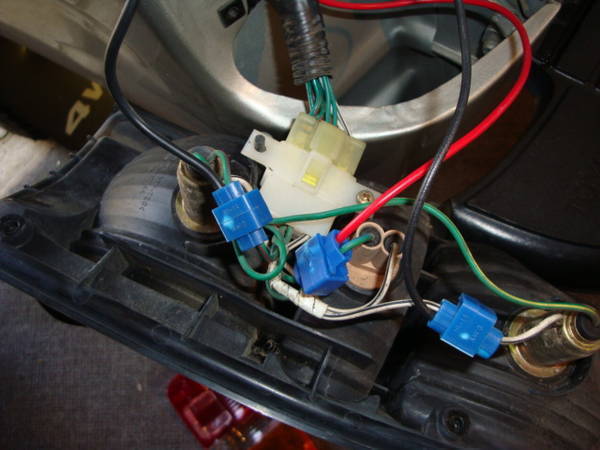 So here it is all buttoned up. Stealth.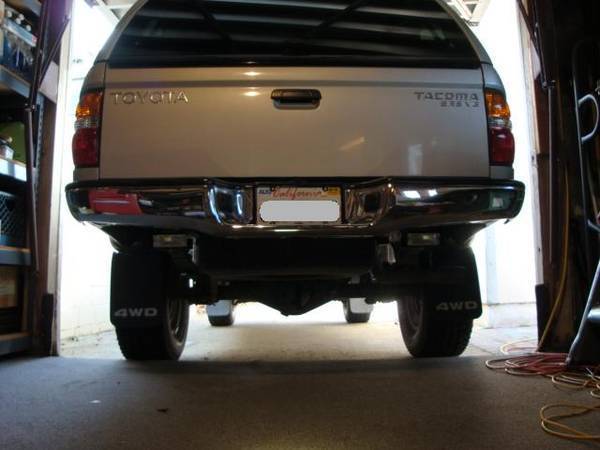 Here it is with flash so you can see them.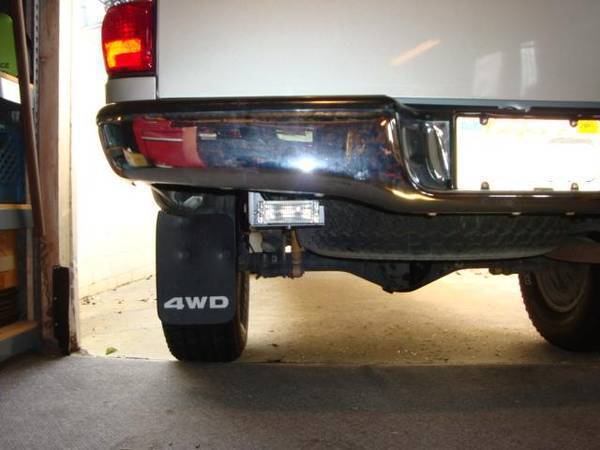 And here they are at night in action. They aren't high-beams, but they definitely improve my visibility at night and in rain. If you really wanted them to be brighter, you could run a hot lead and fuse from the battery and do a relay to the reverse light wire. I think I got that right. I don't know much about electrical mumbo jumbo, so feel free to chime in, electrical whizzes.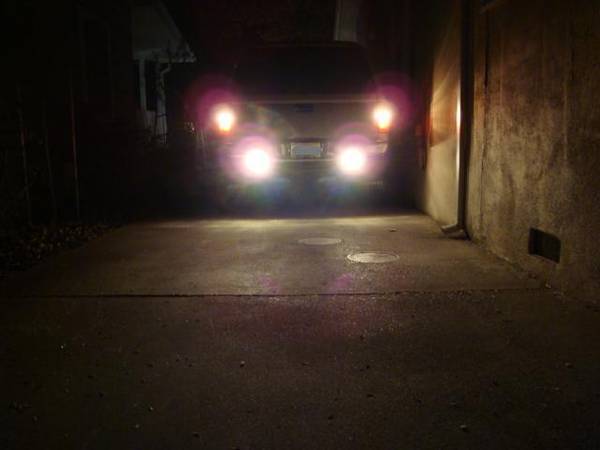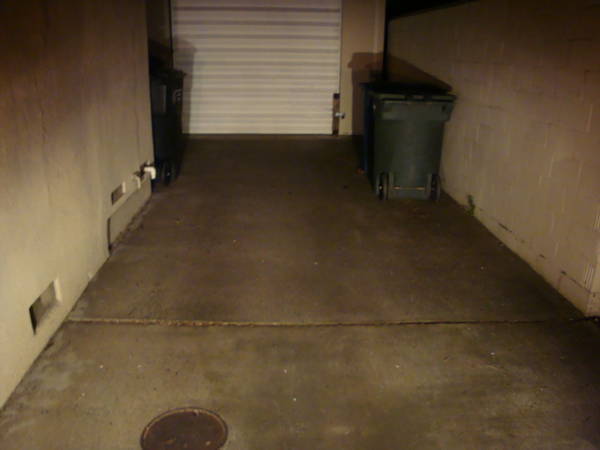 Overall, this ended up being a sweet, cheap, simple solution.