there are 3 Primary beam patters
Driving
- like normal headlights but will be brighter and shine a little bit further
Pencil/spot
- A concentrated beam that will shine very far but not very wide.
Fog
- shines very wide and close, wont normally go farther than your headlights
here are some charts for the different lights and outputs they give
FOG
http://www.rallylights.com/hella/ISOLUX_fog.aspx
Driving and pencil
http://www.rallylights.com/hella/ISOLUX_driving.aspx
Here is a chart I put together to give a gerneral idea on how the beams will look.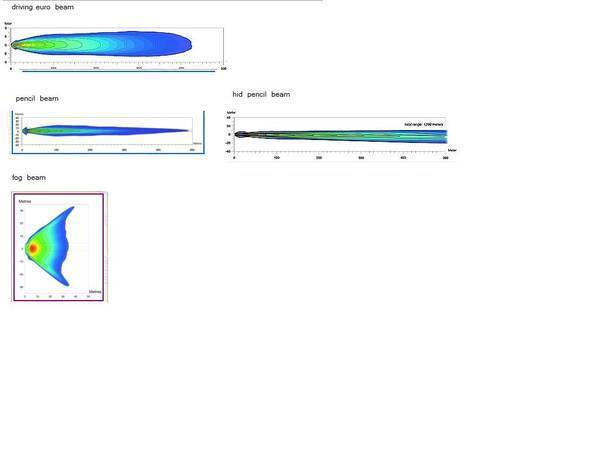 Link to offroad lighting
http://www.autoanything.com/lights/10A50169.aspx
Cheapest Hella 500's Ive found, since a lot of people use these and ask about them.
http://www.summitracing.com/parts/HLA-H13750601
Convert your hella's to HID's
http://www.tacomaworld.com/forum/lig...onversion.html
LightForce lights
are really good lights as well. with these you can simply change the filters that clip on the front of them to change your beam pattern or color
Feel free to add any info you think would be helpfull