Our first test system has gone on without a hitch! We are proud to now offer out 1st Gen high-amperage electrical system upgrade! This upgrade comes in 3 different stages and will allow your Tacoma to be ready for most any stereo and/or winch system that you will put in your Tacoma!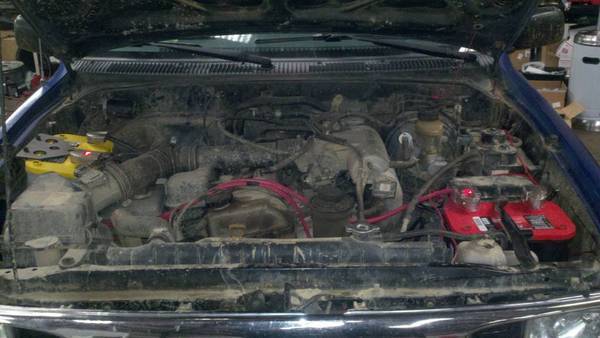 Stage 1 - Power and ground system upgrade
(Base kit price: $110)
Stage 1 consists of new positive and negative battery cables and terminals for an Optima, or heavy duty top-post battery. Stage 1 uses 2-gauge
welding cable
for the power cable to the starter, as well as the ground cable to the engine block. It also uses 4-gauge
welding cable
for the alternator, as well as the cable to the fuse block. All cables have soldered terminal ends, which are better than the factory crimp connections. The only ends that do not have soldered terminals are the ends that go to the heavy-duty battery terminals, which use a brass allen set-screw. These set-screw ends are quite common in the audio industry for battery terminals.
Stage 1 will get your truck set for any heavy loads or future upgrades, and must be done before any other upgrades you add on your own can be effective.
Stage 2 - Charging system upgrade
Stage 2 includes all the parts listed in Stage 1, with the addition of a high-output alternator. This alternator is professionally built, and consists of not only a replacement stator, but a rewound armature as well. Lots of cheap systems only replace the stator. This allows for great output at high RPM, but VERY poor performance at low RPM. These alternators have a much better idle output. The unit tested at our shop was capable of putting out almost 100Amps at idle speed. We have both 4 and 6 cylinder units available. These are DIRECT BOLT ON units. No need for custom brackets or electrical connector modifications. They look identical to, and bolt directly in the place of, your factory alternator. Even better news, there is no core charge! You can keep your old alternator as a backup!
Our current alternator line has 130A, 200A and 250A alternators that are direct fit. They are all factory reworked units, so they bolt right in!
BASE price of the alternators are as follows:
130A - $210
200A - $265
250A - $320
Stage 2 systems will allow you to immediately run your high-demand stereo and/or winch system, without the concern of draining your battery too fast, or dealing with your lights "flickering" with the loads.
Stage 3 - Total primary electrical system upgrade
The Stage 3 Kit has been removed since there was no demand for it. People had their own preferences for batteries.
Stage 4 - Dual battery Kit


The Stage 4 kit is for those who are, or will be running dual batteries. This comes with the complete wiring harness kit designed custom for your vehicle. (Second batteries are located in a variety of different configurations, so each build is on a per-truck basis, and will be priced based on the length of the cables, and which alternator you purchase) This Stage 4 Kit is a self management battery charge and control system. It is designed to isolate the two batteries from each other, yet still allow a single alternator to charge them both. This means that you will have one primary battery for your truck, and then a second battery for your winch, high power stereo, or other aftermarket accessories. (lights, power inverter, etc) Each battery is "isolated" from each other so that if one discharges, the other will not. The sweet spot in this kit is the self-jump system. Left your headlights on and discharged your primary battery? Flip a switch on the dash and start yourself right up! The built in control solenoid will temporarily connect the secondary battery to the primary, allowing you to jump start your own truck without having to even open the hood!
Stage 5 Kit - Expedition Ready!


The Stage 5 kit includes everything you find in the Stage 4 Kit, and adds a self-regulating solar charging system. Two options are available at this time, a 100W and a 200W solar charging system. Please not that these panels are somewhat large, so if you plan to fix-mount them, you will need an appropriate area on the top of your truck. Otherwise you can plug them in and just set them on the ground where they will get the most light exposure to the sun. This upgrade is great for when you may want to run a few camping items off your battery, but not want to have to keep your truck engine running. (conserving fuel!)
Please note that EACH of these systems are custom made in my shop by me. This means that each will be made to order and may take up to 2 weeks depending on current orders. Because of the variation in each custom truck and application, prices will be set according to your truck specifications. (Some trucks do not have their battery in the factory spot, some trucks have additional fuse blocks, etc) In order to get a set price you will need to PM me with your specifics, and I will then calculate the price and get back with you.
Common questions I have heard:
Q: Why do I need to upgrade my electrical system in the first place?
A: The Tacoma is designed to charge your battery and maintain your factory electrical load. Many owners customize their truck with winches, air compressors, and high-power stereo systems. Your factory battery, alternator, and electrical system are not really designed for this, and in many cases are not capable of supplying this high demand without overworking the factory alternator, or causing excessive discharge rate on the battery.
Q: Why do you use welding cable?
A: Welding cable and standard battery cable are designed differently. When it comes to high current applications, cross section of the cable transferring the power is key to prevent voltage drop, and overheating of cables. Welding cable is DESIGNED to transfer larger amounts of current, over a longer period of time, than standard battery cable. Also welding cable, by it's design, is much more flexible and easier to route.
Below you will see a complete Stage 3 system installed in a 1997 Tacoma.
Our first step in upgrading the electrical cables is to remove the assembly. The first parts are easy:
Disconnect the battery terminals from the battery.
This prevents you from accidentally having a wire cross, or touch something that will short out. Since I was installing the Stage 3 kit I removed the battery completely, but you do not have to if you are doing Stage 1 or Stage 2 alone. As you can see, corrosion has built up on the positive terminals. From this are 2 cables of different size. One cable goes to the starter, and the 2nd to the fuse block, on the underside.
After removing the battery I then disconnected the positive cable to the starter, as well as the connector for the starter solenoid. Then I disconnected the positive cable and connector from the alternator. Next came disconnecting the quick-connect where the starter solenoid wire and alternator control wires connect beside the fuse block. That picture came out blurry but you should easily be able to find the connector as it goes into the entire assembly. Lastly I unbolted the alternator's primary charge/power cable from the fuse block. You can remove this by sliding the secure-connect loose from the side of the fuse block as pictured below. (Note the yellow wire is for an aftermarket connection, not to be confused with the factory wiring)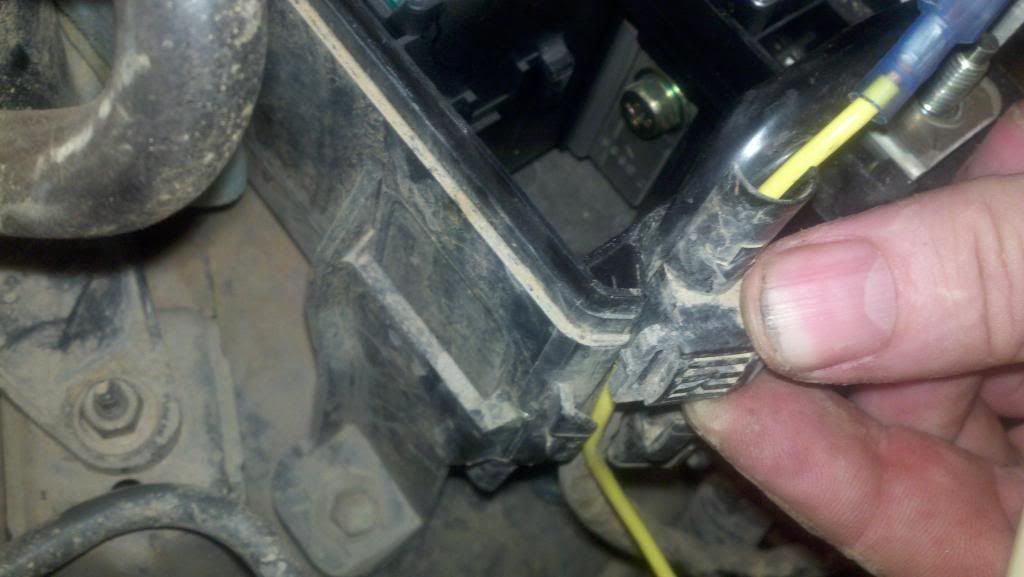 After that I disconnected the small ground wire that went to the driver's side of the body, at the fender, and the ground cable that bolts to the side of the engine block. Once these are all disconnected you should be able to remove the entire harness and positive cable assembly. This is what you will have: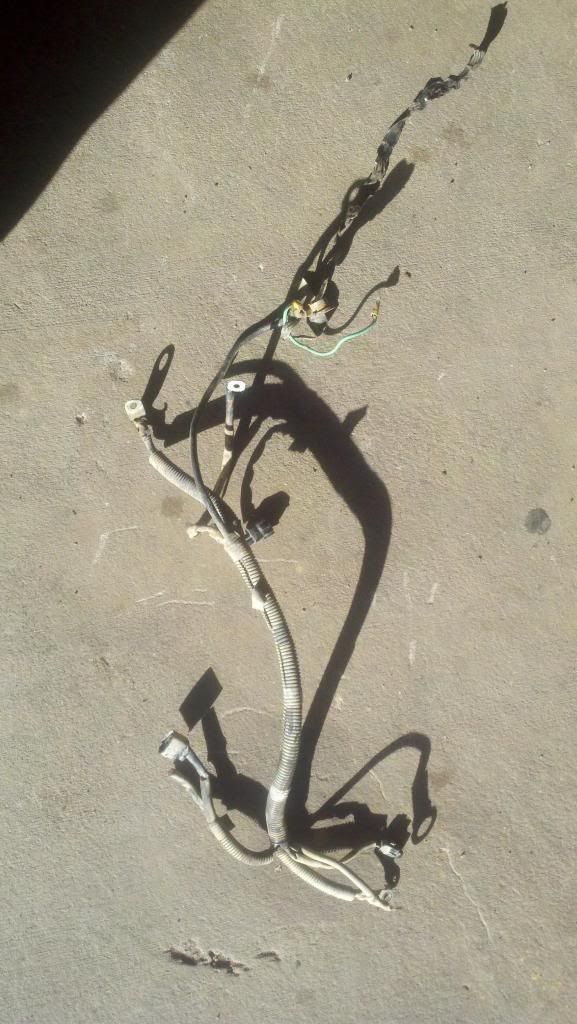 At this point I separated the starter solenoid and alternator control harness from the rest of the cables, cleaned them up and prepped them for reinstallation buy inserting them into a new wire-loom.
Then came the building of the Stage 1. Each terminal is held in a pair of Vice Grips, inverted. It is then heated and filled with silver solder. (You can use solder plugs, but it is actually cheaper I have found to just use thick solder from a spool) Once the terminal is hot enough I inserted the end of the solder into the opening, allowing it to melt and create a small pool inside the terminal. I stripped about 1/2 inch of the appropriate cable, depending on the size I was using, and inserted it into the open end of the terminal. I allowed sufficient time for it to solidify before taking it out of the Vice Grips, and setting it aside to cool.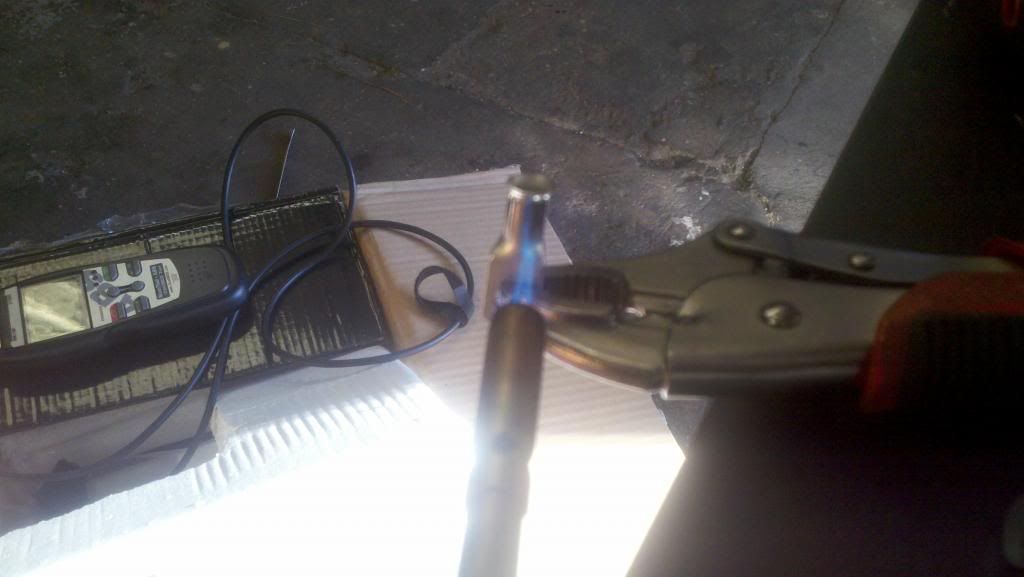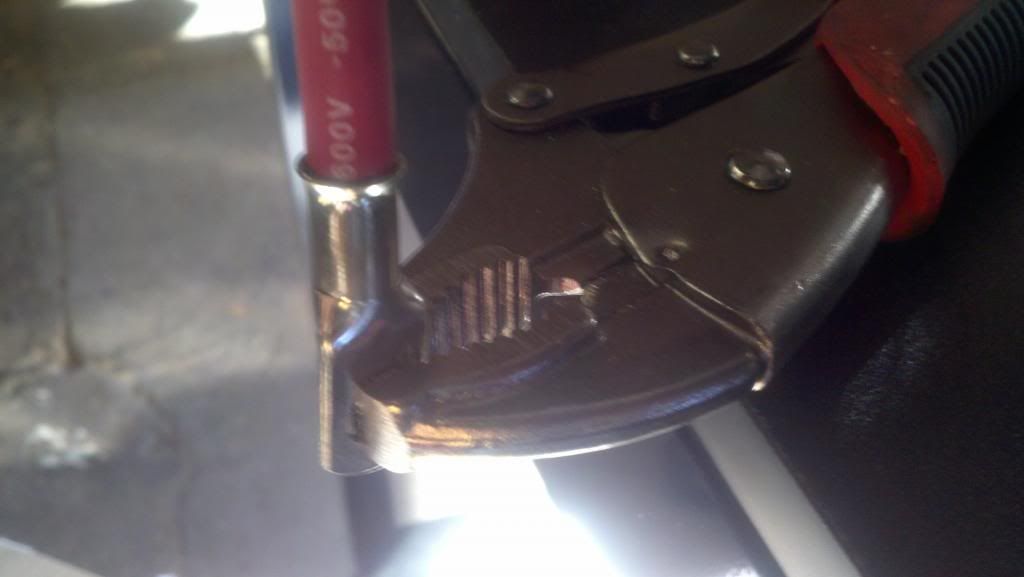 I repeated this for all of the other cables. This included the ground cable, as well as the other positive cables.
I then prepped the battery terminals for both the positive and negative. These were not only nice appearance-wise, but they have an internal volt meter for at-a-glance checking of state-of-charge, but they also are solid and use a great set-screw type of solid terminal connection. Each cable was inserted in an appropriately sized slot, and the set screw tightened down. In the case of my particular one, the terminals each have the following sized connections:
1 - 1/0 gauge location
1 - 2 gauge location
2 - 4 gauge locations
As you will see in the picture there is a small blue wire from the positive terminal. That wire needs to be connected to a ground location, either at the battery itself, or a ground spot on the truck. In this case I stripped off about 4 inches of insulation and wrapped it around the 2 gauge ground terminal end that went to the negative terminal. This allows the volt gauge to read directly at the battery.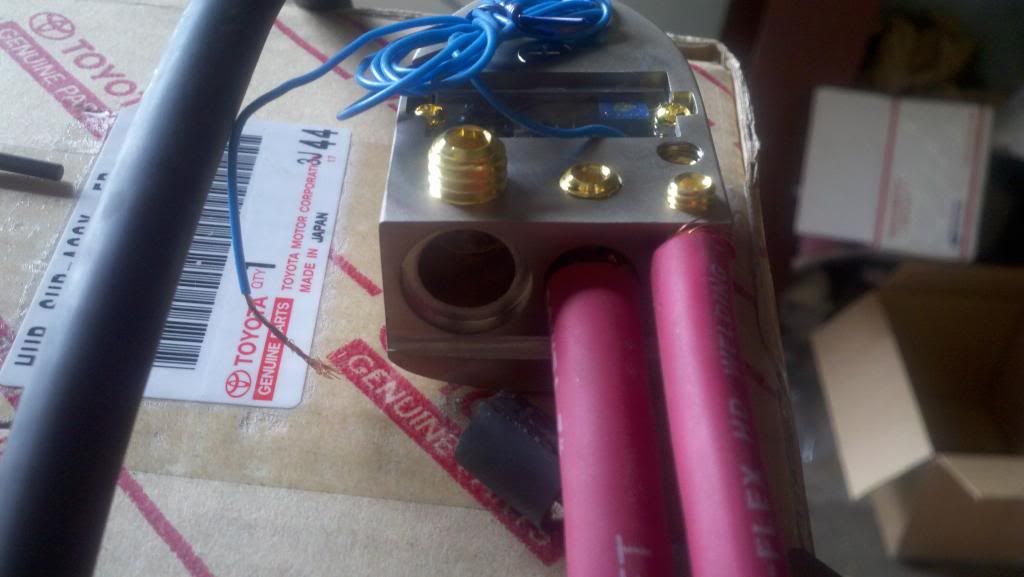 Next came the alternator. The unit I have puts out almost 100Amps at idle, and is capable of 140Amps when above idle speeds. As you can see it looks identical to the original.
The alternator replacement is pretty simplistic, so I did not take any pictures, nor write up an explanation on how to replace it. After swapping out the alternator I connected the custom cables from my Stage 1 kit to the alternator, starter, and fuse block. The white wire that was originally from the underside of the fuse block, and went to the positive terminal of the battery got it's terminal cut off, and inserted into one of the 4 gauge slots in the new terminal for the positive post.
I then installed the battery itself. I found that in order for it to fit properly I had to place the included spacer underneath the battery before I placed it on the battery tray. I then installed the hold-down, and connected the new battery terminals. The terminals are tightened down by another set-screw, located on the side. Here is what the battery area looks like now.
I know I could have taken a lot more pictures, and I will see what I can do to take some more detailed after-shots soon. Hopefully this will give you an idea of what it looks like, and the quality that goes into it. All 3 stages can be easily installed by someone with a minimal amount of technical expertise. I would say on a difficulty scale of 1 to 10, with 1 being only able to change a tire, and 10 being you can rebuild every component on your truck, this job would fall into a 2-3 range.
If you are interested in any of these kits, feel free to contact me by PM here, or by email at
Marionb2bauto@gmail.com
for more information on the details, and to get a price plan. I hope you all like my kit! Please note that I nor my company assume any liability for adding higher-than-factory rated components to your truck. By purchasing these Kits you are accepting all liability on your own.
Please note that these kits are custom made, and the alternator has to be ordered for each application. This does mean that an average of 2 weeks will be required on each order. PLEASE take that into account when ordering! Thank you!
ADDED INFO!!! These are the newer style digital terminals that I now use.