Took a little trip to the place they call Moab this past weekend. Goals of the trip were to wheel some trails, bike ride some trails and drink some beer. I came up with a list of trails that I had not done yet and planned to do one per day. My list was highly motivated by the 2012 trip reports, as many of them I had not yet conquered, the list included Kane Creek, Hell's Revenge, 7 Mile Rim and Elephant Hill. All said and done, 3/4 conquered.
10/18
Unloaded
Loaded and ready to roll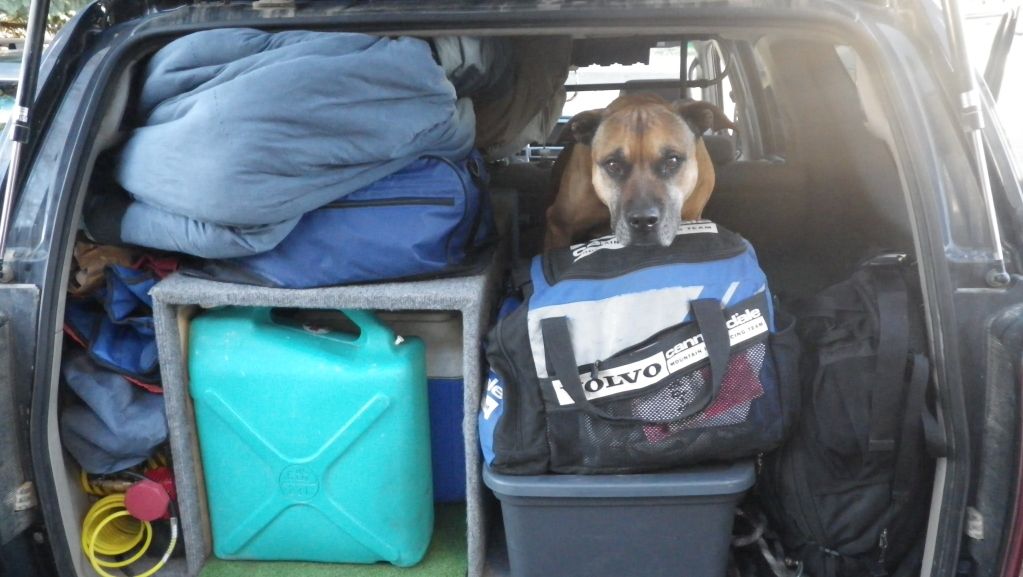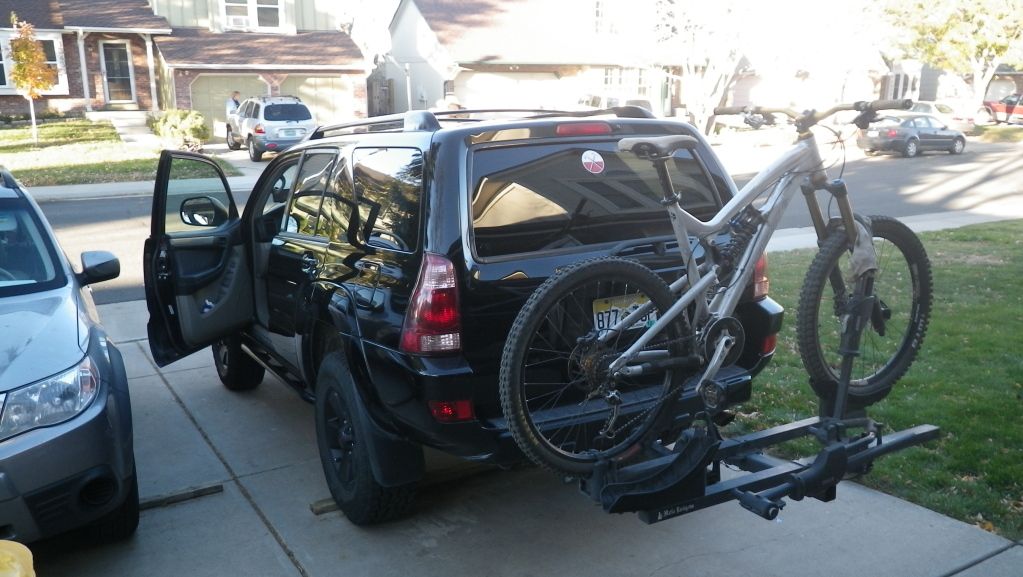 10/19
Campsite at dawn, on KC road about a half mile from the trail: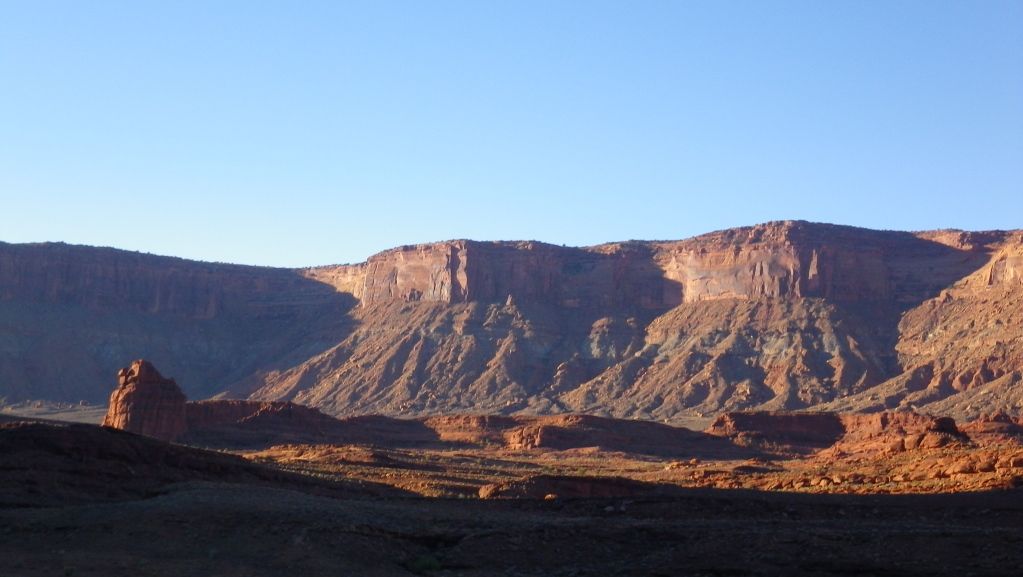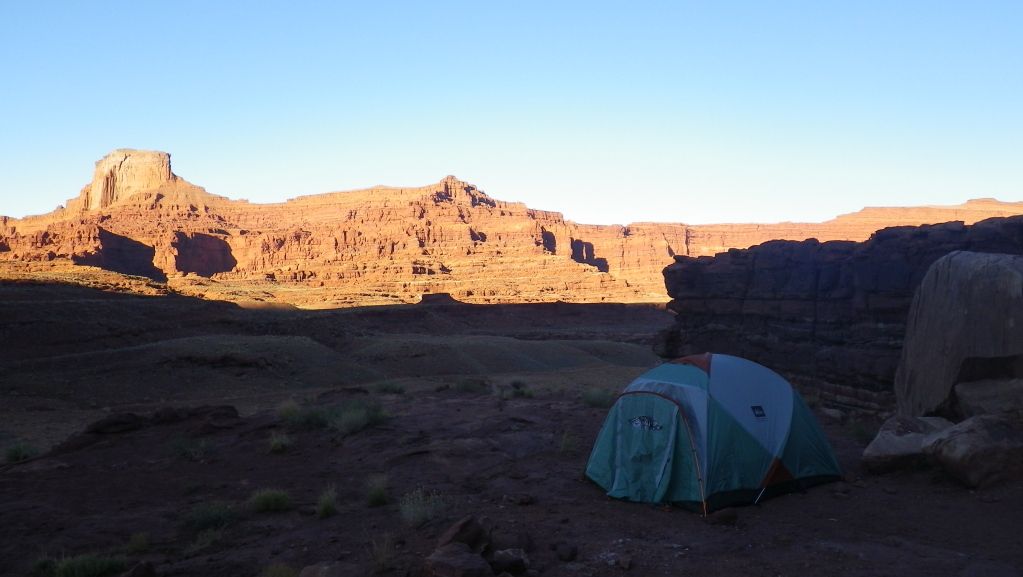 Took the morning to bike ride Amasa Back (Cliff Hanger) with Rockstar and Jackson's descent. I had previously ridden the Amasa back section out and back, and the Rockstar and Jackson's were an awesome downhill addition that I would highly recommend to anyone.
Pics from Amasa looking over Jackson Hole, with the trail visible on the valley floor below: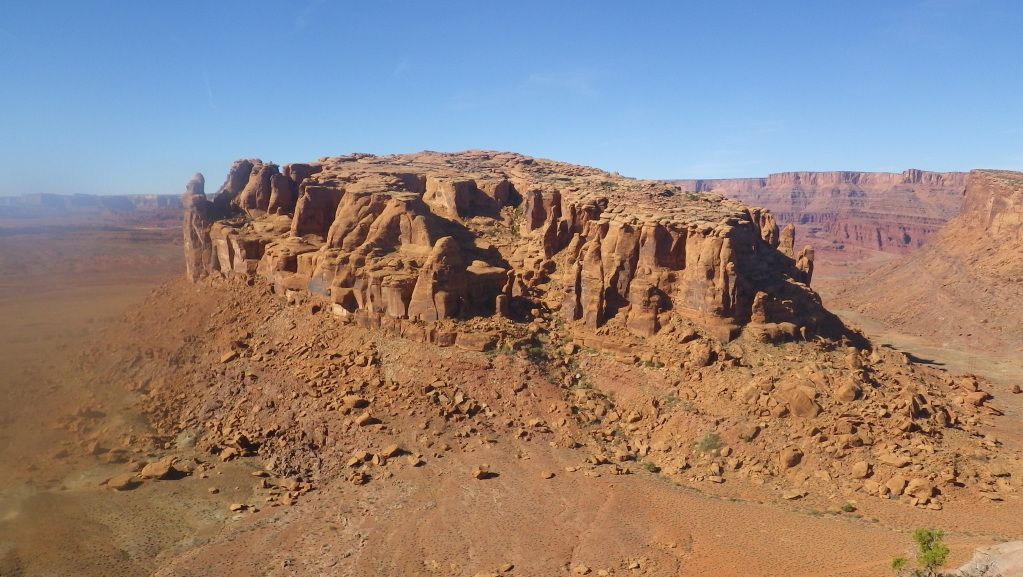 Atop a dome at the out-and-back to Pot Hole Arch, overlooking the CO, Behind the Rocks and the La Sals: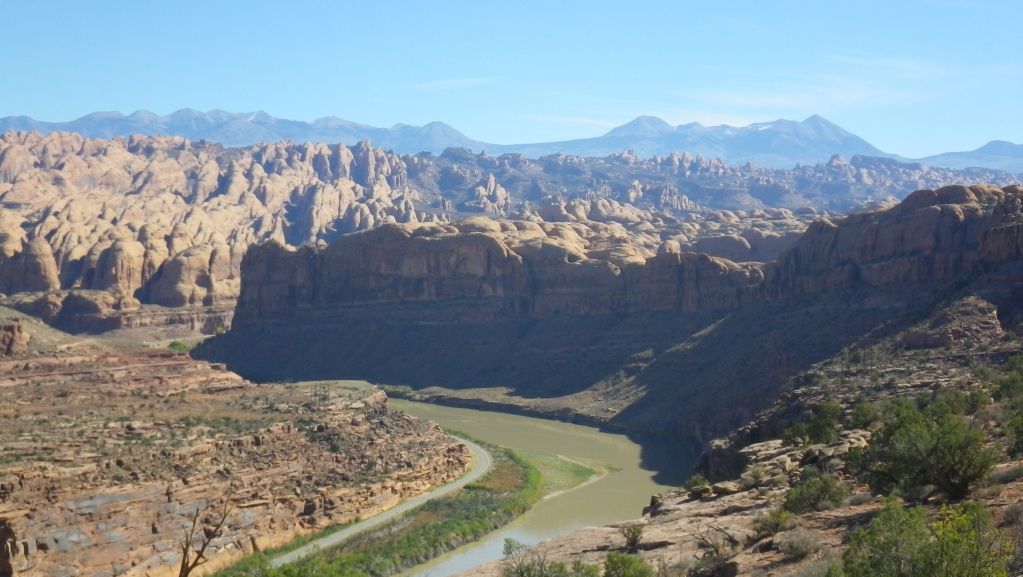 After getting my ride in, it was time to tackle Kane Creek. I dont ahve many pics, but it was a great trail, not very difficult until the last 2 miles or so where Challenges #1 and #2 begin.
Diesel in his wheeling spot:
Foilage: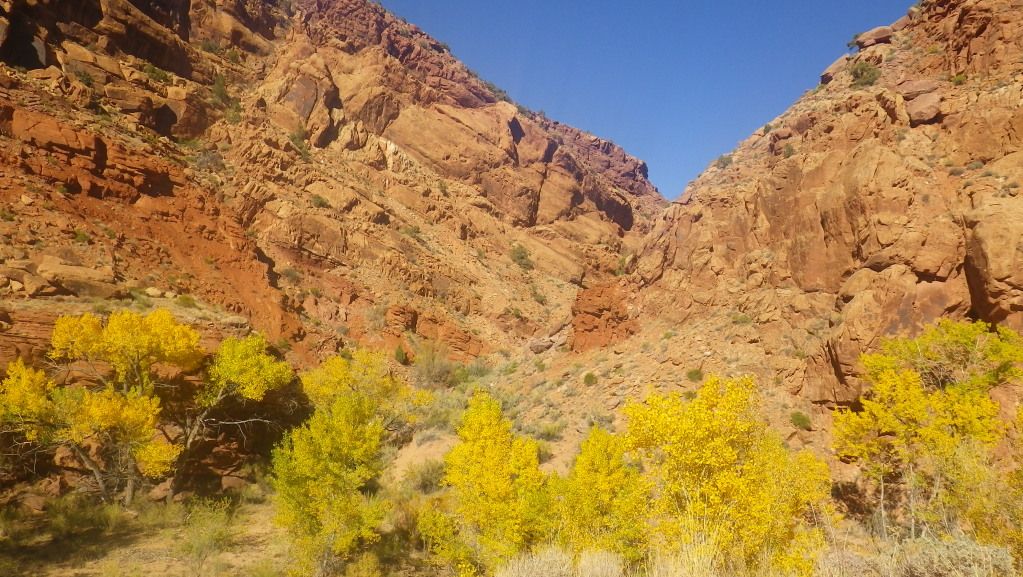 Passed a group of guys in Jeeps with 35's-40's coming the opposite direction, right before Challenge #1 to chat, and the recommended that "I better not plan on making it through with that rig" and "You got lockers or bigger tires in the back of your truck?"
I simply smiled and kept going. Rolled up to the base of the hill and gave it a walk through to scope my lines. It looked to be a pretty good challenge, but with the aid of my spotters, rolled right through everything first try with only minimal skid crunching. These are the only pics I got: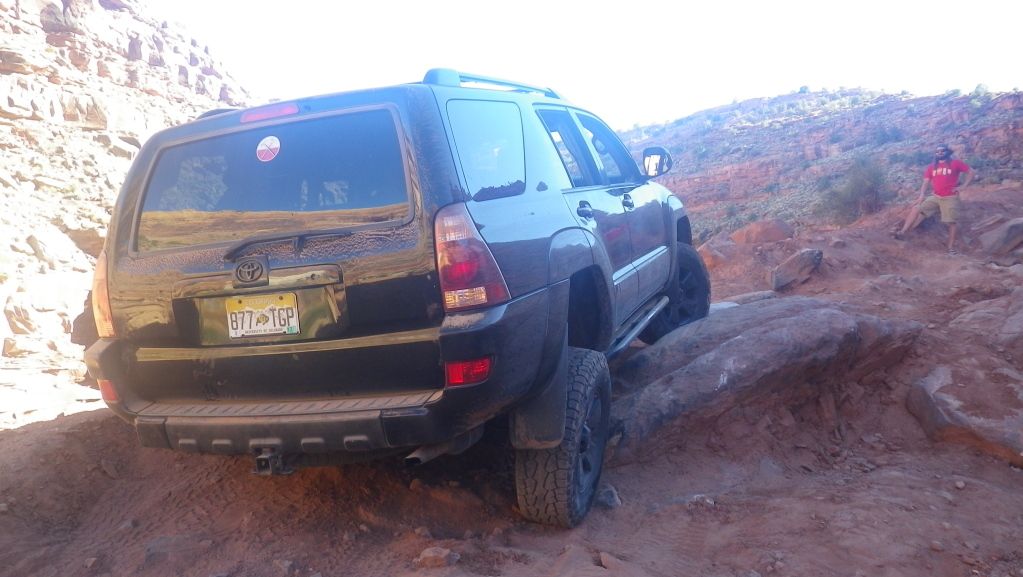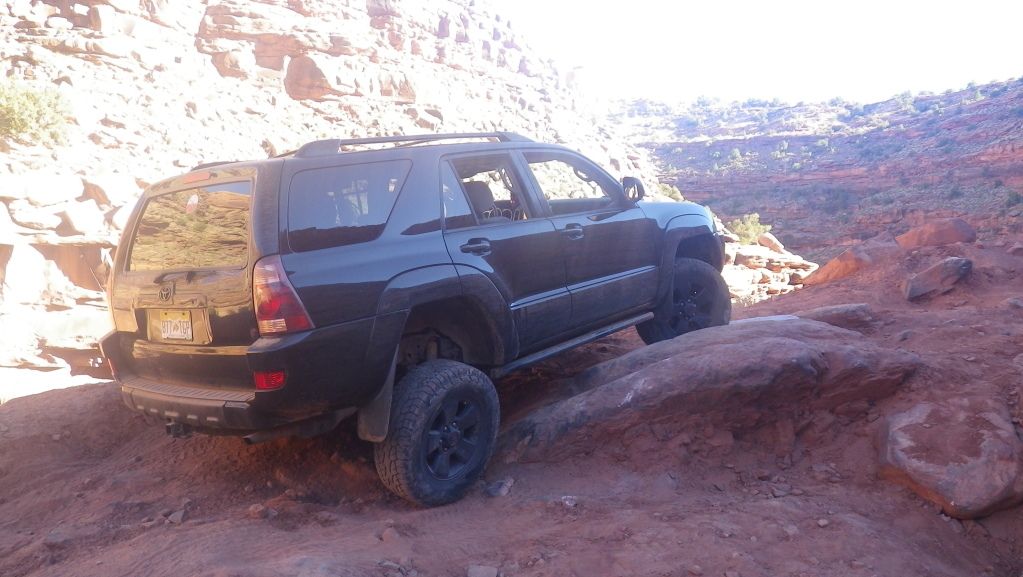 Rolled through the rest of the trail without too much difficulty, Challenge #2 presented a bit more of a "challenge", but still rolled through. The closest I got to getting stuck was one of the last creek sections where a mud pit had formed and a ledge to get out, where I high sided, and had to get a bit of ramming speed to carry over it.
I ended the day driving back up Kane Creek road and passed the dudes I talked to on the trail, and just waived.
10/20
Again started the morning with a bike ride, planned to do the Whole Enchilada, 26 miles and 7000 feet of vert from the top of Burro pass down to the river at the exit of the Porcupine Rim single track. There was construction on the road to the top however, and decided to start at the Hazard County section about 5 miles down instead.
View from the start of the trail: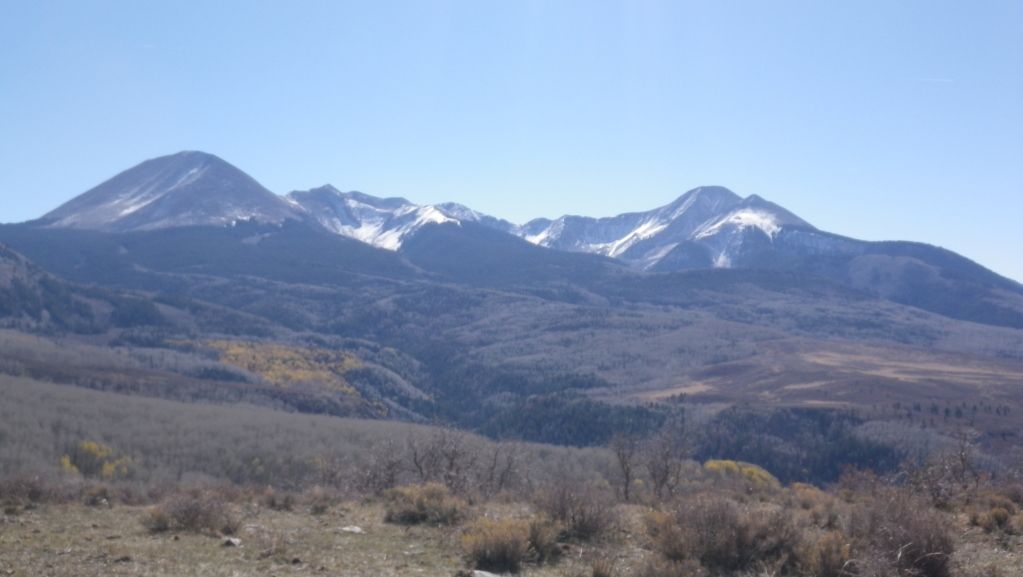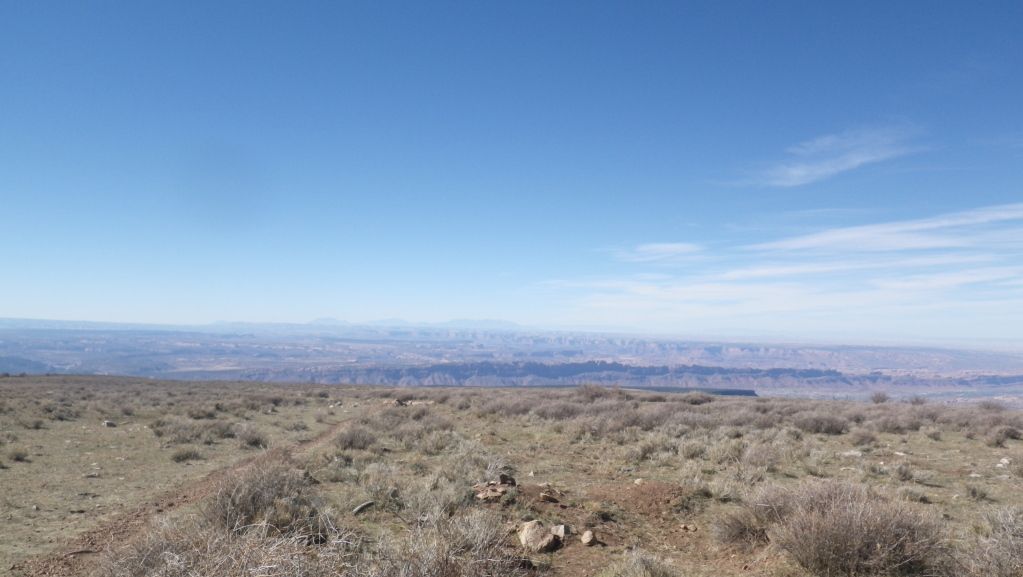 Looking down Porcupine Rim into Castle Valley: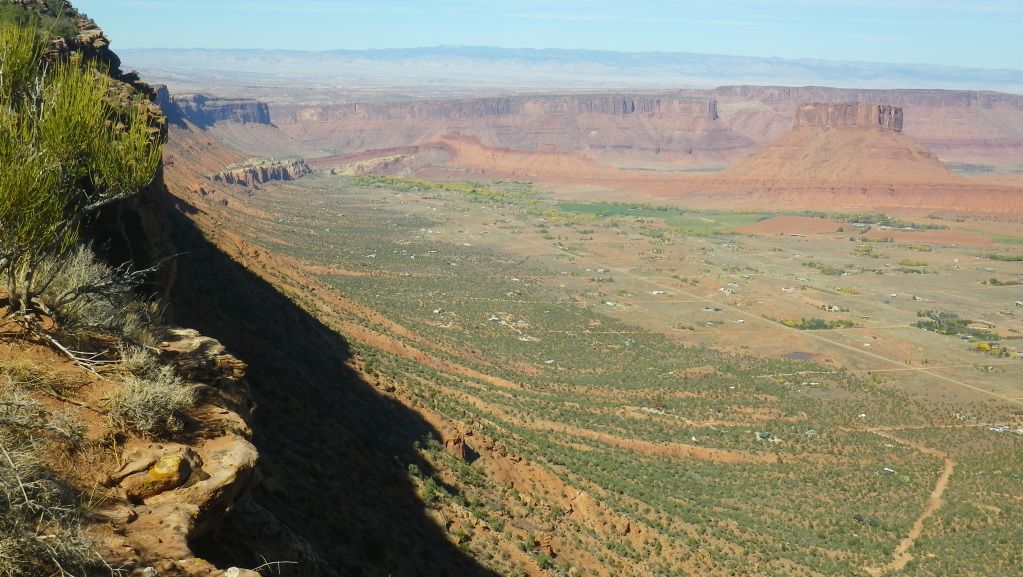 Up after a few cold ones, Hell's Revenge was up. I had done Fins n' Things a few times on previous trips, and HR was very similar.
Up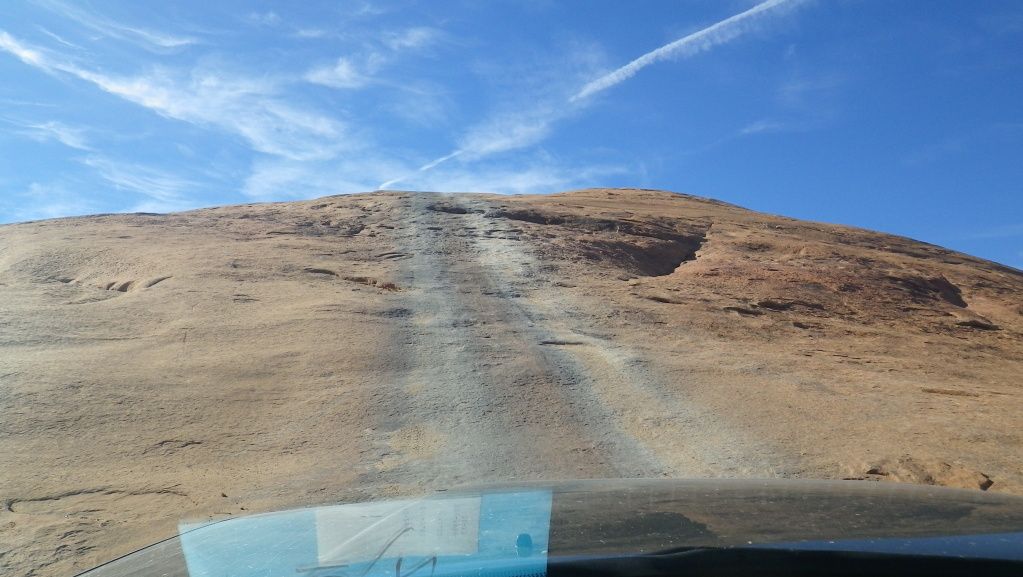 Down
Up
Overlook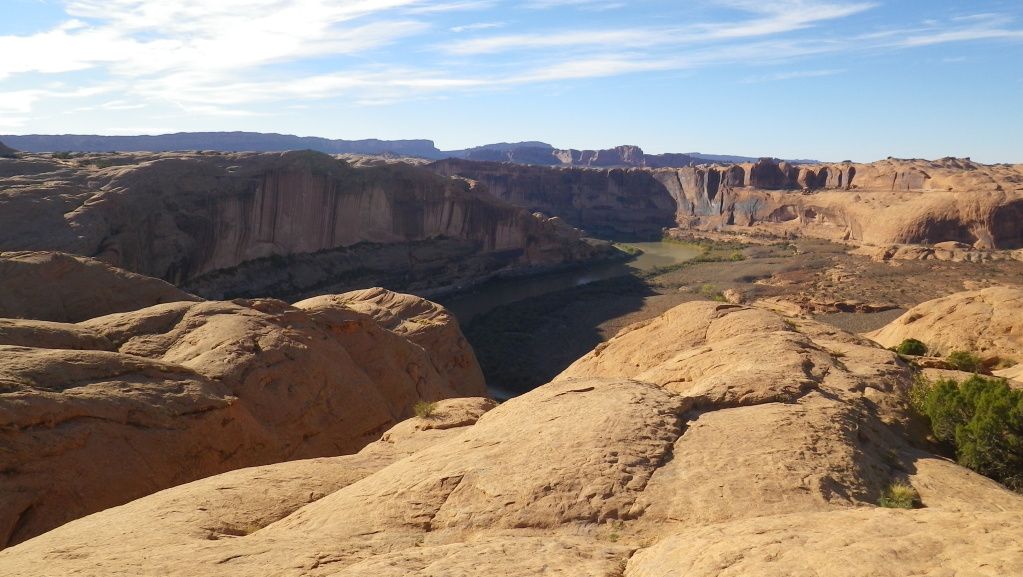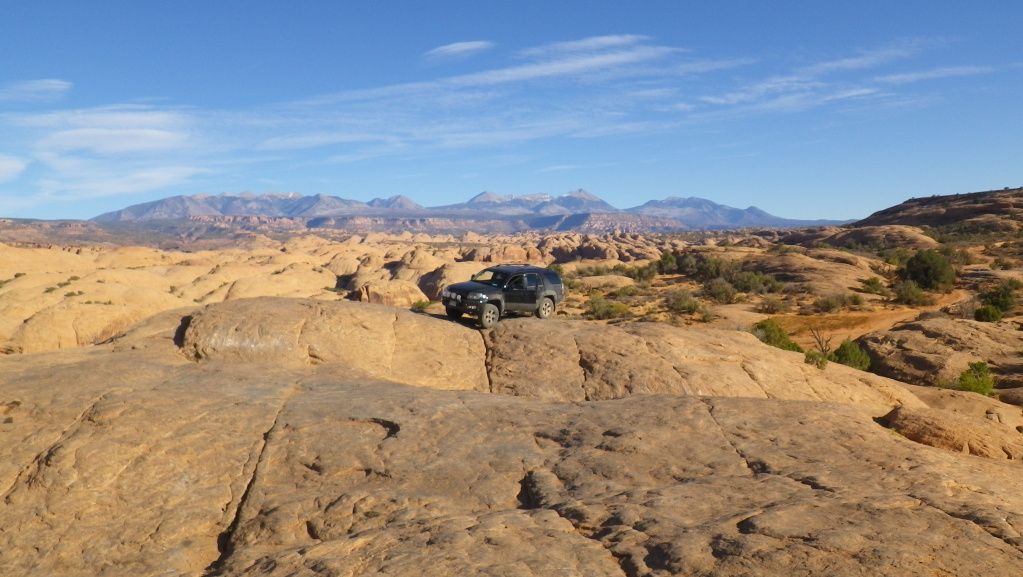 Follow the finger and the tire tracks onward: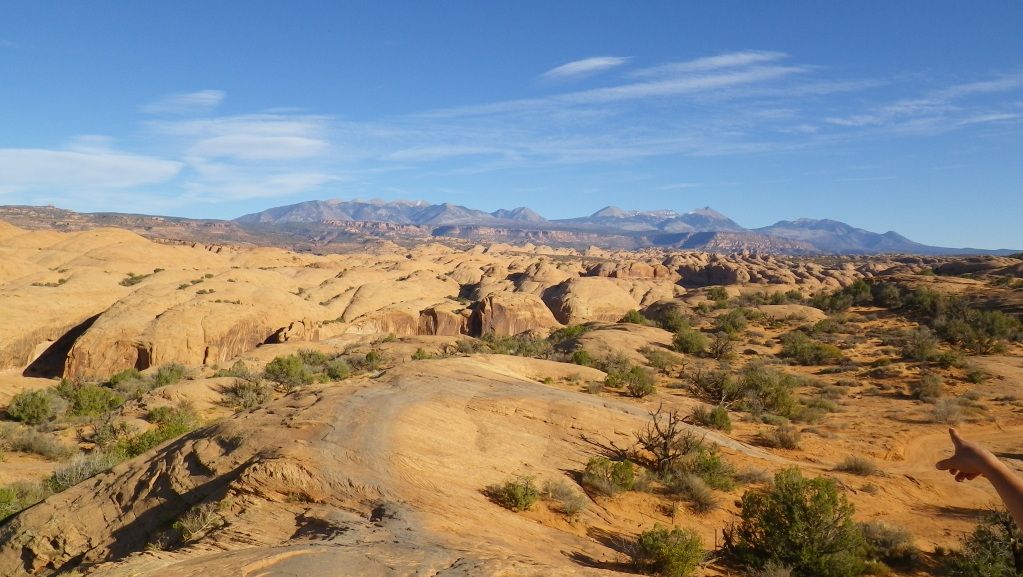 Decided not to give this one a try, but posed at the top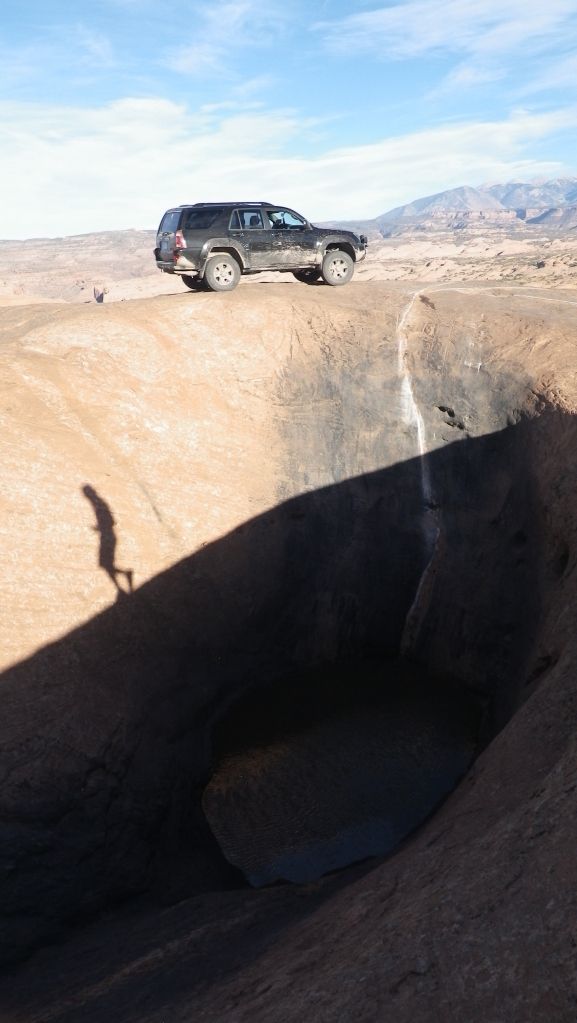 Looking back over Sand Flats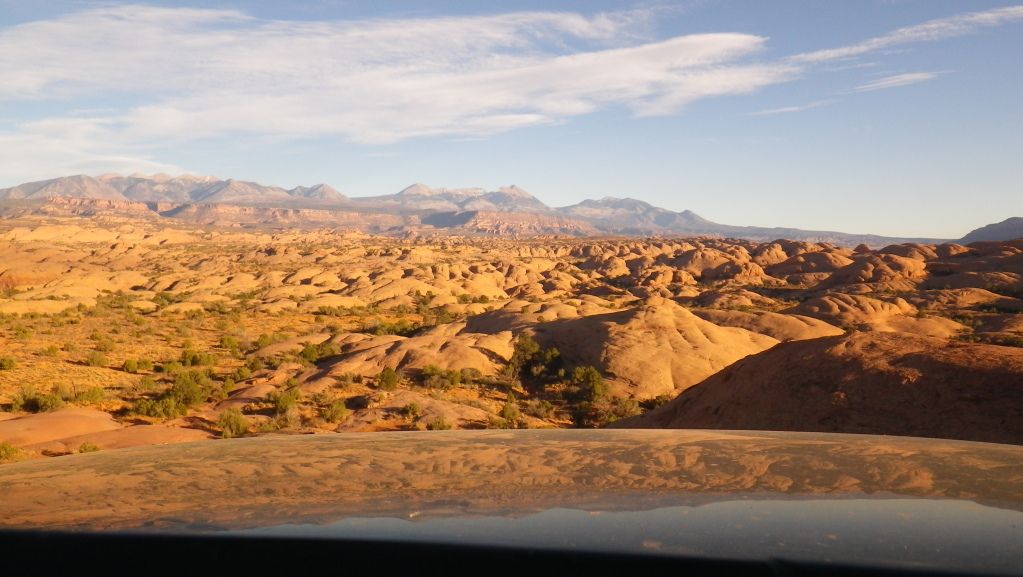 Decided to forgo the Escalator, but might give it a try next time. At the exit of the trail, I had not encountered anything too difficult yet, and got to this downhill with a some big rocks and chutes. There was a bypass to the left, but wanted to try an interesting line, and ended up slipping off of the rock I was on into this pose.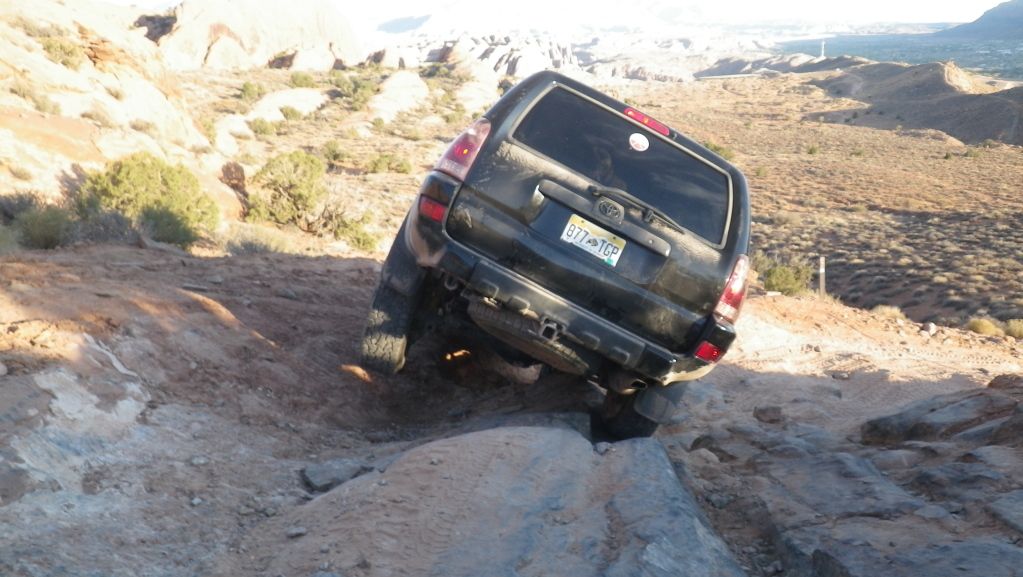 Tippy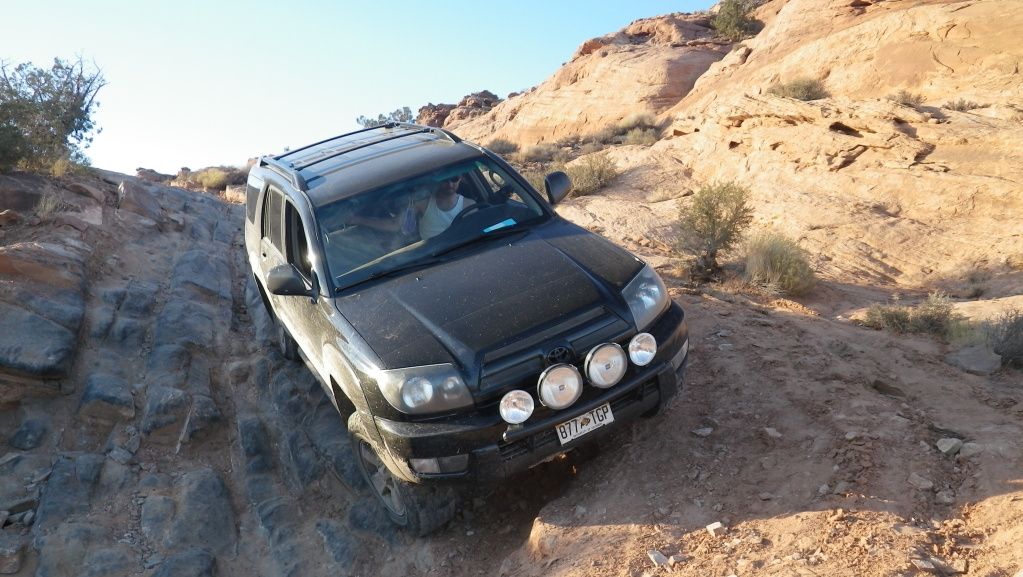 Tippier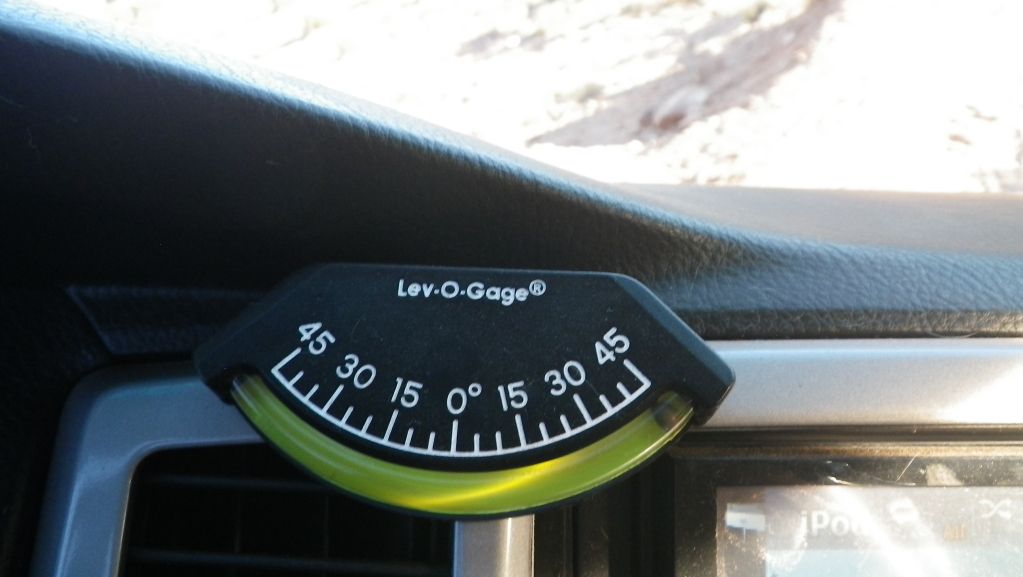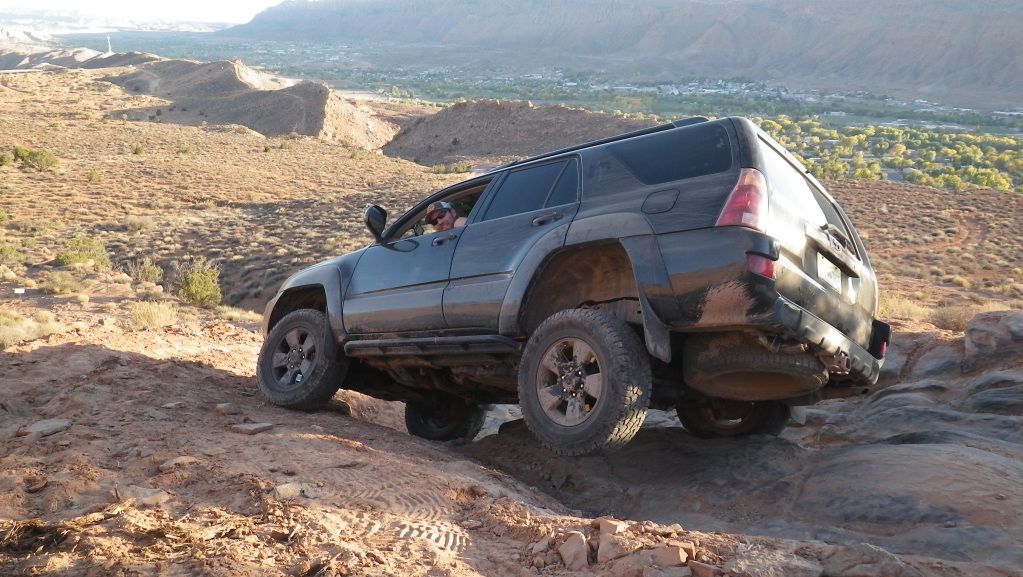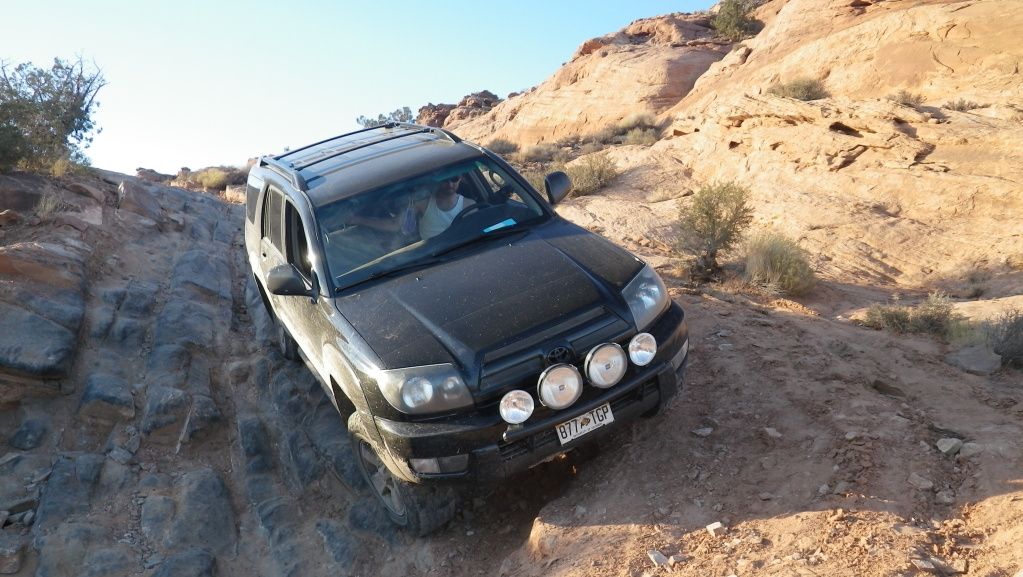 Pulled it off lived to wheel another day. Ended the day with more beer.
10/21
Woke up hungover and had a long ride back to CO, so skipped the bike ride I had planned at Klondike Bulff and headed to 7 Mile Rim, which conveniently is on the way north back to 70. After looking though the trip report, decided this was a good end of the trip trail that wasn't too difficult, but would still be a ton of fine. It lived up to this expectation perfectly.
There were lots of options with more difficult lines as well as bypasses, I took almost all of the difficult lines and had a blast.
The ledge:
The result: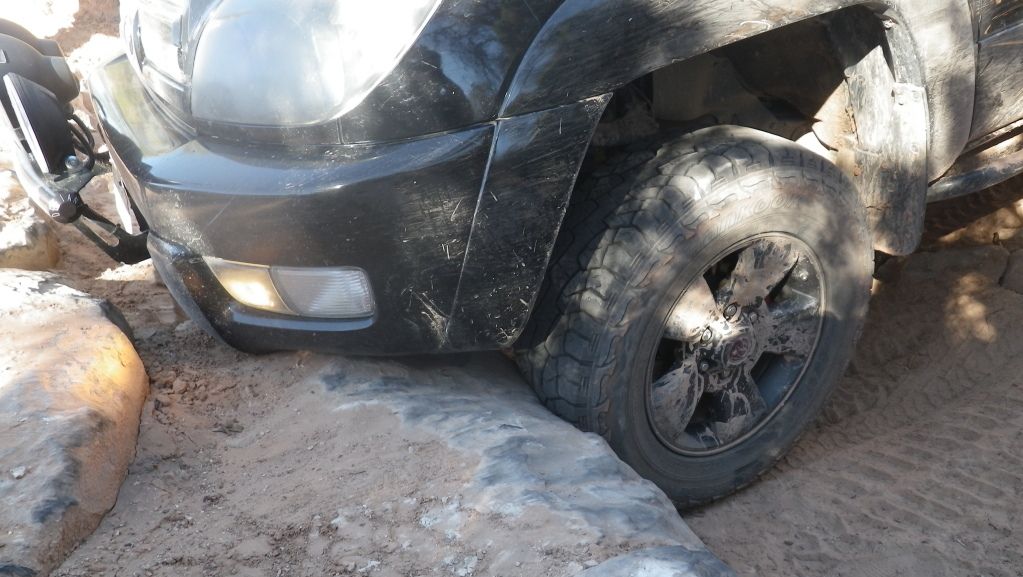 Scoping: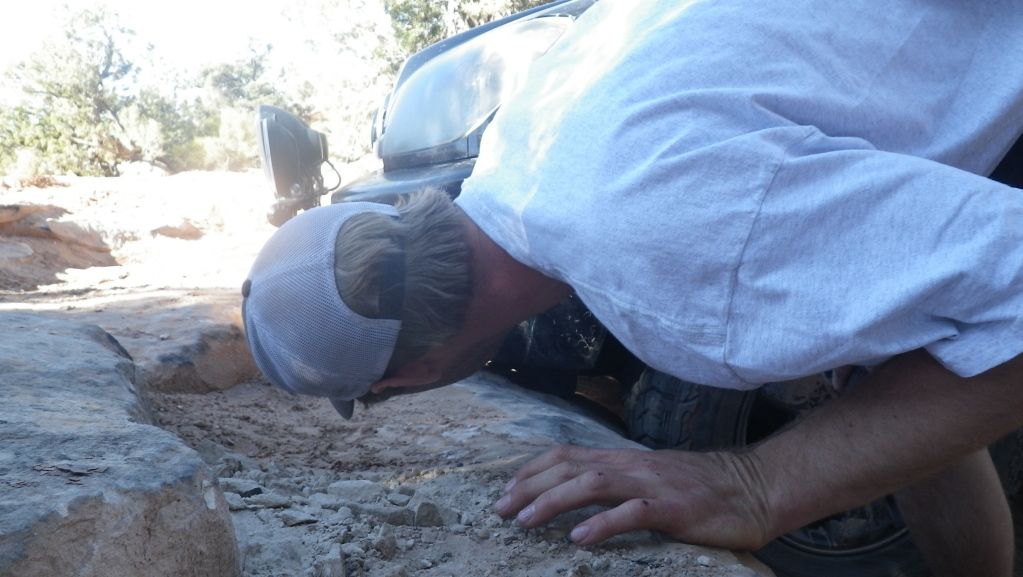 Another angle: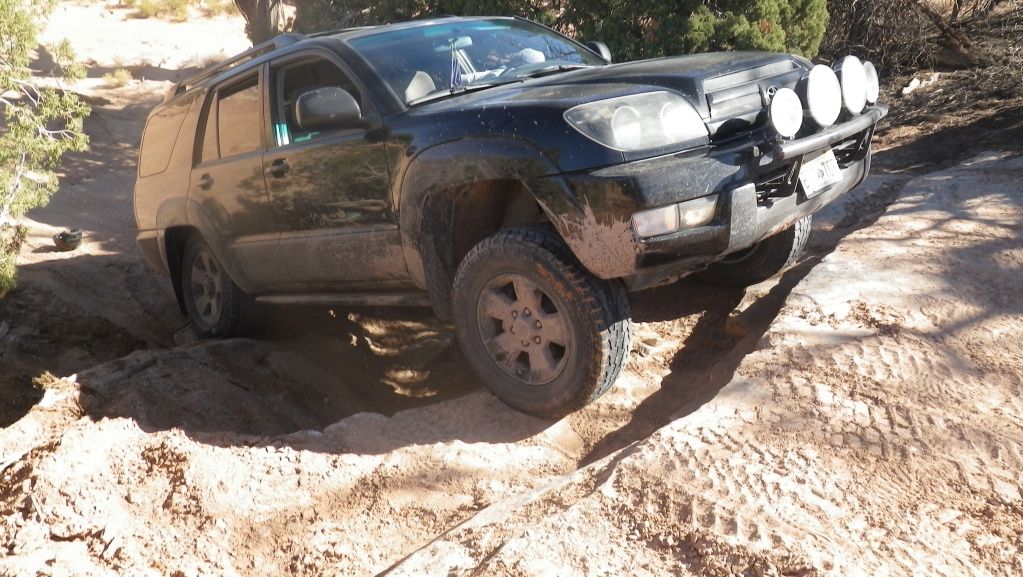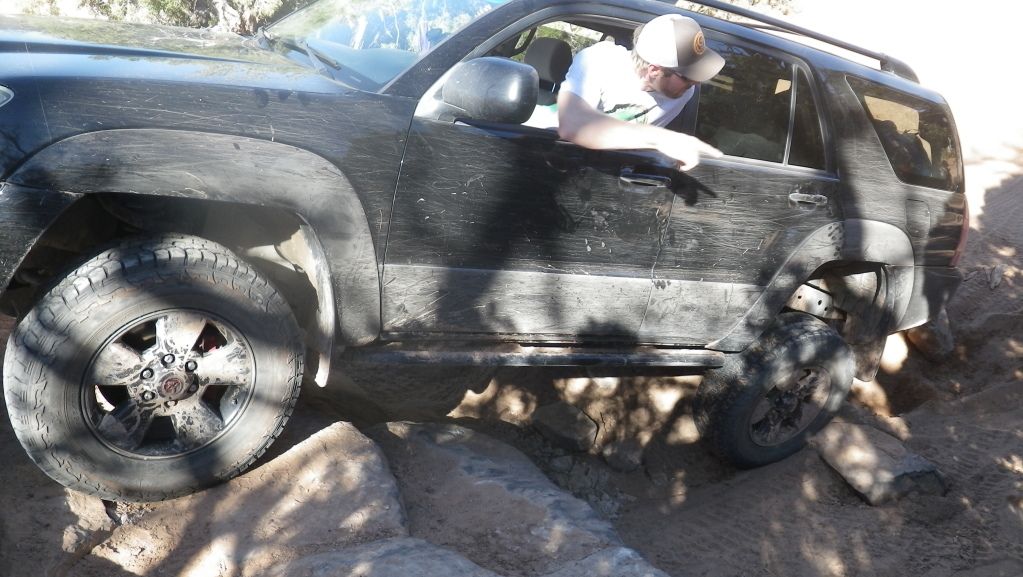 Success!
On to Uranium Arch: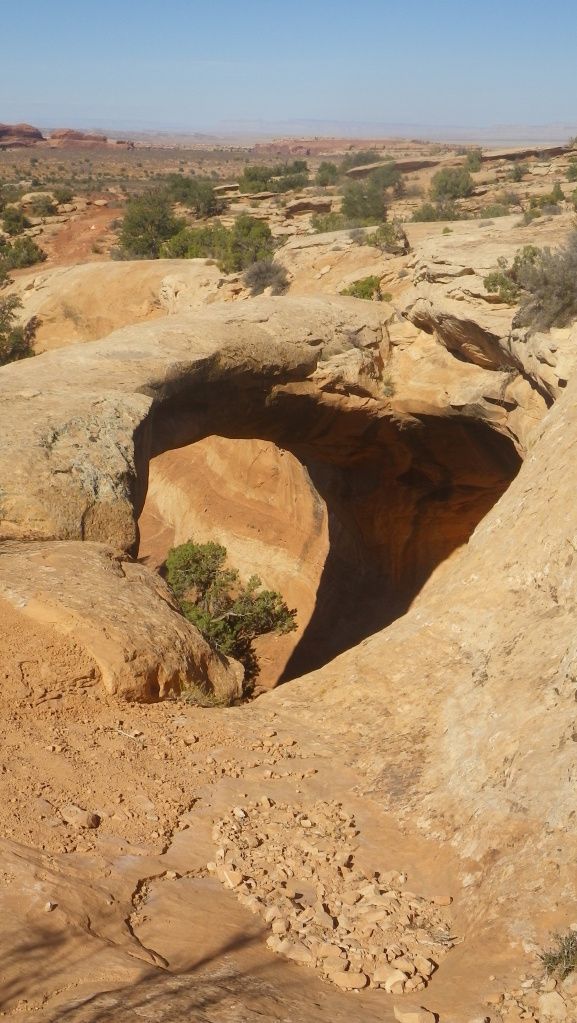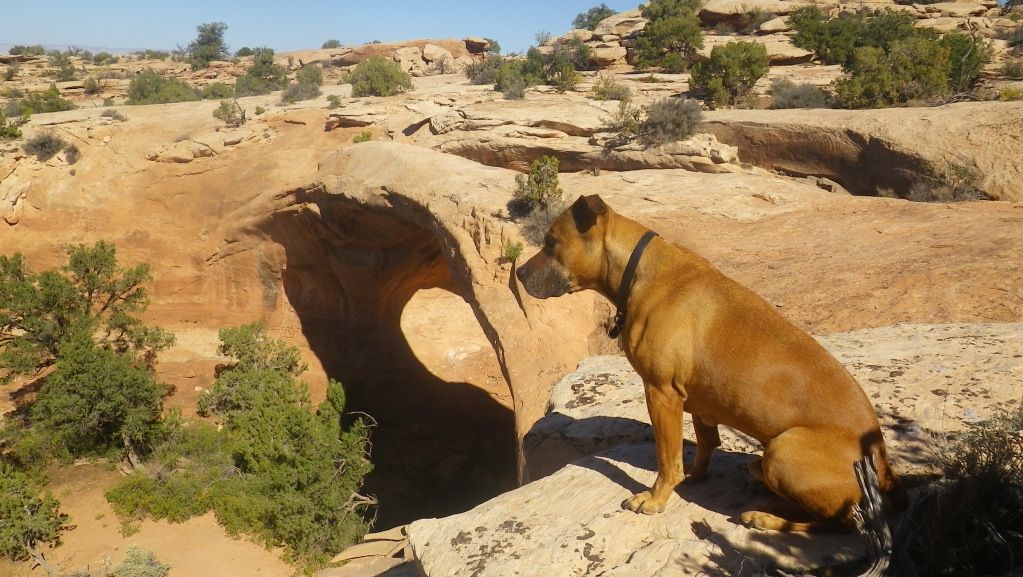 Overlook: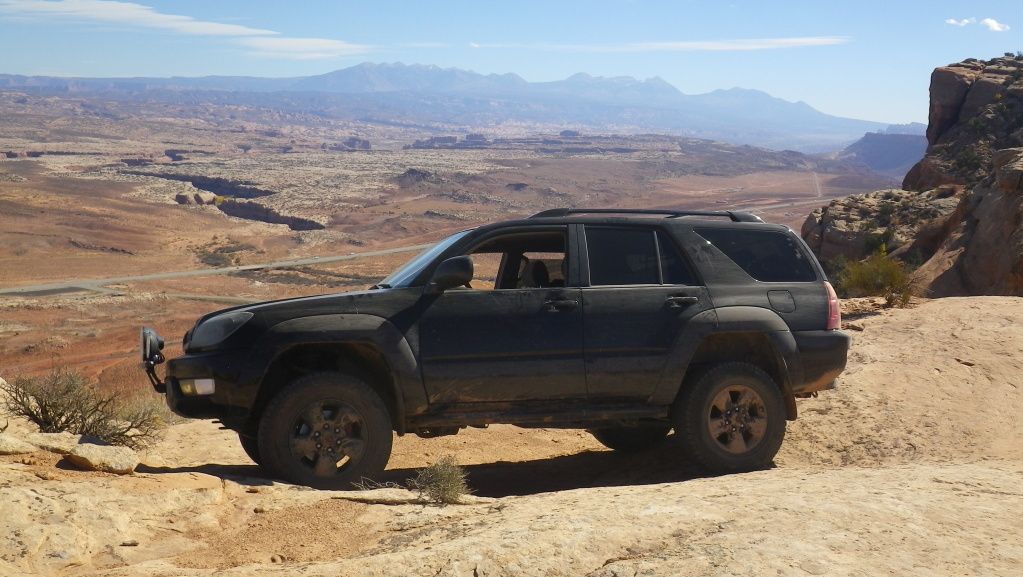 Rolled right through Silver Crack, but didnt get any pics.
Monitor and Merrimac Buttes:
Hill towards the end: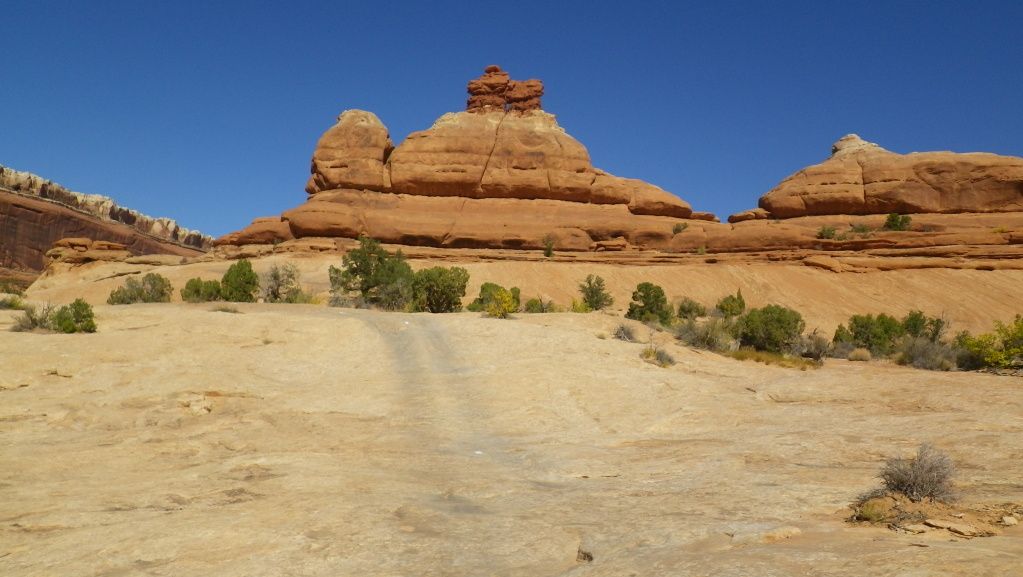 The trail ends with a ride out the M&M trail which follows a creek bed with lots of sand and berms, fun to rally through.
Aired up and head back for the weekly grind.
Overall, awesome trip, and I became much more comfortable with my driving skills and tackling obstacles that I would have been hesitant to before, also became a little more willing to drag some metal, but realized that a set of Buds are now on my short shopping list.
Sun setting on the Gore range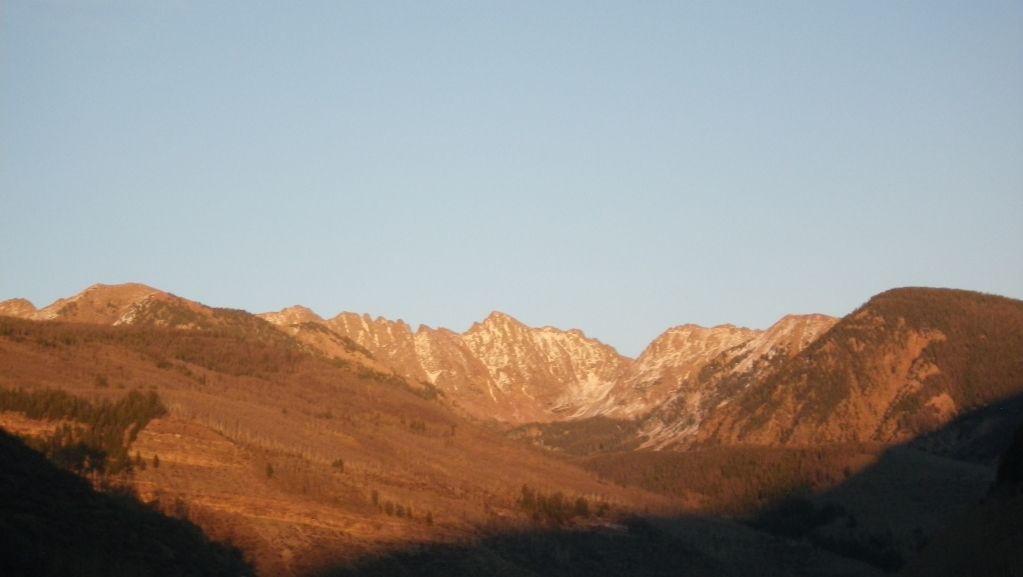 The End!