Hey Guys!
We here at
Sierra Expeditions
are proud to be a supporting sponsor or this years T.a.Co Gathering in beautiful Moab Ut. We have been working with Bob over the past few weeks to get something together for you guys. We all know that everyone likes T-shirts from events that they have attended. After working with Bob we have come up with a design that we think you guys will like (The final design will be slightly different on the back):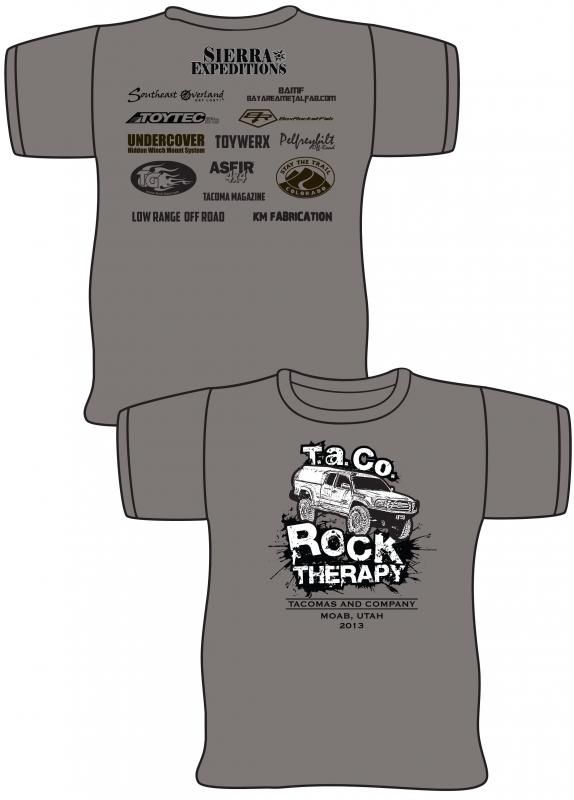 We are now taking Pre-Orders for these shirts which will be delivered to you guys by us in Moab. Let us know how many you guys are interested in. These shirts will be "Athletic Grey", Red or Royal Blue in color and available in all sizes. For the ladies in attendance we will also have a option for a few Hot Pink shirts! Shirts will be Hanes Tagless, preshrunk 100% cotton.
Shirts in all sizes from XS-XXL will be $15. In addition we will be offering all of you guys ordering T-Shirts a coupon for 10% off any order over $150 for anything on our site to help get your rigs ready to go. We can either ship you guys your products at the time of your order or we can deliver it to you in Moab. Once you have signed up for The T-shirt lift shoot us a PM or and we will get you the coupon code!
See you guys up there!
T-Shirts (Color)
1. NYCO - 1grey xl, 1 red L, 1 grey L, 1 grey S, 1 pink S
2. Whitecloud - 2 grey L, 1 pink M, 2 grey XS, 1 red L, 1 pink L
3. Btnewman, 1 grey M, 1 pink M
4. JLee 2 Grey L
5. Rockgecko03 - 2 red L, 1 grey XL, 1 blue XL
6. Mh.Meier - 1 grey m, 1 grey large, 1 red small
7. 99taco27505 - 2 grey XL
8. tig1 - 1 grey L, 1 red L
9. sander1036 - 1 grey L, 1 blue L
10. ILuvtheMountains- 1 grey 1 blue both M, 1 XS pink
11. RCTOY - 1 grey L, 1 grey M(women's)
12. Dot 1-grey L 1-red M
13. Rockymtntrd 1 grey L
14. Slodgetto - 1 grey L
15. BradyT88 - 1 grey M
16. lotsoftoys - 1 xl red, 1 xl grey, 1 med red, 1 med pink
17. Ripcord - 1 Med gray, 1 Med Blue, 1 Small red
18. JLink - 1 medium grey, 1 small grey
19. smkd13 - 1 med blue and 1 small blue
20. white toy taco - 1 red L
21.
Pelfreybilt
- 1 red L, 1 pink xs
22. Southeast Overland - 1 L color?
23. T4C0CH40S - 1 Grey M, 1 Red M
24. Loaded Taco - 1 Grey Medium, 1 Red Medium