Hey everyone!
Just got a new 2011, 4X4 TRD Sport Tacoma and I am really loving this TRUCK! I came from driving a modded Lexus IS350 for 4 years, but due to pot holes on the horrible roads of Los Angeles damaging my wheels and not having a car that can handle the outdoor activities that I enjoy, I have decided to move on to something BIGGER!
Good to be here at Tacoma World! Hope to learn a lot here about my truck.
I took a couple photos. No mods yet but later to come!
Here is a couple pictures of the new beast!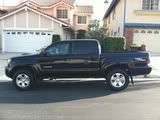 Here is what I used to drive. It was a nice 4 years but good bye!