Hey guys, I picked up an '08 TRD double cab a couple weeks ago for a daily driver/winter truck and I LOVE IT <3.
She is bone stock right now, but that will eventually change...
When it warms up some more I'll be sure to get the real camera out and take more pictures.
Planned mods:
-Color matched satoshi grill
-Blackout headlight mod
-Blast and paint my wheels black at work
-Plasti-dip Emblems Black
-Stereo stuff. Head-unit and a basic sub install.
As I said, this will be my daily, but for summers I have my car...
This is my 1992 Celica GT-Four RC. Here are but a few of the ridiculous amount of photos I have of her...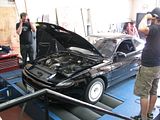 You can also find me on alltrac.net and celicatech.com under this name.
I have already learned quite a bit from this forum, and will be around to learn much more I'm sure!