Hi all,
I just bought a 2012 MGM Prerunner Access Cab two days ago, I just blew the head gasket and cracked the block on my 96 Nissan Hardbody, so it was time for something new. I bought a 2wd this time because I need this truck to last, and 4wd will only get me in trouble
.
I might fix up my Hardbody to keep in the 4wd game, or trade it for an older model Toyota P/u. I really love this truck, but it's pretty easy to go from a anemic 4 banger, crappy speakers, with power nothing, and no cup holders, to something with all the bells and whistles. I got the tow package, running boards, back up camera on it, and since my soon to be Mother In Law was the sales person she got me a great price. I love this truck, and i love the new front end.
Planned mods- Tool box, seat covers(because of the dog
), 4 inch lift spindles, banks cat-back, and figure out away to get help the exhaust sound through the intake.
Any suggestions on what to do to the intake to make it not be too free flowing, but help it make the truck a little louder?
I want this to be my "go fast" on these dirt roads truck, and keep my nissan as my "beat to hell truck", so thats my plan. Maybe help the throttle response, and not the carbon filter mod I don't like the idea (warranty wise).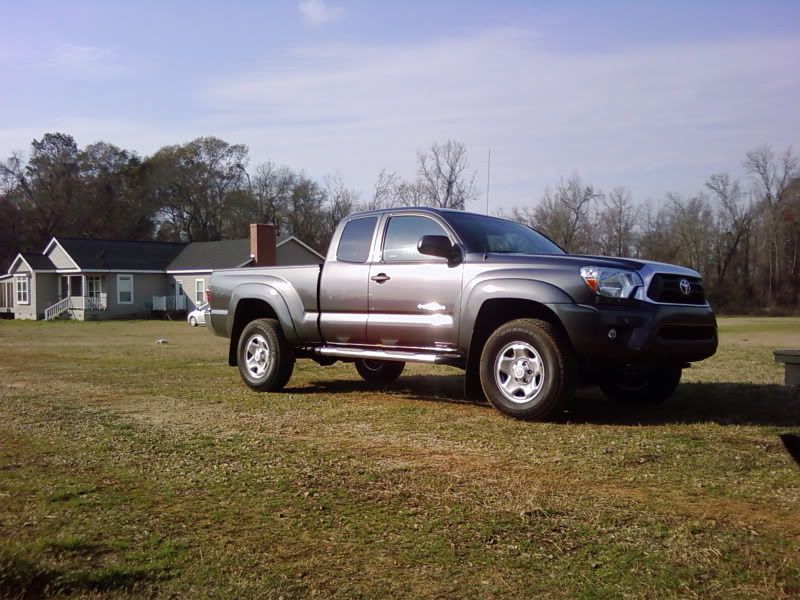 Sorry for the Crappy Pics, I'll grab my fiance's iPhone later and take some better ones.