Welp, picked up my 09' Tacoma a little while ago.
Had a 96' for years, sold to my brother, bought a Tundra, and due to recent wind/hail damage, my insurance company total-lossed it.
Now, I've got this bad boy: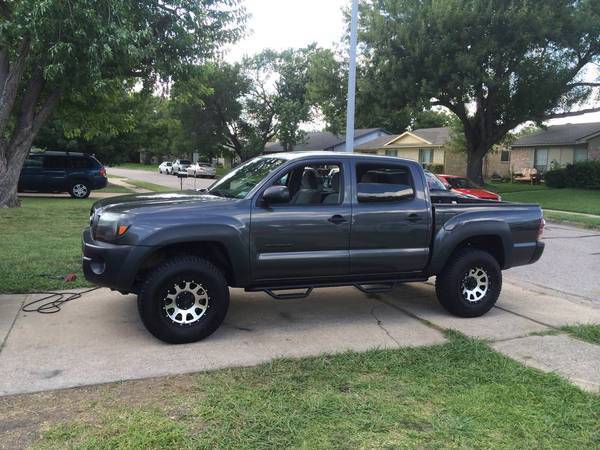 09' DCSB, 4.0, 4x4, 6-Speed manual.
1" Lift with 5100's, tube steps, K&N intake(was on the truck when I bought it, not a fan, would rather the
URD
, or stock, since a supercharger is in the works) and a BAMuffler! If you've never heard of BAMufflers, look'em up:
http://www.bamufflers.com/
(NOT bamuffler.com, those guys are a scamer, trying to steal his business..)
Hands down the coolest tone out there, with absolutely ZERO drone. Had them on my old 96 Tacoma, my Tundra, and now this.
Already throwing more money at it than my SO would like, but.. it's in the blood ;o)
Got a laundry list of mods to do, plus what I've already done.
Sure is nice to come back to a stick shift, after a few years of an Auto in the Tundra.