I've been lurking for a few months and thought it was time to say hello.
I'm more of a forum reader than a poster, but I'll volunteer answers to what I have noticed are the commonly asked questions of new members and I'll tell a bit about myself as I try to incorporate responses to many of the last five months' posts with just this one.
I bought my '09 Tacoma in December 2008. I hadn't test-driven or even sat in one prior to purchase and made my decision based on specs and ratings. I made a good decision.
I've driven "full-size" pick-ups for over thirty years and wanted something a bit smaller as I plow snow in a couple narrow driveways and the full-size trucks are sometimes unwieldy. I was, and am, a Ford owner, but the Ranger is a tin box truck and the Dakota and Colorado didn't do anything for me. The Tacoma has proven just about perfect and everything I hoped for.
I equipped the Tacoma with a Fisher Homesteader snowplow. It's not capable of pushing or back-dragging snow like a full-size steel plow, but it suits me just fine. The plow rides well on the Tacoma and I was amazed at its plowing capabilities; quite more capable than I anticipated. The shorter wheelbase of the Tacoma (as compared to an F-150) makes maneuvering those smaller driveways a breeze, and the backup camera that I really didn't want, has been quite beneficial.
My Tacoma is a 4x4, Access Cab, Auto, SR-5. I contemplated purchasing a double cab, long-box. I use the truck as a truck and need the full cargo area, but could also use the extra interior space. Unfortunately, a Tacoma long-bed double-cab's wheelbase and overall length is within inches of an F-150 SuperCab's, and would not have helped me with the snowplow maneuvering and garaging with plow attached issues, which were my primary concerns at purchase time.
Based on information gathered here at TW, I equipped the truck with a
BakFlip
cover that works very nicely and looks good. I had soft
tonneau covers
or hard shells on my other trucks and they were a pain to open or remove when carrying bulky materials; the BakFlip is awesome. Many times in the past, especially in the winter, I'd hook up a trailer to haul materials rather than have to struggle to unfasten and refasten a tonneau cover. The BakFlip has never disappointed and the trailer is now rarely used. The BakFlip does leak at the front corners when traveling in rain and when the truck is washed, but not much more leakage than the tonneau covers I've had.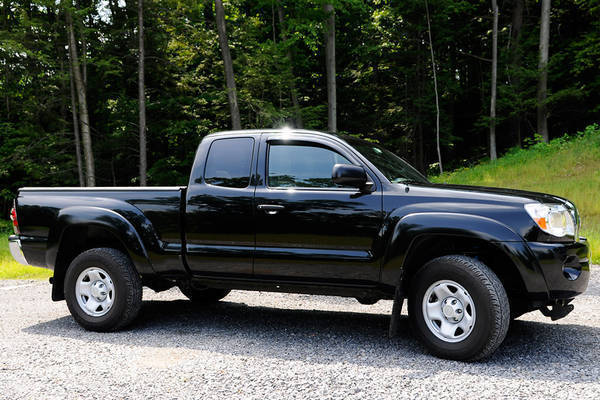 The radio in the Tacoma malfunctioned right after purchase. I don't usually listen to the radio (I prefer the "voices") and I was surprised as hell when the radio started blasting as I drove down the Interstate one day. It actually made my butt pucker. After this initial malfunction, the radio got quite flakey and would turn-on, turn-off, not turn-on, not turn-off and show Chinese? symbols in the display. Fortunately, I drove to the dealership when the radio was in one of its messed up states and the service writer took a quick look and said they'd order me a replacement.
As for me: I'm a LostRebel. I've lived in upstate New York my entire life, but I am embarrassed and disappointed by N.Y.'s liberal politics and politicians: I love the state, despise the statesmen. I undoubtedly have Rebel genes in my lineage as I find myself morally and politically aligned with southern conservatives. (A southern gent must have poked one of my foremothers somewhere along the line. He probably said "Thank you Ma'm," and left her worthless money.)
I'm older than the majority of this forum's members, younger than some. I work in information technology and I'm protective of my privacy and try not to willfully disclose too much personal information to the Internet. (And I want to keep my job.) What little I do disclose or write is 99% truthful (if not obviously bull) as I have seen exaggeration, lies and bravado posted to the Internet come back to haunt the poster.
LostRebel