I embarked on a coyote hunting trip yesterday to Cle Elum. Out by Elk Heights Road. I thought I found a nice turn out to park the truck, only to find out it was actually a snow covered ditch! I quickly became basically high centered. My front wheels were doing a little digging, but my rears were just floating. I tried to exhaust all options including airing down my tires to about 25psi, but I still couldnt move even a single inch. I had a mini-shovel but I would have been there all day trying to dig out, even then I wasn't sure it was possible. I did also have a come-a-long and three tow ropes with me, but it didn't end up being long enough to safely attemped to winch it out. I started to attemped to do it, but I was scared that the come-a-long was gonna snap and I didnt want to risk getting decapitated by the tow line! Plus I was not hopefull that is was even going to work since it would of had to pull my truck up deep snow.
I decided to give BrettBretterson a call to see if he could come help and he was more than willing. Mad props to Brett! Upon his arrival we first needed to release tention on the come-a-long. It seemed to have become jammed and it wouldn't release the tension. It had been a few hours since I tried to move the truck and I hoped I could at least inch it forward enough to release tension.
This is where the story becomes funny.. It turns out a temperture increase of about 15 degrees makes all the differance when it comes to a vehicle stuck in the snow. Not only was I able to inch it forward to release the come-a-long, but I ended up just driving it right out of the ditch!! I went from literally not being able to move @ 27
°
and within a few hours it was around probably 45
°
and the snow had softened up so much I was able to drive right out. LOL. I felt silly that Brett drove all the way up, but at least I conned him into having a Tacoma Meet in Cle Elum, LOL! We had some fun in the snow before he headed back. Here are some pics, sorry I didn't take more!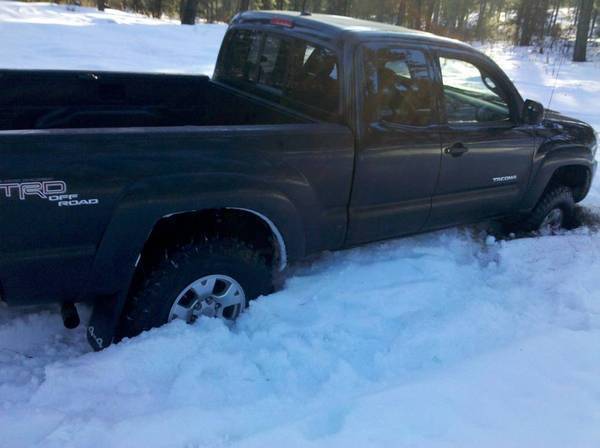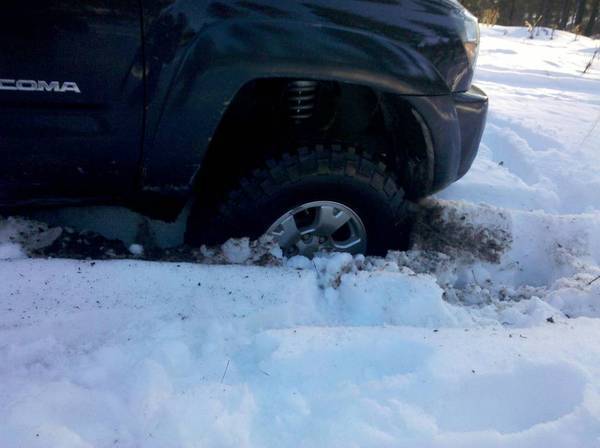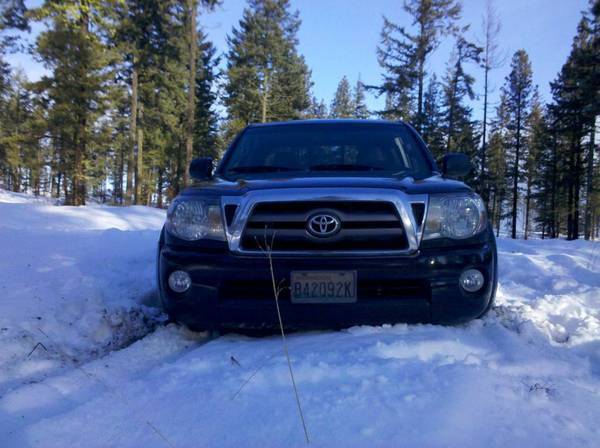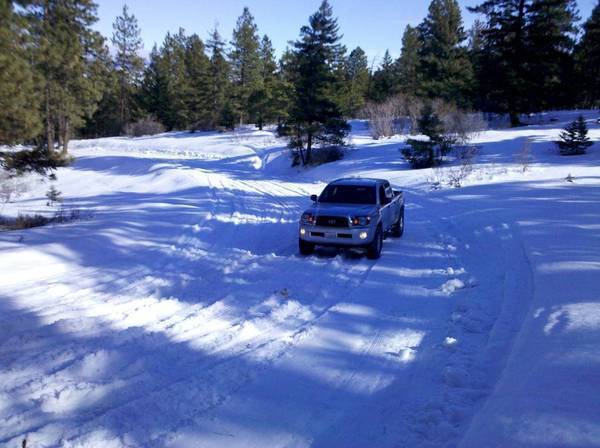 Brett then got stuck trying to turn around.