I went camping @ Surprise Lake on Sunday with my brother. I hadn't been up there before, but have read some good reports about the area, and I was eager to check it out.
It's near Evan's Creek outside of Carbonado, WA. Directions
HERE
.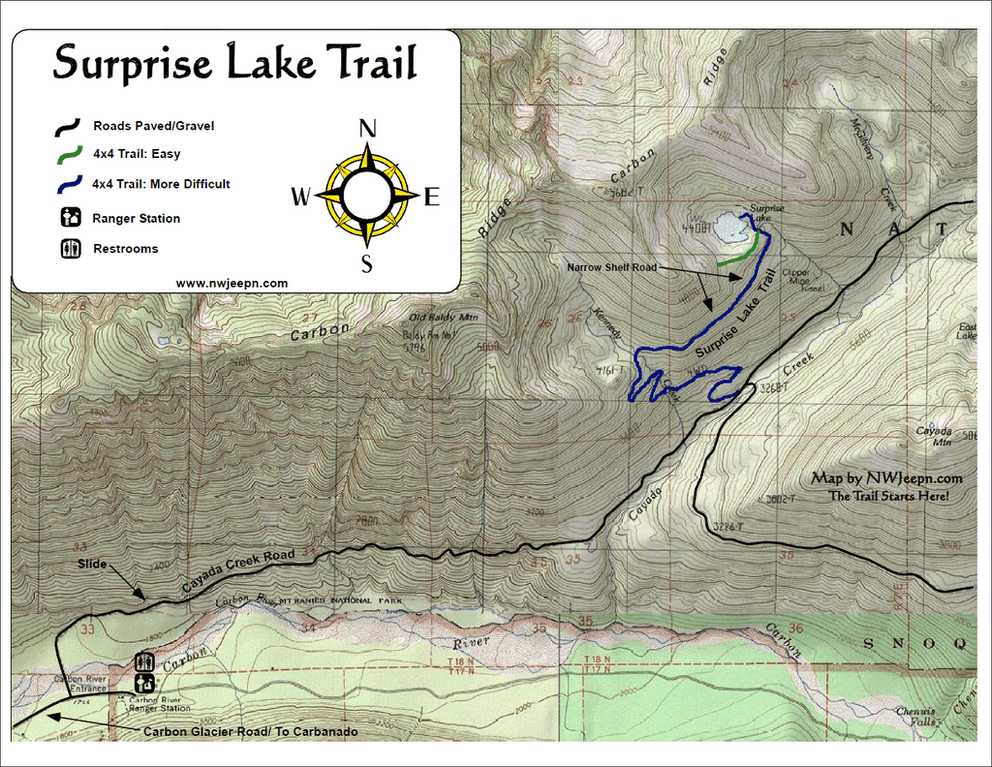 TRAIL REPORT
:
This trail is rated "More Difficult", but I would give it a Black Diamond rating. 75% of the trail is slightly rocky logging-road conditions, while the other 25% is extremely rocky with basketball-sized boulders to drive around. Throw some logs and few large stumps in there, and you've got some fun obstacles to crawl over/around. Some tight corners and narrow overgrown trails. Pin-striping is guaranteed!!!
RECOMMENDED RIG SETUP
:
Lift:
2-3"
Highly
recommended
Sliders:
Highly
recommended
Skids:
Highly
recommended (not required, I didn't have them)
Tires:
Decent tread and lugs (MTs) w/ 3-ply sidewall (some of the rocks are extremely sharp/jagged and may puncture a 2-ply sidewall, like on Duratracs)
Misc:
Diff. Breather relocate
is recommended if you want to cross the lake.
I ran into a couple guys on their way out, and the last guy coming down was really cool. He gave me some "tips" about the roughest spot on the trail, we named it "Das Stump", but I should've picked my own line because it was a PITA and took me 3-4 attempts to do it his way. At least I know the best approach for next time.
He also gave me a heads up about the best camping spot at the lake, which was amazing!!! I had to drive through the lake, around the shoreline to reach it.
It's a nice sand bar on the other side of the lake. There was about 1/2 cord of firewood chopped up, carved log benches, and a decent fire-pit. A downed tree with the exposed root-system provided natural shelter for the wood, and a great place to hang some supplies. Nice packed sand was a great area to pitch our tents, and the lake was shallow near the shore, clear, and pristine.
NOTE:
If anyone goes up there, please respect the area, tread lightly and if you pack it in,
PACK IT OUT
! I want to be able to return here, and keep the area good condition. The few people I spoke with up there were happy to see a new person out there, as they've been returning for 20+ years, but they want to keep it un-gated and maintained.
Here's some pics me and my bro took. Videos will be added once I finish editing them down.