Slick Rock wheeling trip May 18
Required:
4x4, decent AT tires, sliders
Recommended:
skids + aftermarket bumpers, locker, diff breather mod, recovery gear (winch, hi-lift), CB or FRS radio (I'll have both to communicate between the two)
Tentative plan: Head to the northern trailhead near Lake Alpine on Friday afternoon/night and camp out at Silver Creek. Wheel at Slick Rock Saturday morning at
9AM
, then after, hit up Corral Hollow trail. Then camp out Saturday night. Folks are welcome to camp the whole time, part of the weekend, or just do a day trip.
CB channel 30
EAST BAY CARAVAN MEET UP SPOT:
Pleasanton In-N-Out
at 3PM on that Fri.
PIT STOP/SAC FOLKS MEET UP SPOT:
Angel's Camp O'Reillys
around 5PM on that Fri
Trailhead:
38° 28' 07.5" N 120° 00' 40.2" W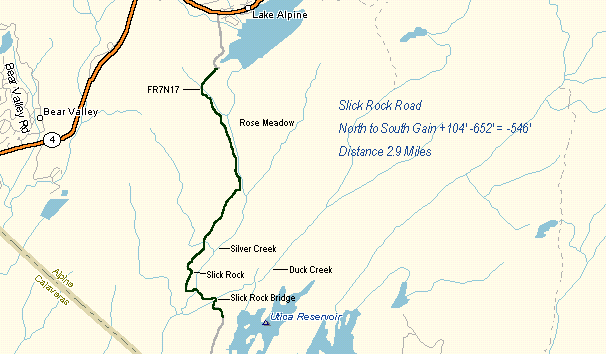 info:
http://4x4trailmaps.com/4x4Trails.php?Trail_ID=5
http://www.norcalttora.com/trails/slickrock.php
tidbits from members...
Quote:
Originally Posted by
92shawman
I made it through last time on 31s, stock skids, open/open, WITH sliders (<--veeeeerry important).
Quote:
Originally Posted by
GHOSTFJ
http://www.tacomaworld.com/forum/northern-california/219716-slick-rock-trail-pictures.html
Trail had snow on first half mile. Muddy in spots and alot of loose rocks. Fun as always but I think those with out skids and lockers need to be cautious. I would highly recommend sliders, lift, 33" tires. Those without skids will have to take it slow to avoid hitting bottom and those without a locker will prob need to winched up the very last obstacle. For the long WB rigs, you might have to do some multiple point turns for some sections. Anything is doable if you have the will. Take a look at my rig from top to bottom and you'll see what I mean. Can it be done, yes. Can it be done cleanly, no. Made the last obstacle the hard way too. Also for those with open
air filters
like a cold air, if the water crossing does not get lower might have to think about changing it out.
In all honesty, you won't need a locker unless you plan on taking the hard line at the last obstacle. If not, then you can take the bypass. But even those of us without lockers can do the last obstacle
Pics from last year's trip:
http://www.tacomaworld.com/forum/off...rock-trip.html
Who's in?
MJonAgs32 (camping all weekend)
09FriscoTaco camping all weekend)
MikeyTG +1 (camping all weekend)
kalieaire (camping all weekend)
Ray +2 (t4r) (camping all weekend)
sytfu510 +1 (camping all weekend)
w3tw0rks (camping all weekend)
Chance Hokanson +1 (camping all weekend)
Baoser (camping Fri night, maybe all weekend)
whiteboy (camping Fri night)
Wicked 2007 (camping Fri night)
MoreFJland (camping?)
younglexx (camping Sat night)
SCRunner12 +1 (camping Sat night)
Carson (day trip)