Hey there gents (and ladyfolk, too)!
I'm work in a small motorcycle restoration shop with my father and have been doing more powdercoating as of recently.
I recently picked up a spare set of TRD OR rims and figured I'd toss the idea out there for potentially having a "core" exchange for anyone who wants their rims done but don't want the long lead times.
These are the rims that I have; uncoated and untouched (outside of a little cleanup)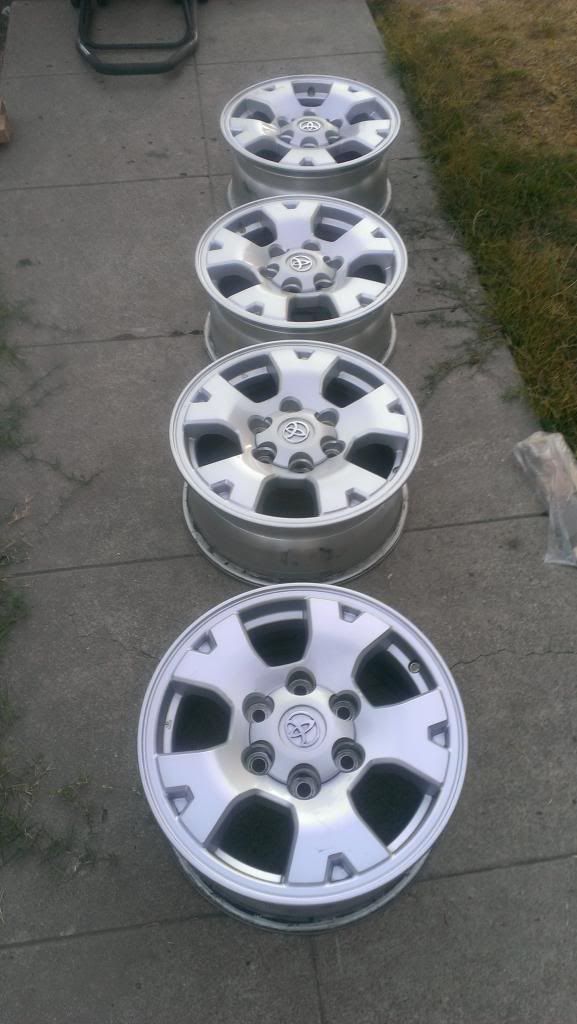 You pick the powder, I'll spray a sample, once you give me the okay I'll take a deposit and coat the rims that I have.
When completed, I'll personally deliver the rims and help get your truck on stands, we'll then take both sets to a tire shop and have your current tires dismounted and remounted on the coated rims.
If you don't care about the lead time, I can still powder coat rims but because a lot of folks on here have the same rims (and it will be a while before I need mine) I figured I'd see if anyone wanted to take this up.
Here's our website if you'd like to take a look!
http://www.oldschoolcarbs.com/additi...owder-coating/
(feel free to inquire about carburetors too, I mean, it's only what we do
)
I don't have a price worked out just yet because I'm not sure what interest would be in something like this. AND bear in mind that I will not be painting the center caps, at all, ever. That will be your responsibility to take YOUR centercaps and have them color matched or paint them yourself. I hate paint.
SO,
PM
me if you have any questions/comments/concerns/criticisms or just feel like telling me what you had for lunch (please don't do the last one).
Thanks,
Jarrod