When:
6/20-6/22 (Fri-Sun)
We'll be running the trail on Saturday 9AM. Folks are welcome to come Friday or Saturday to camp. Then we'll be headed home Sunday.
Where:
Slick Rock trail, Stanislaus National Forrest
Trailhead:
38° 28' 07.5" N 120° 00' 40.2" W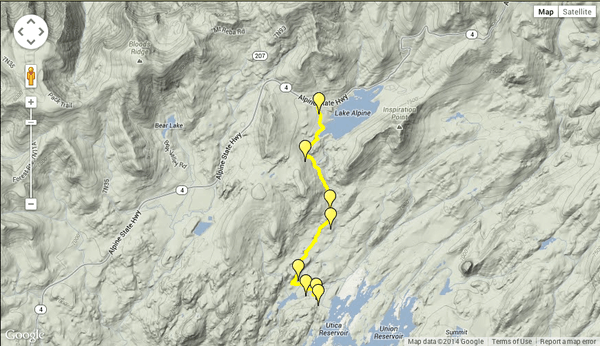 We'll be running the trail from the North to South, then a fire road will spit us back on HWY 4. We'll set up camp right after the second marker from the top. In fact, here are the directions to the trailhead, verbatim from the Backroads book:
Quote:
To Get There: Take Hwy. 4 to Lake Alpine north of Bear Valley. Turn right at west end of lake following signs to Lake Alpine C.G. Head South, staying to the right as roads branch left. When the bike trail goes right, you go left. Bear right at blue cabin then right again at private drive. Follow narrow road to well-marked trailhead 0.7 miles from Hwy.4.
And then just follow the trail a little, and you'll find us along the trail
(NO FEES)
Required:
4x4, decent AT tires, sliders
Recommended:
skids + aftermarket bumpers, locker, diff breather mod, recovery gear (winch, hi-lift), CB or FRS radio (I'll have both to communicate between the two)
info:
http://4x4trailmaps.com/4x4Trails.php?Trail_ID=5
CB Channel 30
FRS Channel 1 / 1
List:
MJonAgs32 (leaving Fri AM)
kalieaire (riding w/ MJ^)
DeJeepDad (leaving Fri AM)
JLee (leaving Fri AM)
t4r4life (leaving Fri afternoon)
Casper421 (leaving Fri afternoon)
Jlee brother (leaving Fri mid-afternoon)
jqueener (leaving Fri mid-afternoon)
johnboyTRD (leaving Fri mid-afternoon)
Mademan925 (leaving Fri 6PM)
RelentlessTaco (meeting Sat AM)
Traction120 (meeting Sat AM)
96t4rlimited (meeting Sat AM)
TimmyB
bmase11
BayAreaRunner (maybe)