Left about 7.00 am with my girlfriend and nephew to go on a fishing trip and give the Taco a little break in. We put up a of the great american pastry ( some doughnuts). I making some time climbing the hills until my Nephew said: "I don't think I like curvy roa......'puke'........ roads. 'puke'. I could just see it doughnut puke down the back of my seat. I pull over and get out and he was covered in vomit, with a bunch of it on the floormat and none on the seats, oh thank you!
Well we continued up the hill at about 35 to 45 mph to keep the kid okay. I get to the camp ground and do a little fishing and pawn the kid on his grandfather so took the Taco for a drive.
I went up CA Hwy 89 to Loope Canyon and went up 190 for some mild 4 wheeling. It was going great, until I came upon a road block: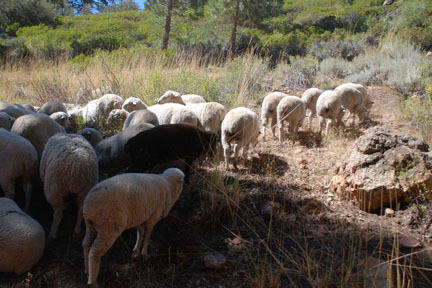 I knew they ran cattle up there but the not range maggots. We got trough the wool and kept going on around Leviaton Mine Rd. I had to use the 4 low to get around a idiot parked in the trail to cut some wood. I got to lock up the rear up one steep hill that was pretty loose footing. All in All was a good day, except the puke.
Here is some good views: