This was a 3 day trip into northern Baja California that was inspired by a geologist scanning Google Earth satellite images of an area that an old legend says should be the location of a secret, lost mission known as Santa Isabel.
The Jesuit missionaries establishing a chain of missions on the Baja California peninsula learned that they had fell out of favor with the king of Spain, in 1767. That all of them were to be removed from California (which was the Baja California peninsula's name originally), taking nothing of value with them.
The legend says one last mission was secretly built to store the accumulated treasures in a hidden canyon, beyond the final Jesuit mission of Santa Maria de los Angeles. A water source with the name Santa Isabel appears on a Jesuit map dated 1757 near the area of our search and an old story claims the mission is located 12 miles from a spring called Mezquitito (which may have been the Jesuit water hole) between Puertecitos and San Luis Gonzaga Bay, on the east coast of Baja.
In reality, no mission records mention any such project and the missionaries barely could raise enough food for their native 'slaves' and themselves, let alone mining gold, silver or pearls! Many have searched for Santa Isabel over the past 100 years. We Baja nuts don't need much of a reason to go to Baja, so when this fellow joined our Baja forum with his findings, we happily jumped on the opportunity to go look. His handle is 'elbeau' and he lives in Texas, so he was not able to join us or search himself.
Besides looking for elbeau's lost mission site, we were in a great part of Baja for geology... near an active soda spring which erupts monthly, making it a rare cold water geyser, called El Volcan. Also near a famous onyx mine (El Marmol) that was active from 1905 to 1958. A new barite mine 'La Olvidada' was 6 miles away.
So, see all the sites we did a couple of weeks ago... there are many photos, so this will be a 6 part trip report for easy viewing. I hope you enjoy it... There were 3 Tacomas, 1 Dodge, 1 Bronco, 1 Honda XR bike and 8 men who drove nearly 300 miles south of the border, 13 miles off the highway, and 4 miles by foot to the Santa Isabel site.
Primer: Does everyone know where Arroyo El Volcan is or at least where where El Marmol onyx quarry is?
El Marmol is 9 miles from Hwy. 1 at Km 148/149 between El Rosario and Cataviña.
The arroyo is 4 miles from El Marmol and flows to the Gulf of California just south of El Huerfanito. The Mexican topo maps have mis-labled the arroyo as 'Zamora' and called the next arroyo south 'El Volcan'!
El Volcan is a cold water geyser and an area of soda springs where onyx is slowly being formed. Much onyx is in the area, as well. The geyser is less than a half mile south of the road, in the arroyo. The lost mission site discovered by elbeau is 4 miles to the north.
Some maps (1962 to 2007):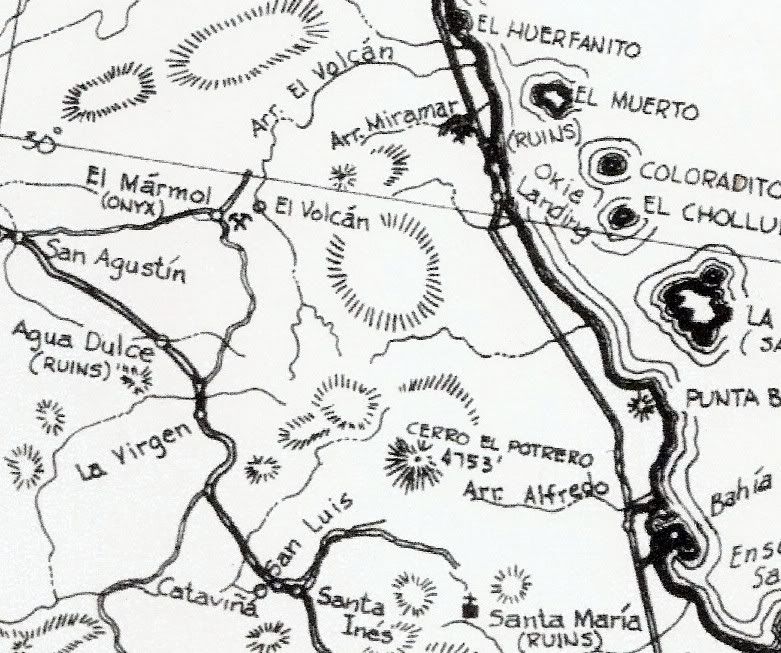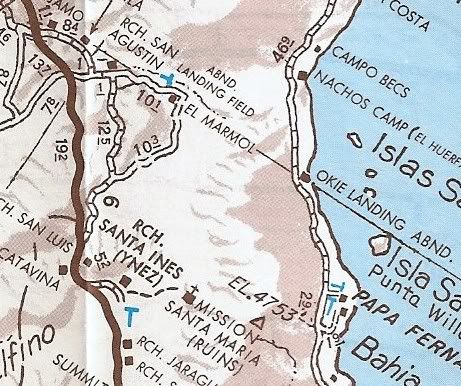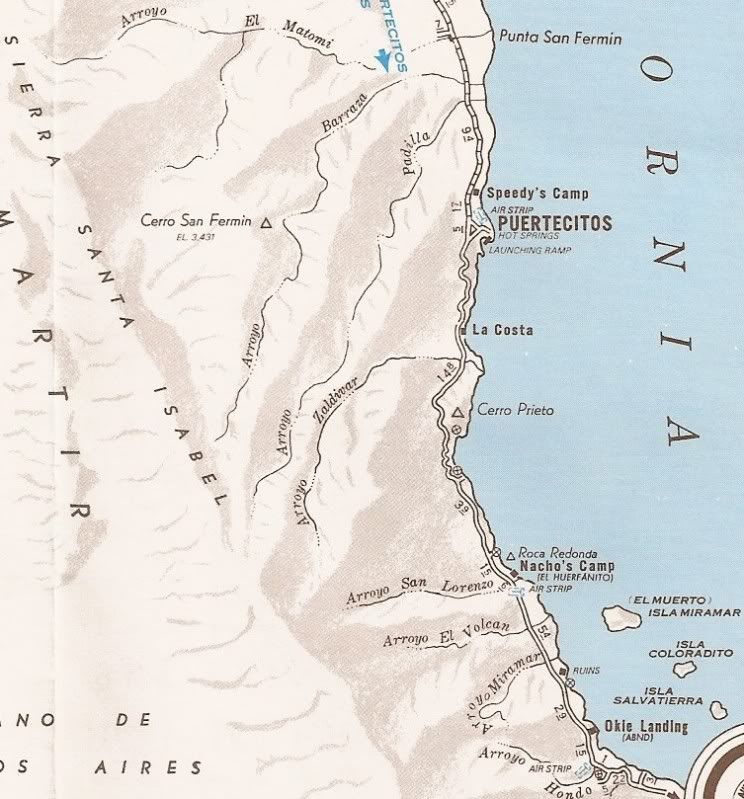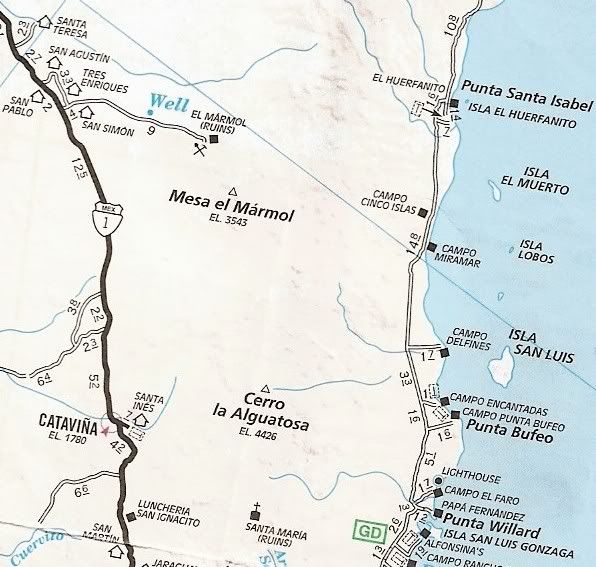 PART 1 (Friday April 29)
My fellow adventure seeker was Baja Nomad member 'El Vergel' (Vern) from the Los Angeles area and the beach campo south of San Felipe. 'Baja Cat' (José) who waited for us just across the border at Otay Mesa joined and traveled along with us on Friday.
The drive south was easy and fun.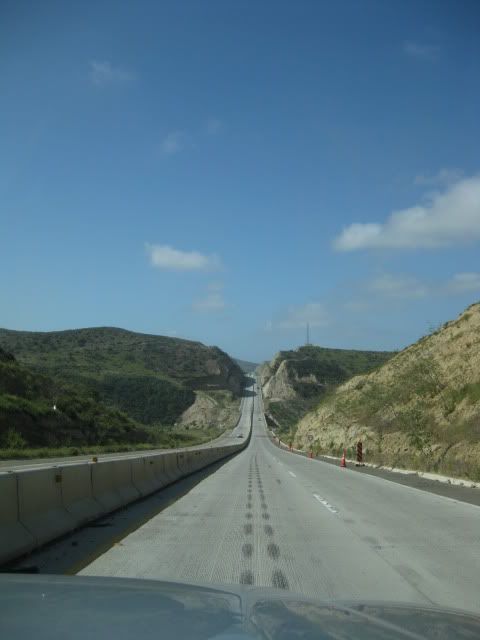 Corredor 2000 zips you around Tijuana to or from Otay or Tecate (Vern Pic)
We stopped for lunch in San Vicente at a taco cart operated by Gloria, who served us 'tacos de borrego' (lamb tacos) along with a cup of consommé de borrego to which we added onions and salsa… YUM
We arrived in El Rosario about 2:30 to fill our gas tanks and buy a few cases of Tecate and Dos Equis cerveza. I also wanted to show Vern the rooms at Baja Cactus Motel as they are so outstanding given the location and typical highway accommodations usually found in Baja. We also saw Itzel's mother who reported her daughter as doing fantastic following the heart surgery of several months ago.
Baja Cactus Pemex (Vern Pic)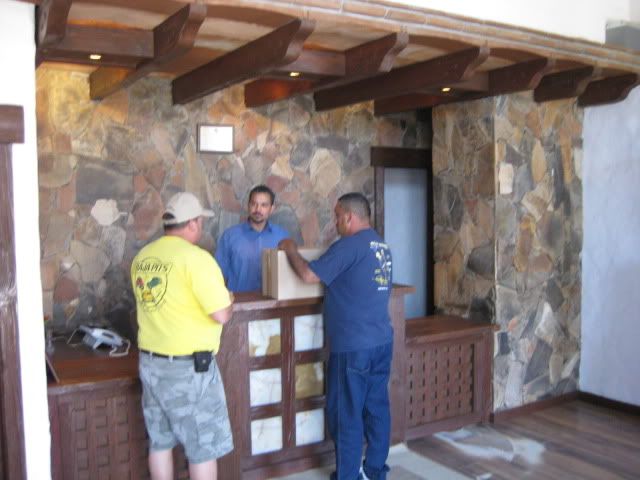 Baja Cactus Motel front desk (Vern Pic)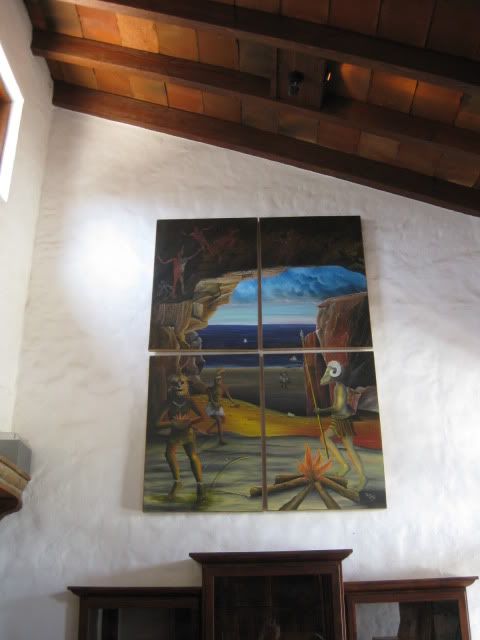 Hugo Lopez art at Baja Cactus (Vern Pic)
Baja Cactus room (Vern Pic)
Fuel prices in Baja (below the border region) were 8.77 pesos per liter for Magna and 9.87 for Premium. The exchange rate at Baja Cactus was 11.20 pesos per dollar and in Ensenada on Sunday was 11.00 pesos per dollar… both close to $3.00 per gallon.
The 56 mile drive down Highway One to the El Marmol road was a breeze and the signed road was between the 148 and 149 kilometer markers. The next 9 miles to El Marmol are dirt, but some of the easiest dirt miles in Baja and would be a breeze for most vehicles.
We stopped to take new photographs of the schoolhouse ruins and cemetery before the final leg of today's drive down to Arroyo el Volcan. I heard the sound of a speeding Toyota Tacoma and it was 'TW' (Tom) and his brother Bill arriving from an ice run to Cataviña (20 miles distant). José, Vern and I followed them down to the campsite in Arroyo El Volcan, 4 miles from El Marmol.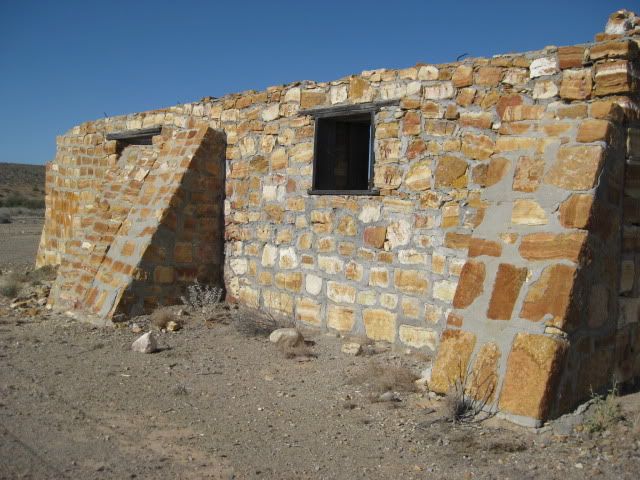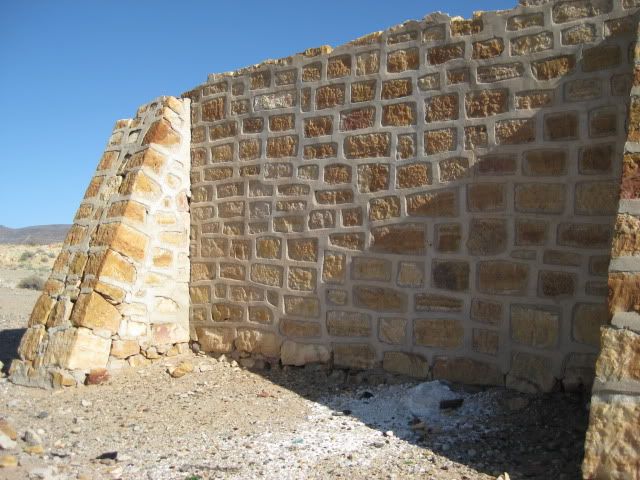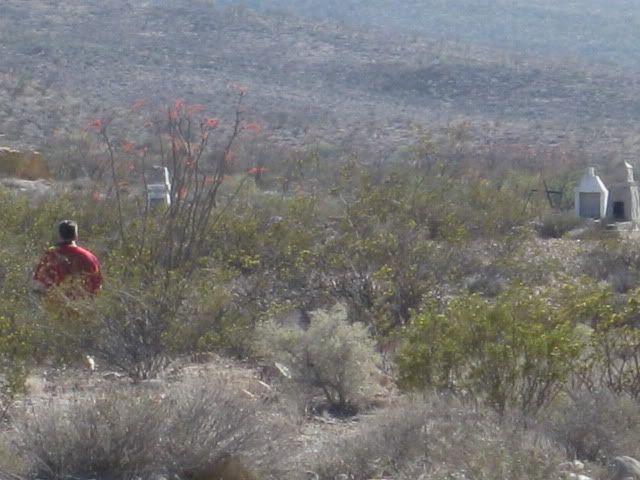 Already there was 'bajalou', 'dtbushpilot' (David) and 'XRPhlang' (Phil) on the sand/gravel arroyo at the base of a giant rock face. That evening was plenty fun discussing just why the hell we all drove hundreds of miles and spent hundreds of dollars to be in such a place! It was great!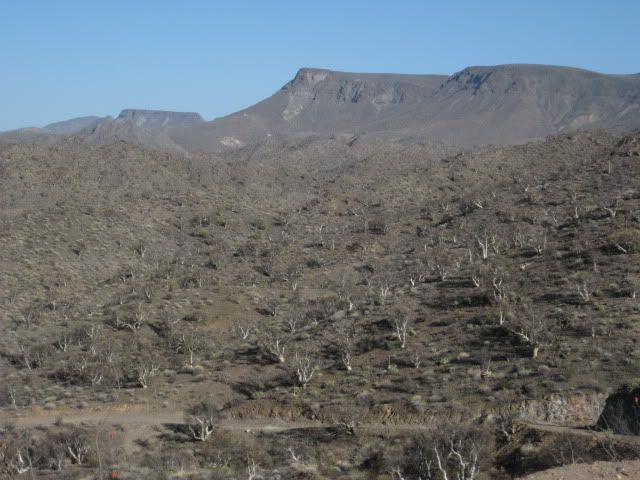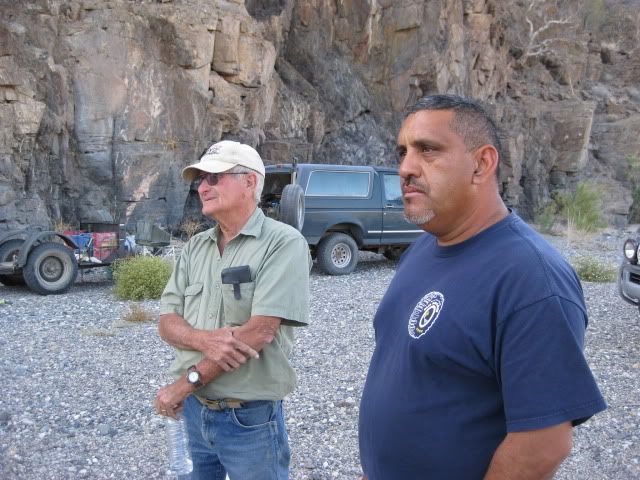 'bajalou' and 'BAJACAT'
'XRPhlang' (Phil) and 'dtbushpilot' (David)
'El Vergel' (Vern), Bill W and 'TW' (Tom)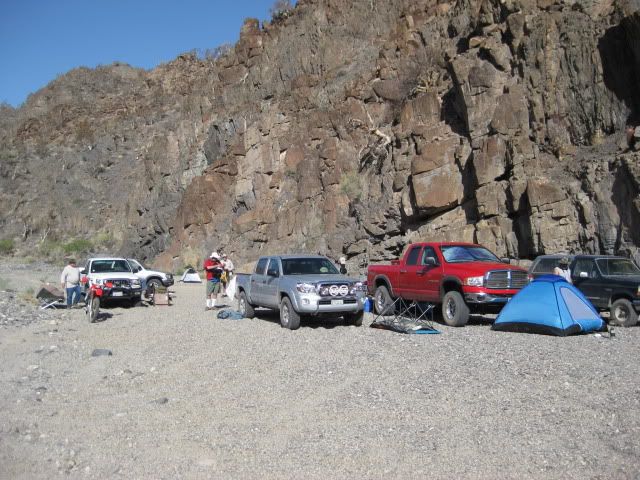 Saturday, the hike begins!:
TW made a batch of grits to supplement our morning diet and we secured camp for the day's hike. It looked on the map to be about 3-4 miles down the arroyo to the primary site of elbeau's Santa Isabel (arches, stairways, fountains). I called the location 'site B' on my Google Earth map. Our camp was just a few hundred feet down the wash from the El Marmol-La Olvidada mine road (which was totally graded very recently).
The last photo posted above in Part 1 was the morning showing our camp.
Our camp was in the arroyo, on the left of this image: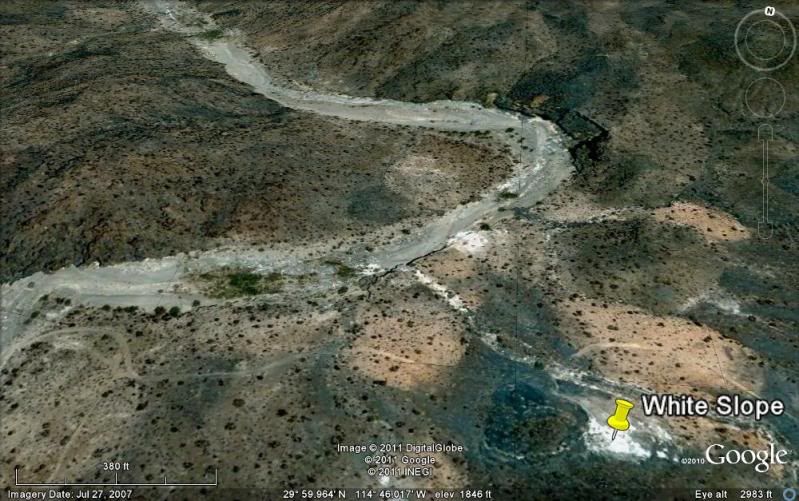 The site (white tag 'site B') was exactly a 4 mile hike away: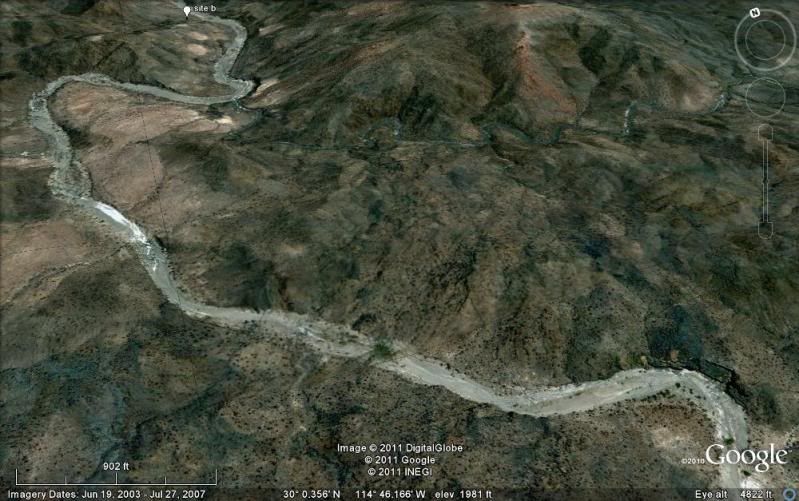 We begin the hike: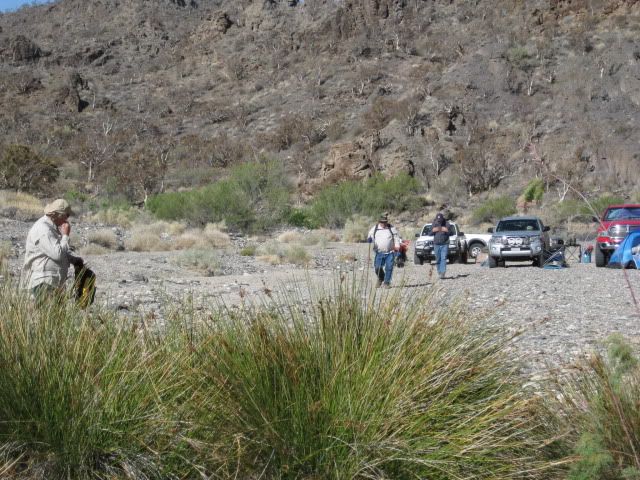 The arroyo of El Volcan was extremely interesting and is well worth the visit (even without a lost mission)! I will let my photos do most of the story telling...
Water in small amounts was near our camp and oozing out of a cliff at the first big bend.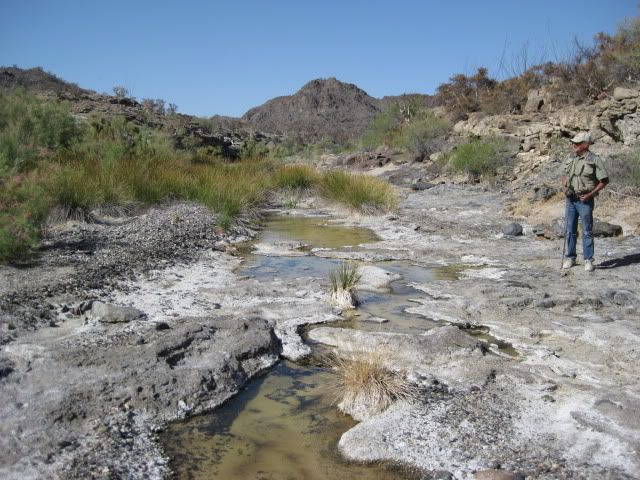 David K, always happy to be in Baja!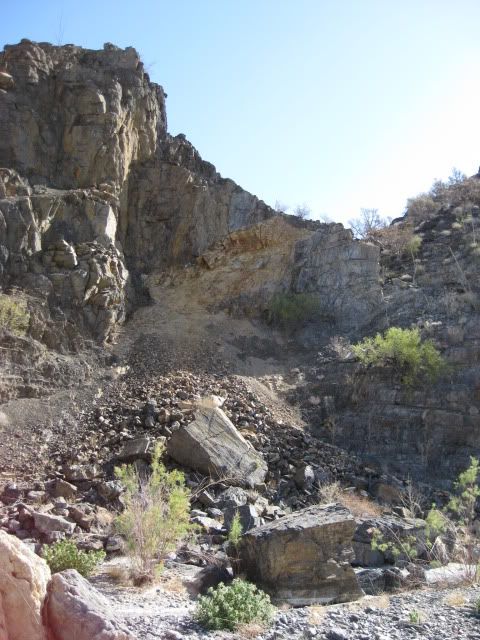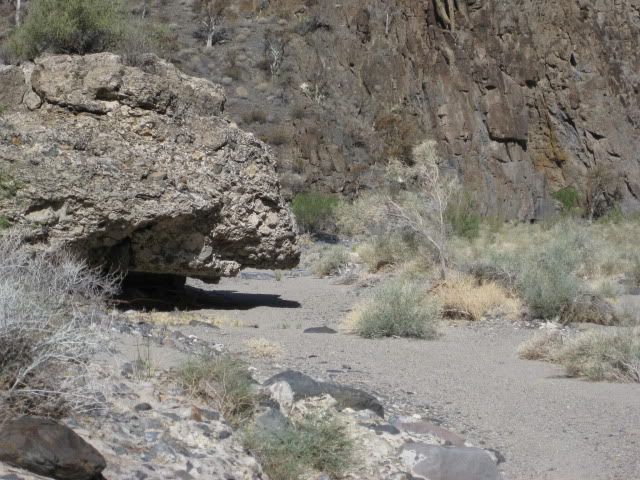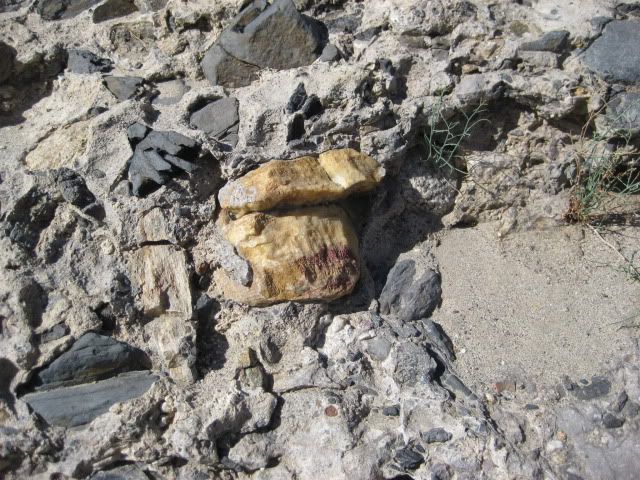 A piece of onyx trapped in newer rock, along the arroyo.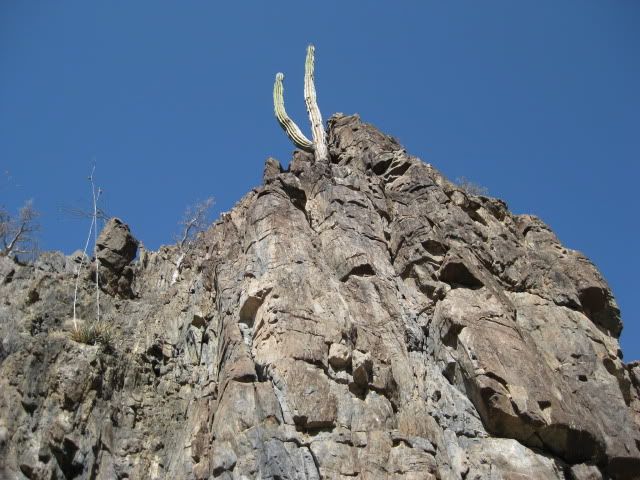 Why look in Arroyo El Volcan?
Some believe that the Jesuits used a small clue on their 1757 map by using the name Santa Isabel (if they actually had a secret mission to hide treasures in):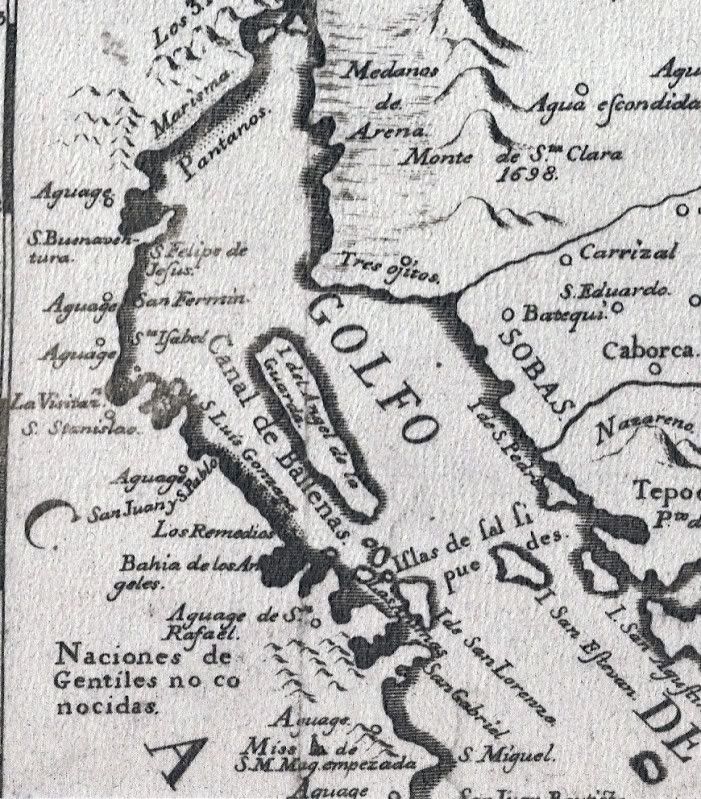 An English pirates (Cavendish perhaps?) stole a copy and that is how we see an English version:
One story puts the mission 12 miles from the waterhole of Mezquitito...
So, when elbeau searched along this radius, and knowing water was a must... the El Volcan arroyo fit the bill... Nice that it is easy to get to, just 13 graded miles from Hwy. 1: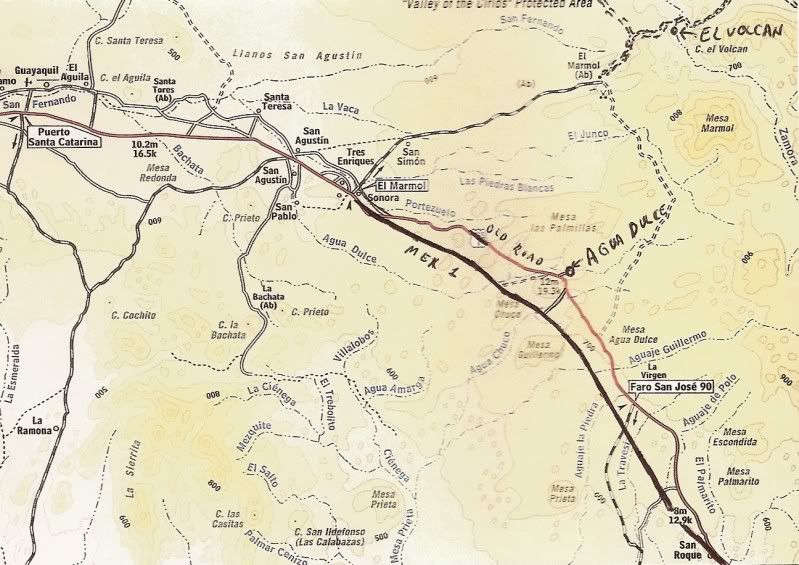 To Be Continued!...