Well, after much searching and more searching on top of that, I can't find anyone anywhere who has installed a belt driven air compressor in a 2nd gen taco. However, I have found a dozen or so threads on TW and other forums of people looking for information on running an unlimited on board air set up. So, I figured I'd be a guinea pig and see what it would take and make the leap. My goal was to spend no more than $100 and have an on board air set-up that my current 12volt system couldn't even come close to keeping up with. I will admit that I will be reusing air fittings, parts, and hoses from my previous air system to keep the cost down.
For those wondering what the hell I'm talking about, the idea is to take an old a/c compressor and convert it to compress just air rather than refrigerants (R12, R134a, etc.). Jeeps and old FJs have been running em for years. They allow for an unlimited air supply (as long as the engine is running) at a high enough cfm output to air up a 35" inch tire from 0-30psi in a fraction of the time it takes a 12volt compressor, easily run air tools, and with the right equipment they can even reseat tires. One of the features I really like is that they're quiet. You don't even know it's running unless you hear the clutch engage and that is only a single 'click' sound - just like your current A/C does when it turns on. This means that I can now air up without hearing the sound of a small, pissed off generator!
There are two different types of a/c compressors out there that people are using for this and both have pros and cons. You can use a York or a Sanden-type compressor. The York is preferred as it has an internal oil sump and reservoir so it's all self-contained, but the down side is that it is HUGE. I would have loved to fit this under the hood, but there's no way in my opinion unless you're running a 3-inch body lift and get really creative by moving things around in the engine bay. I chose to go the route of a Sanden compressor (model SD7H15 to be exact). The reason is that it is more compact. It has a slightly lower cfm output, but not by much. For reference, I pulled my compressor from a 1994 Dodge Dakota at the local self-service salvage yard (V8 motor). There are definitely newer vehicles out there with Sandens in them, but this particular one already had a clutch on it designed to work with a 7-rib serpentine belt which is what the taco has. You can find out what model vehicles came with Sanden compressors at
http://www.polarbearinc.com/applications.htm
.
The problem with the Sanden is that it is designed to compress refrigerants and not just air. Refrigerants have lube in them and as the compressor compresses them, they lube the compressor. Without the refrigerant, you have nothing to lubricate the compressor's pistons. There are two methods to overcome this. You can use an oiler on the air intake and a coalescing filter on the discharge to capture the oil and recirculate it. Or, convert it to run on grease. I chose the grease method to cut down on the number of parts necessary and to simplify things under the hood as space is prime real estate under there. I used the instructions found in a Jeep magazine (
JP Magazine
) to convert the compressor. They did a really good write-up. So, here's the compressor converted and all ready togo. I installed a zerk fitting so I can easily add grease when necessary.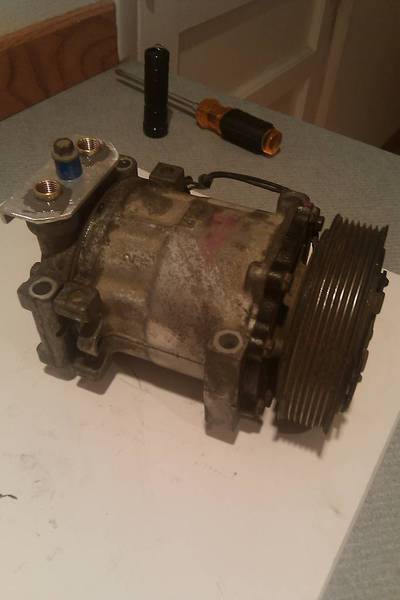 Then came the fun part – installing it! This process took a lot of patience. I lost count how many times I crawled underneath the truck to put the compressor in just to take it right back out. I'll just post pics of what I did in general. If there are specific questions regarding process or parts used, feel free to throw them out there:
1 – Built bracket and relocated transmission fluid lines down a couple inches to provide the space necessary. I made the bracket out of aluminum that I had on hand in the garage.
Bracket: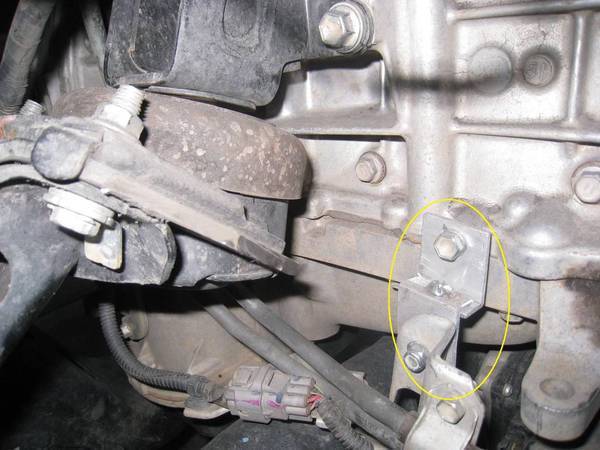 2 – Trimmed front edge of engine mounting bracket. This was the only step that I was hesitant to do. However, I had a mechanical engineer friend take a look at what I was going to do for reassurance that I wasn't going to be running into trouble later on. He assured me there is still plenty of material on the engine mount for it to retain strength and integrity (it's a ¼" plate steel bracket). If you don't want to do this step, then you just need to find a shorter compressor model. I needed 7 ¾" of clearance front to back and I only had about 7 ½" so this was the only option that I could see fit. Open for other suggestions for any future installers.
Front View: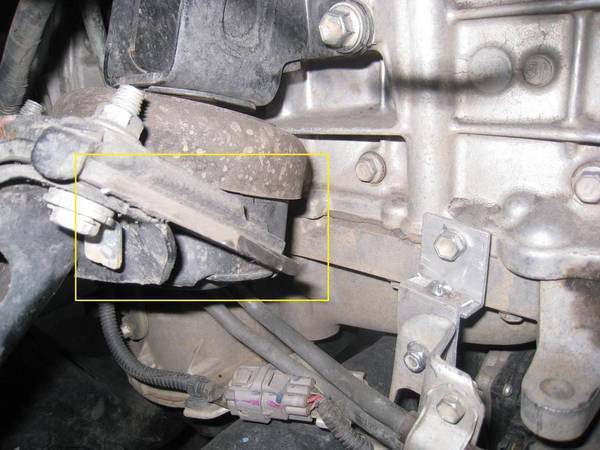 Different Angle: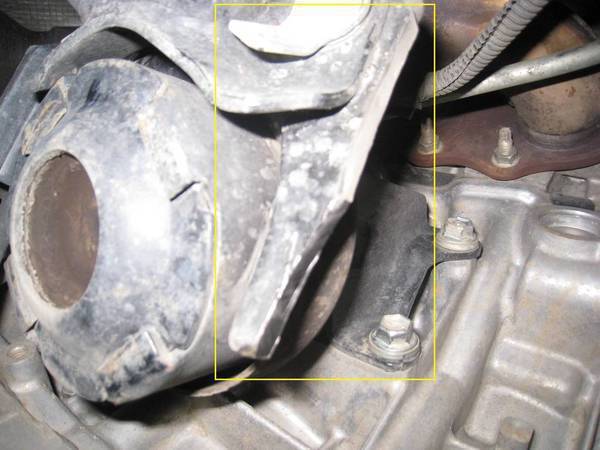 3 – Fabricated brackets to attach compressor to engine block. The main bracket mounts to the engine block via the front motor mount bolt. Then there are three other smaller brackets as well. One of the brackets, though, is more like a spacer than anything else. There's only about a 3/16" gap between the compressor pulley and the power steering pump pulley above it. I attached the spacer-like bracket to the bottom of the power steering pump and the top of the compressor to ensure that the compressor pulley doesn't get pulled up into the power steering pulley. Over-built? Maybe. But that sucker isn't going anywhere and it's solid.
Main Brackets:
Little Brackets Installed: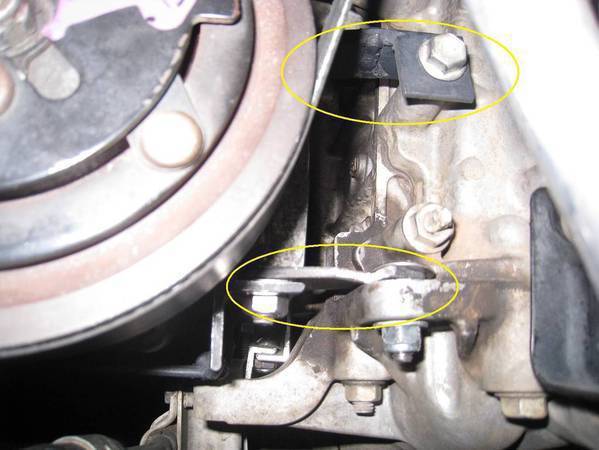 Spacer Bracket: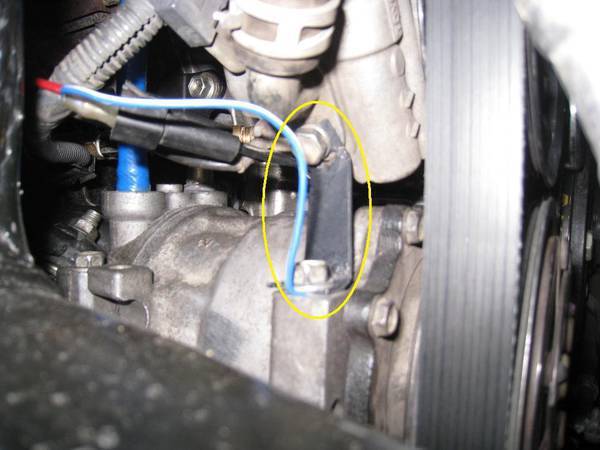 4 – Built manifold to connect suction and discharge air lines to compressor. You can kinda see it in the first pic of the compressor.
(Note: This ended up being a waste of time with the compressor I have. The factory fitting was a compression fitting. So, I built a new compression fitting to attach the air lines. It leaked at around 60psi. I rebuilt it and it leaked at 80psi. Absolutely frustrated with the project, I went to the last thing I could think of. I simply used JB Weld to permanently attach a female-female NPT fitting on the discharge port of the compressor. It seems to hold just fine and is air tight.)
5 – Installed compressor. Yeah, it's kinda tight in there, but it fits!
Compressor in Place: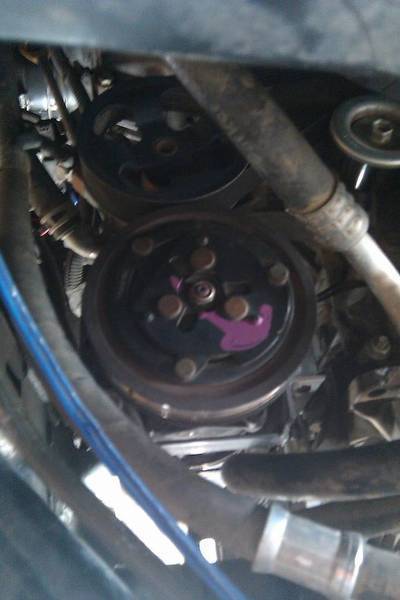 6 – Fitted with new belt. After the compressor was in place, I measured the additional length needed to get a belt around it. I used a 92.75" belt intended to be used on a 01-04 VW Touareg with the V8 engine. It just barely fit on there. I will probably try to find a belt an inch or two longer when I have to replace it in a couple years.
Belt: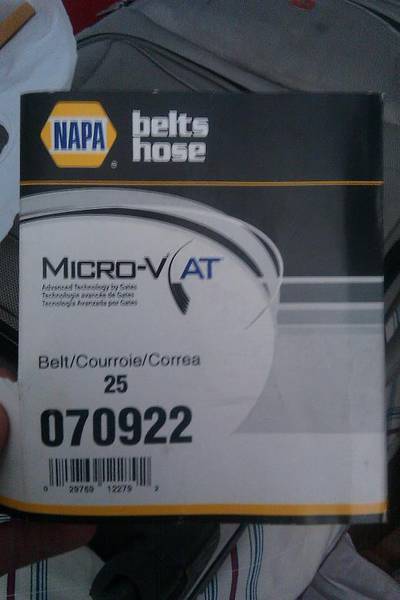 7 – Ran air lines and electrical using parts that I already had. I'm currently only running a ½ gallon air tank. I used it with the 12volt compressor to just allow it to prime a bit before airing up tires. The future rear bumper will become the next air tank when it's made. I'm guessing it'll be around 4-5ish gallons in capacity.
Mini Air Tank: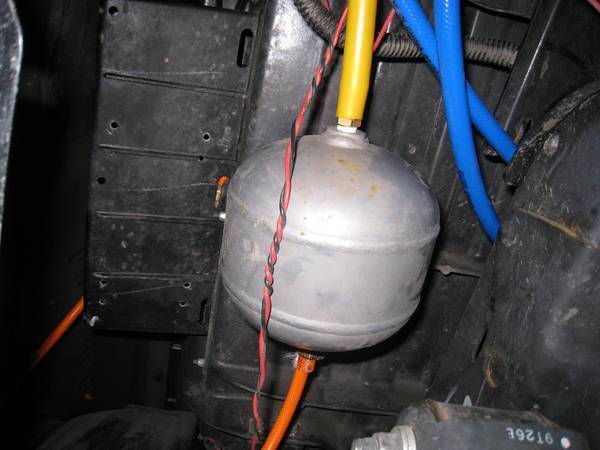 8 –Tested. Here's a quick video of the air up time from 15-30 psi on a 315/75/17 tire. One thing to note, the engine is only running at about 750 rpms during this video. If the throttle were to be held at 1500 rpms, then the air up time would be cut in half, in theory, since the compressor would be running at twice the speed it is in the video.
http://www.youtube.com/watch?v=xjK-MQryeAU
All in all, it was a lot of work, but so worth it to me. It took about 50 hours total to do it all and that includes the trip to the junkyard, converting the compressor, fabbing the brackets, replacing the pulley bearing, travel times to parts stores, etc. If I were to do it again with what I know now, it would probably only take about 18-20 hours. I completely installed and removed the compressor 5 times during the testing phase in order to tweak things just right which took a major amount of time.
My 12volt compressor always hit the duty cycle limit (@about 30 minutes) when airing up, which was well before my tires were back up to highway driving pressure. I also like the fact that I can run air tools if necessary. I will say that there are some really sweet 12 volt compressors out there that can run air tools and air up tires quick, but they are really pricey (up to $500 easily!). This only cost me about $123 as I already had some of the parts on hand. Even with the cost of my time, it was still worth it as I really enjoy projects like this.
Things learned:
Find a compressor with threaded fittings if at all possible. Make sure they point up like mine do. If they point straight back, you'll run out of room. They make threaded adapters to go from refrigerant hoses to NPT.
If you turn your wheels all the way to passenger side, there is enough room to sit in the wheel well to work on the project. However, this will vary with lift/tire combo's and person's height.
JB Weld is stronger than I thought.
Go ahead and replace the pulley bearing before installing it all in the truck. Not an expensive part, but it should be assumed bad coming from a nearly 20 year old donor vehicle. The last thing you want after all that work is to hear a screaming bearing. Trust me.
Small hands come in handy as the workspace is pretty small.
Let the engine completely cool before installing compressor. Dumb, I know, but I got impatient one day after work and learned that lesson again.
The whole "measure twice, cut once"mentality goes a long way with this project. If I had spent more time brainstorming as the project progressed, I could have saved boatloads of time.That and a few less beers.
Parts Purchased:
Compressor - 48 (Scrap yard - includes $8 core charge)
Belt - 34 (Napa)
Grease - 8 (Napa)
Check valve - 8 (Summit Racing)
Pulley Bearing - 19 (Whistler Bearing & Races)
JB Weld - 6 (Napa)
Total: $123
If you don't already have these parts, this system would also need:
Hoses
Fittings – blow off valve, bleeder valve, etc.
Tank – not really an option with this setup as you can wear out the clutch super-fast if it's always turning on/off rapidly.
Electrical stuff – pressure switch/fuse/wire
Let me know what you think!