South east Texas doesn't offer a whole lot of public off roading opportunities. There are about 30 miles of public beach that can be driven between High Island and Galveston. The sand on a lot of this beach is quite deep, stuck vehicles are very common. The beaches are pretty and the surf is gentle.
Texas Hwy87 used to run between High Island and Sabine Pass - two hurricanes in the 80's and 90's wiped it out and it has never been rebuilt. The McFadden marshes north of this area are wildlife sanctuaries and there are no roads, no public access. The area between High Island and Sabine Pass is now literally - No Man's Land! The only way off of this ~20mile stretch is to drive off the beach in one direction or the other, the marsh is fenced out.
I had never attempted this stretch until today. My wife daughter and youngest Schnauzer loaded into my '12 Tacoma DCSB Off Road. My son and his friend and our old Schnauzer loaded into his '07 DCSB Off Road Sport. I hope I can be forgiven for leaving my wife's new '13 T4R SR5 at home. The T4R is still completely stock and I wasn't sure what challenges we would be facing (more on that later). We brought tow straps, high lift jack, wood for the jack a couple longer 12" sect to drive on if necessary, full ice chest, chairs, beach canopy, sunscreen, bug spray and my VIAIR 450P: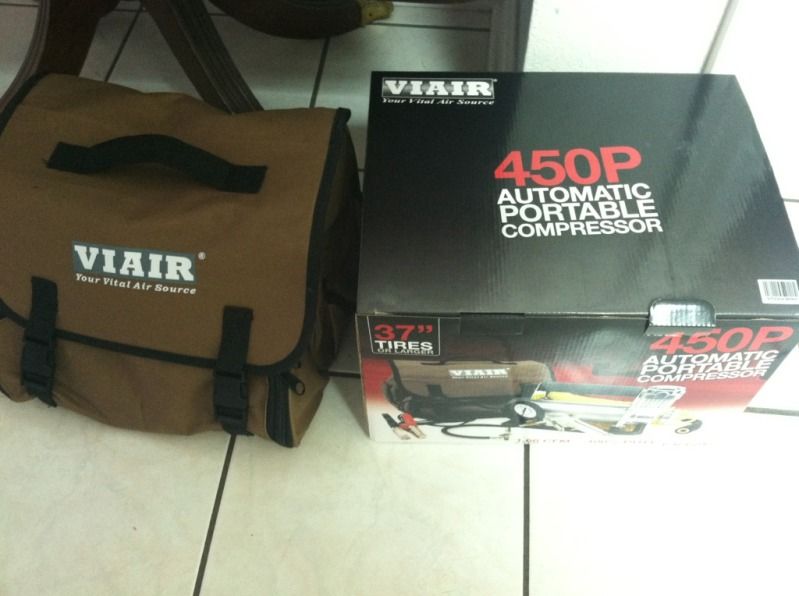 Can't say enough good things about the VIAIR 450P, worth its weight in gold! Fast, quiet, compact, will fit behind the rear seat in the Tacomas. Airing down to 15psi means the difference between walking through deep sand without spinning a tire and burying it up to the frame. Can't understand people buying $25,000-40,000 4wd, spending another $2-10,000 (or more) on customizing, then refusing to drop a few hundred on a quality air pump! A high quality unit like this will have you re-inflated and on the road in 10 minutes or less from the time you stop to pull it out...
Back to today's trip, we started off by driving down Texas hwy 124 till we hit the beach just south of High Island. We turned east (left) on the beach and pulled over and aired down. Reset the trip odometer, dropped into 4Lo (mainly to make it easier to creep) and drove off at about ~10:00 am. The beach sand was packed for the 1st mile or two, getting progressively deeper and looser the further east we went.
The sargassum weed is blowing on to the beach right now and it is piled quite deep from just above the surf line. Generally speaking there are two paths available - the beach path, directly on the beach or in the sargassum or slightly higher up there is a sandy track that appears to be just above the normal high tide mark. We mostly stuck to the beach whenever possible, only deviating up to the upper sandy track to avoid some of the thicker clay areas (more later...).
After about 5 miles we stopped on the beach, put the canopy and chairs out, threw frisby, swam, etc. The beach here is not nearly as nice as the areas further west particularly Gilcrest to Galveston, but still, not too bad. It was made nicer by the fact that there wasn't another vehicle in sight!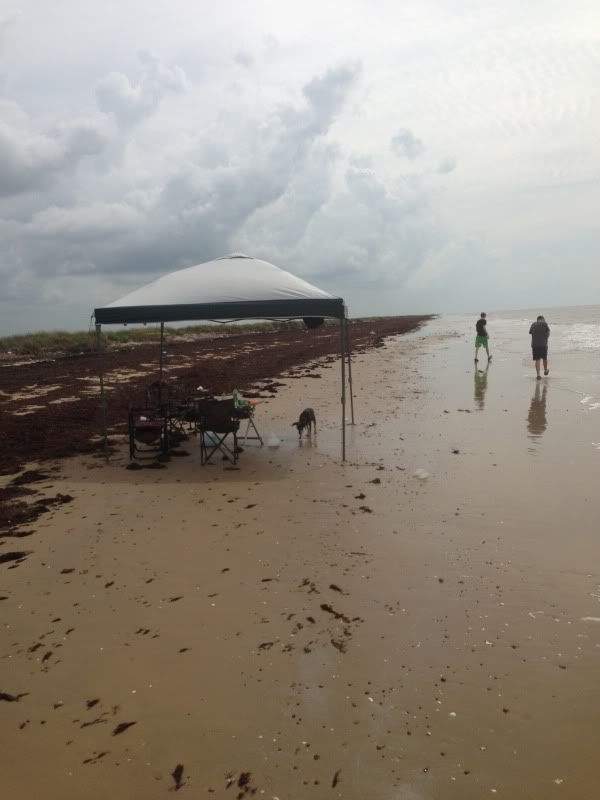 The weather only called for a 20% chance of rain, but a little thunderstorm was bearing down on us so we decided to load up and move on down thinking we would stop again somewhere further down.
A few miles further down the beach started to get thinner and clay started to appear. 1st as strips, then in the form of large boulder like formations. This started to appear about mile 8: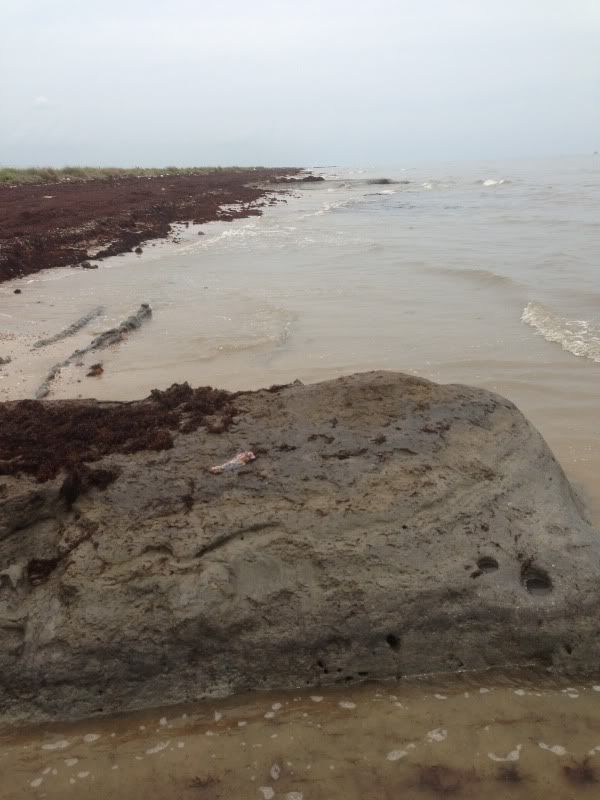 The dogs seemed to enjoy it!
About mile 10 there are the remains of what must have been a nice pier at one time or another. Sorry, I forgot to snap any pics! There were two couples camped out there in tents w/ a Hummer. They must be a lot tougher than us because the mosquito's were beginning to get thick! A little further down about mile 11 the clay started appearing thicker and more closely together.
I stopped and shot some video of my son going across some of the sargassum covered clay. It's a terrible video, too close, terrain is still a little boring, but I thought I would shoot more later...
(click the pic to view...)
We pulled over after this for a quick break but became dizzy from the loss of blood and decided to move on in search of less mosquito infested areas:
At about mile 14 we came across this:
The mosquito infestation discouraged us from getting out to investigate. Oddly, the mosquito's weren't an aggravation when riding in the trucks even w/ the windows down, but were brutal when you got out to walk the beach. We became weak willed in our plan to shoot more video and settled for snapping pics while on the move in the trucks. The terrain was becoming progressively more difficult, more clay hills/boulders (whatever you call them), less beach to maneuver in: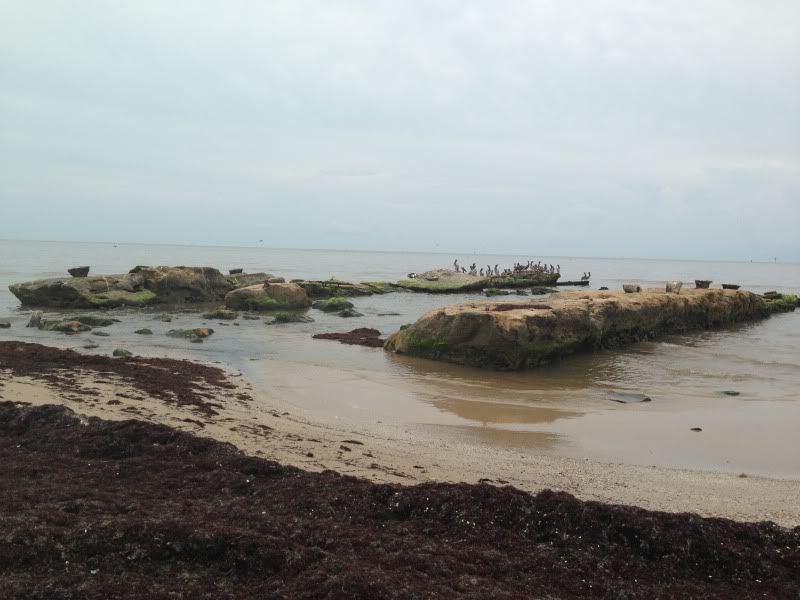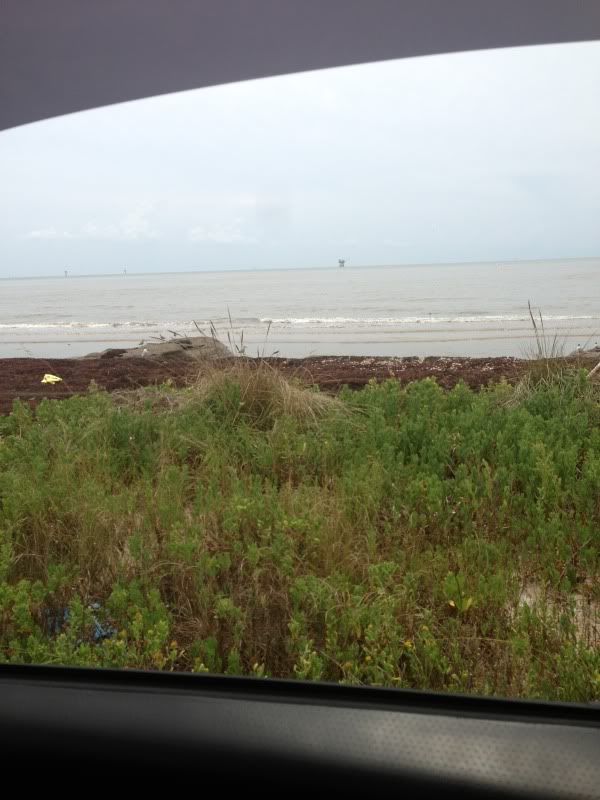 After about mile 18 the beach began to widen up. Further up the beach a trail leading to the north revealed a strip of asphalt! I turned up the trail and on to the welcoming asphalt! After a mile or two the asphalt was blocked w/ barricades and truck loads of steeply piled sand. We turned around, went back out to the beach and drove out of the beach. The odometer read 22.3 miles (inflated by our mistaken run down 87) when we pulled off the beach at 2:45 after a quick stop to pull somebody in their 2wdF150 out of the sand. There is a public beach access here where hwy87 is barricaded off. We stopped and aired up:
All in all, a fun trip! So what would I do differently? Well, next time I run will start from Sabine Pass and drive west. Early in the day you are eager to drive and to conquer rough terrain. Later in the day you want to relax and enjoy a pretty beach. Driving west to east puts those things reversed. If we had started at Sabine Pass and drove to High Island, I probably would have made the easy beach drive of another 10 miles to the pretty beaches in Gilcrest that are relatively unpopulated. I would probably still be sitting there instead of typing this....
The other question everyone has is "Do you think my XXXX could do this?" I think any decent 4wd truck can make this drive, without lift and without off road tires IF YOU AIR DOWN!!!! The sand is deep in a lot of places! Even 4wd vehicles get stuck easily in deep sand with 40psi in the tires, drop it to 15psi and most will roll through with ease.
A different time of year w/ less sargassum weed might be more difficult to drive in - the sargassum seemed to help a lot! Driving in the rain on that clay probably would be a lot more challenging as well! Finally, I've seen pics of people driving around on those clay boulders (whatever they're called) - obviously we couldn't do that, but if the tide was lower, probably would have been possible. If that's an important part of your experience you may want to check the tides.
I don't regret for a minute bringing the recovery gear and going w/ a buddy truck! This is a desolate area, very few vehicles, no cell phone coverage. As evidenced by the truck buried in the sand - if you screw up out here, you are on your on, better be prepared!
David