hey ya'll, just wanted to take a moment to review my new compressor! we all may not off-road, but we do for sure have inflatables underneath our trucks! so without further ado: the Master Flow MF-1050
First off, I did some research on cheaper compressors because my
harbor freight
models were just not up to the task. I never was able to trust them completely so I never aired down past a "roadable" pressure, usually 18psi. I could buy an ARB, or Viar, or something awesome, but in the spirit of budget. . . .this seemed to be the answer.
I ordered mine online for 60$ through pep-boys, and picked it up the next day. they are pretty widely available through
amazon
, many other means, but this was more convenient for me. anyways, enough babble! on to the nitty-gritty!
so, I tested this first before mountaineering it. I took one of my 265/75/16"s down to a couple psi, and proceeded to air up to 38psi. first noticed on starting the compressor that the gauge gives a tolerance basically telling you its not very accurate. I think +/- 3psi at 30psi. that bugs me. second I noticed the unit is fairly quiet, and doesn't dance around like my h/f model. third, the gauge needle is not shaky or bouncy, pretty solid, and to my surprise, showed about 20psi without being hooked to anything! (compressor on)
this compressor moves some air! granted, the screw on shrader-style fitting isn't exactly "high flow", but for the compressor to out-run it gave me some hope that money was well spent! the flow out of the nozzle is plenty to actually dust your truck off! of course I was too excited to run a stop-watch, but I would guess 2-3 minutes to air the tire up. NOT TOO SHABBY!
second test was a wheeling trip with a member on here, and my neighbor. we all aired down to around 15psi, not a difficult trail so no real need for less, plus we are all more or less lacking in the ground-clearance department. after the trail was done, I put this unit through the RINGER! we were all shooting for 38psi and the compressor filled 8 265/75/16 and 3 33/12.5/15 before tripping the thermal switch after a good 25 mins or so. it died on the last 33" tire at 35psi, so it was very close. manual calls for a 20 min cooldown so we headed on down the road. ambient temp was about 90 degrees F.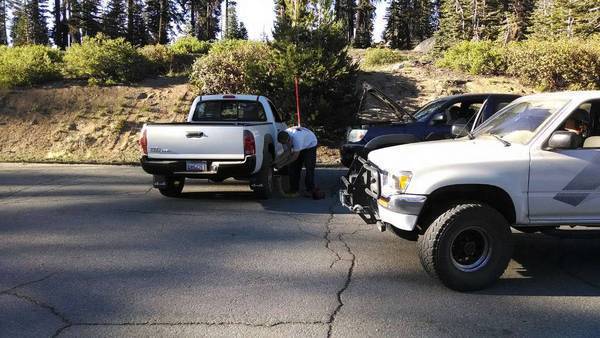 I used it again after getting home, the altitude change left my tires a bit low. it aired up all four tires 5psi faster than I could drink a beer, which is pretty quick!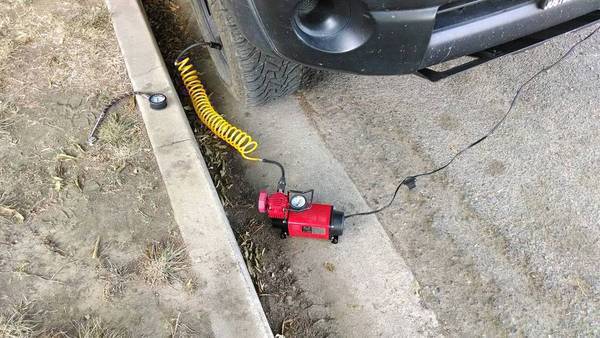 all in all, im pleased with my purchase and would recommend the unit to anyone not in the market for an arb or other high-quality, proven compressor. this is a "designed in the U.S.A., assembled in China" deal so it is still not worth betting the farm on, but over-all a good unit and probly the best dollar per scfh you could find. much better than getting multiple failures from the h/f models