*Undeclaredpunked from toyotanation posted this on TTORA so I figured I would throw it up here too, so maybe it can get some more attention.
This is one of my first posts here on TTORA, im usually just a lurker I would love for some of you to make it out to a pismo meet with some of us from toyota nation, you can post up in this thread or go to the original thread here:
http://www.toyotanation.com/forum/sh...d.php?t=302881
Dates:
July 31st 2009- August 2nd 2009
Its time for another Pismo meet, the last two have been tons of fun and we would love some new fresh faces out there to play around in the sand with us. Everybody is welcome 4x4 always works best but dont let that keep you 2wd guys and girls from coming (some one will tow you out)
I will be arriving friday around 4pm to set up camp we usually camp out around pole 12. To get to pole 12 you just go down the main beach till you get to pole 4 make a left up SAND HIGHWAY you end up going over a few dunes and pole 12 and our camp site is to the right hand side (You will receive a map once you pay to camp)
this is what the site looks like, it is far enough inland that its not too busy at night and you get a nice break from the wind at night if there is any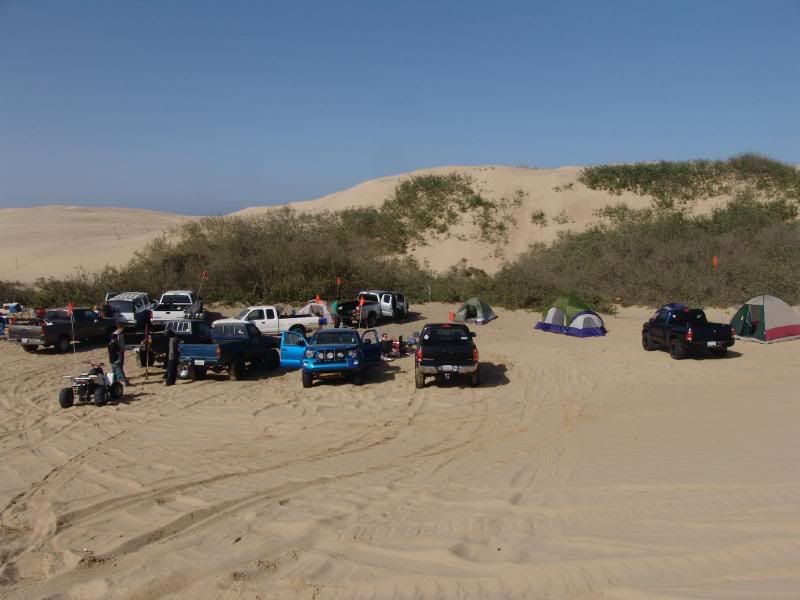 Cost of camping is $10 a night and that includes your day usage of the OHV park
For food usually we all kind of do our own thing... the "theme" is usually BBQ food (hotdogs)
Bring stuff to cook on if you dont plan on using the fire, although we never mind sharing if you forget something. Drinks "cold beverages" are all on you as well.
Bring WOOD please...it does get cold at night and there is nothing worst than not having enough wood, try to bring lots either from your home or you can pick up a few bundles at the gate or vons on your way in.
Laterns and flashlights are always good to bring as well.
Night runs: I would suggest only going out at night if you are experianced in offroading and have a good offroad lighting set up. it is very easy to fly off the side of a dune you didnt see at night, and you can always end up hitting the elusive "sand deer" there is plenty of wheeling to do in the day time and plenty of hanging out/ partying at night to be done.
Communication will be available VIA: CB and handheld walkie talkies
CB Channel: 31
Walkie talkie: 7
lastly i ask that if you have still cameras or video cameras please bring them and take lots of pics, I usually put together a video of the trips for everyone to enjoy and i can make better/ longer videos with the more footage we get
here are some videos to hold you guys over till we go out again
http://www.youtube.com/watch?v=j0BJvfZ6dw0
http://www.youtube.com/watch?v=i2XOntXiK7s