Okay, we couldn't wait any longer... time to get the 2010 Tacoma dirty and put A-TRAC to work, again!
The Anza Borrego Desert State Park and the Ocotillo Wells Off Road Park are a great get-away, 2 hours from our home...
Saw one other new DC Tacoma... and a lot of Jeeps! After the Diablo Drop Off (and more difficult Broken Shaft Gulch), I emerged with not a scratch... The guys in the raised Jeeps were amazed... Oh, I had to explain A-TRAC, too! LOL
When we can't get to Baja and need a 1 or 2 day 'desert fix', the Borrego desert fits the bill!
Both the Anza Borrego Desert State Park and the Ocotillo Wells State Off Road Vehicle Park are next door to each other and both have the 'fun and flowers' we were seeking!
We traveled south on S-2 from Scissors Crossing... first stop was between Shelter Valley and Agua Caliente: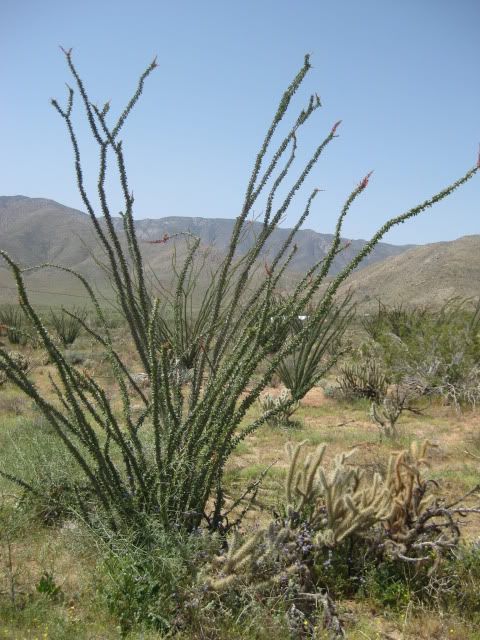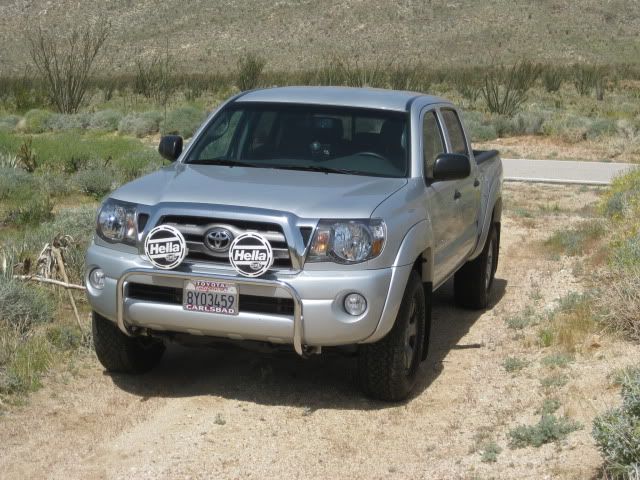 We left the pavement at Canebrake and headed east into the desert in Arroyo Vallecito. The 'famous' Hollywood and Vine street sign was messed with... sadly.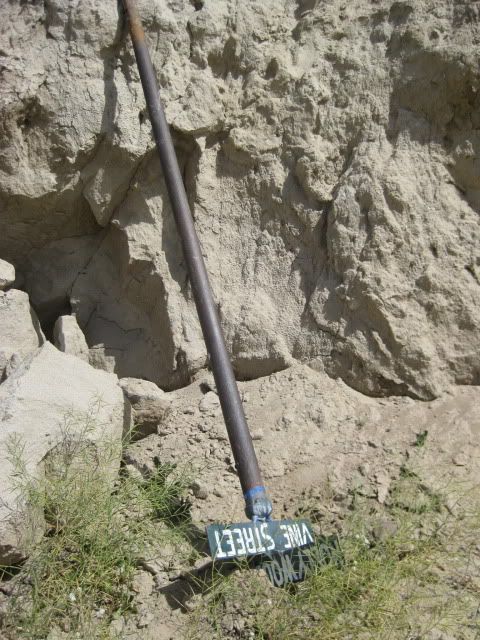 Here is a photo I took 5 years ago:
Hollywood & Vine... As a gag, soldiers stationed in the desert placed the famous street sign out here some 50 years ago... the tradition is maintained by locals.
We turned up Arroyo Tapiado to see the mud caves...
Be sure to bring a flash light!
No light inside the big room cave...
Next we drove to the Diablo Dropoff... a 'one way' drop way down to Fish Creek (Split Mountain)... popular run with 4WD clubs... We parked and let one group head down, so we could watch...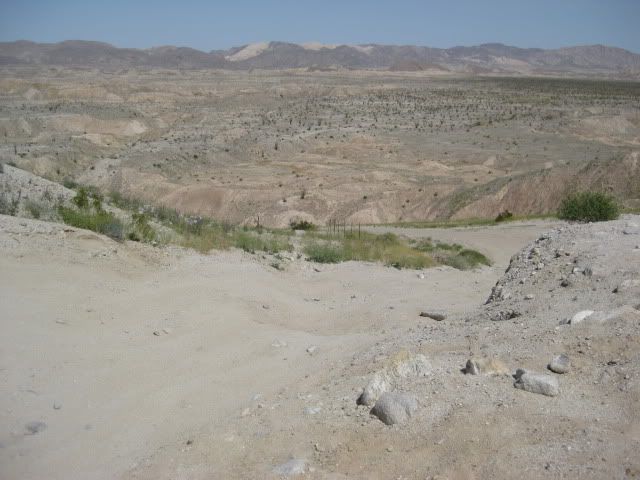 There are two drop offs, and another group was parked on the ledge between the two...
We spotted a mushroom (?)
Here goes the group of Jeeps and Broncos: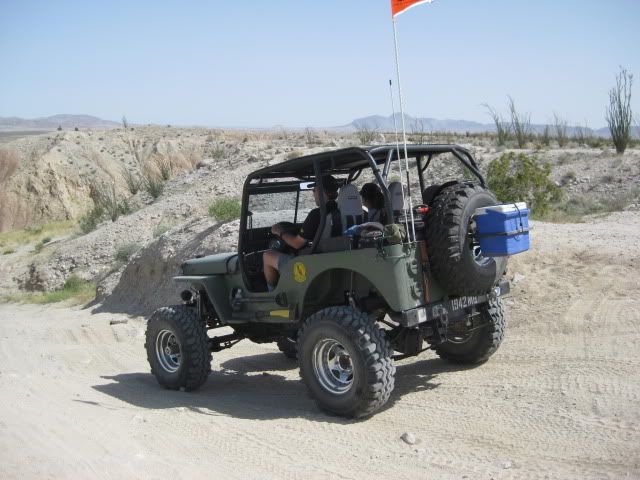 A WWII MB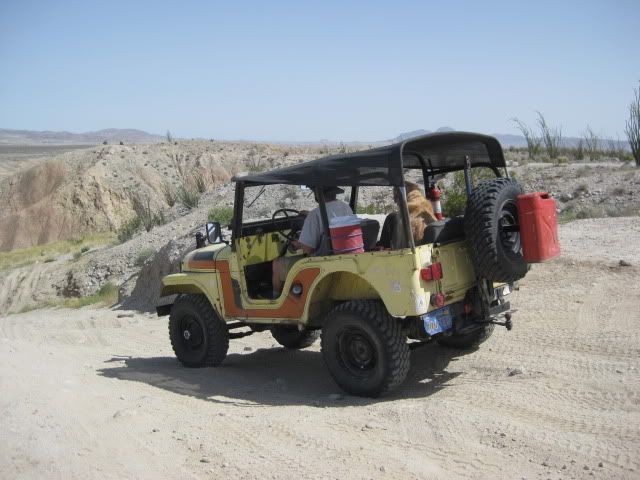 A 1967 CJ-5
This new Wrangler was full of girls, who liked to screem...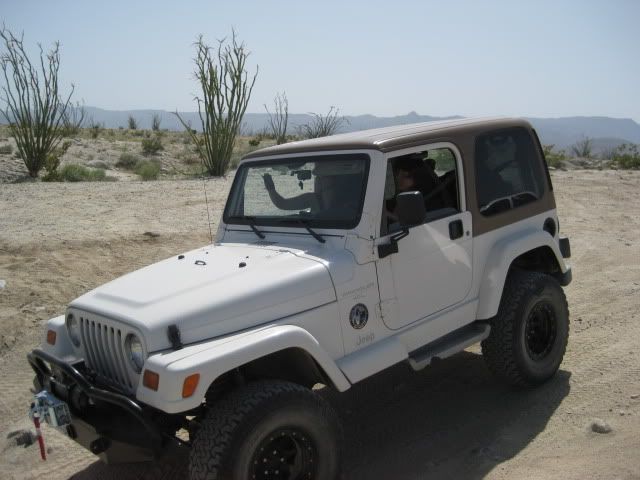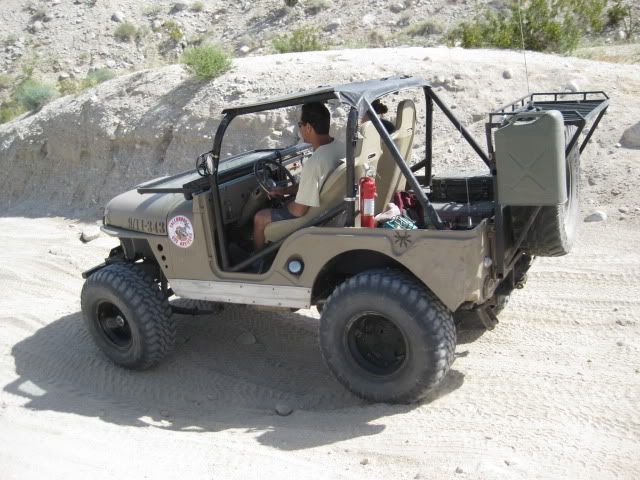 A 1947 CJ-2A, but with a single piece windshield (that fools us Jeep history buffs into thinking it is a CJ-3A!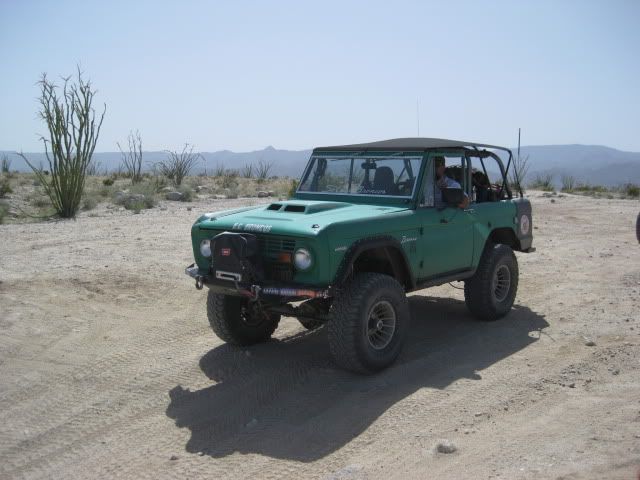 We dropped down to the mid level parking and watched some more four wheelenrs enjoying a beautiful day in the desert! What a great thing to get people outdoors and into the desert, a place that before 4WD and buggies was ignored as desolate and dangerous!
The second half of the Diablo Drop Off, Sandstone Canyon and more in the next part...