Hey TW,
I have a little story for you guys, nothing to crazy but just felt like sharing. So i recently got my new truck and haven't had a chance to take it to knoxville(a place about 2 hr from where i live)
So one weekend a few of my friends decided to make a day trip to knoxville to go wheel, shoot and ride bikes. Me in my 01 tacoma and my other friend in his recently acquired 00 4runner 3.4l 5spd and wanted to take it out as well.
We take off and decide to meet at knoxville base camp. Before we left i gave him a walkie talkie so we could talk when we get there. I arrive first even though i left later. Wait at base camp for 30 minutes and finally i get a call over the walkie talkie, "hello?" i respond back hey ya whats up where are you man. "oh man i took a turn too fast, i need help." so my friends and i jump in the truck and go look for him.
This is what we find: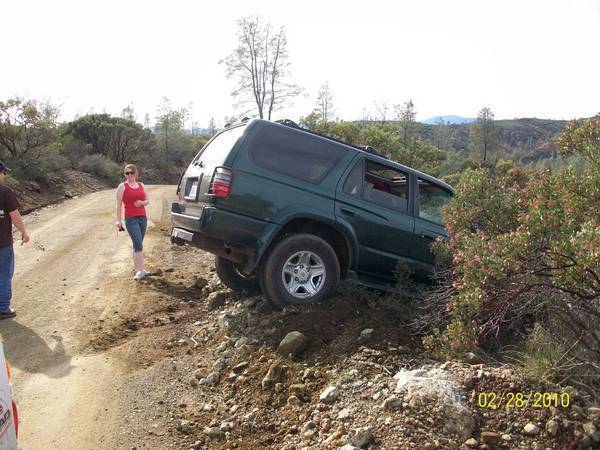 It turns out he was blasting down the community road (where everyone, even riders use) and took a turn way to fast causing his left tire to go into a ditch, he over compensated trying to get out of trouble and drove his 4runner straight into an embankment. He was completely high centered.
The frame was resting on a large rock and a large bush was under the front end. Luckily i brought a chain just for sh*ts. I tried and tried with my truck and ill i was doing was wasting the tread on my tires. We tried letting some air out, jacking up his axle and cramming rock under them, no luck.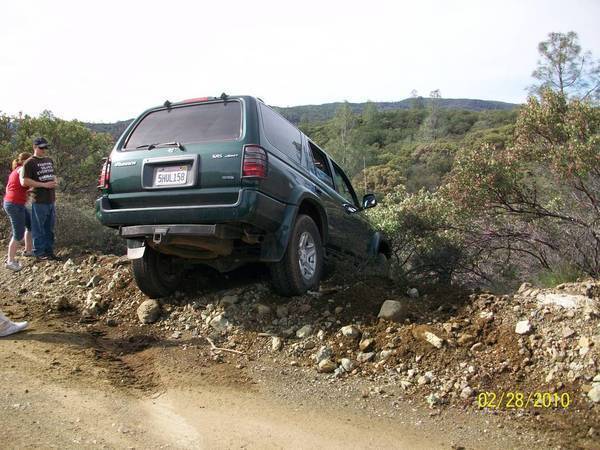 Then this group of guys come by. One with a 92-95 F-250 and another with a 97-02 jeep. Young guys and a bit drunk decide that this is no problem, simple yank out. So the guy with the F-250 goes first, 4-5 attempts no luck. Next the guy with the jeep tired since he has better mud tires, again no luck. Being the strapping young lad that he is he decides to wheel his way to a better spot to pull from. He begins to wheel his way up a hill when suddenly you hear a snap! oops he ended up breaking the welds on his lower control arm....... so he is out.
SOO after about an 3 hours maybe more im super pissed because this was supposed to be a lite wheeling/mudding, dirt bike riding, bbqing, shooting, relaxing day has now gone to sh*t.
Luckily they had a friend who was on his was up the hill. He had an older Dodge cummins dulley. he gets there and tried and tried and tried to the point where he just got pissed and slammed the throttle and hammered down and launch the 4runner 3-4feet in the air(according to my friends) i was inside trying to help with reverse.
Success!! the 4runner was free. the trip was pretty much over and ruined after that. oh and also later on he ended up getting suck again over some rock because he wasn't paying attention and almost drove off a hill. Sorry but some people just shouldn't drive.