Notice the "t" is not capitalized. We looked and looked and have not been able to find a suitable older Taco to mod the crap out of--the ones in our price range are just not in good shape. Either that or they are in BFE. We also decided that the expense of moding one Taco was enough and set about looking for an older Jeep instead (MUCH cheaper to mod and tons of stuff available--which leaves more money to mod my Taco
). We were looking for a stock-ish Wrangler but found this one instead, so after an
interesting
over-two-hundred-mile trip one way
with the kids
that should have only been a one hundred and thirty mile trip, including getting lost both ways with an unplanned trip to Michigan for about five minutes, we crawled all over (literally) this baby and will be picking it up next weekend if all goes right.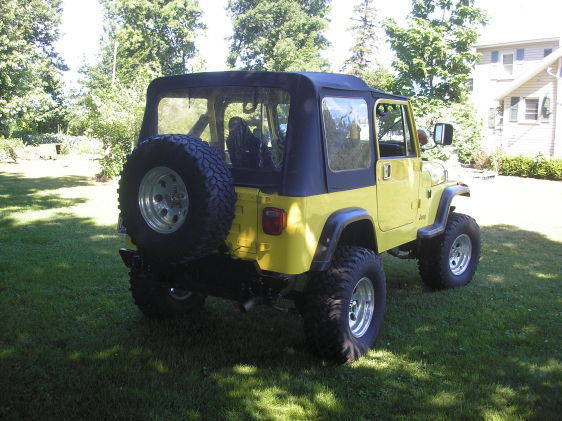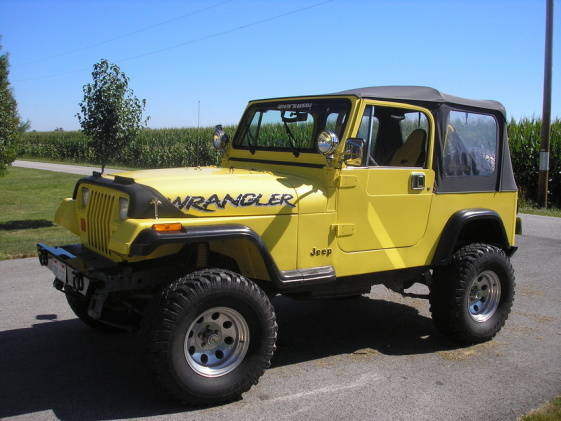 1990 YJ with hard top (not shown) and some of the pricier mods already done--lift, wheels, tires, paint job, 4-cyl 5-speed manual re-geared so that it MOVES! Still plenty left to play with though!
At one point during the endless driving and getting lost in the countryI turned to Hubby and said, "I'm not sure if I want it to be great when we get there because then we will have to do this all over again next weekend, or if I want to hate it and have done all this for absolutely nothing...."