A few weeks ago, a school in Gwinnett County - Math homework using slaves as examples.
"One of the problems read: "Each tree has 56 oranges. If eight slaves pick them equally, then how much would each slave pick?""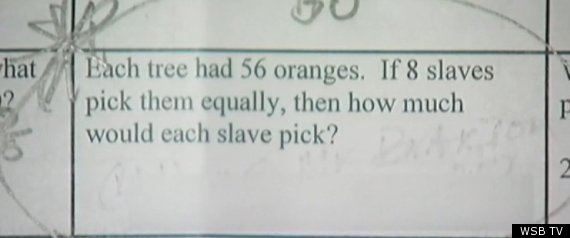 http://www.huffingtonpost.com/2012/0...n_1214028.html
A few days ago - Tag-like game using slaves and slave catchers GWINNETT COUNTY
"Some children at a Gwinnett elementary school played a tag-like game as slaves and slave catchers at recess, and a teacher allegedly participated, Channel 2 Action News reported."
http://www.ajc.com/news/gwinnett/sla...t-1317685.html
Way to go Gwinnett County. . . The rest of us appreciate it.