Interesting conversation came up with my dad the other day, and it's been bugging me ever since. Hoping you guys could help me understand.
We live in a community at the top of a hill. My dad was saying the next house he buys will NOT be on a hill, regardless of the views we have. He claims it costs more per year to live at the top of a hill because of the gas used driving uphill, rather than live where it's flat.
My thinking is that you gain mpg by coasting downhill in the mornings, where you lose it going uphill when coming home at night. So to me, it sounds like it equals out to keeping a constant foot on the pedal by living on flat ground. Am I wrong?
Let's simplify this: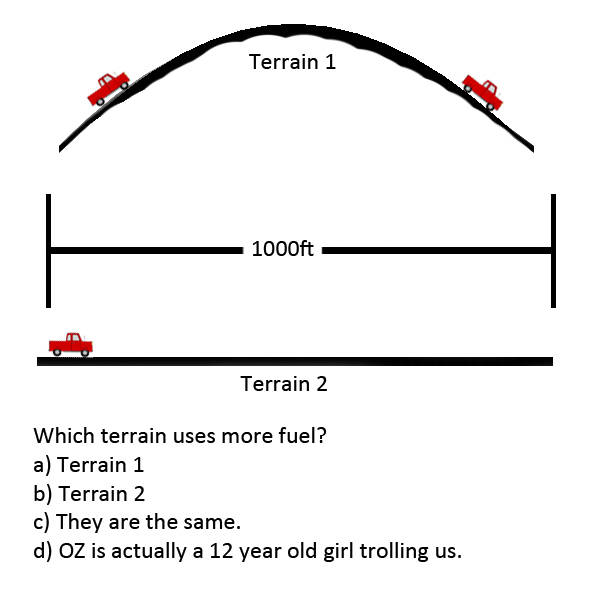 There are also 2 ways to get to my house, one is longer and less steep, the other going around the hill on flat ground and up a short, but steep road up the side of the hill.
Same theory for the 2 routes. Route 1 is longer, but less steep = less strenuous on the engine, Route 2 is shorter, but much more strenuous. Do I make sense in thinking that they are the same given the change in distance?
I know all of this has a lot of real world variables such as the cars mpg, weight, wind, road surface, tire pressure, etc...let's assume, for the sake of the question, they are all constant across the board.
Let's simplify this last question: