The heat wouldn't work in my house last night. It got down to 38 degrees inside - not enjoyable.
I have a Lennox G24M2, seems like a manufacturing year of 1994.
It's worked flawless since I bought the house in 2002.
Last night when I switched the thermostat on, it would blow freezing cold air through the duct work. Obviously the burners weren't igniting.
There is an LED light on the circuit board that was flashing 3 times. That indicated that the pressure valve switch wasn't opening due to a few things (loose electrical connection, low gas flow, no gas flow, etc). Everything was hooked up fine.
However I did notice an "electrical smell" - the same one when a motor on your drill is fried. So I touched the blower motor sticking out right next to the pressure valve and it was scorching hot. Clearly seized or whatnot. I looked up this part name and it is: Combustion Air Blower
I gave it the old Fonzarelli (banged on it with a nut driver) and it immediately began spinning, the pressure valve opened, burners fired up and heat began flowing. That was this morning.
My question is, would a seized combustion air blower cause the pressure valve to not open and restrict flow of gas to the burners? In the manual under ignition control is reads:
Quote:
When there is a call for heat, the control delays ignition
until combustion air blower operation has been proved
and pre-purge period has elapsed. It then opens the gas
valve and generates a spark to ignite the burners.
So to me it would seem as though that is my issue. If the combustion air blower is seized it never purges and proves and the valve never opens and ignites the burners.
If that is the case I need to replace the combustion air blower. On the blower it is manufactured by Fasco and the cross reference number is Lennox 7021-9593. I took a picture of the manufacturer label and this is the case.
Now my real question. If I buy this unit, how easy is the removal and install? It seems like it's just held in place by 3 or 4 bolts. And has a clip for the electrical. Should be simple plug and play. Here's a really crappy picture of the combustion air blower (I'm hunched down in a dark and gnarly crawl space). It's a thumbnail, click to enlarge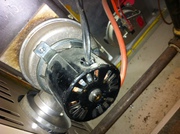 However I have zero experience with this and am soliciting the genius of TW to help me out.
Thanks in advance