My friend and I have been working on a 1988 Suzuki Samurai off and on over the course of two years. It started out as a roll over that his grand dad bought for $250 and patched back together back in the 90's and up until 2 summers ago, it was a beater truck used around the farm. Getting to and from the duck blinds, deer stands, putting boats in and out of the lake... etc. Enough descriptions. ONTO THE PICS AND BUILD. Keep in mind this is a VERY low budget build. We didn't spend more than $250 on all the mods. Also, we aren't into making this a hardcore wheeler, just capable enough to get us to our next adventure and with out limited knowledge and skill levels I think we did a darn good job.
Here's how it looked when we started in summer of '09 (as you can see the body panels were mixed and matched)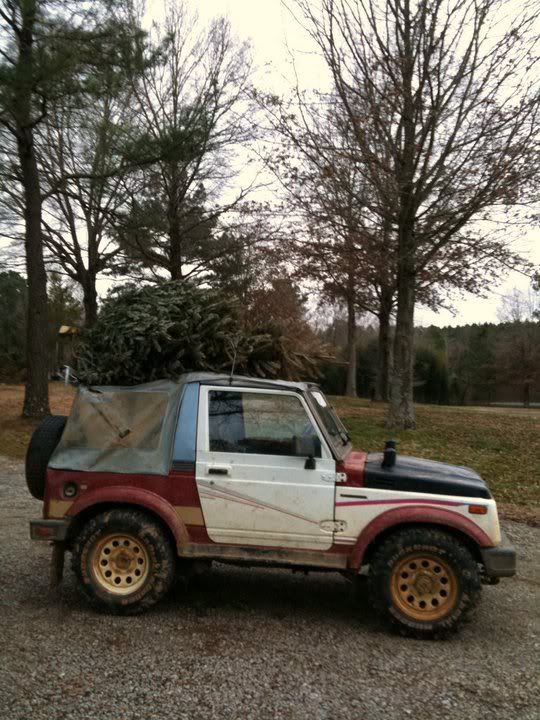 First thing we did was add the hood lights as a cheap attempt to make it look like a jeep and hopes to add a little more light output.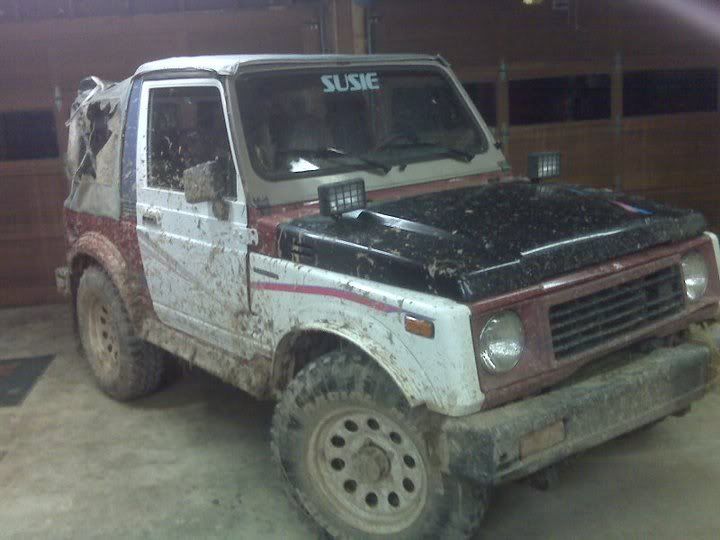 Next we ditched the hood lights because I remembered I had and old light bar with 4 KC's mounted on it so we decided to throw that on top and got even more light output!!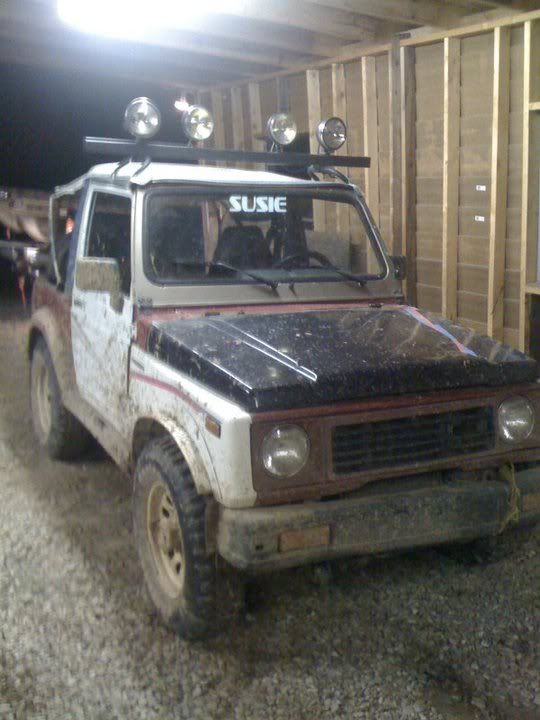 Got the lights all wired up and tested them out. Also went for a Satoshi style grill on the front. Turned out pretty good I think.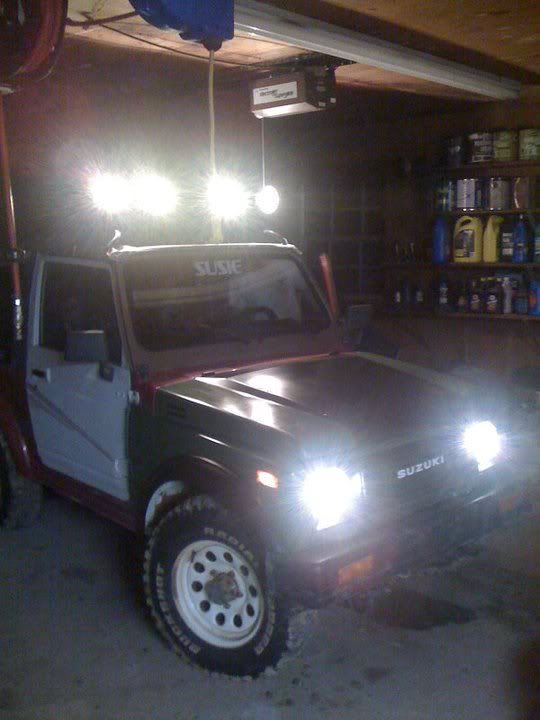 His grand dad had an old winch laying around the barn so we snuck it onto the front bumper but not without a little modding to the stock bumper first.
Around the same time we added the winch we decided we needed to make all the body panels match. We opted for a military/camo green with some black accents and black steelies.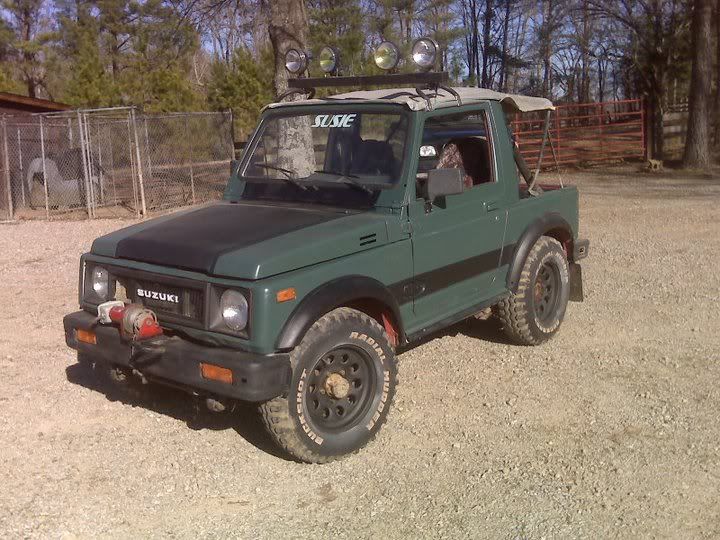 If you noticed in the first pictures the soft top, having been kept outside in the elements, was more than thrashed so we kinda decided to make a 4runner style top for it and ditch from the windows down.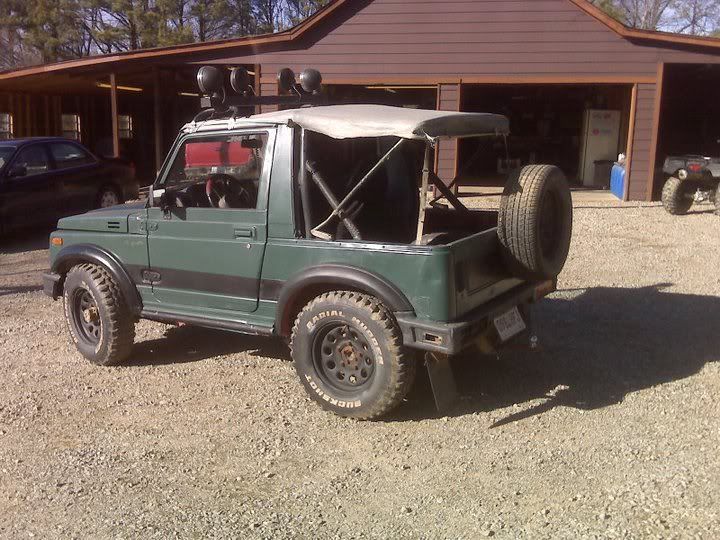 We kept it like that for the remainder of the '09 summer and drove it around the farm like that all the way through winter of '09. While cruising around the farm (which at this time the truck never left the farm due to lack of licensing) we ran into quite a few problems even though it is 4x4. Unfortunately the weak 1,500lb winch did not get us out of this situation nor did the Honda 500 Rubicon... so we ended up getting a come-along and got it out no problem.
Upon returning to the barn to assess possible damage, we talked and decided a lift was desperately needed. We decided to go with a shackle lift since the Samurai has leaf springs on all four corners. (Later down the road we plan on doing a simple SPOA lift but our funds are going to personal vehicles rather than the shared rig) We went on
eBay
and got some 6" lift shackles giving us a 3" lift on all four corners. We got the lift in while we were on spring break in the Virgin Islands so waiting to get home to install the lift was torture! But here it is all installed.
We decided to do a major overhaul this past summer (summer of 2010) in an attempt to get it road worthy enough to take it to school with us and use it as a camping/mountain bike hauling/kayak hauling/fun toy. We gave it our best and here's what we came up with. (Unfortunately we were still lacking the license plate so we couldn't take it with us this semester but next semester it's coming for sure)
First we decided to get a new Bestop soft top.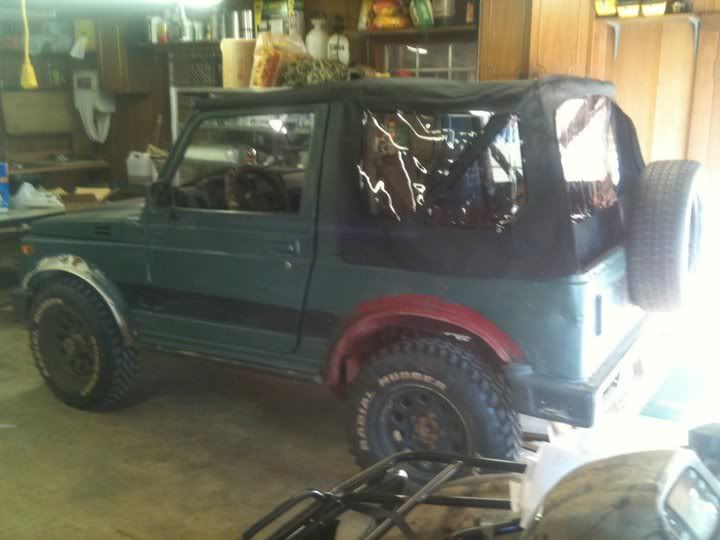 We soon ditched the winch that we deemed pointless and ran across a Craigslist front bumper with a brush guard in Fayetteville, AR. Made a not-so-short trip and picked it up and made it fit our bumper because the one it came on was for lack of a better word... CRAP!
Fabrication done and ready for the truck.
With this being a major overhaul we decided to change the paint up again and this time we had a little better end result than the first time. The green and black was done with rattle cans and this next one was a bit more "professionally" done.
All done with masking and laying down a few coats of primer.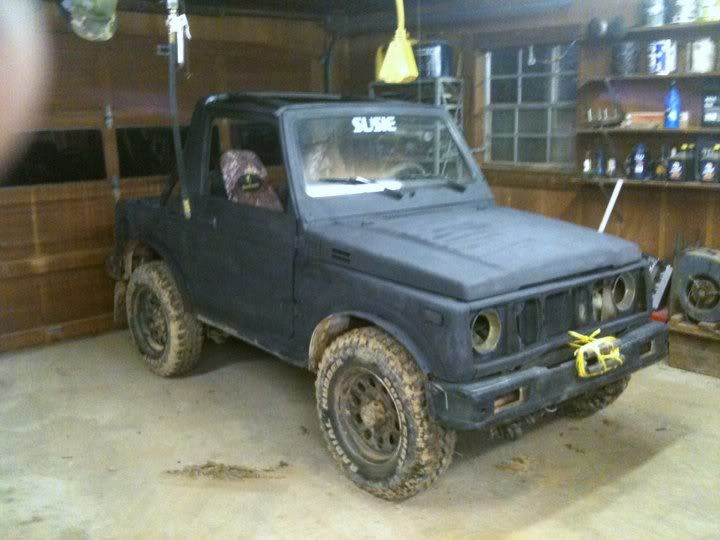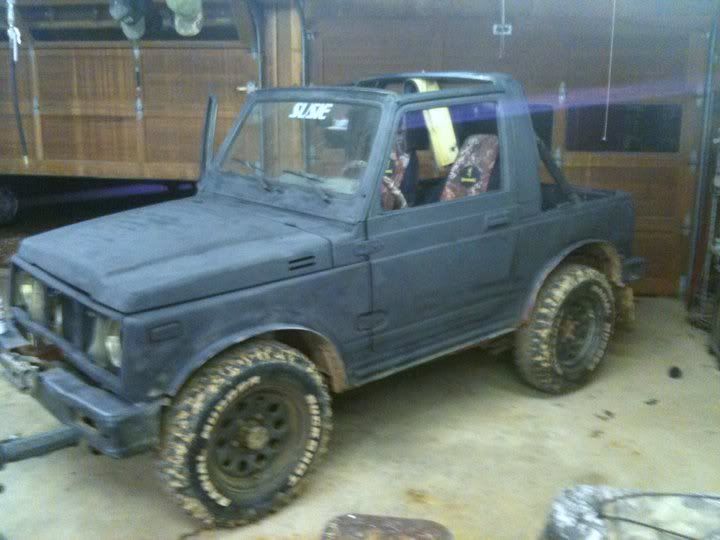 Thanks to a Wagner Powershot and some Rustoleum semi gloss black. Here's how it turned out.
As much as we liked the all black look, we thought it could use some highlights and accents. In our minds, red and black would be perfect contradictions and, well, that's what we did.
First, the hood.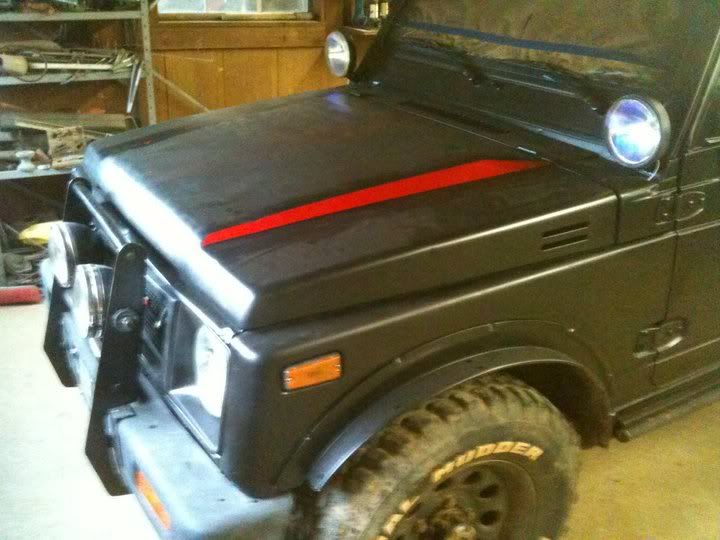 Then we did all the badges (sorry no pictures)
With this having been a farm truck all those years, the interior was in pretty rough shape. Holes in the seats, no radio, no speakers, no heat, doors didn't close fully the list goes on and on. The interior was our next bear to wrestle.
We began by stripping everything, and I mean EVERYTHING out of the truck. Dash, controls, glove boxes, seats, seat tracks, HVAC conduit, wires, harnesses, the whole nine yards. out and cleaned. (by the time we had vacuumed and washed and swept and cleaned the inside, over 10lbs of dirt dobber nests we removed from vents, ducts, wires, tubes, every where)
We replaced worn out seats, all the burn out fuses, added a new iPod compatible radio, new door speakers, rear speakers, even got a 10" sub, cb radio, carpet, in addition to changing all the fluids. We figured after all the work we did on the inside that we should test out the controls especially the heat... What do you know, after removing all the dirt, it blew hot air (and a lot of dust and dirt) out like a champ. We were so ecstatic, we couldn't believe it worked.
Now for the rest of the pics...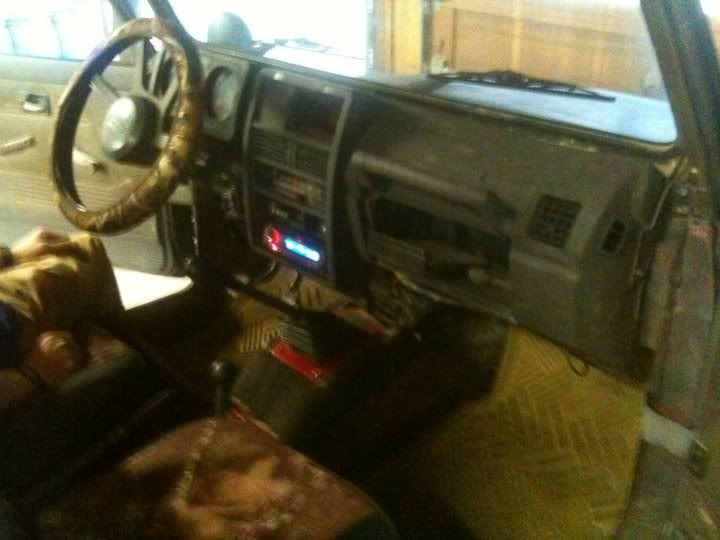 Took 2 of the KC's and put them on the new brush guard and also took a set of my PIAA's and threw those on the newly acquired windshield mounts.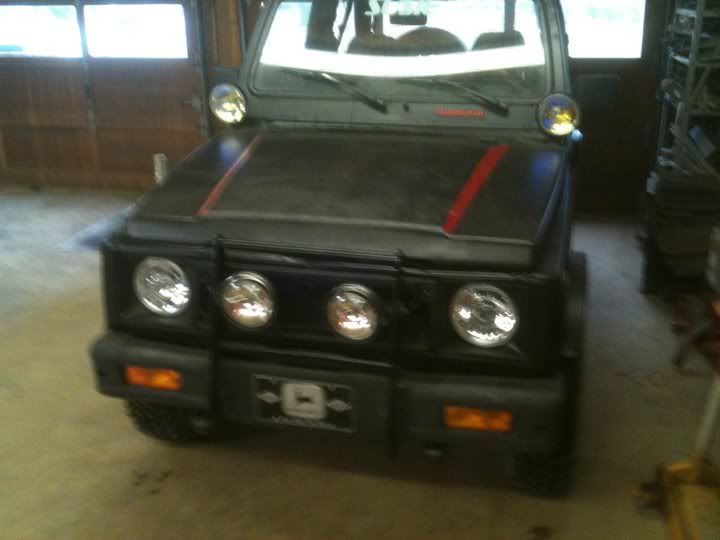 We decided to make a bed box and I drew up some plans and we built it, stained it, lined it and threw it in the back of it to hold our recovery gear, ropes, a few tools, jacks so on and so forth. (no picture, can't find it anywhere) The bed box is removable and we have a rear seat the we throw in the back every so often and we thought the factory "grab bars" were a bit weak so we fabbed up some of our own and in this picture you can clearly see them (again going with the black and red theme)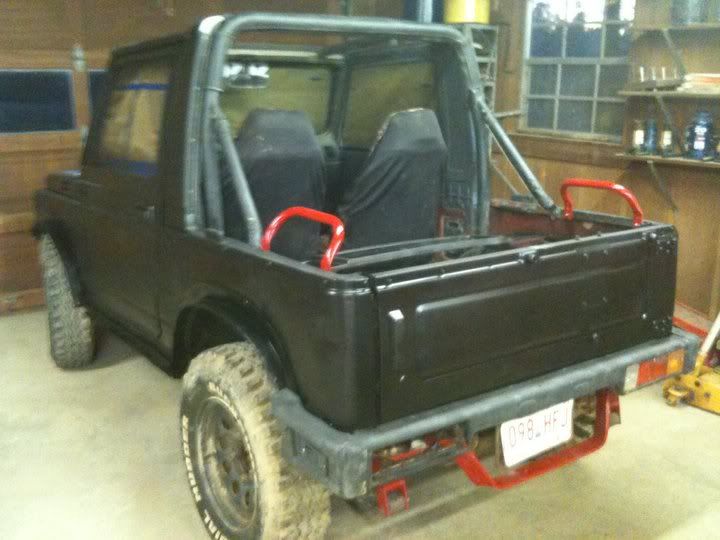 After countless man hours, many gallons of sweat and a few choice words, SUSIE has gotten to the point where we can call her "done". Of course with a project like this, it's never done.
Here are a few of the "finished product" with the new top, gun metal grey rims and 3' Firestik antenna.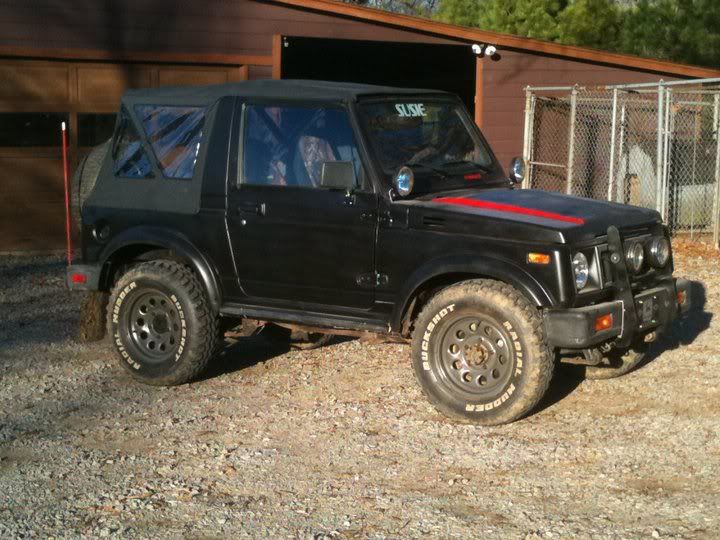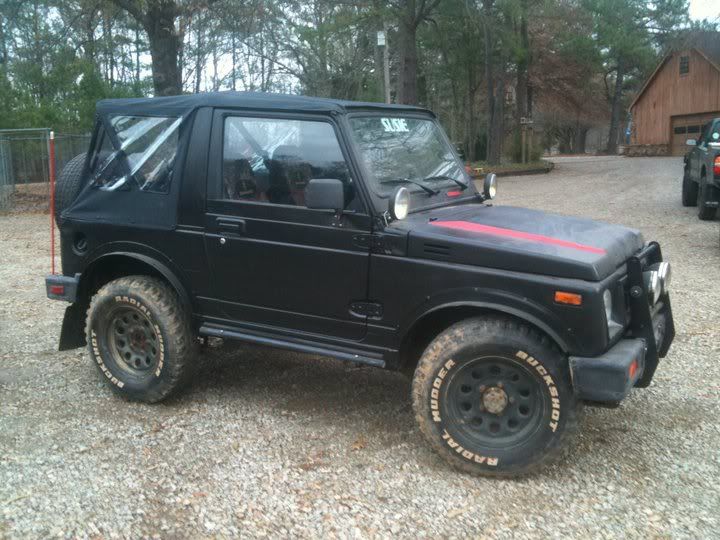 List of mods.
3" shackle lift
Sony head unit
Memphis Audio speakers front and rear
Memphis 10" sub
Cobra 29 CB
3' Firestik antenna
28" MAXXIS BUCKSHOT MUDDERS
5000k HIDs
2 PIAA 520's
2 KC Long range
Bed box
Brush guard
Browning seat covers
Weather Tech
floor mats
Lots of little things I know I'm forgetting
So going from this merely 2 summers ago...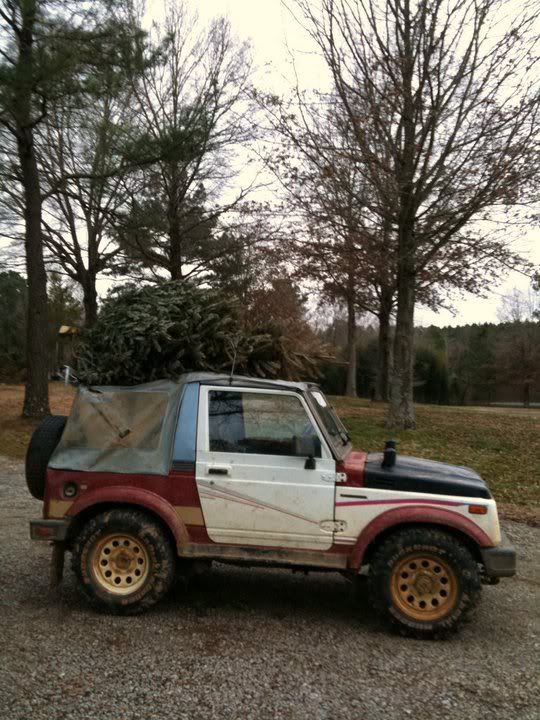 To this today...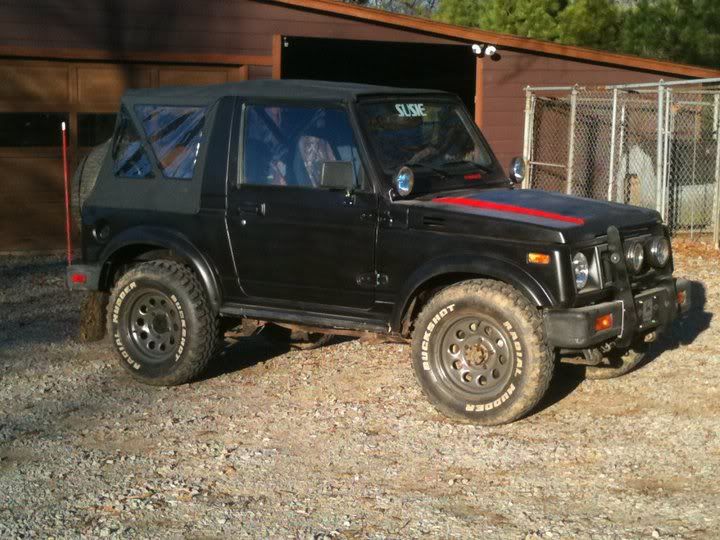 I'd say this has been an adventure but more importantly a major learning experience for both myself and my friend.