This is my 1972 FJ40, I purchased this FJ in September 1998 it had 83,000 original miles and I am the third owner of it. The second owner was a friend who purchased it with plans for it but had it for less than a year before selling it to me. It had the original interior, F motor and 3 speed transmission on 31x10.5 R15 mud terrains with the stock wheels. The F motors are notorious for oiling and valve issues and this one was no different it was having valve issues when I picked it up. So I had the top end rebuilt and added a set of Con-Fer shackles and Pro Comp Shocks which provided about an 1.5" of lift. At this point I was pretty happy with the truck but it wasn't quite what I wanted so I ordered a set of 255/85R15 Buckshot Mudders to run on the stock rims it had also developed some exhaust leaks so I added a Man-a-fre header and new exhaust to it. Next was a 32/36 Weber Carb and getting rid of the emissions and smog stuff which were dry rotted and causing more problems than not. At this point the FJ was great to drive and even more fun to wheel. We had also built a brushguard with a M-8000 Warn Winch mounted to it and 6 point roll cage. Sorry I don't have a lot of photos of this rig in its early stages but here are a few shots of it.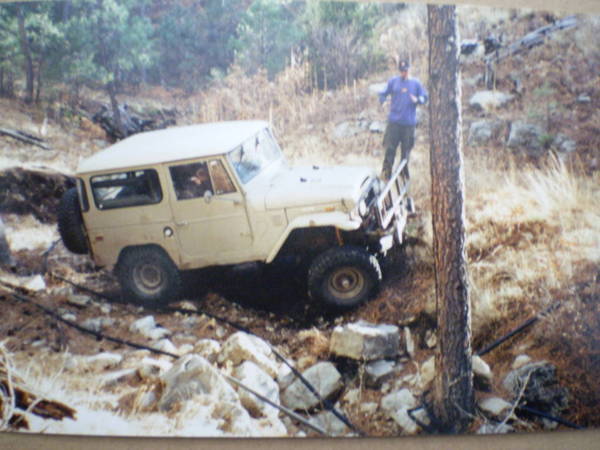 So then we went back to work on the suspension, steering and gears. We added a ARB locker in the rear and 4.56 gears for both diffs, a 4" OME lift, Advance Adapters shackle reversal kit and Saginaw steering conversion I chose not to add power assist and definitely regret it now so that will be rectified in future stages of the build.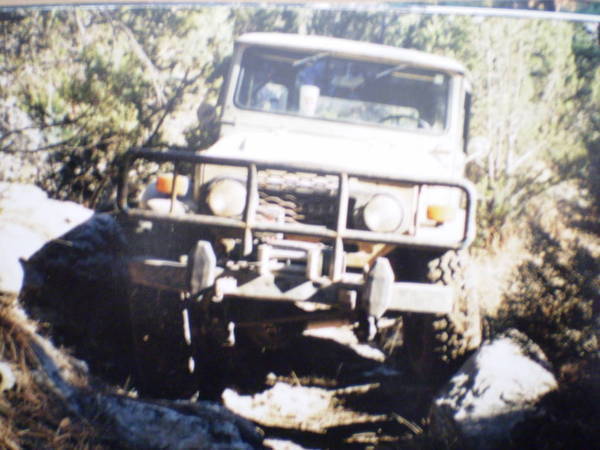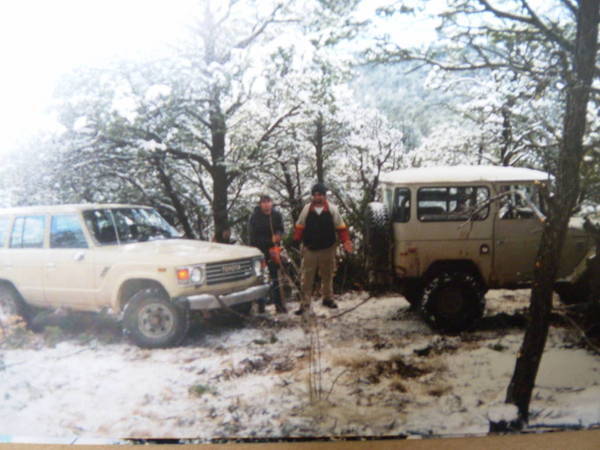 At this point the truck was doing really well the above shot is a 1985 FJ60 that I purchased in 1999 and sold to one of my best friends can't exactly remember what year that photo is from I believe January of 2001. He had gone wheeling by himself and slid off the fire road he was on I went out cut some trees and brush then pulled/winched him out. A Forest Service LEO was waiting for us when we got back to the pavement, turns out the road was closed and my buddy was ticketed I recieved only a written warning since I was only out there helping him get unstuck.
During this time I picked up a 1985 4runner 22RE SR5 with SFA as a daily driver I had some plans for it, then my girlfriend at the the time rolled it. So I was back to driving my FJ40 again daily no problem I loved driving that thing until the oiling/valve issues reared their ugly heads again and I put a rod through the side of my motor.....The FJ 40 sat for months while I tried to locate a motor and come up with a plan V8? Toyota? hell I even started looking at a 12 valve cummins to put in it but nothing seemed to work out. Finally we picked up a 1984 FJ 60 that a lady I worked with at a ski shop had bought new 1984 and never considered selling until her husband went out one morning to warm it up and did not set the parking brake and it rolled down a hill and destroyed the entire drivers side but it still ran good and was complete so I finally had a donor vehicle that came with a 2F inline six, 4 speed transmission, Disk brakes and better birfields in the axles and all for 500$. I was stoked and things would swap right over and still be Toyota.
Again I don't have any pics of the actual swap but here are some after it was complete.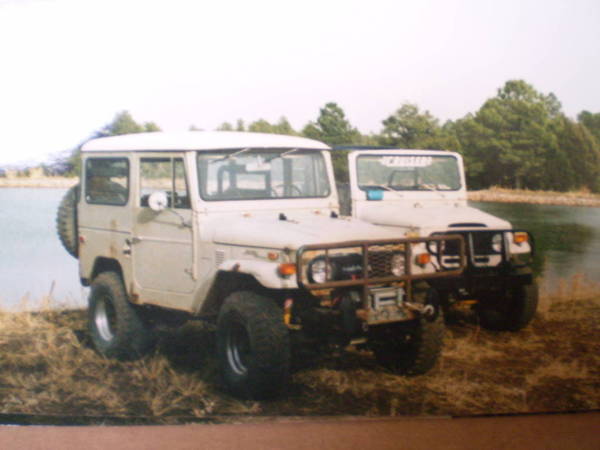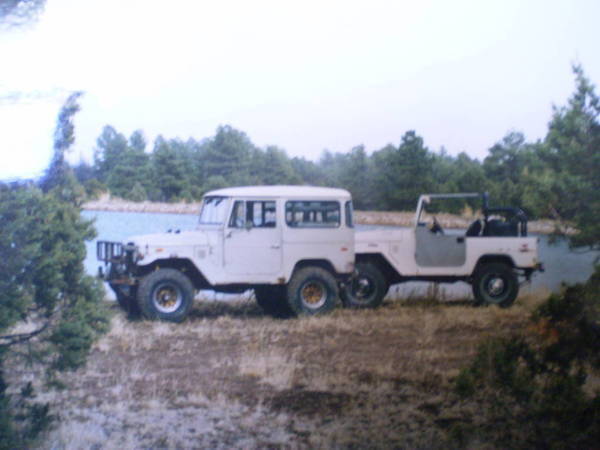 We had to use the wheels from the FJ 60 as the stock FJ 40 wheels would not fit over the front disc brakes, I was a little pissed as I had found Toyota hub caps to fit the stock wheels. The hub caps ended up on my buddies white cruiser that are in the photos with mine. The truck was performing flawlessly with the swap complete.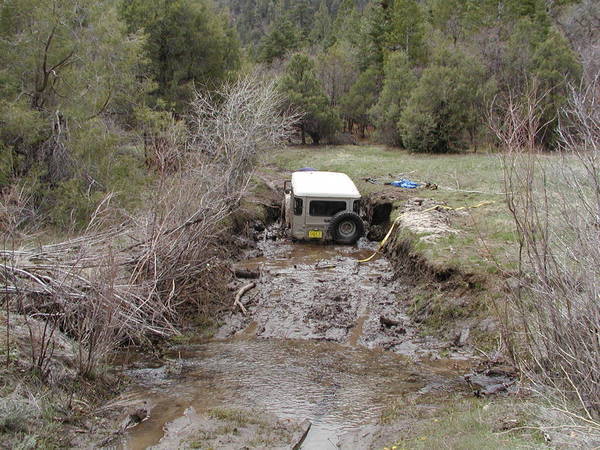 In 2003 I moved to northern New Mexico for work, the wheeling was great in the Taos area but my 255/85/15's were about done. This is the last shot I have of the FJ on 33's..... and it is stuck as fuck
I decided it was time to get new tires I picked up a set of 33x12.5r15's and they looked funny to me the shop also said my rims were about shot and they did not think they would stay balanced. So at this point I sold the 33's and threw away the old wheels. I ended up going with new 15x8 rockcrawler wheels from Desert Rat and 35x12.5 BFG KM's. We had to do a little trimming but it was totally worth it. The stock spare tire carrier was on its last leg so we built a new rear bumper with swing out and spot for a high lift as well as new tail lights.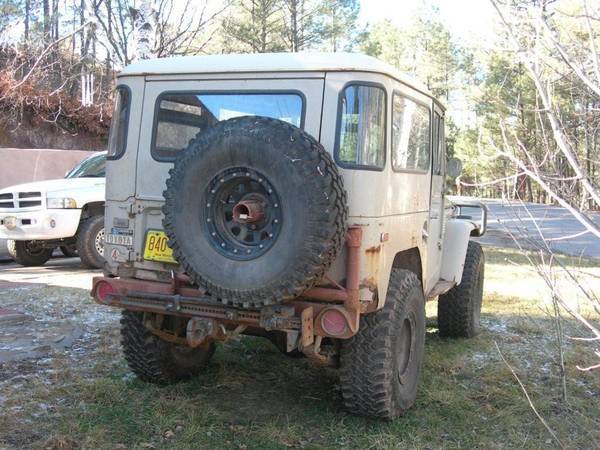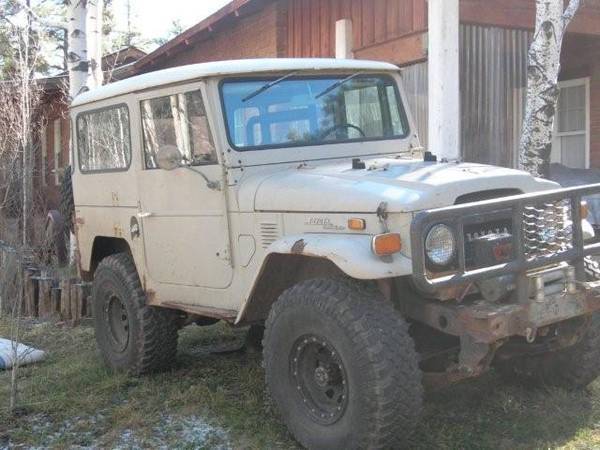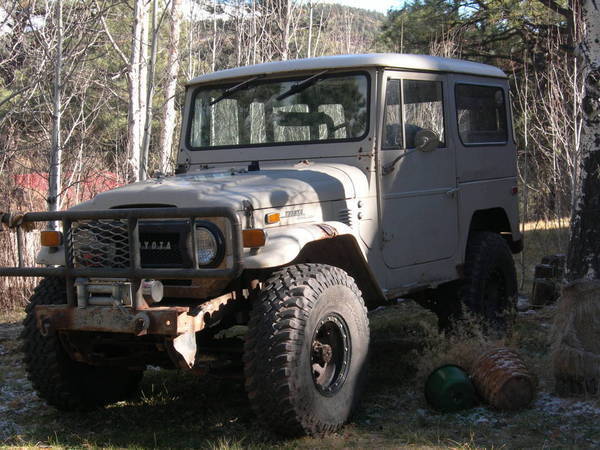 In 2005 I took a job in Alaska and the Landcruiser went into storage at my Moms house in southern NM. The above pics are from a time when I considered selling the FJ as I could not stand the fact it was not being used and I was so far away and the money would always be a bonus. Those thoughts did not last long when I realized I could not replace it if I sold it. So it sat for years at a time I made it home and would check it out do routine maintenance and drive the piss out of it then put it away and let it sit for a few more years.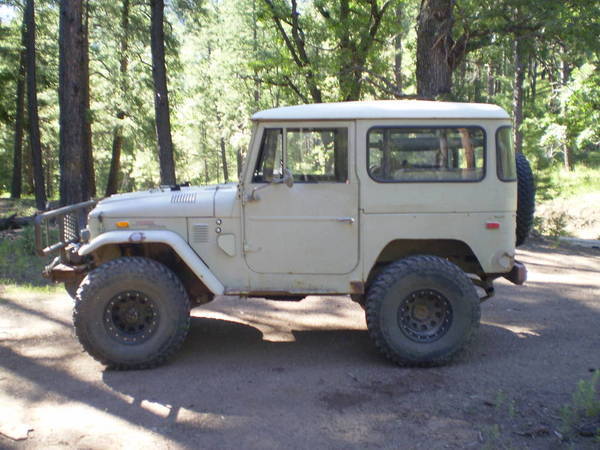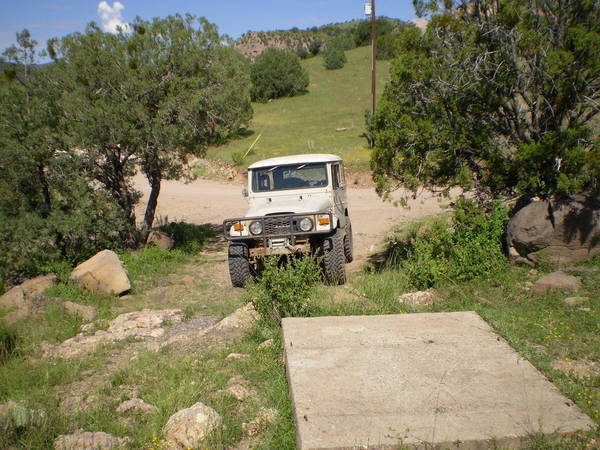 These shots are from a trip to the Gila in 2008 when I came down for my Pops 70th B-day.
So here we are March 2011 and my FJ showed up last Wed. from NM in Idaho. Friends of mine that know and love the truck brought it up guess they couldn't stand it sitting either. It is showing some more wear than I remember but what do you expect when it sits for that long.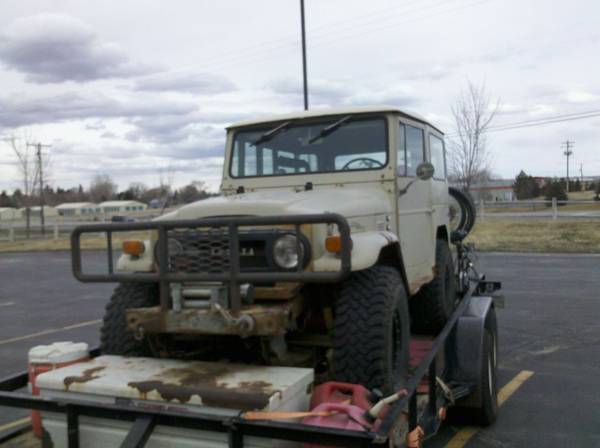 On the trailer it made its way up from NM through ABQ the south west corner of CO then spent a few days in Moab before showing up in southern Idaho.
After it was unloaded and sitting next to the Tacoma, I realized I have 10 35" tires between the two rigs. Guess this means I might need to look at 37's for the Cruiser next to fix that.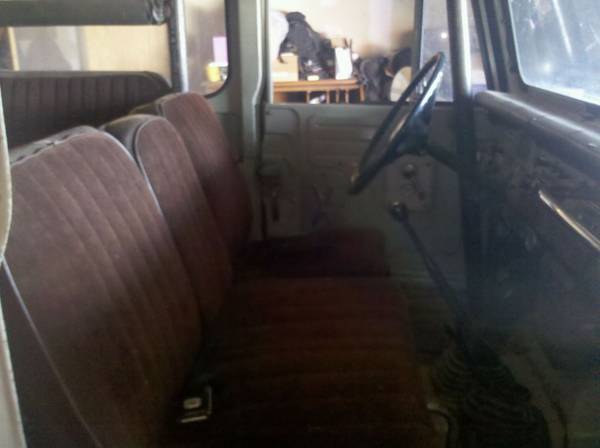 A shot of the interior its original from 72 and showing its age but I still think its pretty cool. I am thinking bucket seats and a center console are in the future.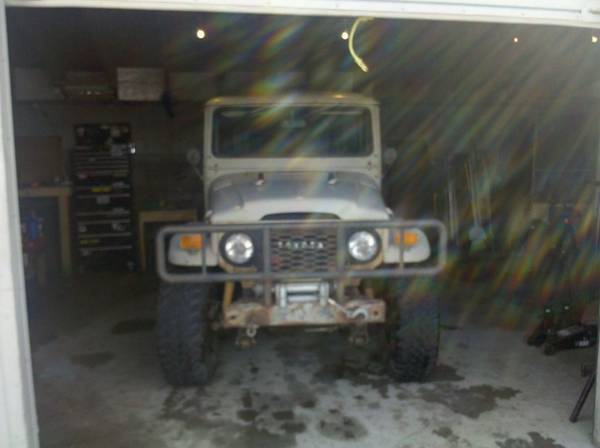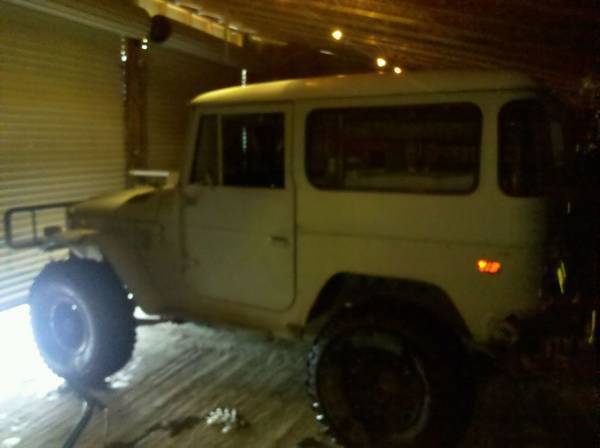 Sitting in its new home waiting to be worked on...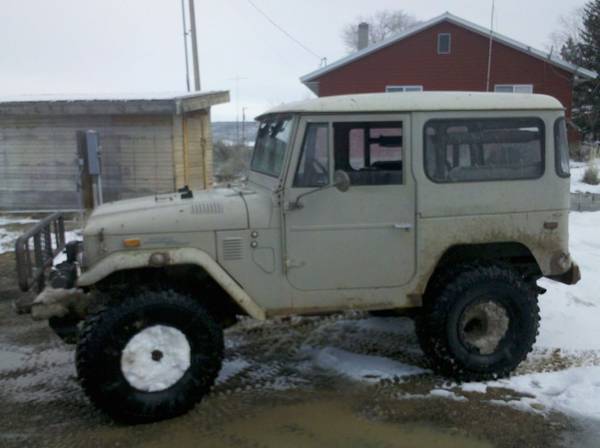 A shot after doing a little snow wheeling well at least I know the winch is in working order but the rear locker is acting a little funny. Brakes need bleeding and got some gremlins on the tail lights to track down other than that the FJ is doing pretty well. My plan currently is to get the Cruiser road worthy again so that I have wheels when working on the crawlbox for the Tacoma this summer.
Thanks for checking out my thread.