OK, I have to note that this thread is 100% inspired by Woody, so thanks for the idea.
(This thread is in progress! Pictures, video, and more content will be added.)
Here's my story.
I started riding at 8 and racing at 10. When I was 15 I bought this bike new in 2001. I raced it for about a season and a half before other things took priority over racing. The bike was always garaged and maintained well. Before I knew it I wanted to get back into racing, but almost 10 years had gone by, four strokes took over, and my two stroke 125 was stripped of any technological gains it may have ever had. Being that I still enjoy riding my 125, I decided to revamp it.
Here are some bike pics. (More will be added)
These are the oldest picture of it that I have in digital form. Sitting next to my (sold) 954.
Basically stock.
Moose torque spacer, Tag T2 bars, Twin Air
air filter
, PC air filter seal, acerbis flag handguards.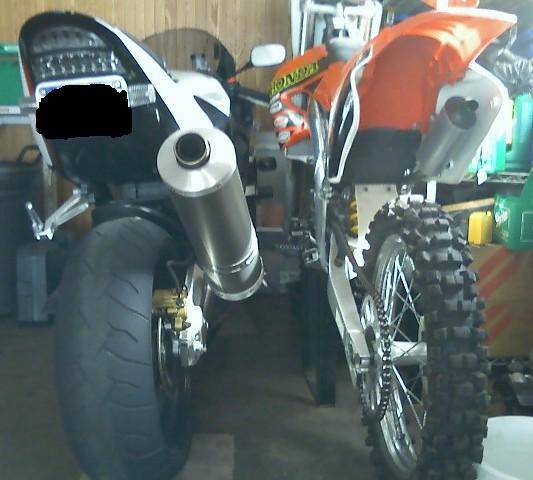 Then I picked up new chain and sprockets (Renthal Gold Chain, Renthal Black rear sprocket, Renthal front sprocket) and a decal kit.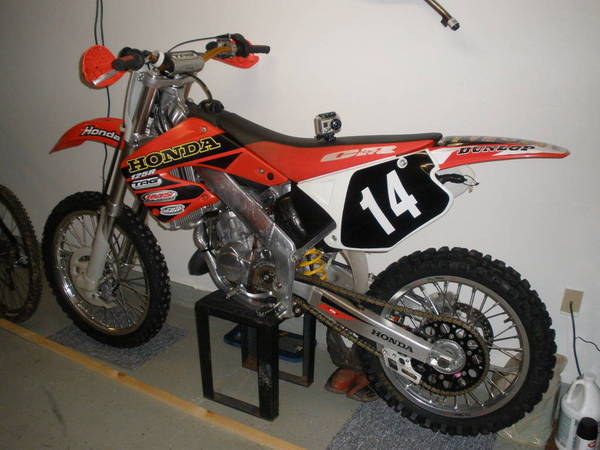 Then it was time for a top end, reeds, pipe, silencer, fork and shock revalve, and some other things. So I had to strip her down.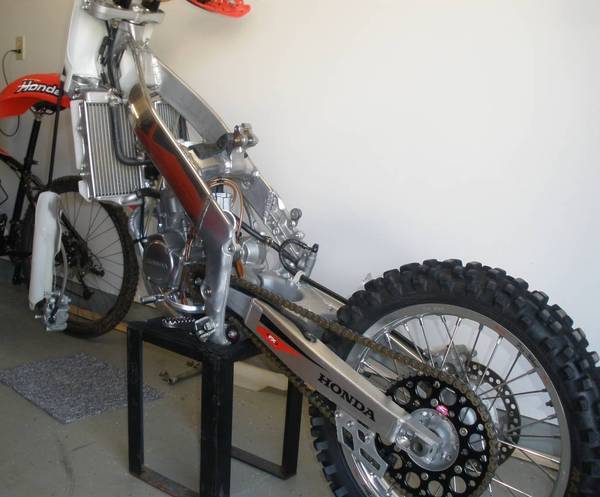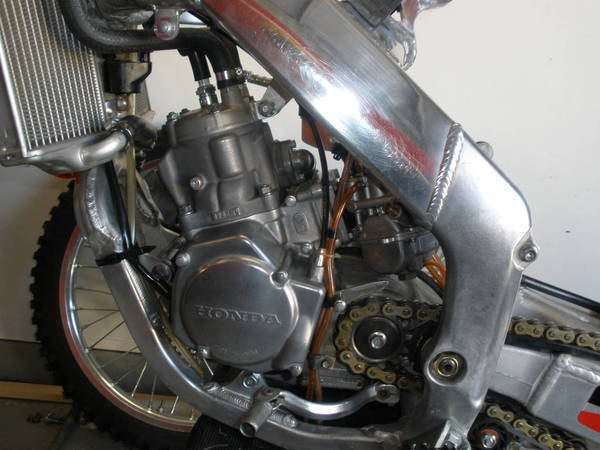 I sent out the suspension but did the rest of the work myself. I didn't take many picture but here are a few. Although it was still fully functional, the RC valve had a ton of carbon on it. I had never cleaned it before, but now I will regularly. The 10 year old studs were corroded, so I bought all new studs and dowels.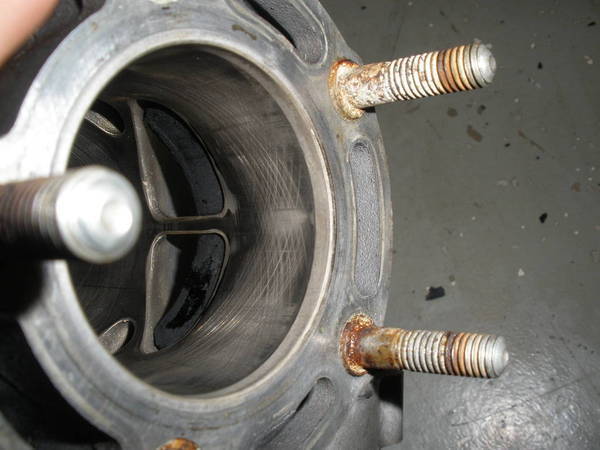 Because of all the carbon, the RC valve shaft didn't want to come out. It took a lot of PB blaster and alittle leverage to work it out.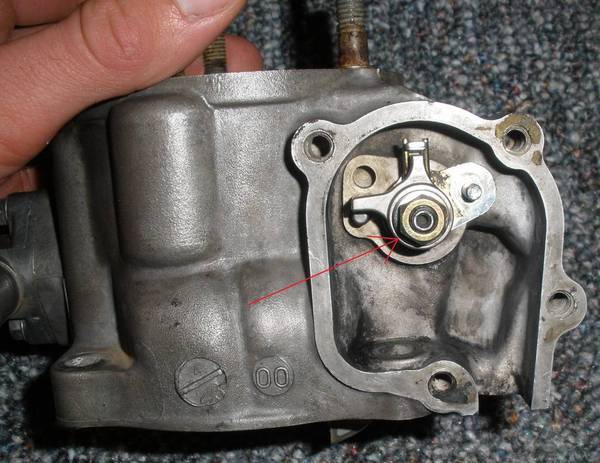 I took these right after I finished the top end (wiseco pro lite kit), boyesen pro series reeds, rejetted the carb, new pro circuit pipe and silencer, changed the oil, replaced all the studs, installed the forks and shock, and cleaned everything meticulously before assembly.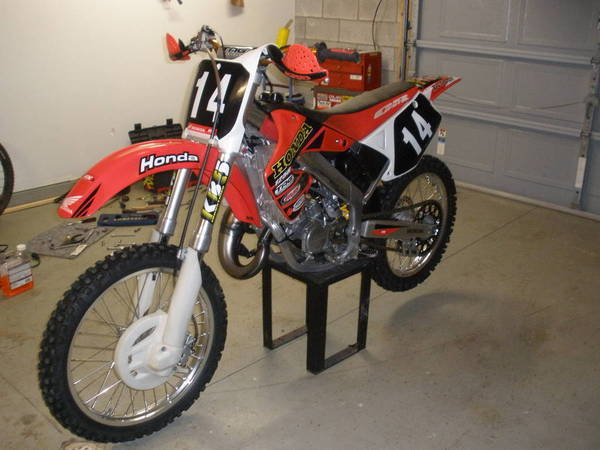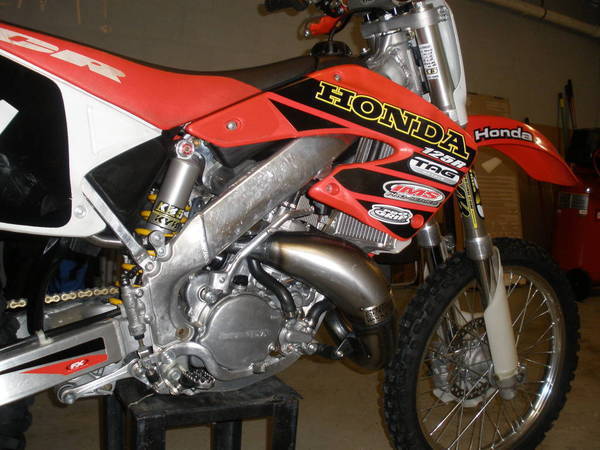 Here are some action pics.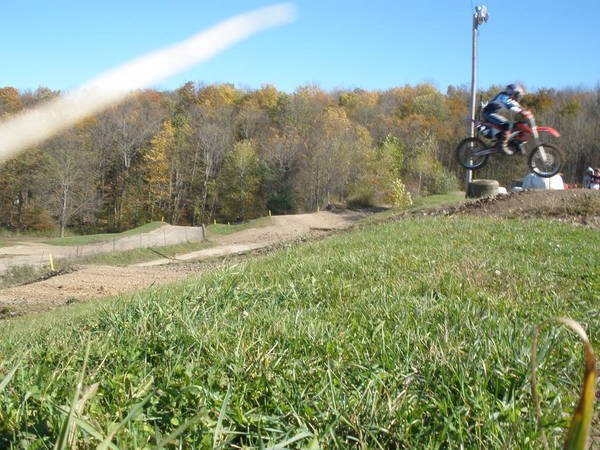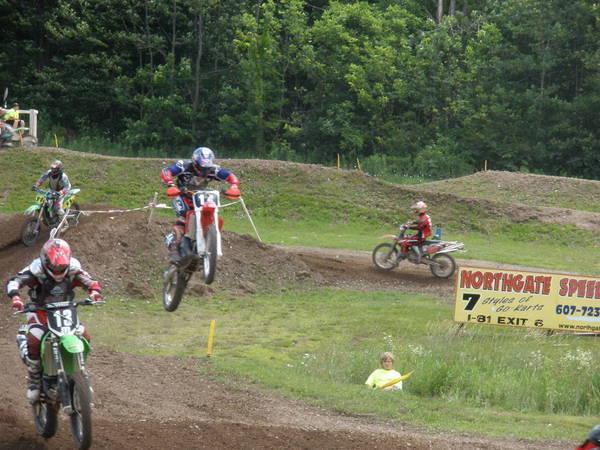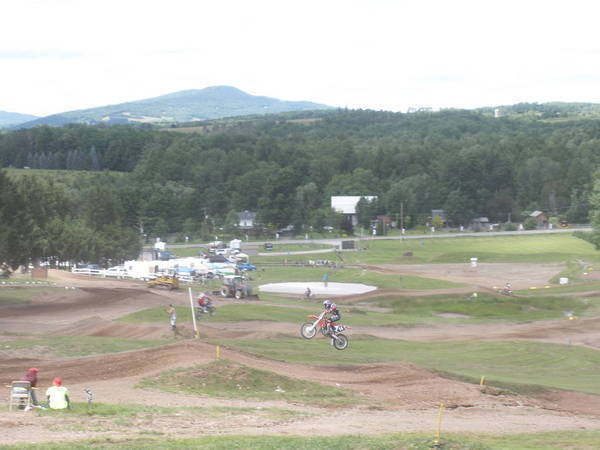 some old trophies and my smashed streetbike helmet (which saved my life)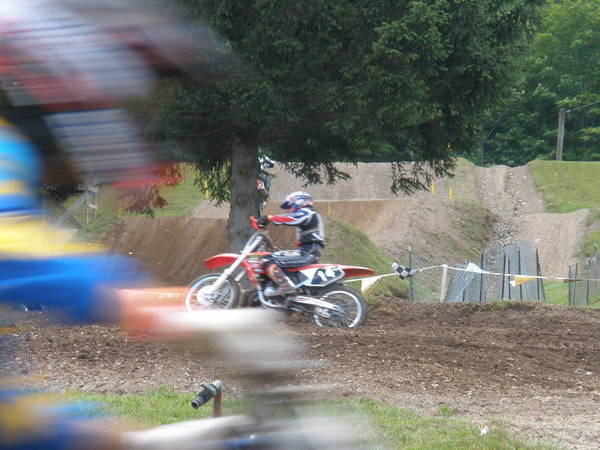 Next on the list are a gripper seat cover w/step up kit, graphics, new front tire.
More
GoPro
Hero HD videos to be added next season.
Here's the new seat cover (didn't go w/step up kit), lower fork guards, removal of front disc guard, removal of stickers on shrouds, new numbers, and new front tire.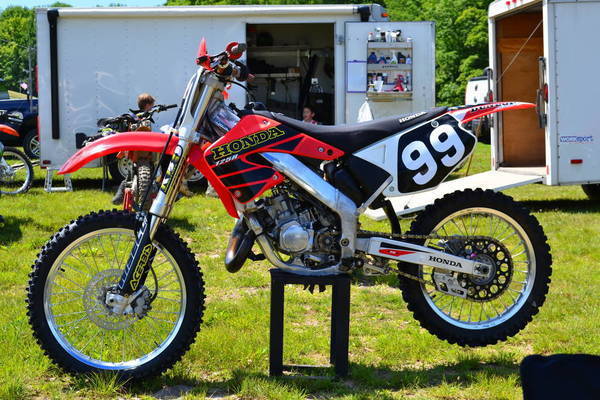 I don't know this guy standing in the picture (sorry guy)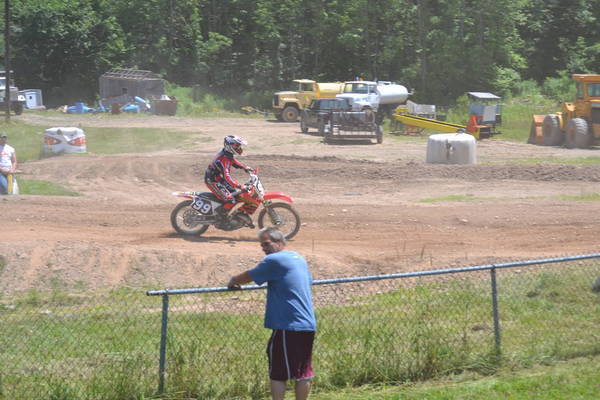 Some pics with the new rear fender..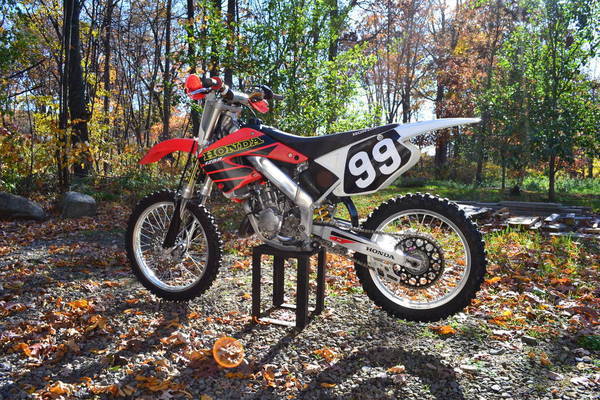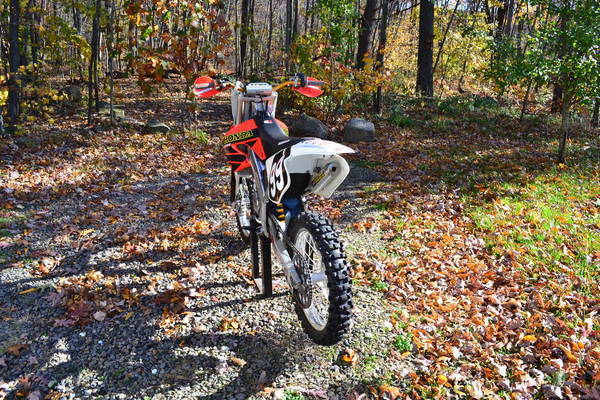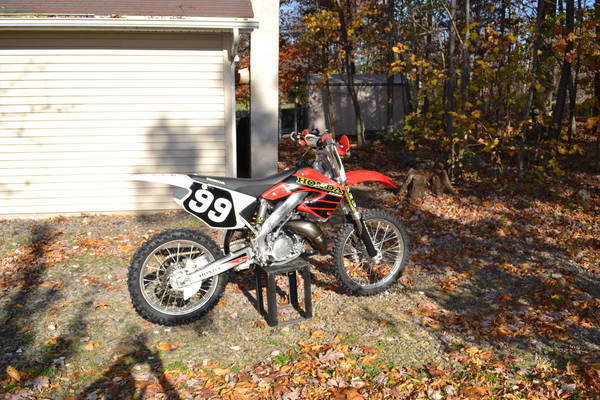 Here's a video from spring of 2011.
http://youtu.be/tmY3TSSilqo
Clip of me falling, summer 2011.
http://youtu.be/YSoeZn-jHkg
After the winter I picked up a newer style front fender (04-07), new radiator shrouds and number plates, graphics, and two sets of new plate backgrounds. I took off the handguards, put in new Hinson clutch plates, and a new OEM clutch cable. I also replaced the rear wheel bearings/retainer, put on a new back tire, tube, and motion pro lite-loc bead lock. In the picture are the old number plates. I haven't put on the new ones with the second set of background yet.
I did a crappy job using microsoft paint to block out my name. I will take some better pictures outside when the weather cooperates or I actually get to ride.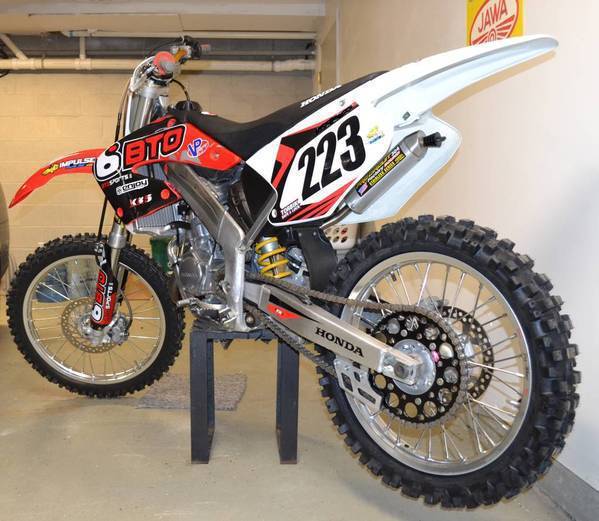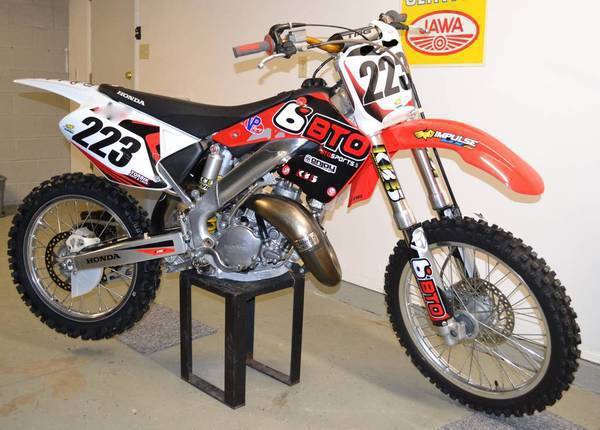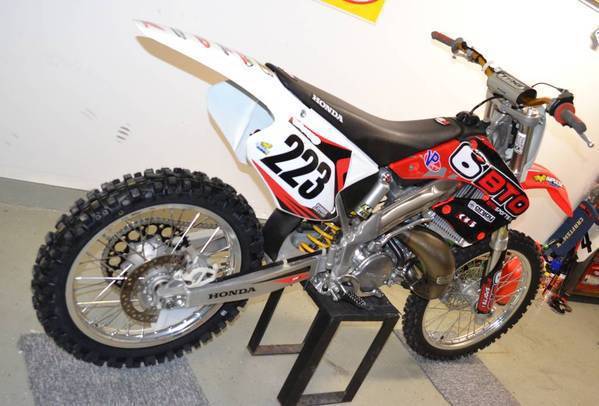 Waiting for my rear fender kit to come in.
Next on the list........Ride!
Still waiting on the rear fender kit to come in...
Some practice footage
http://youtu.be/by0AaHkSAQs
http://youtu.be/pJYTFImATlk
http://youtu.be/elGzsmcJYGg
Screen Shot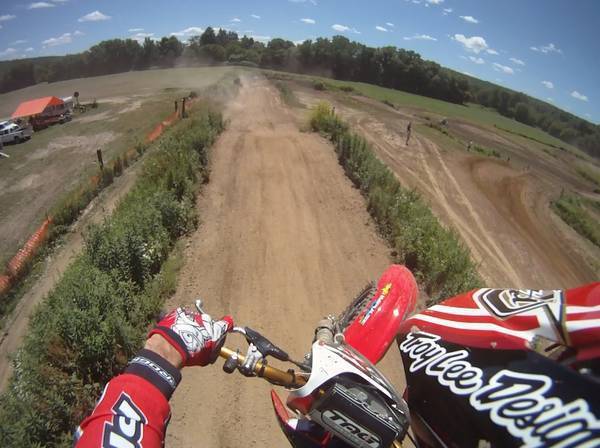 a short video of my tweaking my wrist ...
http://youtu.be/2f-qWmFmzGA
riding at a practice track w/a buddy
http://youtu.be/jegZ8XdXz3M
Derped the rims to see how much my bike can melt my heart with black rims. Didn't hold up well so I peeled it all off.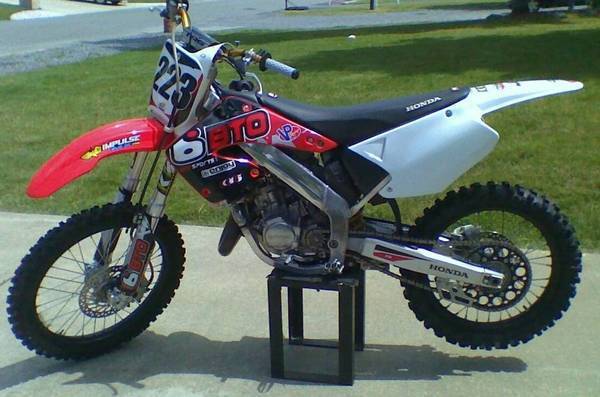 Any updated shot of the 125...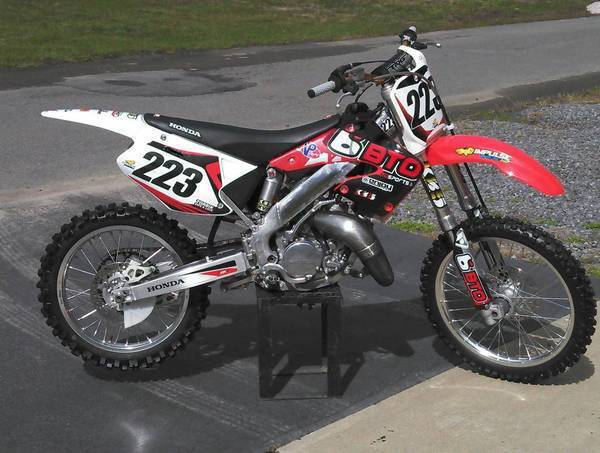 I picked up a used 450 this is how she looked when I brought her home...
This is how she looks now..