I thought i would post my build
Hope people like it.
Let me know what you guy's think.
Put in lights in the grill.
Installed an amber light kept getting hit in the rear so i put it in.
Re did my grill it was gray i wanted it to be black.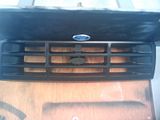 Installed steel lined brake lines.
I Really don't have that many pictures of the truck with out the mods i never done a build Thread.
Ill add more as i install. More. Next will be the bumper
Does Need help tho with putting it on. "Not bolt on."
Going to post my 1993 i Beam ranger.