now
1986 Toyota 4wd project
Details
motor: 22R
tranny: G52
transfer: stock 2.28 single
rear axle:stock with 4.10 gears (welded spiders)
front axle: stock ifs with 4.10 gears(welded spiders)
future plans: (in order)
- complete 22re swap with 22re wiring harness (current 22r has way more power than before the rebuild but it smokes like a bitch and its having trouble starting)
- bed bob
- lockers
- SAS with a toy axle (84 or a 85)
- 4-5 inch lift
- 35's
- maybe dual t cases
- new stereo and cb
- new paint (olive drab, orange, dark gray)???
- plate bumper and a xrc8 winch
- sliders
- rear tube bumper
I started off the project when I received it with, what I thought to be, a blown head gasket. It was time to tear down the motor to the block and replace the gasket. Then I found out that dropping the oil pan is a REAL bitch, by that I mean the front axle has to be dropped and then the oil pan has to be maneuvered to be taken out.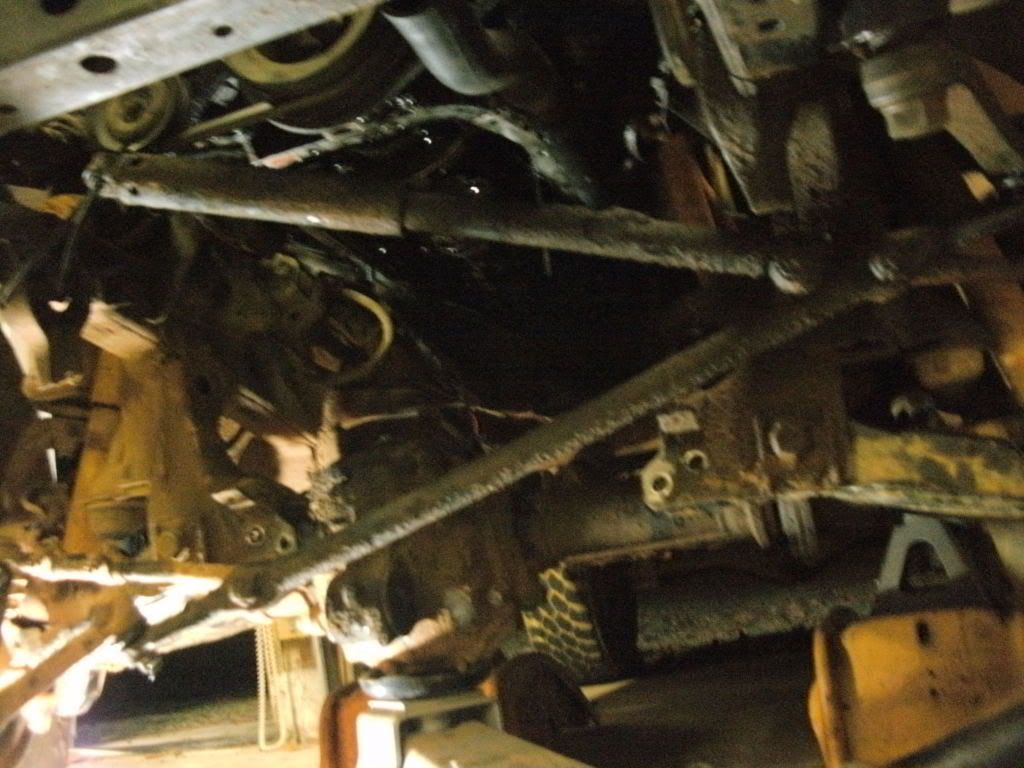 When I got the pan finally removed I found the entire right side (the straight one) of the plastic timing chain guide in the oil pan.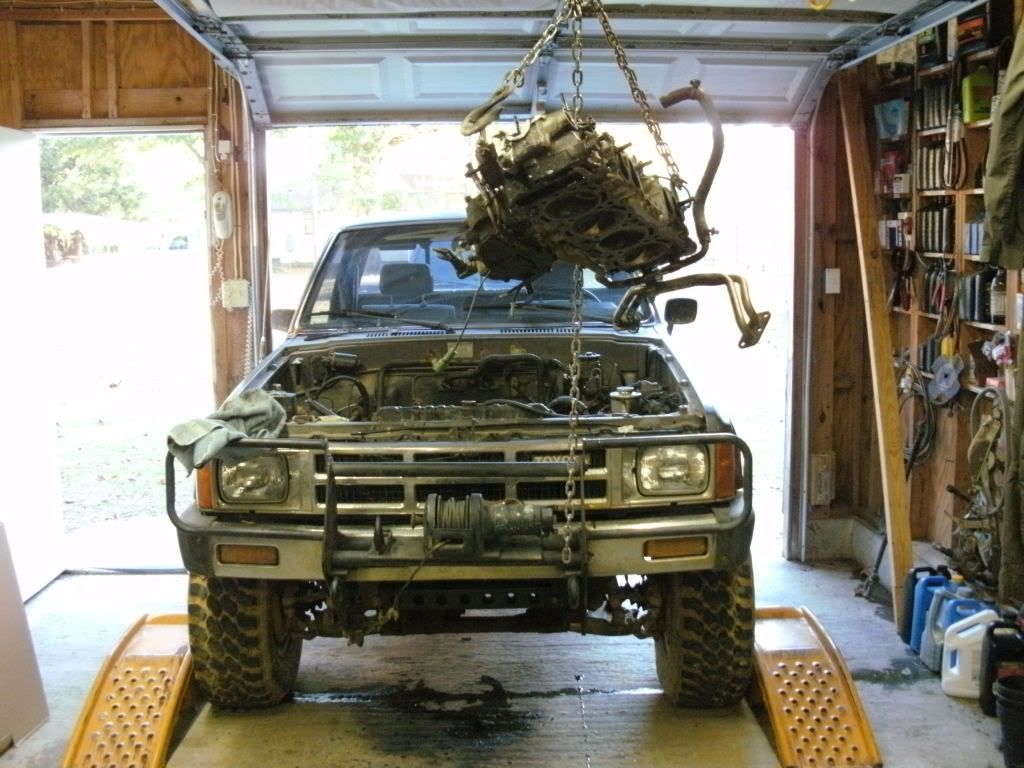 Then I put her back together with a new gasket assuming everything was fine but then I took her for a test drive and then when i got it back to the shop I had found that someone replaced my motor oil with chocolate milk. "WTF" I said, who would do such a thing? So I poured me a glass and discovered it wasn't chocolate milk. IT WAS OIL AND WATER MIXED!!!!!!!!!!!! "OH NO" I said, so I got around to looking and thinking and researching and found that the head could have warped when it overheated. "Well damn" I said, the head had to come off again.
I took the head, the exhaust, and intake off as one unit and began to dismember it and when I was don't all that was left were the valves and the cam shaft and I took it to my local machining shop and had it machined and brought it home the next day. The day I brought it back to the shop I started to reassemble everything as it was suppose to be along with a new head gasket and then I thought everything was going to be fine and dandy………….so I got her cranked and off I went on another test drive and wouldn't you know it the same guy that replaced my oil with chocolate milk did it again and I thought to myself I'm going to find this little douche bag canoe and run his ass over with the truck to make sure he doesn't do it again. Well it turns out there is no douche bag canoe that's doing it because its water and oil mixing again……….damn. Could this be the end of the ole 86 project? is it time to throw in the towel?????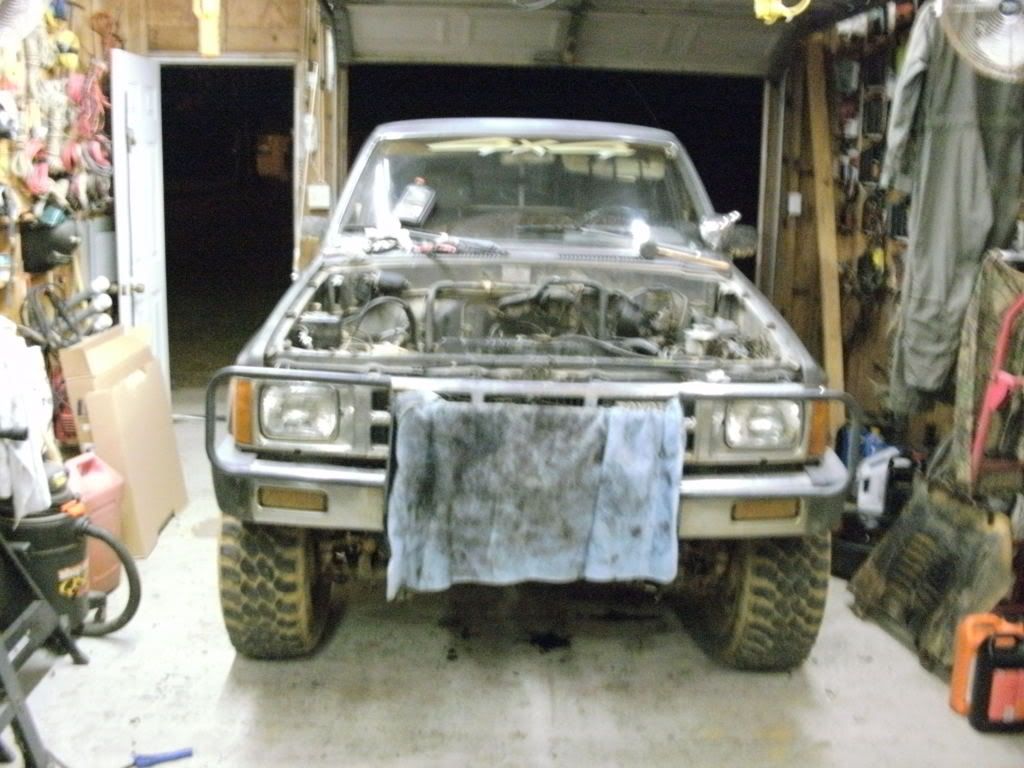 Stay tuned kiddies and tune in next week (or the next time I feel like updating this thing) and find out!!!!!!!!!!!!!!!!!!!
.
.
.
.
.
.
.
.
NOPE………………. because I had an (use to be) amazing (now ex) girlfriend who (is a cold hearted bitch and) just so happened to have a 85 22R block just sitting behind her house on a engine stand on her porch and the weird thing is there wasn't a Toyota (besides my taco) anywhere to be found and she let me have it. It only cost me some great sex, or at least 5 times of mediocre sex, so we did it 5 times and I had me a new motor to work with.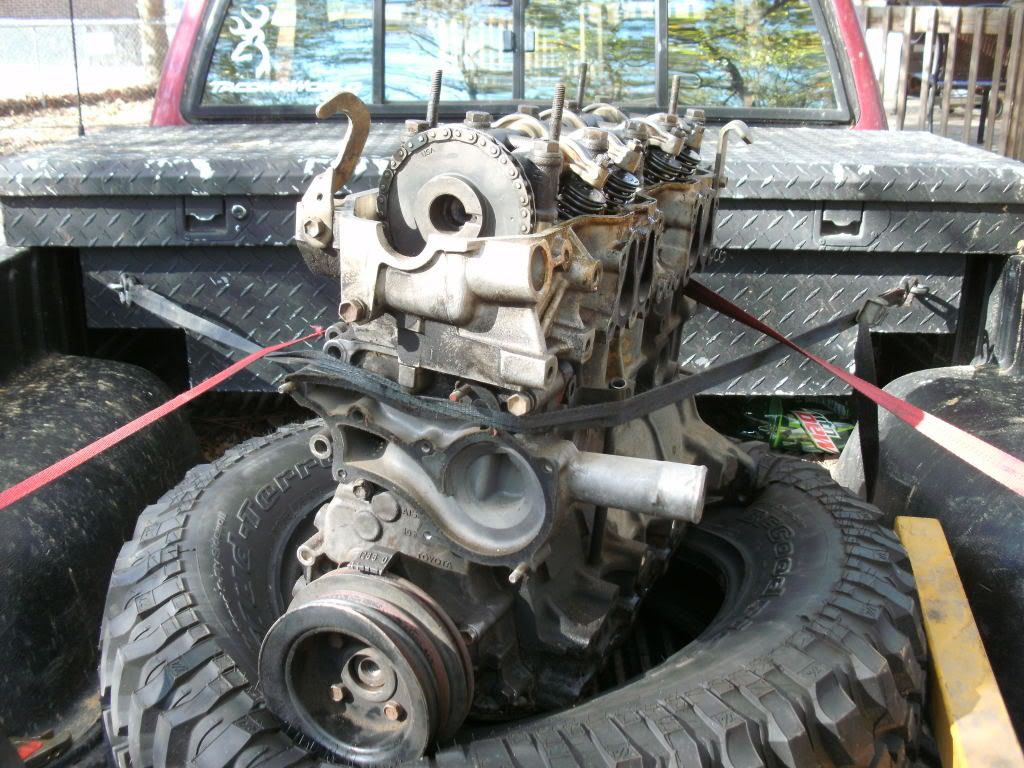 I backed up to her porch and I found out real quick a motor is a heavy son of a bitch to pick up by yourself. I got it on the back of the taco by myself but the bad news is it was lying down and I couldn't pick it up so I said screw it till tomorrow. The next day I found a big branch in my back yard to run my winch cable over to pick it up and take it off the stand and put it on a tire.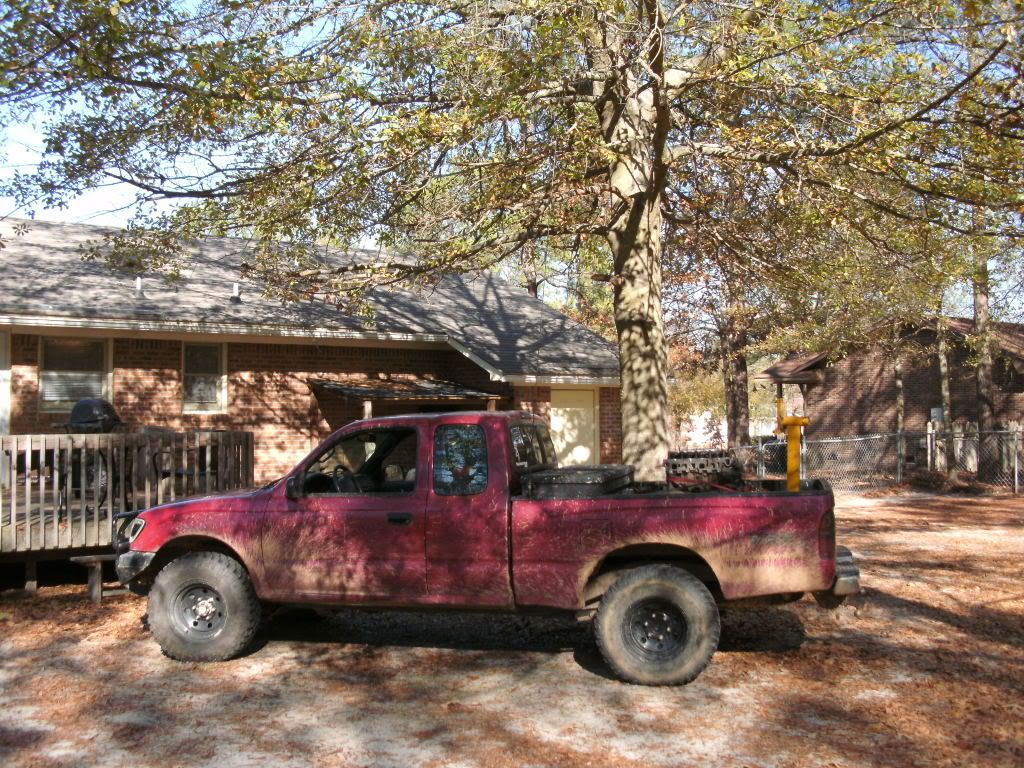 I got the motor to the shop and began the tear down of both motors. I tore down (almost) everything, and looking back I should have known that there would be a reason that motor was sitting instead on in a truck but the new motor came with a new timing chain, guidelines, rings, a used but in amazing condition timing chain cover. i have a great grandma who brought me a snack while i was working on it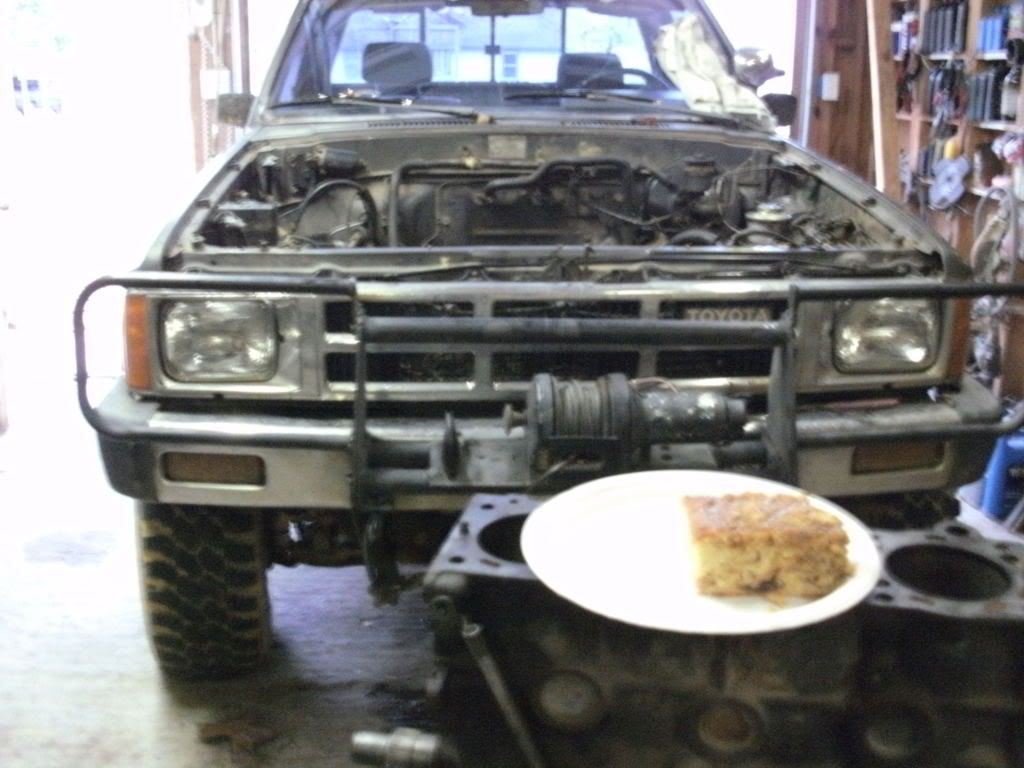 this will do as a table for now
back to the build I pulled my block and put my head on the new motor (the new head was complete crap and I also dropped it accidently in some concrete and screwed up a corner) I built the (almost) whole motor and dropped it in the truck and set the timing and everything and then it cranked and…………knocked like crazy but the good news is the water and oil weren't mixing anymore and I found out why I kept getting water and oil mixed. The timing chain guide was broken on the old motor and the timing chain was rubbing the timing cover which rubbed a good ¼ inch out of the side where the antifreeze inlet tube goes. Sometime during the rebuild I got tired of dropping the front axle every time I had to take the oil pan off so I just took it off completely and rocked it in prerunner mode for a little while, Anyway back to the knocking issue which sounded like a rod knocking. The motor had to come out AGAIN; this would be the 4th time either the head or the whole block had to come out. I took the head back off and flipped the motor upside down and took the oil pan and pickup tube off and inspected the connecting rods and I found the culprit the person whoever built this motor did NOT put a bearing on the #3 cylinder where it connects to the crankshaft, long story short the crankshaft and the connecting rod was toast so i tore the whole block down and built up my original block with the new rings that was in the new motor (I wish swapped everything from my motor to the new block, it the pistons and the rings seemed to fit better in it). Anyway I built my old block and put my old head with the new timing chain, guidelines, tensioner, and the timing cover on and the last bolt in the timing chain cover (the one that goes in at the top through the head cracked the timing chain cover)f-it!
.
.
.
.
.
.
.
.
.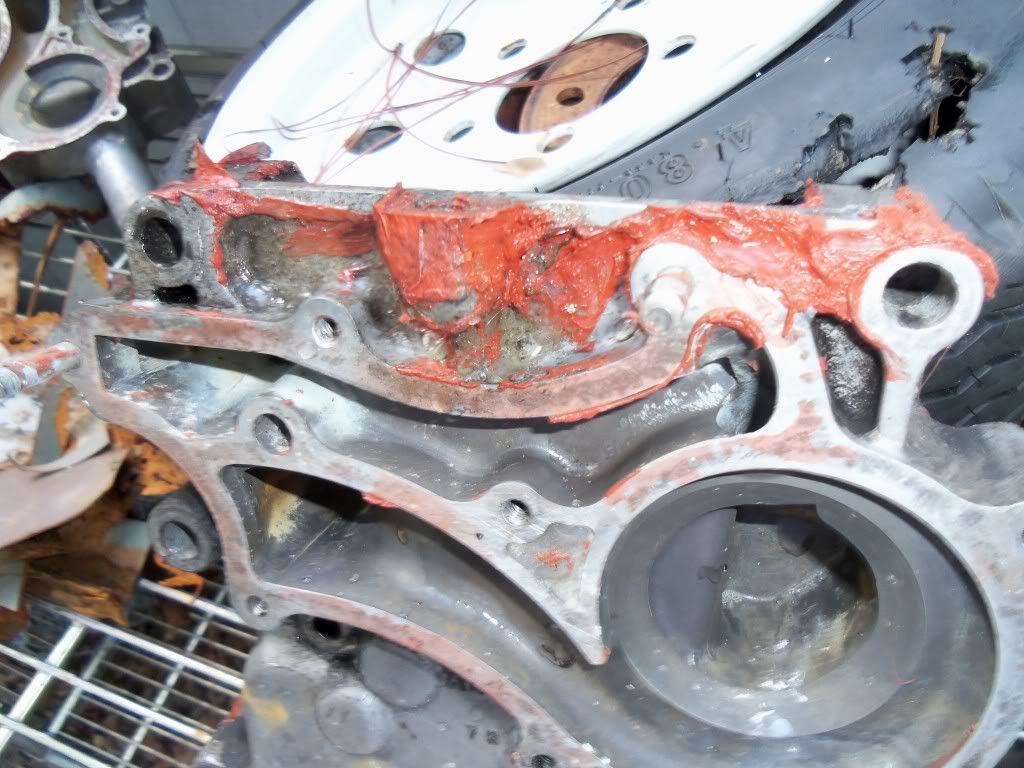 I finally got around to taking the timing cover off that I cracked to replace it with another one I got at a junk yard. (Dude charged me 30 bucks for the damn thing and that's after I talked him down from 50$.) Spent almost all night getting the old one off (tool that I used to hold the crankshaft pulley broke and couldn't get the bolt out without the whole crankshaft spinning) and finally got it off and put the new/used one on and got it down to the last bolt (just like the last one) and what did I hear??????CRACK!!!!!!!! Just like the last one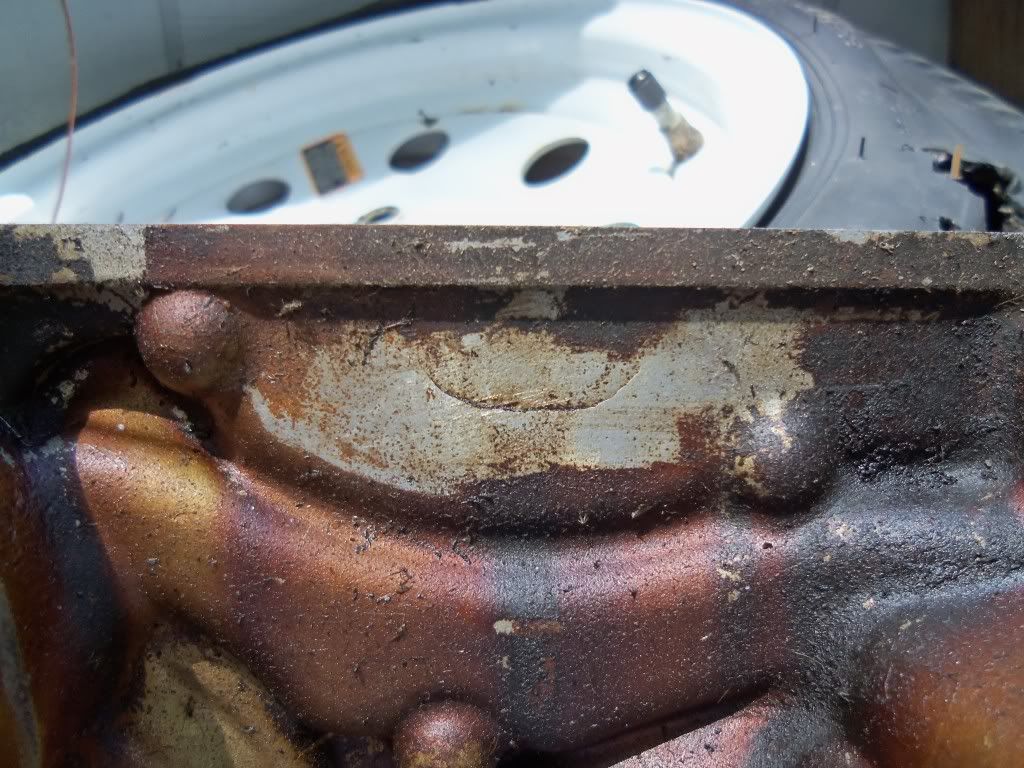 so now im tired of breaking used Toyota timing covers so I went looking for a new one and I scored a great deal on a brand new one for 70$ (used one would have been about 120$ from this junkyard because they take it off). Got home put it on and………………..wait for it………………….wait………………….SUCCESS!!!!!!!!!!!!!!!!!!!!! ! Kinda. She runs and she has no mixing and only one leak from around the oil pan. I take this as a victory. The leak was no big deal because the axle was already removed and all that was standing between me and fixing it was draining the oil and 18 bolts holding the pan on. I dropped the pan and put a new gasket and silicone gasket on and ……….a perfectly running 22R that is not leaking in anyway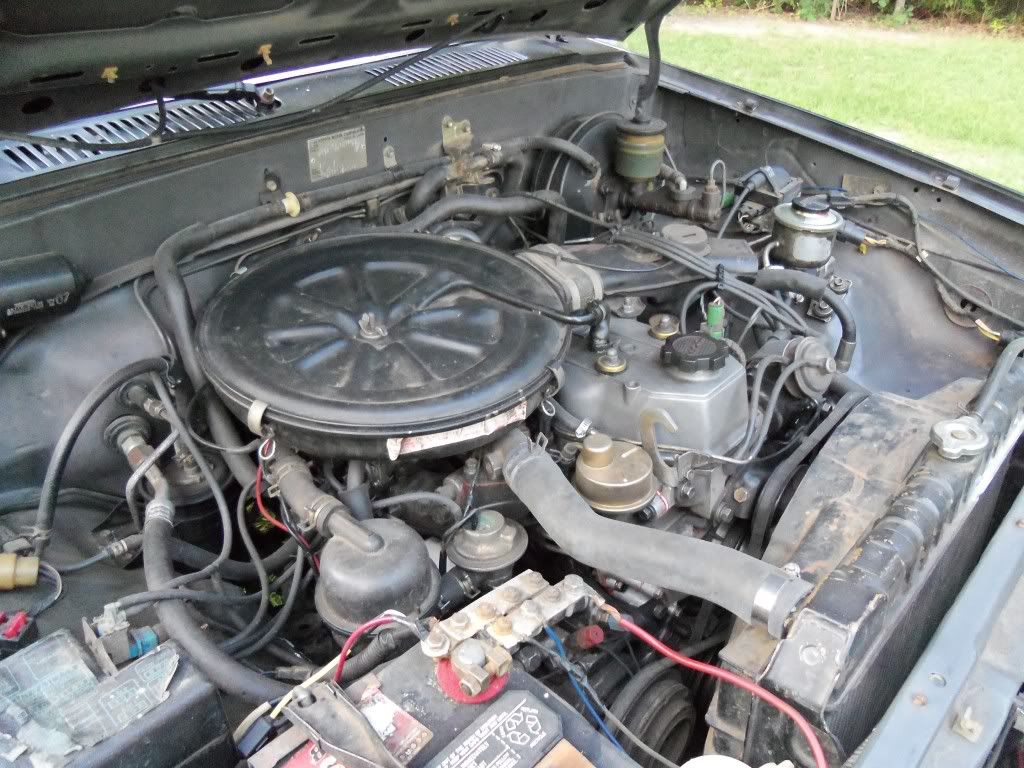 Part 2 redo the mounts to the brush guard/winch mount
It used to be welded on to two pieces of angle iron that connected it to the frame and you could move it and the front bumper by hand so you know it wouldn't hold up to winching. When I took the brush guard off I broke the two pieces of angle iron off with a few hits with a hammer. I cut two pieces of heavy duty "c" channel along with grade 8 bolts and now you could hang the truck up in a tree by it now.
Before (you can kinda see the angle iron here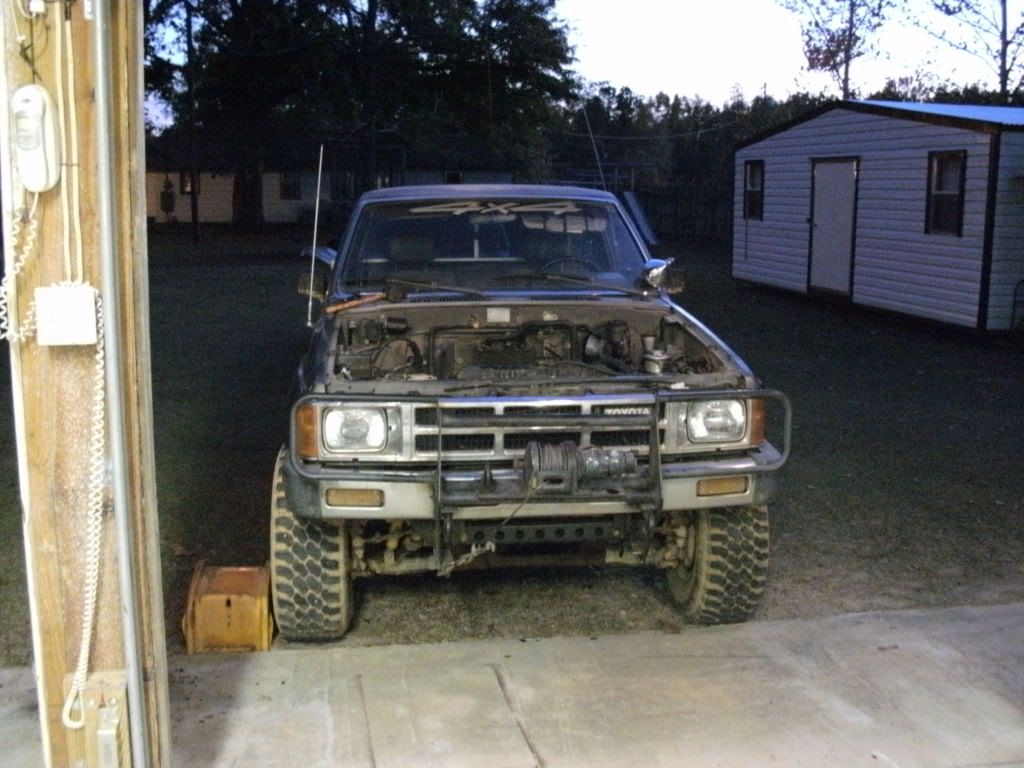 After you can kinda see the "c" channel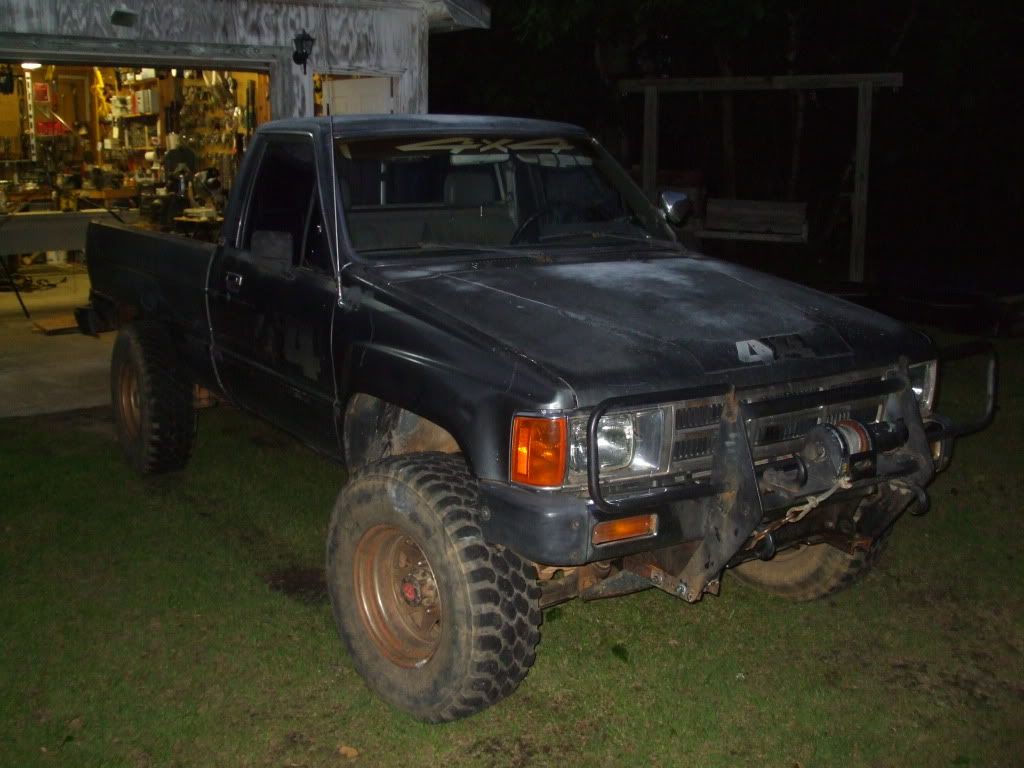 Part 3 of the project rust repair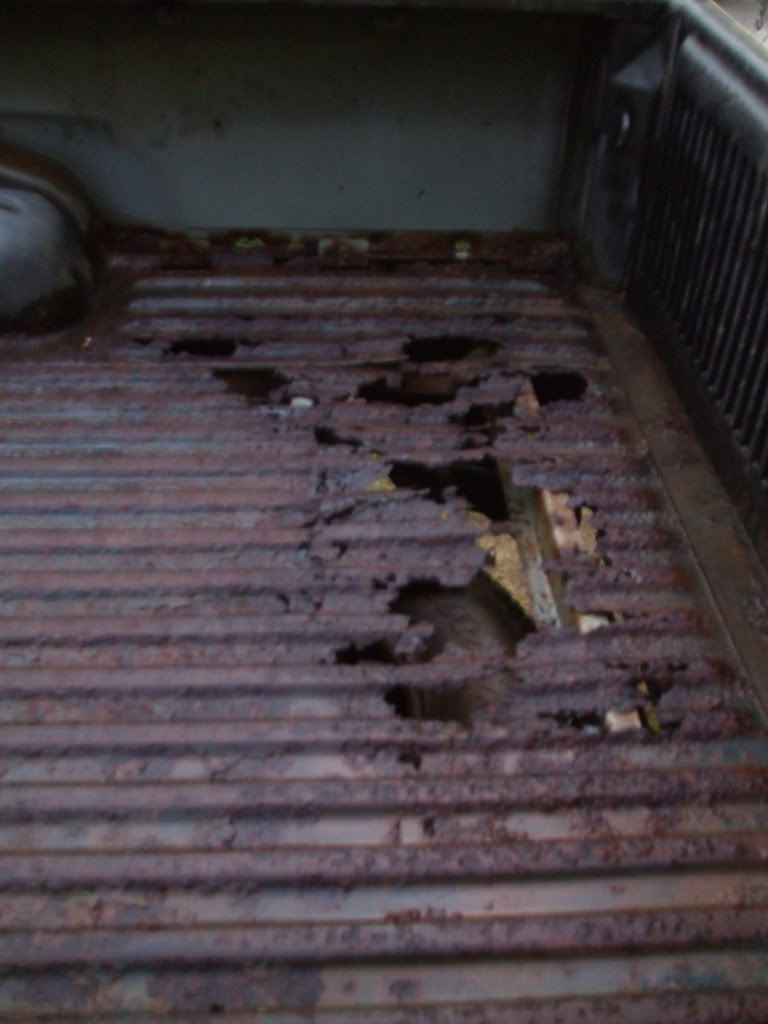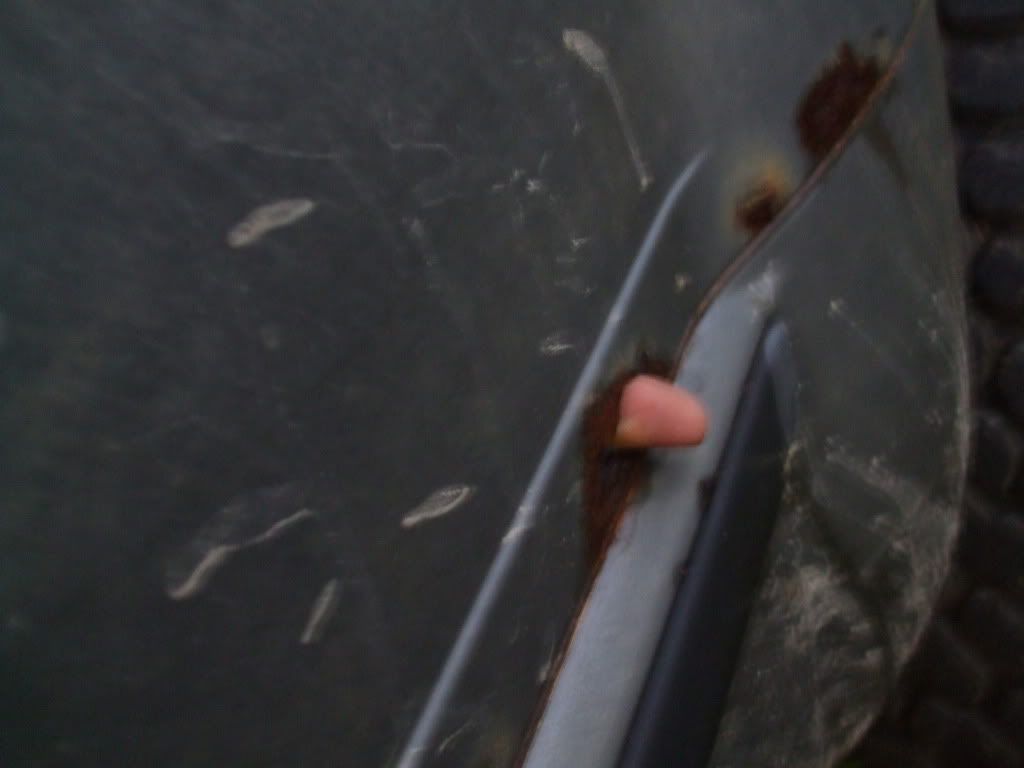 The original plan was to cut out the rusted metal and replace it with new metal but that plan got scraped for a better one (I believe).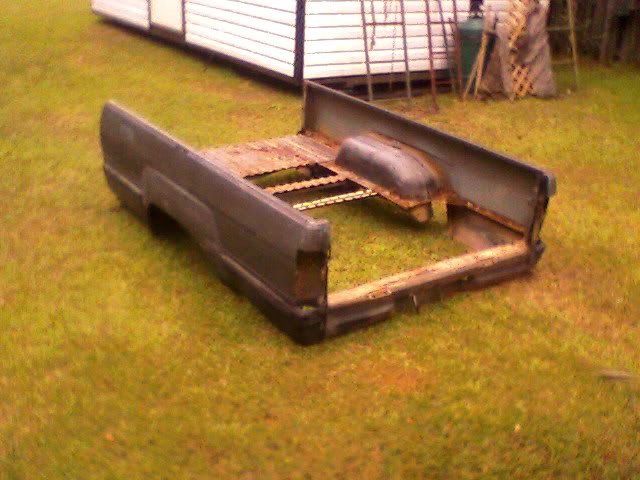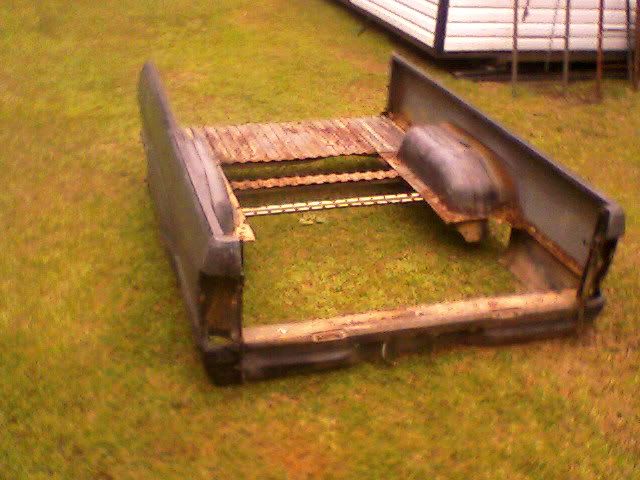 Here the better plan.
Tell me what you think?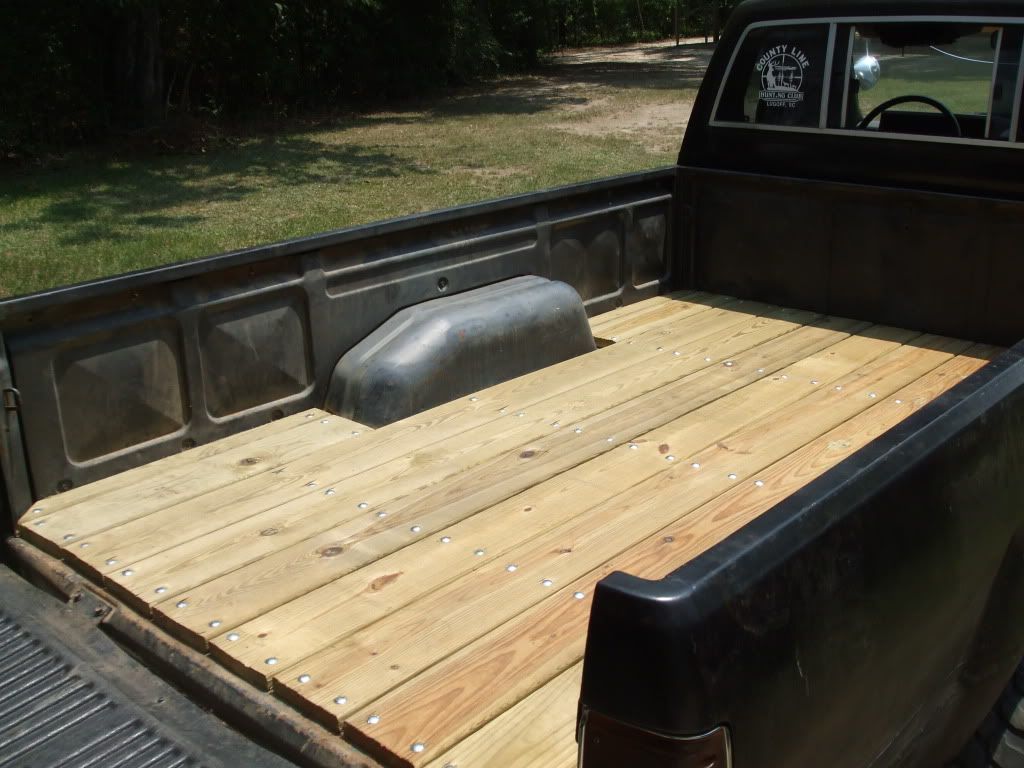 Part 4 paint
Rims
(major transformation)
Years and years of mud and rust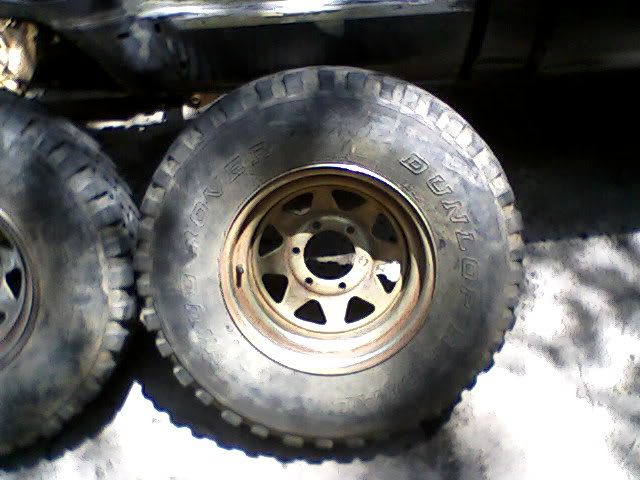 5 minutes with a wire wheel and WAY too blinggy for this truck
Primer/gloss black/clear = more like it
Old paint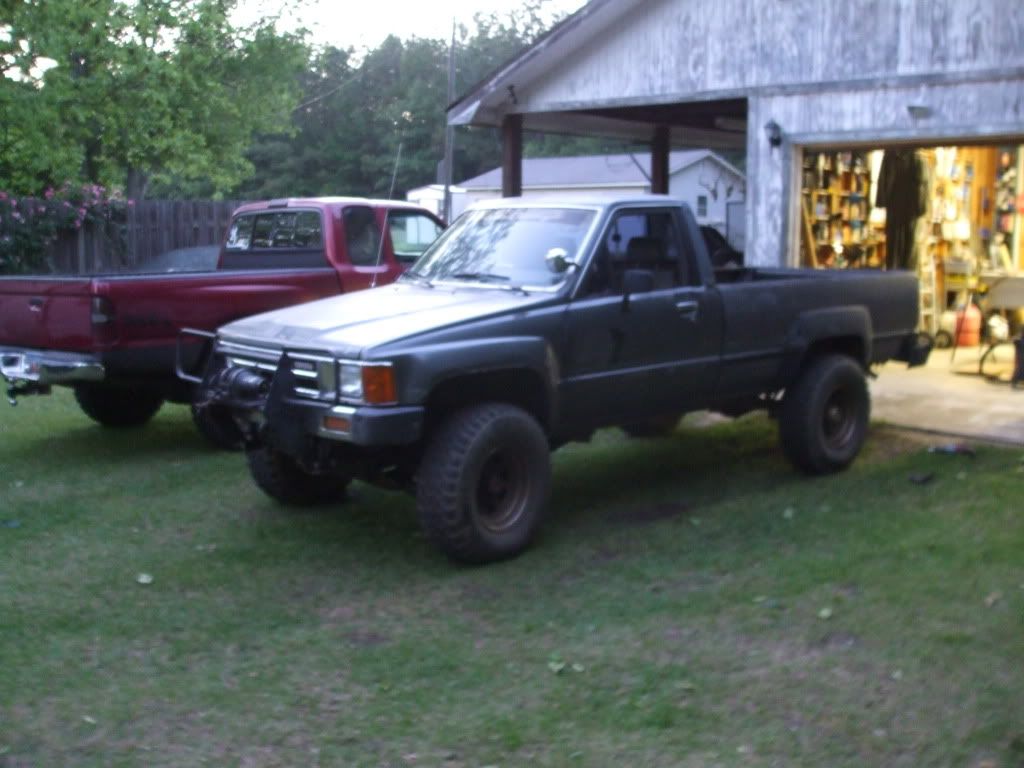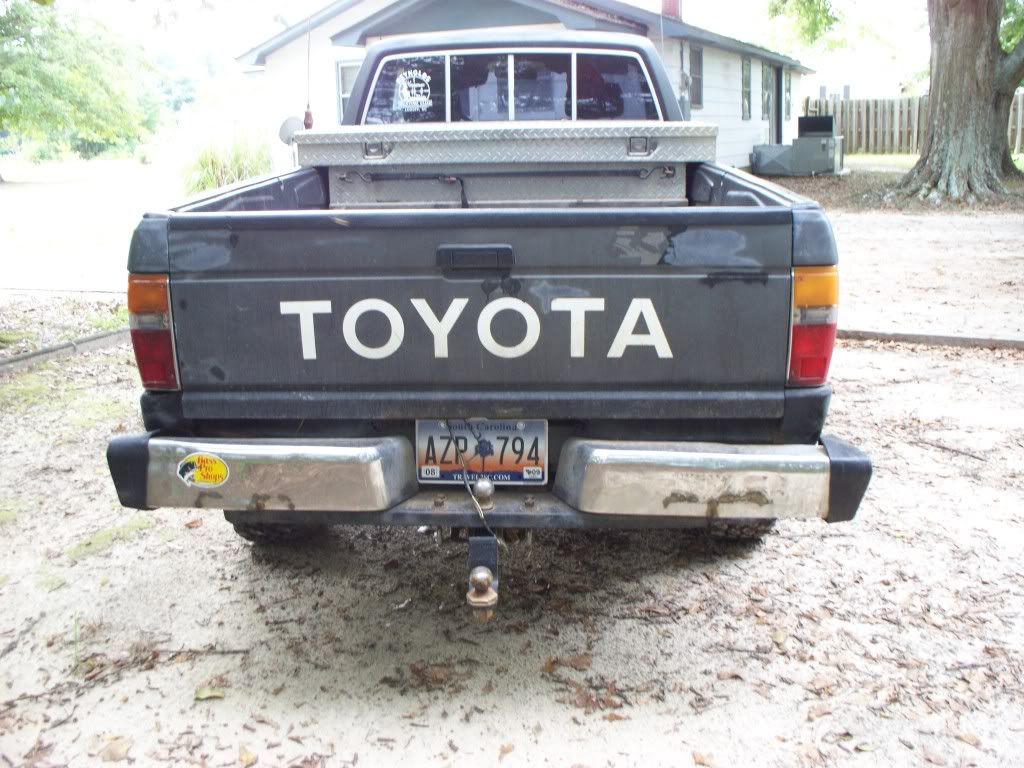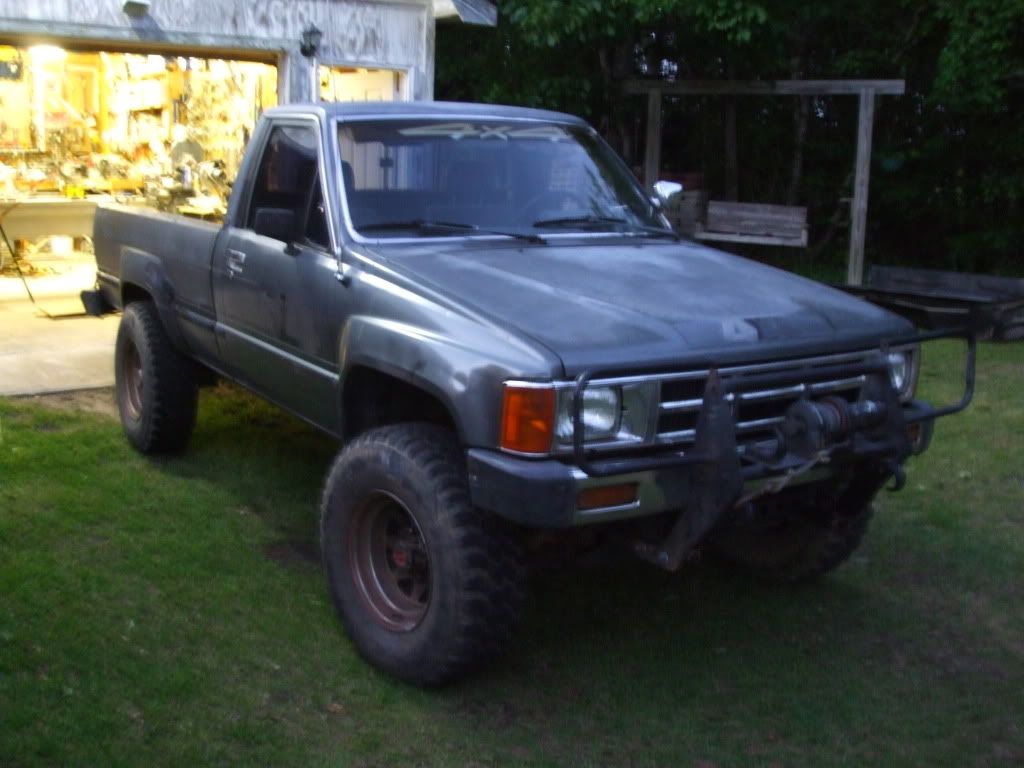 New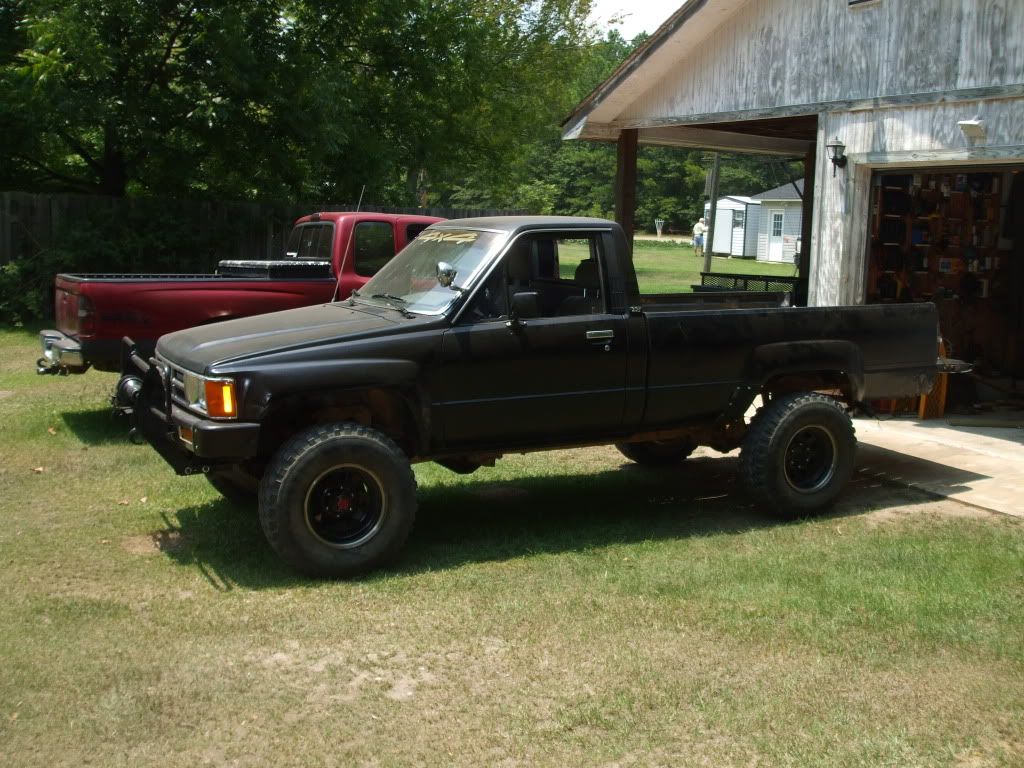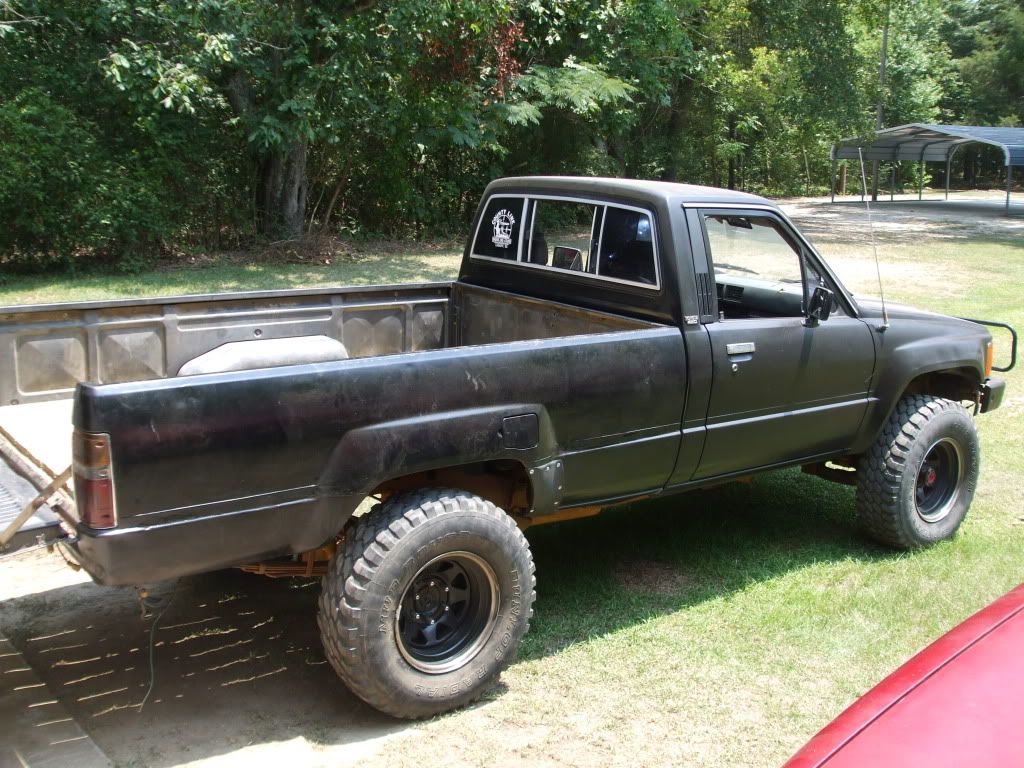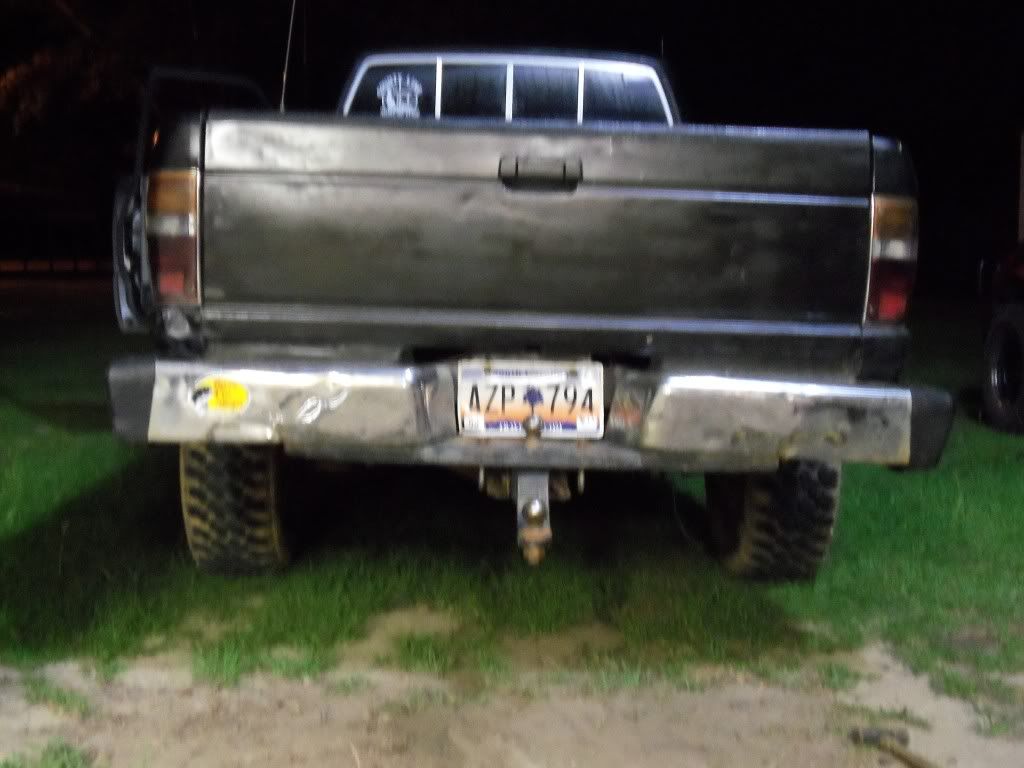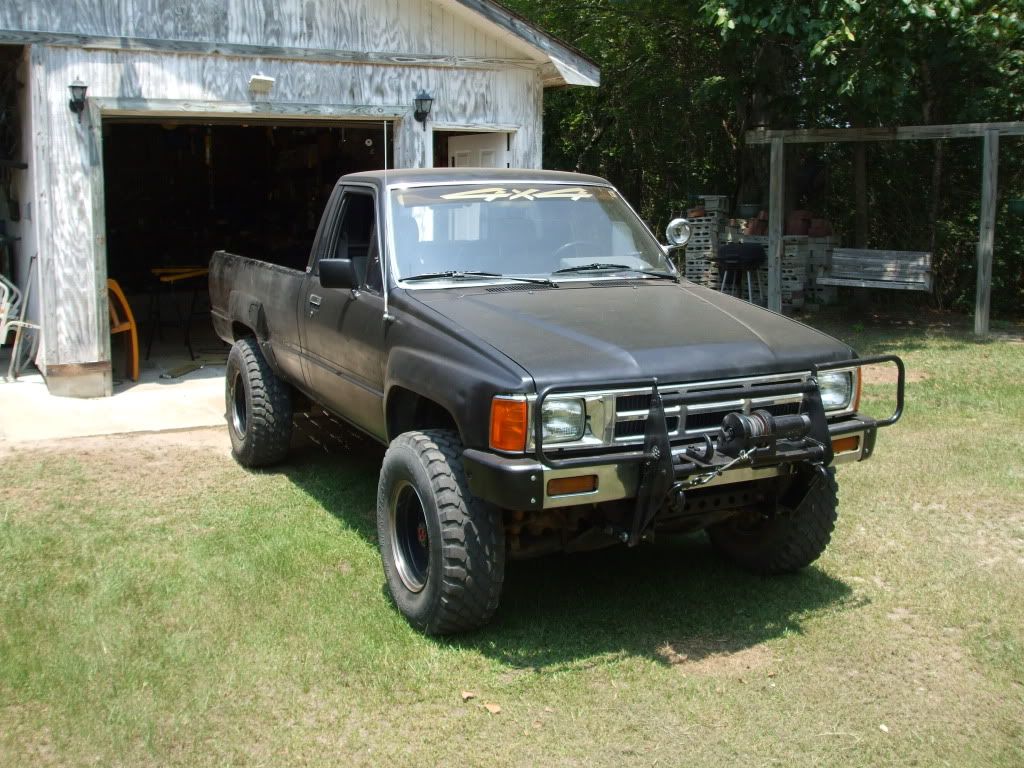 Part 5
Gas tank rust
The last time it was leaking we fixed it but it didn't work too well (gas tank sealer with JB weld)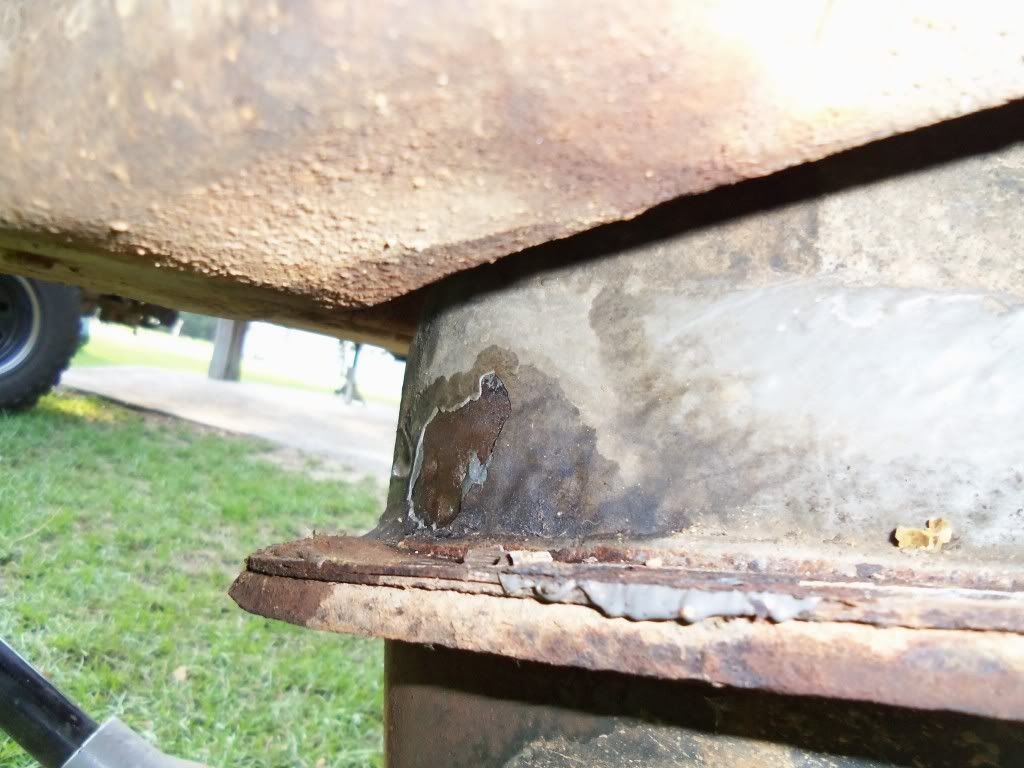 So I dropped the tank and drained it and removed everything and had it welded (80$) WAYYYYYYYYYYYYYY too much I know
8 holes in total and a few more that would appear later if they weren't fixed too
Holes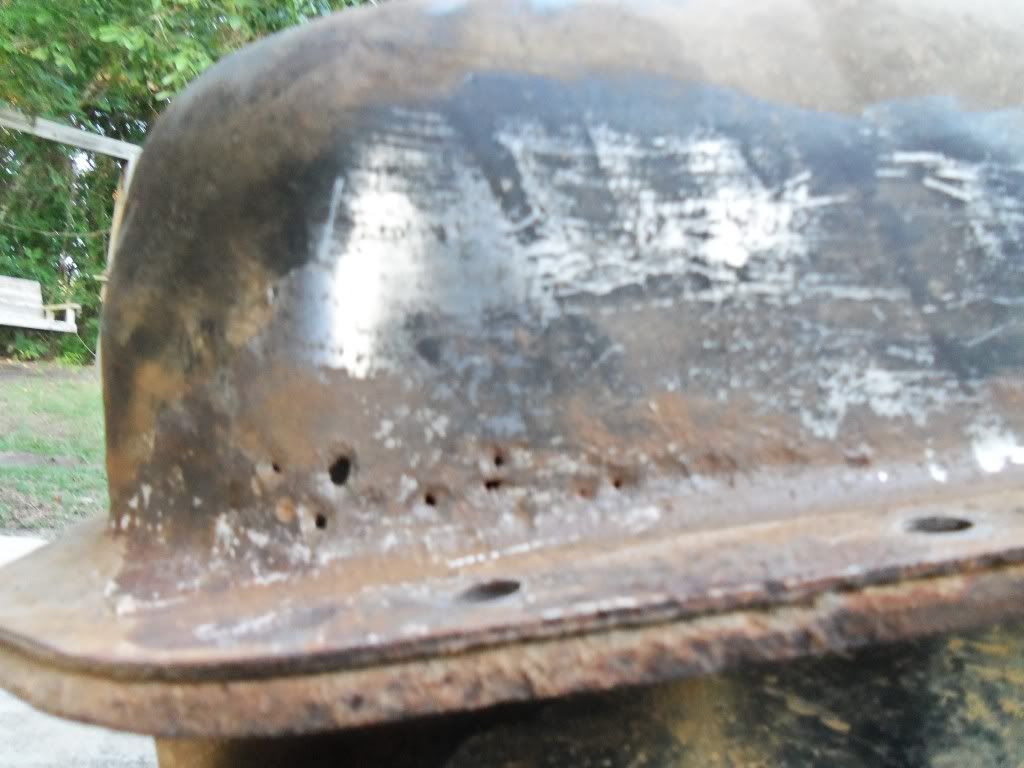 Looks new inside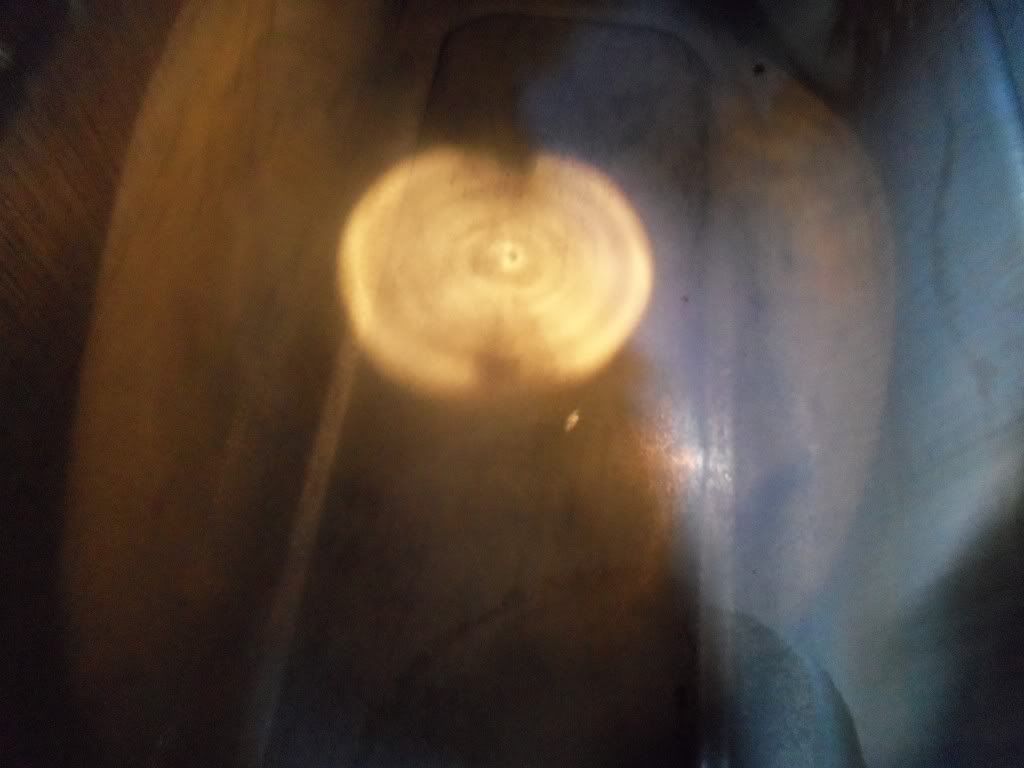 Welded and painted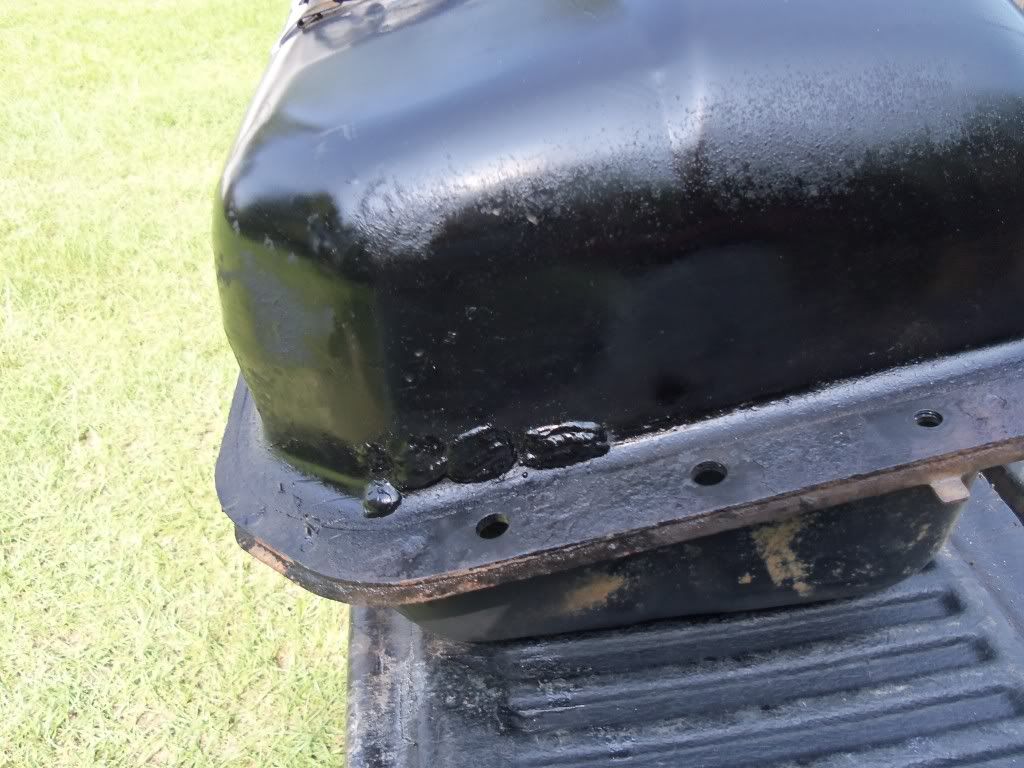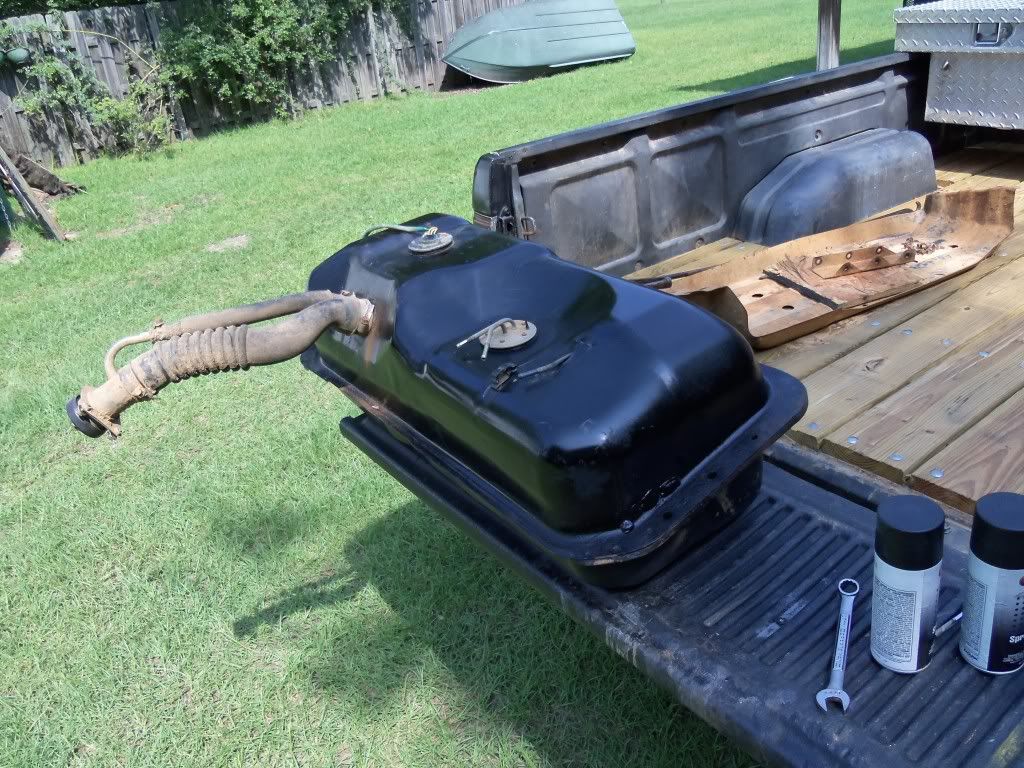 Part 6
Wheel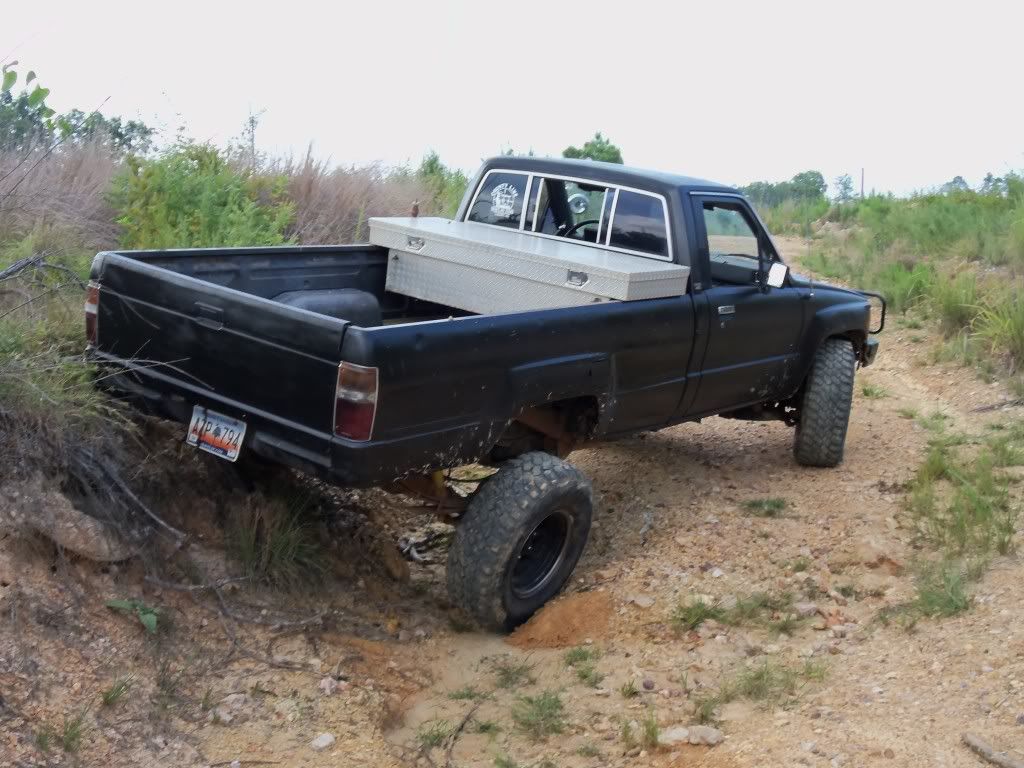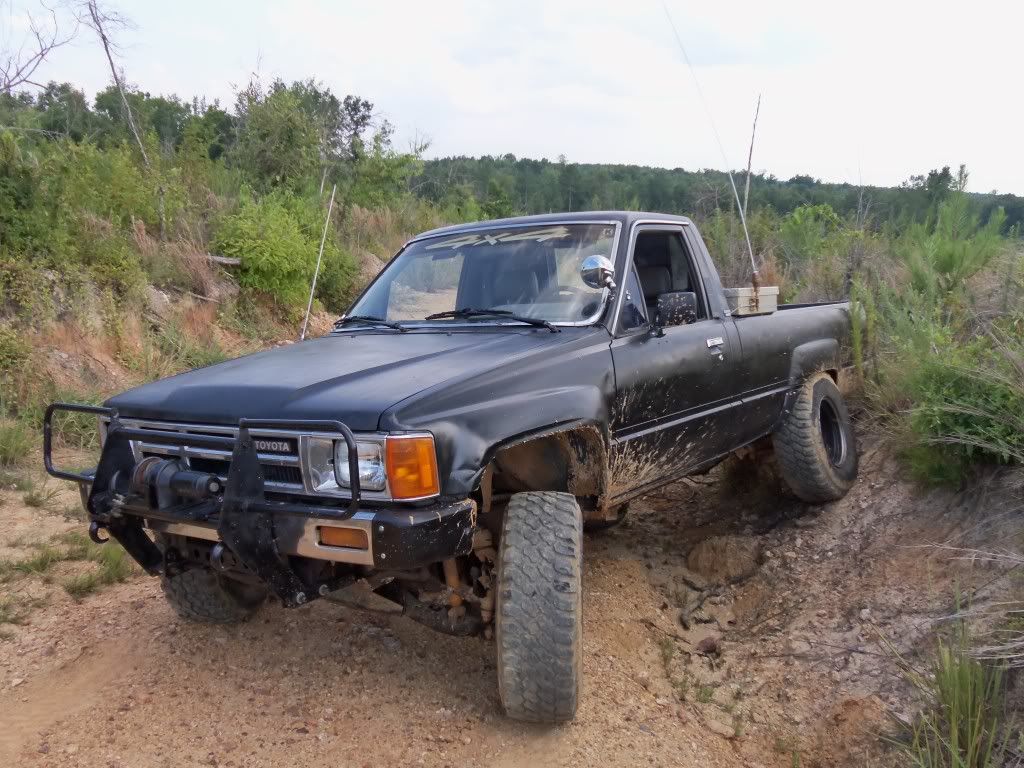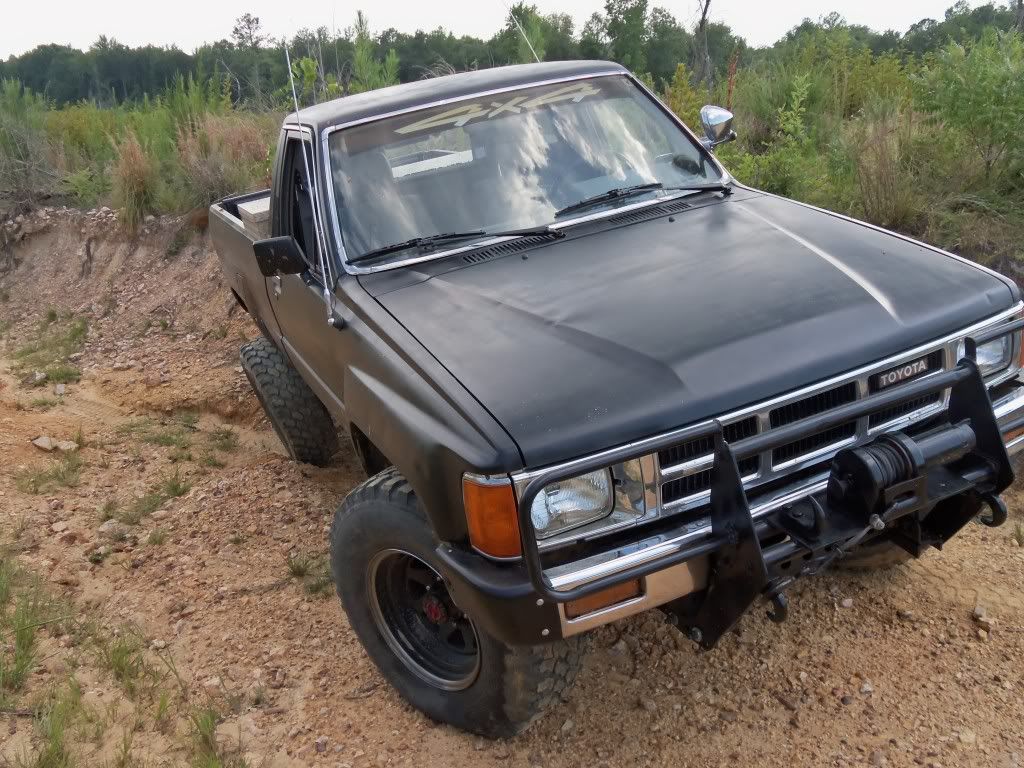 .
.
.
.
.
.
.
.
.
so, since I left off last time here's the new problems: 1. Truck starts fine when the truck is cold but when it heats up to operating temp. it doesn't want to start, I'm unsure why. 2. I took the carburetor off to clean all of the oil that sprayed in to it from the pipe that came from the valve cover and when I reinstalled the carburetor I adjusted the idle screw and the air mixture screw and now it won't run unless you pour gas in the carburetor, So I took a fukitall pill and let the truck sit for a few months and then ran across this supposedly 1985 Toyota extended cab 4wd pickup on TTORA for 400$, I told the guy that had it I wanted it but itd be a few weeks before I could pick it up and he said that was fine. My buddy and I went down to Georgia on Jan 1, 2012 (250 miles there) and found out it wasn't a 85, it was a 84.
but I bought it anyway because it really didn't matter.
This is what I got for 400$
A brand NEW (to me) 1984 Toyota 4wd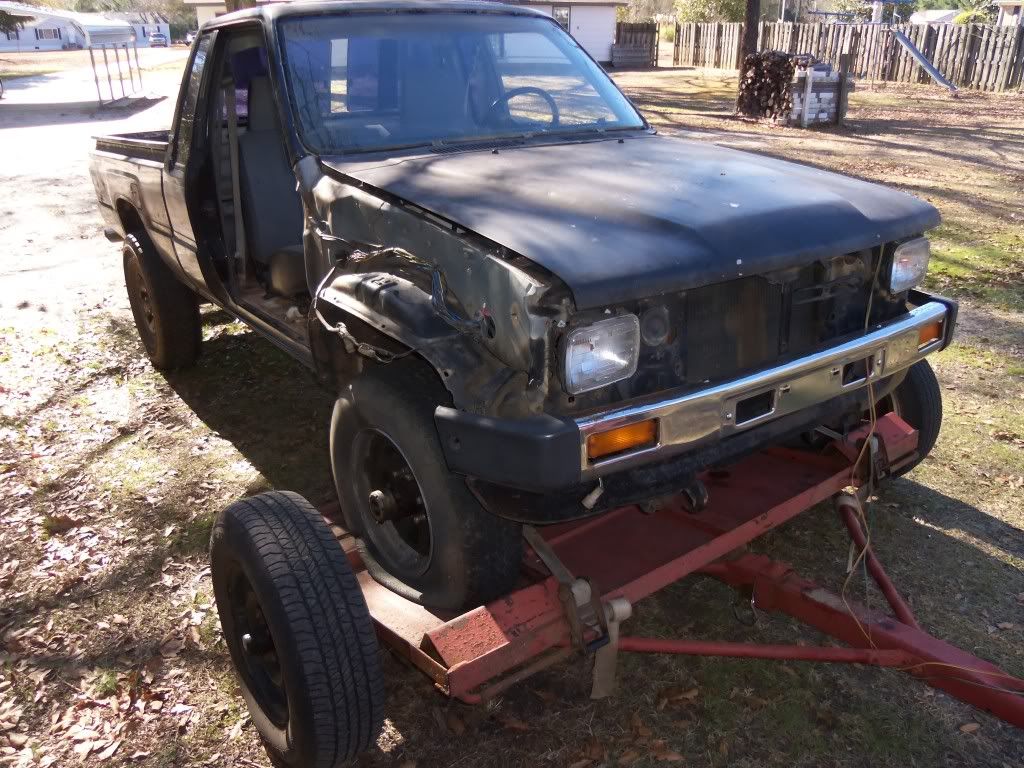 The two girls getting to know each other before going under the knife
Now the 86 doesn't have a motor and she's sitting and waiting patiently for the running "somewhat" perfectly 22r from the 84. I started to tear down the 84 completely but then I thought why not take her out for a spin? I live out in the country so i probably wont be seen by any cops, so I took her out for a short drive and she did pretty good and I frove her back home, then I started thinking and asked my buddy "I wonder how well the 4wd works" he said, "only one way to find out" so we took her on a lil "trail" run through some ditches, well… needless to say I would have flopped it if my buddy wasn't there to get on the back of it. she did pretty damn well for a truck with pretty much nothing but a cab, seat and bald ass rotting tires.
After math of first and final trail run
*no motor in it, but this is what it looked like…..you know..Plus a motor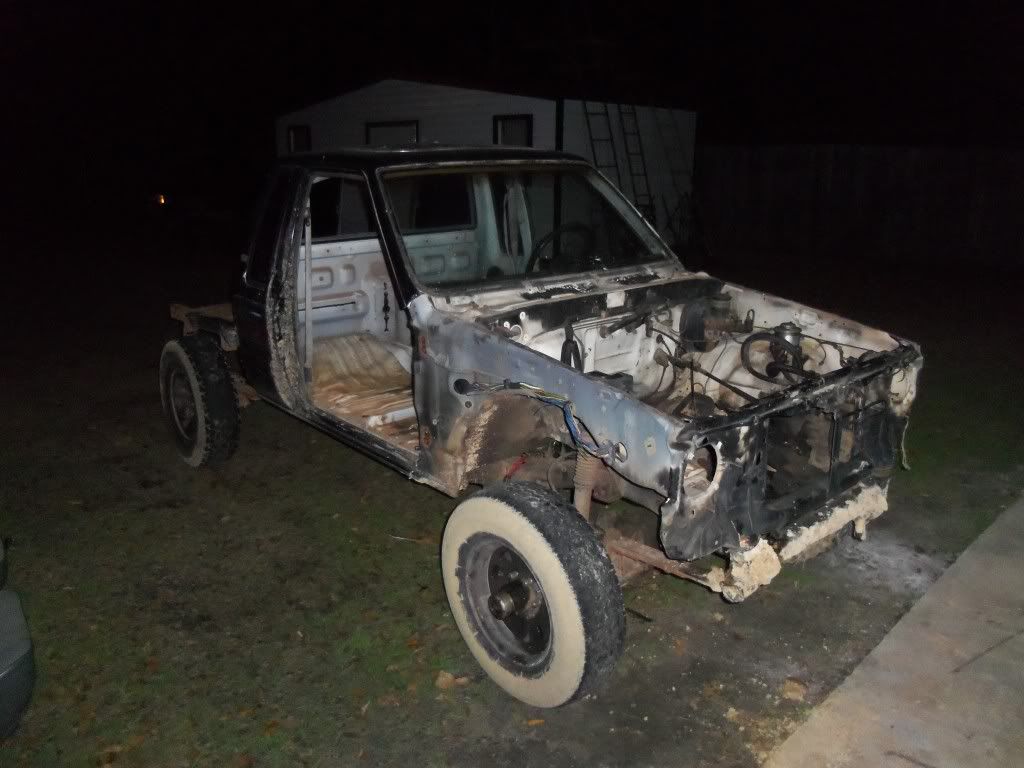 Oh by the way dose this truck qualify for the Toyota frame rust buyback program?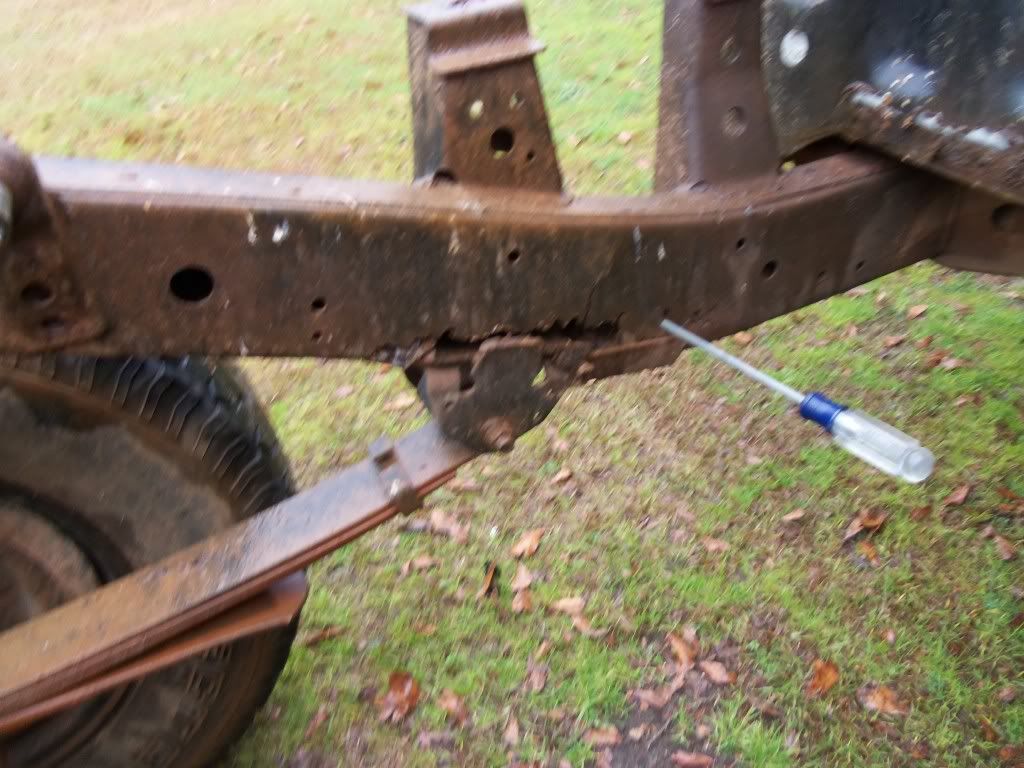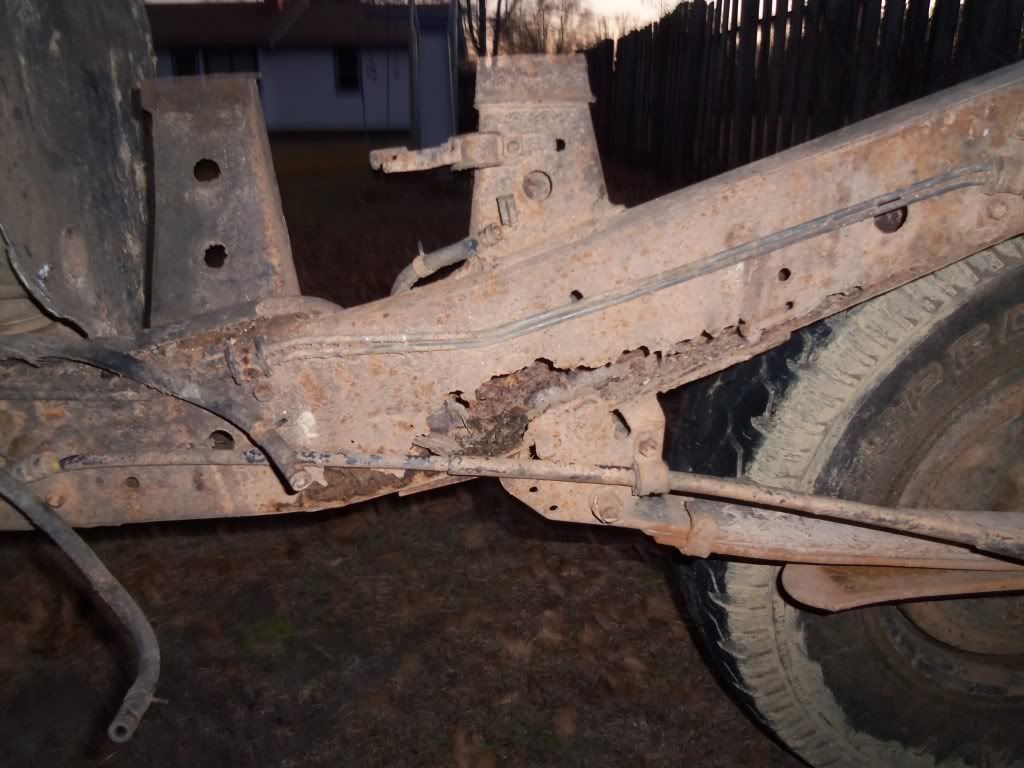 Pretty much how the 84 is sitting right now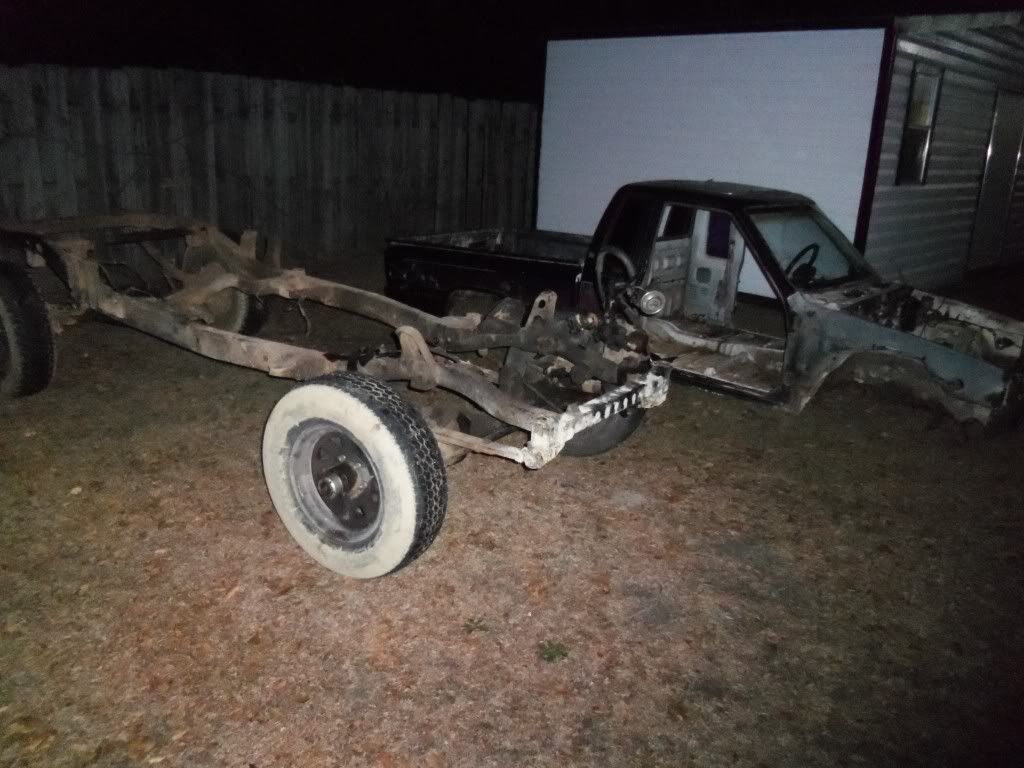 All that's left to do now is to pull the axles. I wanna sell it but then again I wanna keep it and go either custom mini truck or this to be exact
http://www.youtube.com/watch?v=bw1vA...der&playnext=2
now back to the actual 86 project: I pulled the 84's motor and didn't plan on doing a full rebuild. I just wanted to swap over the 86's brand new water pump, brand new timing cover and the valve cover (just to have something that was original to it). when I took off the timing cover off of the 84 I didn't relies I broke the head gasket where it meets the head and the new timing cover wouldn't fit exactly like it should so I started investigating and found out I broke the head gasket, well damn…. Oh I also ended up kinda breaking my engine stand because I couldn't get that crankshaft pulley bolt out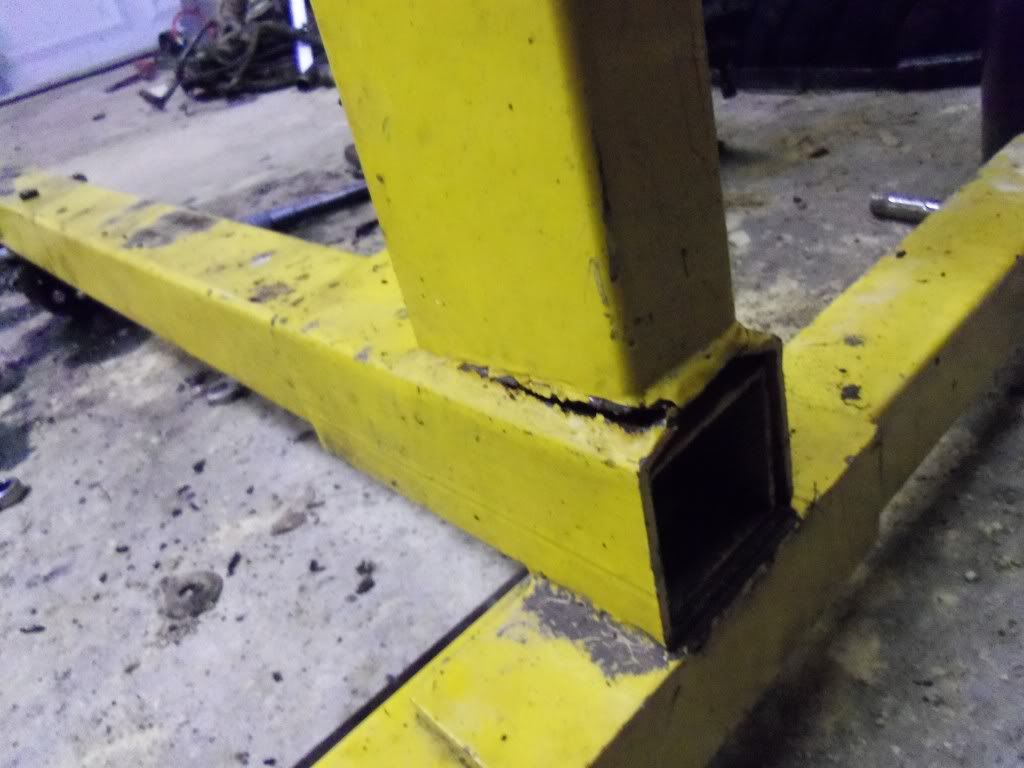 About this time I started to lose interest in the truck a little because of all this crap so I had to do something to the actual truck to get me interested again.
Something's different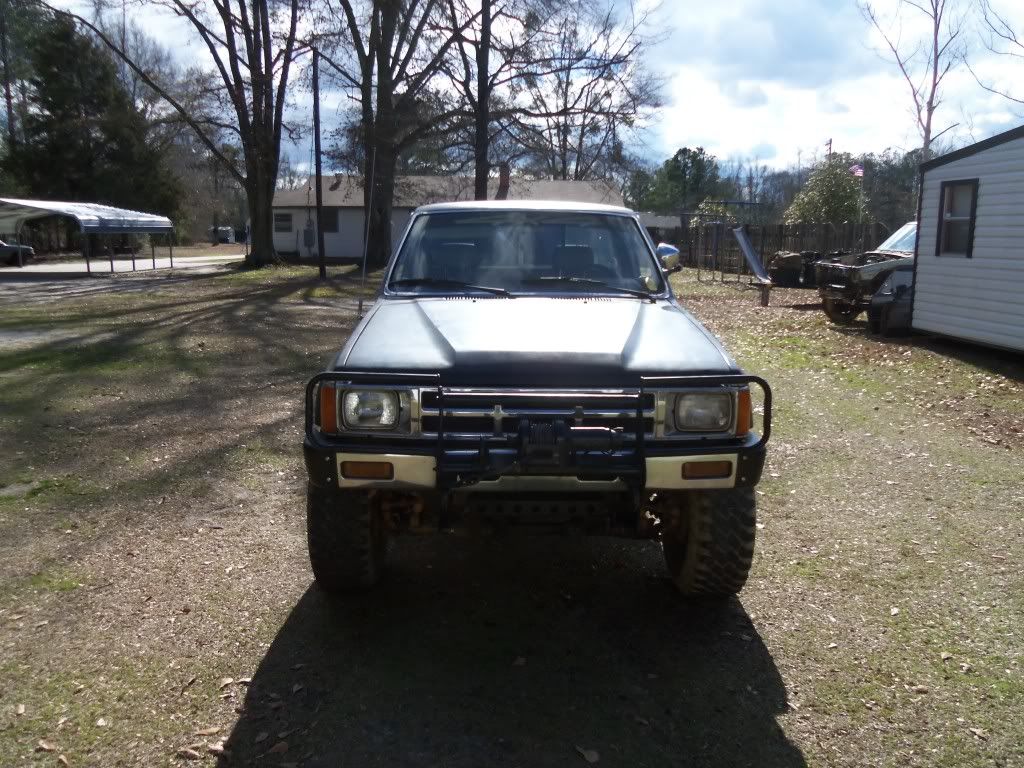 THAT'S RIGHT….TUBE DOORS!!!!!!!!!!!!!!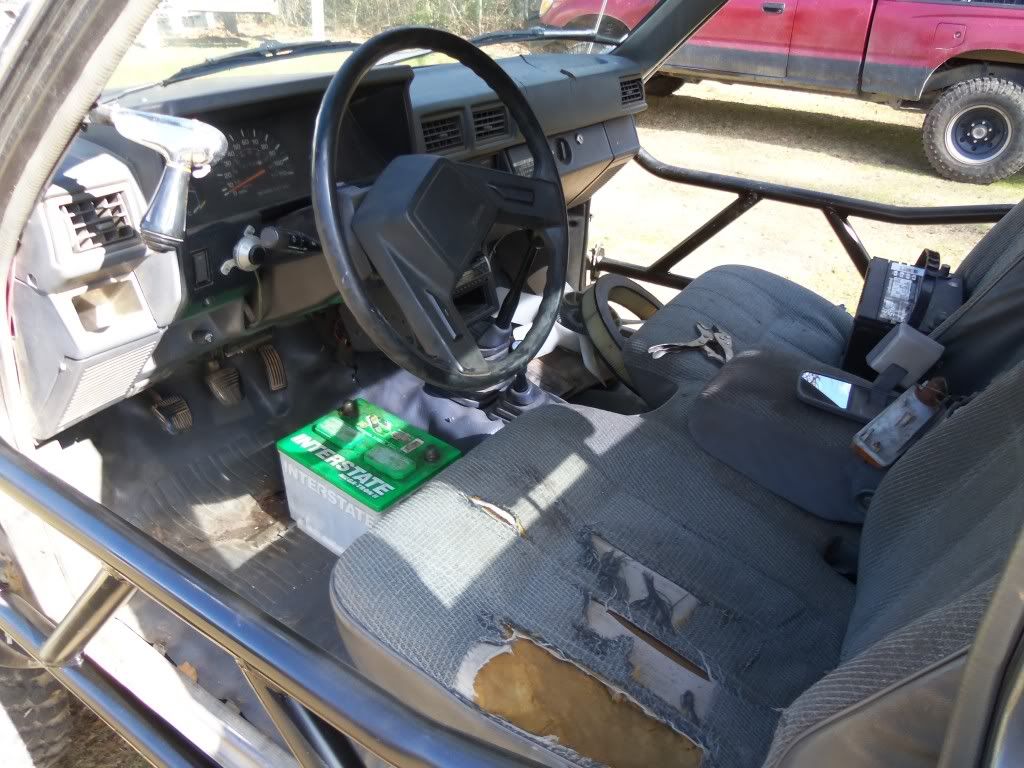 The tube doors was just the motivation I needed to get this crap bucked back on the trails.
I couldn't wait to get this motor built so I can drive my baby with my new doors on
, so I jumped back on building the motor and get it almost ready that night…until I got ready to put the oil pan back on…..I didn't think about the engine stand being broke (it made the motor lean forward) and I tried to turn the motor over on the stand……..and away she went……..crashing into the concrete floor…….every sentence I said for the next 5 minutes contained curse words of all kinds, most were directed toward me and some to the stand and some to the motor and some to the guy that invented concrete. Looking back now it was quite funny, after a few minutes to calm down I picked the motor up to assess the damage. It looked to only be a shattered distributor cap.
Luckily I had another, and I replaced it with the new one from the 84 (yes it was actually brand new) and threw the oil pan on and dropped the motor in its final resting place.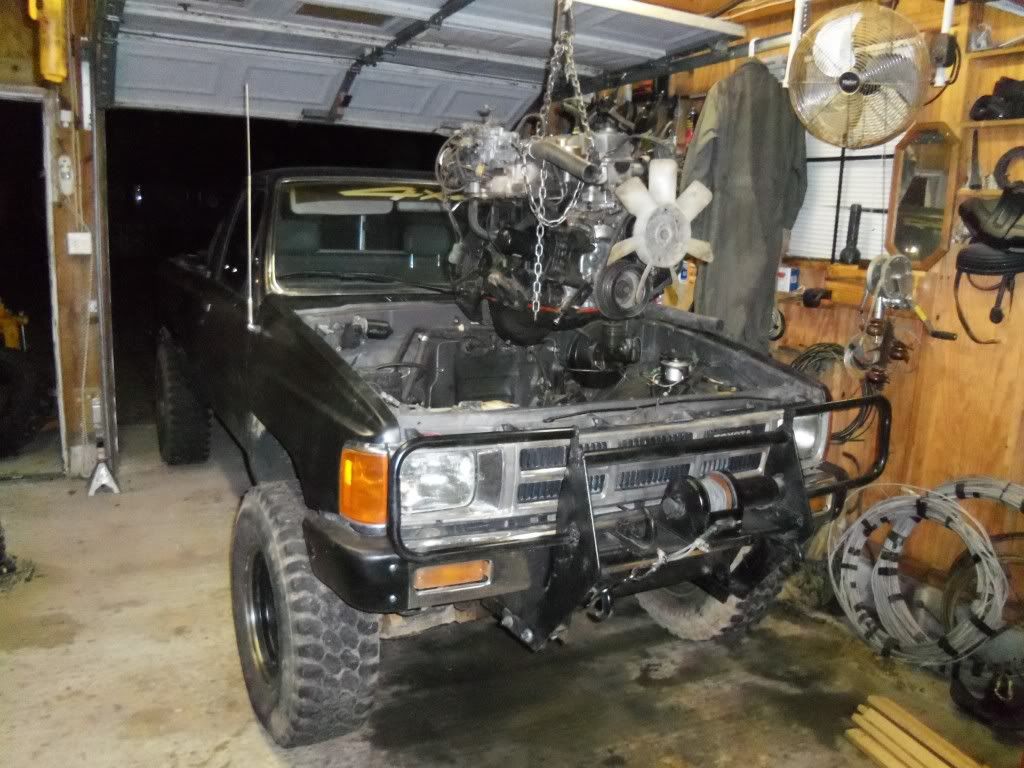 I got everything hooked back up and tried to start her… she said, "I'm still sick" so I called my buddy who is a "Toyota expert" and he came and looked at it and told me I wasn't getting a spark, well I had a parts truck at my disposal so we swapped the coil pack and that wasn't it so he said it was a wiring issue and I told him that couldn't be because it ran before with the old motor and nothing from the donor (electrically wise) was swapped to this truck. He basically gave up, and off to the interwebz I went, the trolls of the interwebz led me to a grounding issue so I went back to the truck and sure enough I left off a grounding wire but it had nothing to do with anything and I thought just for shits and giggles id swap the distributor and sure enough when I dropped the motor I bent the distributor which caused it to lock up and not give a spark
I felt like Einstein, but now she won't idle but that's not a big deal because it didn't do that in the 84 and it was just a carburetor tuning problem.
.
.
.
.
.
.
.
.
pics update
front diff appart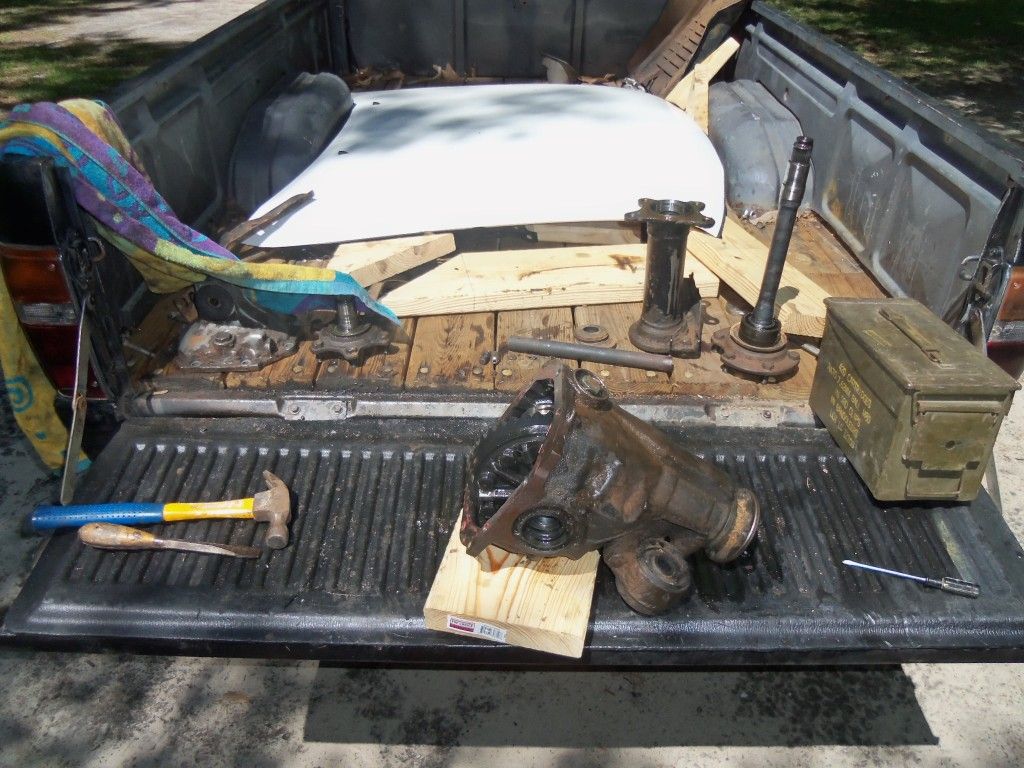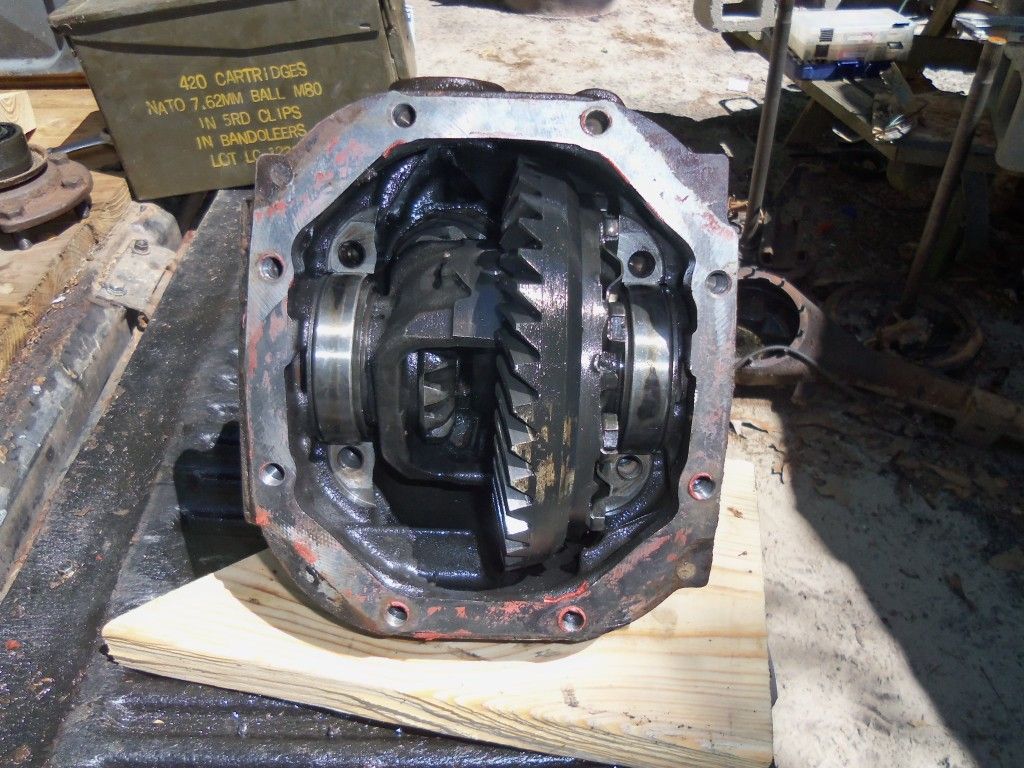 welded gears
and back together
clean diff cover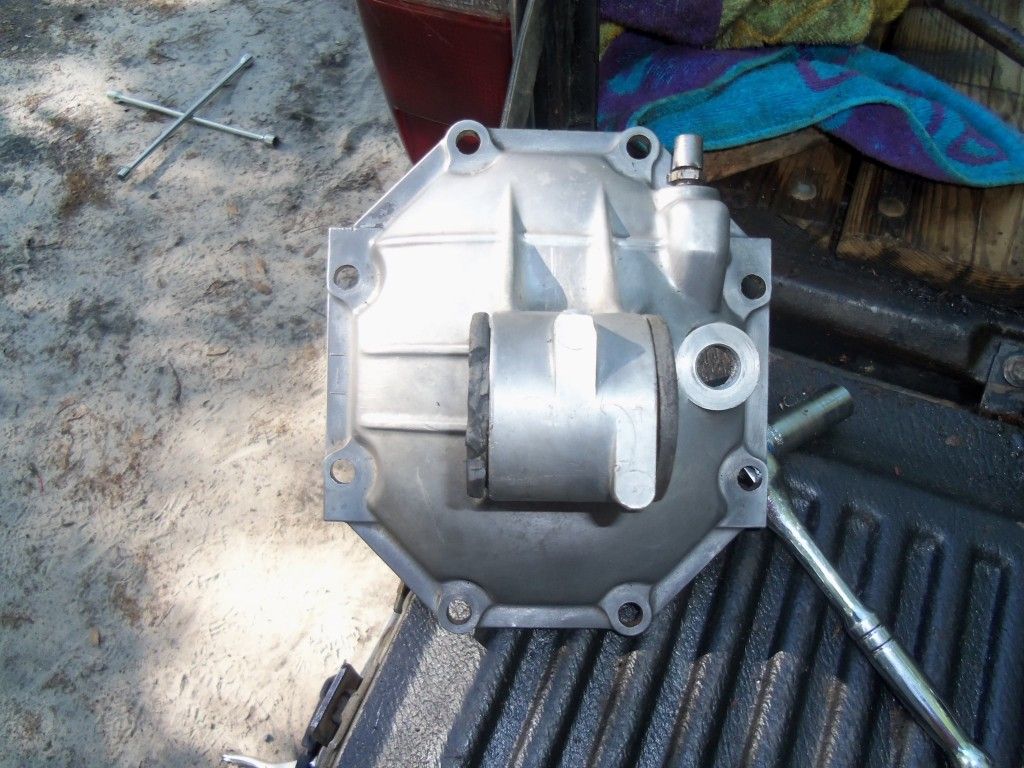 my makeshift funnel (seafoam can and a 12 mm socket, afro engineering at its finest)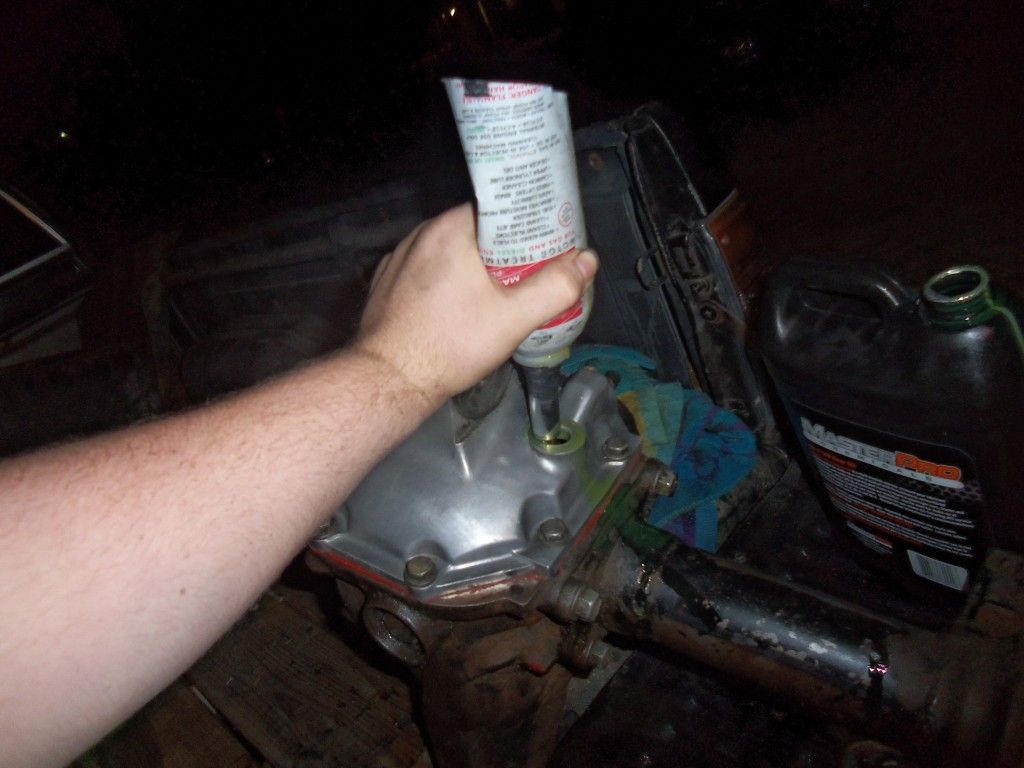 rear diff out
front diff out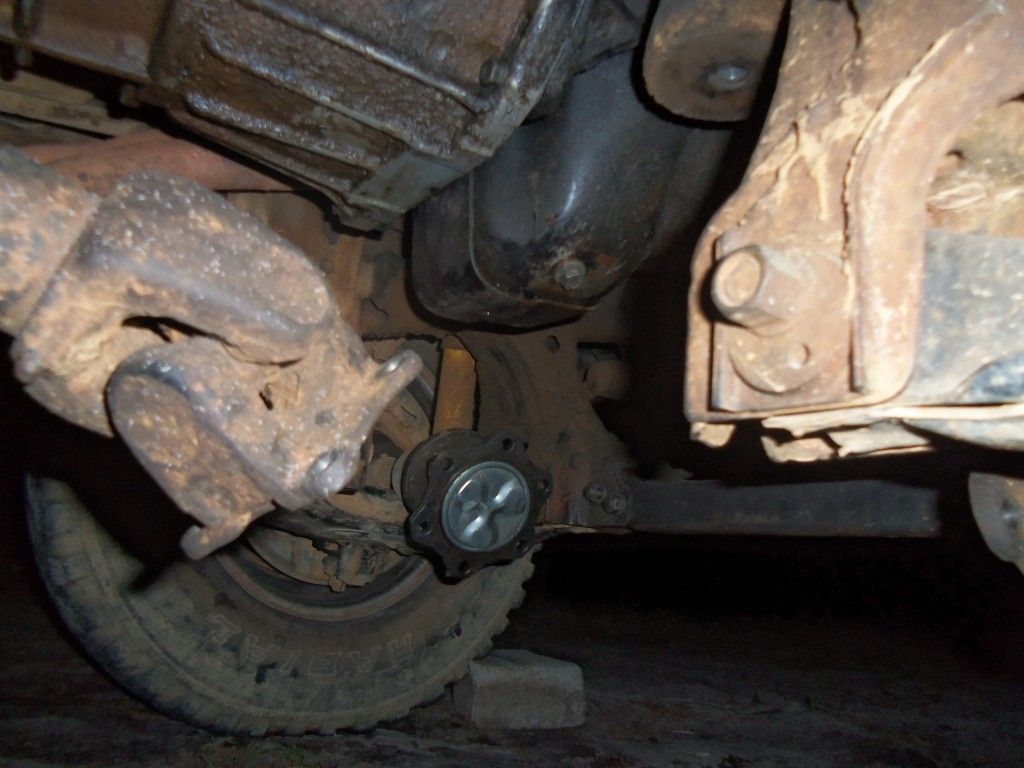 and they're in
now for the test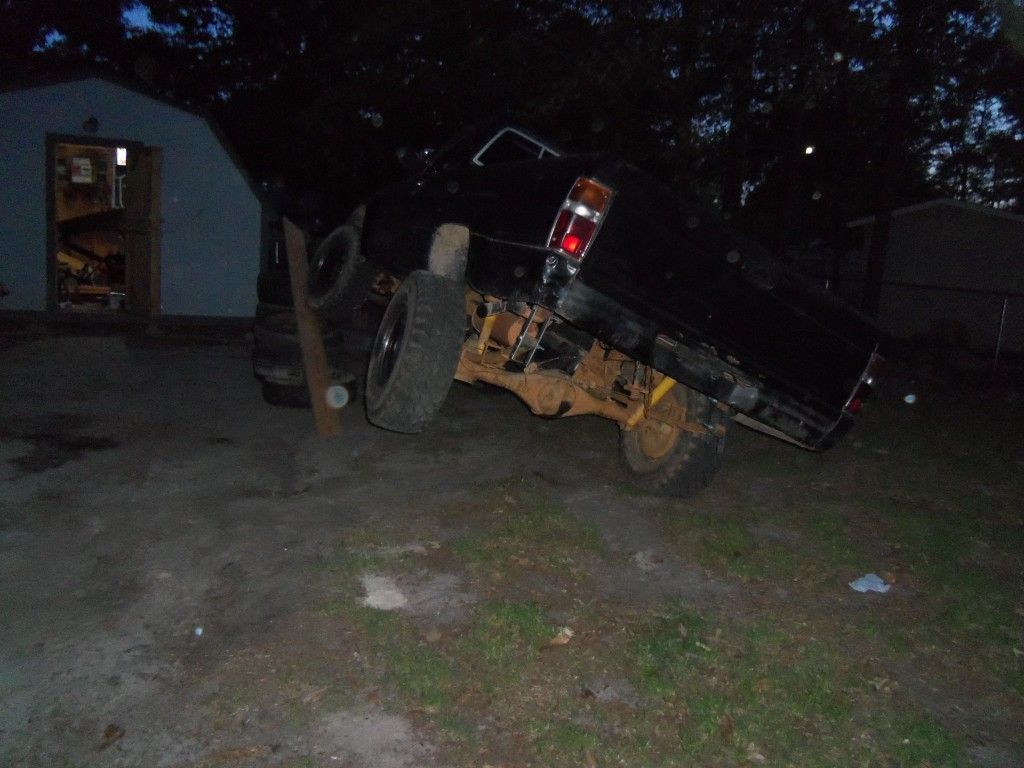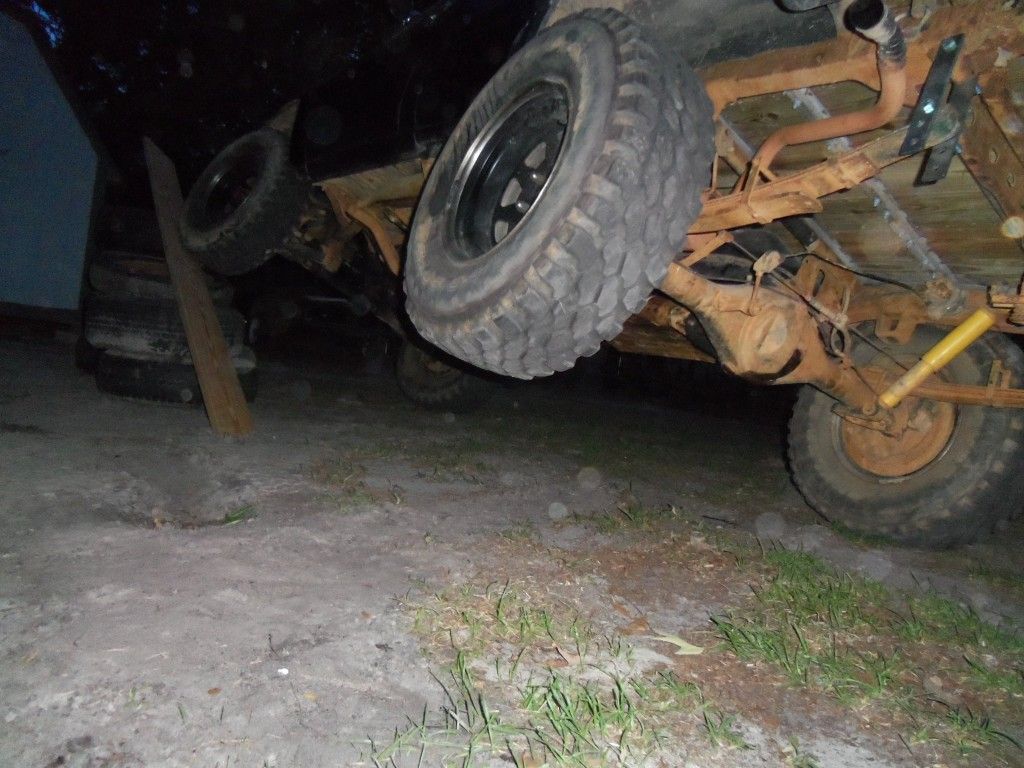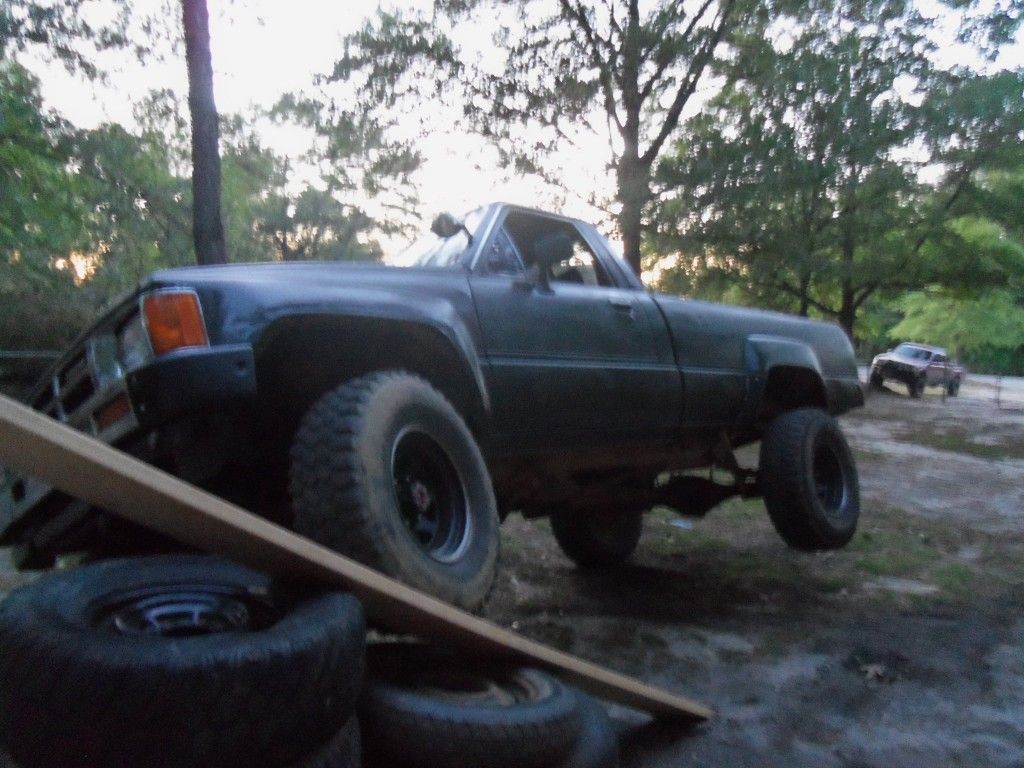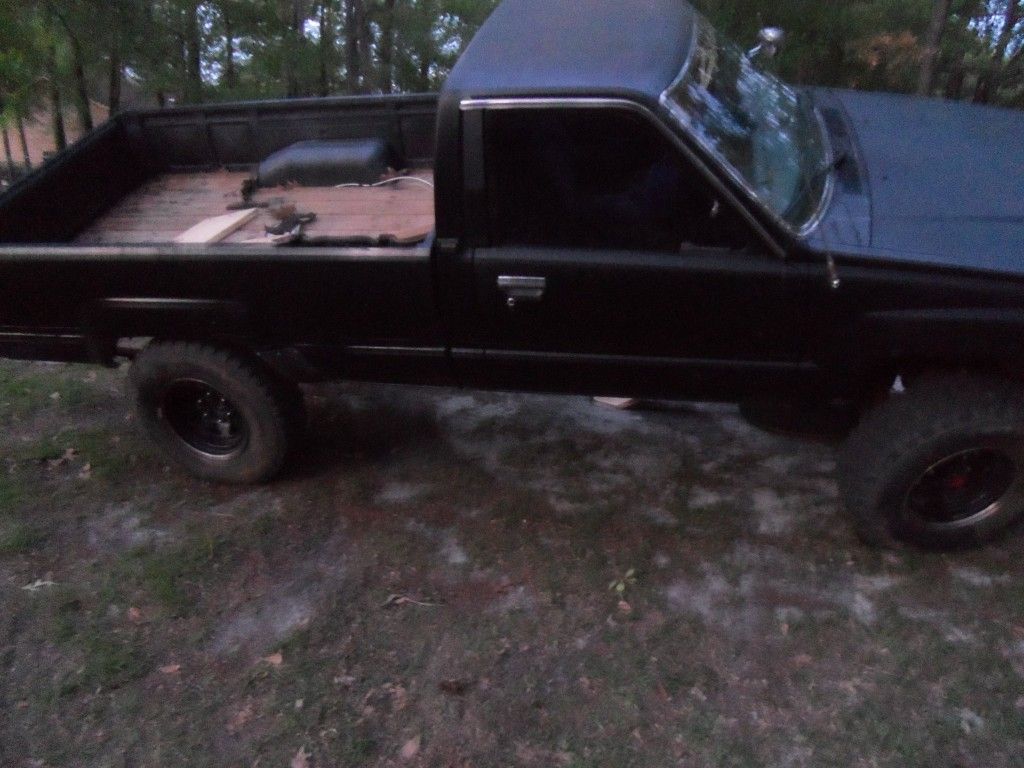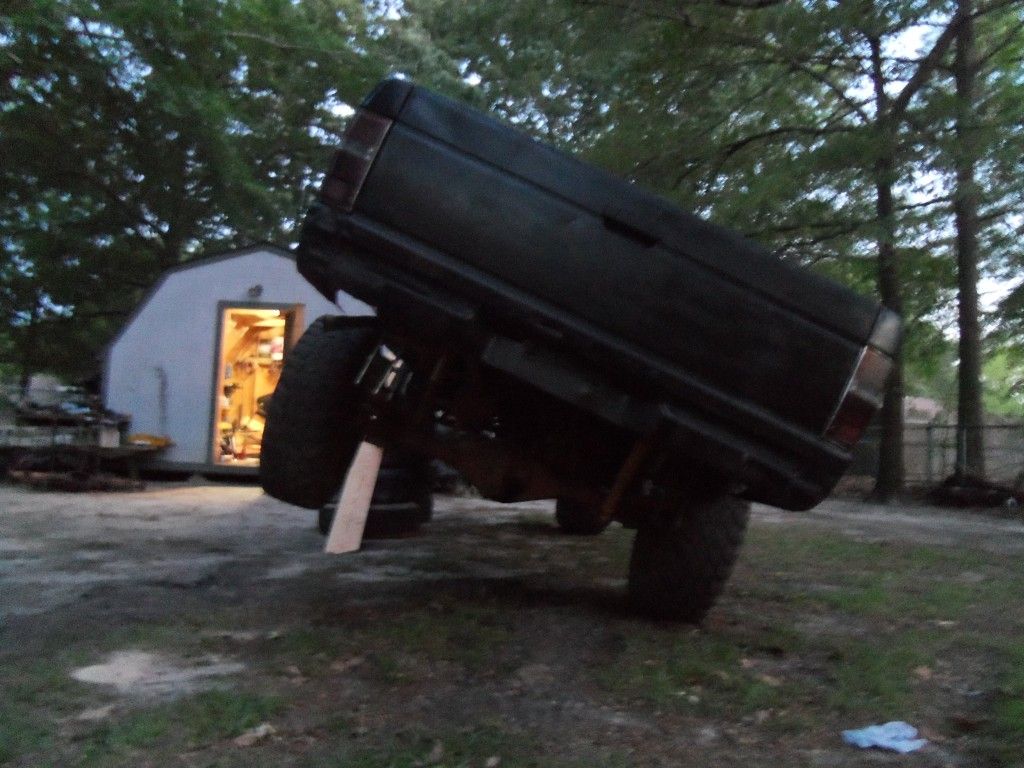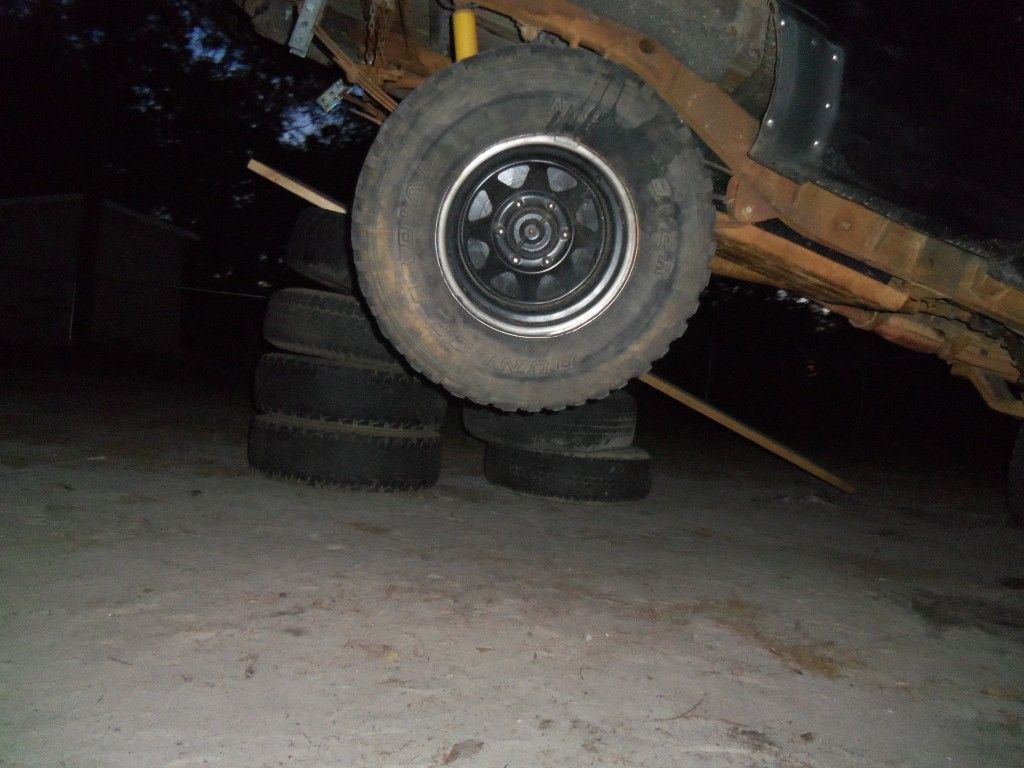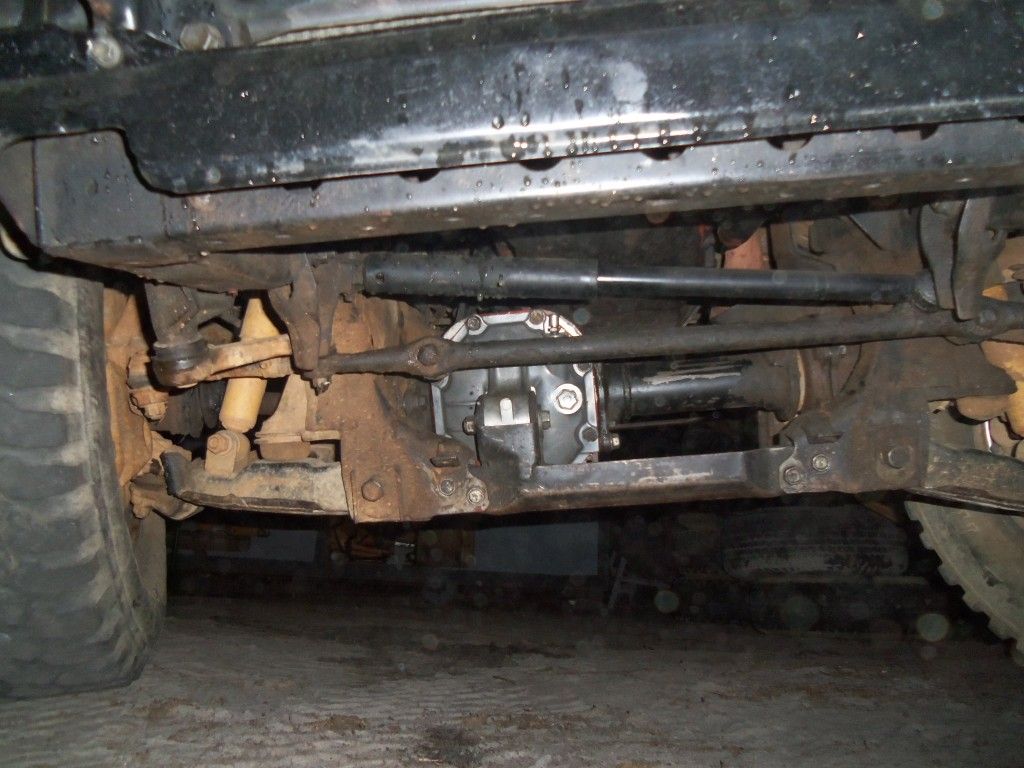 needs dual t-cases now