Post Last Update: 03/5/14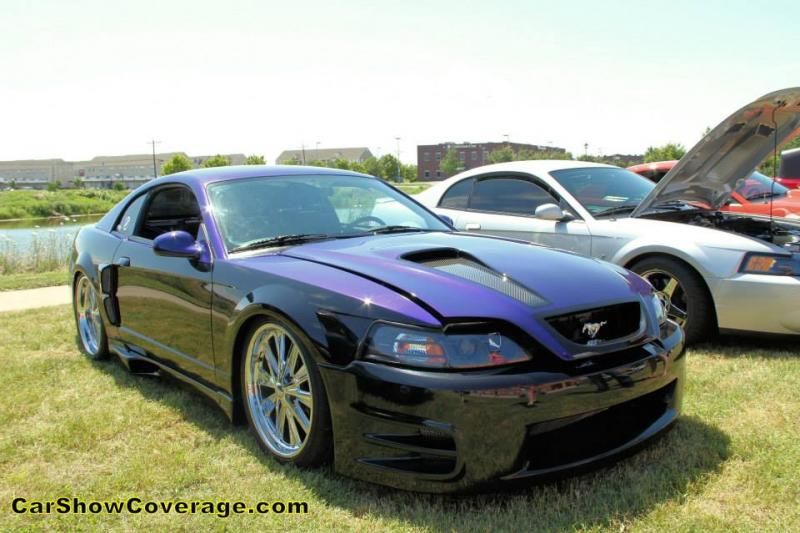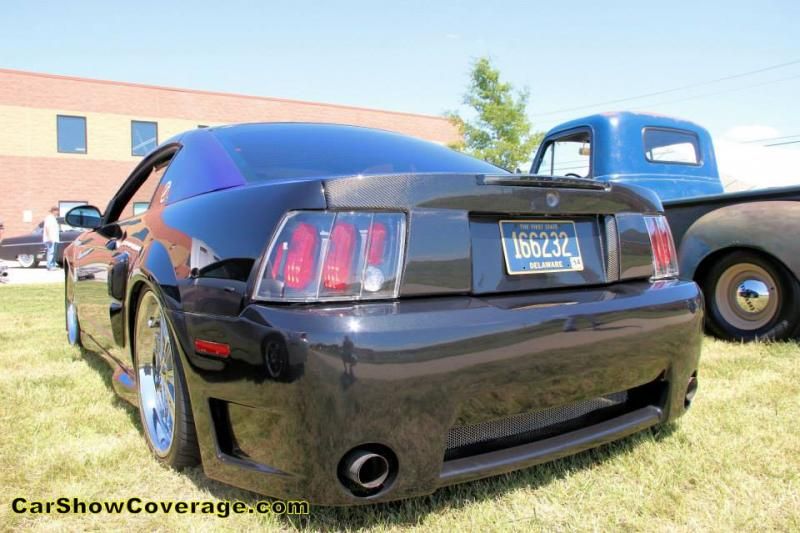 My main baby and the love of my life
... 2004 Ford Mustang 3.9L V6 Coupe
I have been her one and only owner; been through alot with this thing when many people would have just gotten rid of the thing. Its been in tech. 3 accidents, one being a t-bone worth about 15K worth of damage to her, #2 being stolen, rear blown out, stripped and left for dead at a wrecking yard in West VA which in turn took me about 7,000 (5500 outta my own pocket) to get it back to good "stock" condition and #3 about 1500$ worth of damage from a few deer broad siding it.
Throughout the years this car has gone through so many looks it isnt even funny, now im on the track of completely finishing her so i can move onto another major project which would be my tacoma
and do minor things to her from there on out.
She is not everyone's cup of tea and I realize that (so please no immature comments, ive heard them all for the last seven years or so), I dont expect everyone to like her but I built her to do one thing, to place at shows big or small and that is what she has done year in and year out.
Originally:
2004 Sonic Blue Metallic Pearl Ford Mustang 3.9L Automatic Coupe w/ Pony Package
Current Mod List:
Modifications as of March 2014:
Exterior:
-Custom AAB Two Toned Paint-
• Kaminari Carbon Fiber Ram Air Hood with Custom Pearl
• Kaminari PolyUrethane Aerodynamics
• Kaminari Carbon Fiber Mirror Covers with Custom Pearl
• VisRacing Carbon Fiber Wingless Trunk (with deleted lock) with Custom Pearl
• Mach 1 Grill Delete Pony
• Black Gen 1 Projector Headlights
• Black Crystal Taillights
• Black LED 3rd Brakelight
• Shaved Fenders (Badges/Antenna)
• 5% Tinted Rear Windows
• UPR Billet Powdercoated Gloss Black Fuel Door
• Cervinis Stalker Side Scoops
Suspension/Wheels/Tires:
• Ride Tech Level One Air Suspension Kit
• Custom Vinyl Wrapped Air Tank (mounted in rear of trunk)
- 20" Staggered Chrome Foose Ascot Wheels
Performance:
•
Magnaflow
Dual Exhaust Setup
• Performance Tune
Interior:
• Corbeau Black Suede LG1 Racing Seats
• Corbeau Black Racing Harnesses
• Corbeau Powdercoated Starlite Black Harness Bar
• Simco Silver Faced Gauges
• Black Carpet Swap (Orig Gray)
• UPR Billet Powdercoated - All Powdercoated pieces are Starlite Black (Black w/Rainbow Flake)
• Black A/C Face Plate
• Black Designer Door Handles
• Black Twisted E-Brake Handle
• Black Sill Door Plates
• Black Pedals
• Cup Holder Bezel & Delete
• Coin Delete
• Headlight Knob and Bezel
• Steering Wheel Controls
• Door Pins &Bezels
• Wheel Tilt Lever
• Washer Knob
• Cigarette Lighter Delete
• Window Switches
• Door Sills
• UPR Black Billet Designer A/C Knobs
• UPR Black Billet Designer Rear Hangers
• UPR Black Billet T-Handle Shifter
Still under construction obviously
....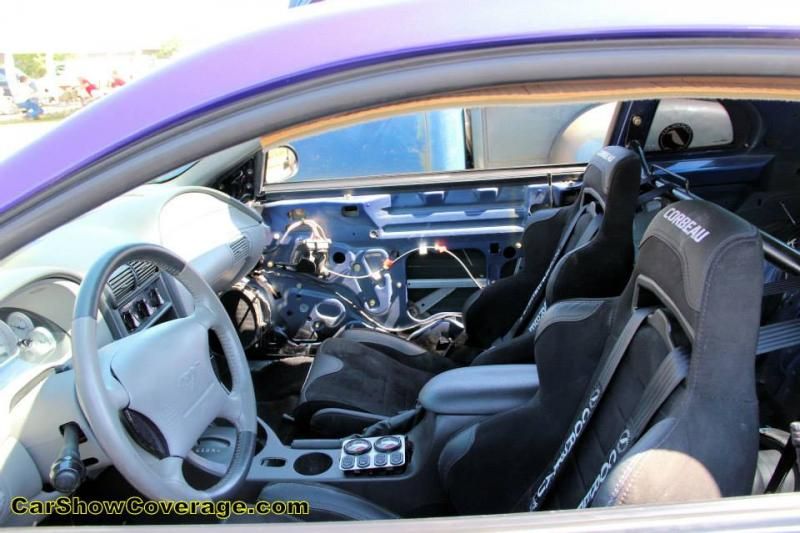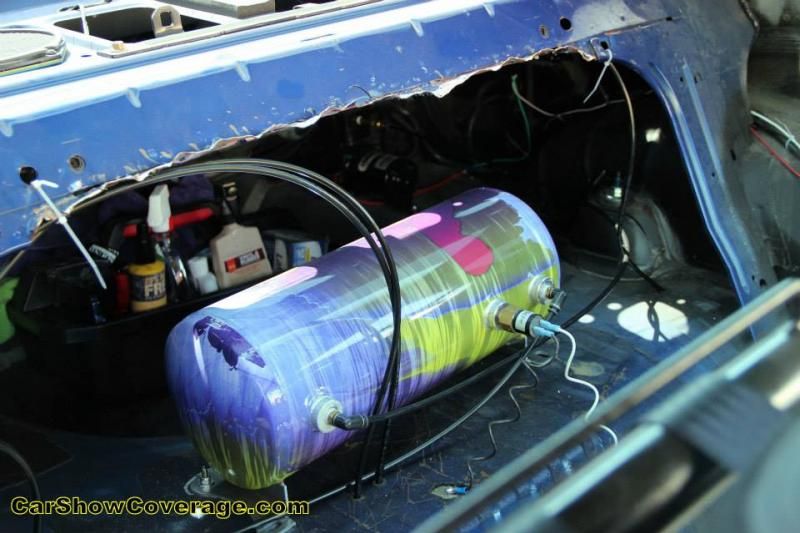 -what still needs to be done- (if in red, will be coming soon)
- Exterior
= Carbon Fiber Roof (no one makes so would have to be a one off)
= Clear Vinyl Protectant - Bumper, Hood, Scoops, Side Rockers, Mirrors
= Mesh for hood scoop to match bumpers/side scoops
= 3rd brakelight delete and do the relocated 3rd brakelight kit to the rear window
= Sequential Taillights
-Interior - Front Seat/Back Seat/Trunk
Front Seat Area
= Plasti Dip Dash area - Two Tone
= Carbon Fiber Interior Parts - Candy Coated to match exterior
= Center console fiberglassed and completed
= Install Double Wrapped Leather Steering Wheel =Black (swap from stock)
= Head Liner Redone
= Doors Upholstered
Back Seat Area
= Interior Rear Parts Upholstered
= Black Interior Light with LED bulb upgrades
= (see audio)
Trunk Area
= Custom Flooring and sides put in from Brad Fab
= New air tank - Airbrushed with stang girl logo
= Carbon Fiber Trunk Lid Mat - Airbrushed with Stang Girl Logo
= (See Audio)
-Audio/Video/Electronics
= Kenwood Double Din Unit - Install
= Custom fiberglass rear audio setup - wrapped or painted to match exterior
= Three 10" Kicker L5's
= Front Door Panel Kenwood 6x8s
= Kicker and Memphis amps to match
= Small speaker pods in trunk - Memphis
- Engine Bay
= TBD (see performance)
- Performance
= 5.4L Motor Upgrade or Custom setup - TBD
= Hellion Twin Turbo Setup
= Rear upgrade
= Trans Upgrade
= Electronics Upgrade
-Wheels/Tires/Suspension
= Powder Coat Rims - Black with Chrome lip
= Performance Tires- Staggered - Brand TBD
= Front and Rear Brake/Caliper/Lines Upgrade
-Misc/Small things etc
= Plasti dip wipers black
= Plasti dip wiper cowl black
= Plasti dip window/door trim black
Contributors/Sponsors:
* Anderson's Auto Body (Body and Paint Work, Air Ride Install)
* Corbeau (Seats/Harnesses/Harness Bar)
* Sport Bike Powdercoating (All Powdercoating needs)
* Formula One Tinting & Graphics (Tank Wrap and Vinyl Work)
Past Sponsors/Contributors:
* Kamber Koncepts/Elite Visions (Vertical Doors)
* Road Magnet Performance Springs (Test Vehicle for the 99-04 Mustang V6 Coupes)
* The Trenz (Body Kit)
Shows/Awards Etc:
Top Awards: 6
Best of's: 3
1st places: 4
2nd places: 11
3rd places: 2
(Show History - 60 Shows, 28 Cruises, all ranging from local-out of state, local shows to regional/national shows)
Other Photos:
Wrapped air tank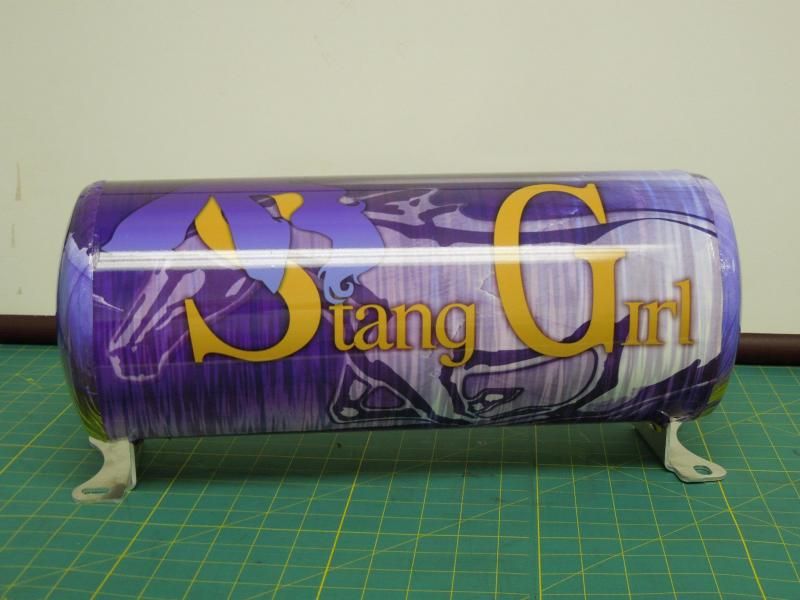 LITTLE DUSTY BUT YOU CAN SEE THE CARBON FIBER THROUGH THE PEARL OVERLAY
SOME OF THE POWDER COATED PIECES