Latest pic: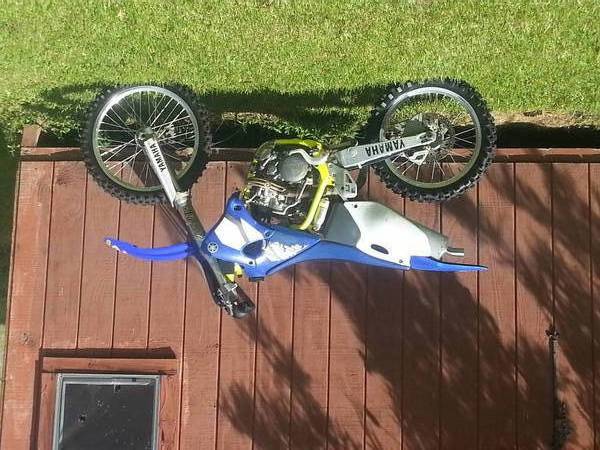 Saw this bike in Craigslist a few months back and couldn't pass it up.
2002 YZ250F for 500.
It didn't run when I bought it.
Faded Plastics.
Looked pretty solid though.
Great compression for a 9 year old bike.
Anyway, So I brought it home, and put it up for the night.
Next morning, I set out to get it running. Picked up a new spark plug and fresh oil. Added some gas and she cranked up!
Anyway, rode it for the weekend, and then disaster struck!
Pissed at myself for missing that when I looked the bike over. But then agian I figured this would be an opportunity to go through the bike and freshen it up a little. Make it a tad more competitive for a 9 year old bike.
Took it to work and to have one of the tig guys take a shot at it... No such luck. Went and found a clean rust free frame from
ebay
for 200. Had planned on painting it...
Decided that if I'm going to do it, I'm going to do it sexy. Sent it in for PC.
Pretty nice color choice right?
That's where I'm at now.
Here's the goody list:
Renthal Chain/Sprockets
DONE
MSR Levers
DONE
Excell Rims
HELL YES!
Motion Pro Titan Throttle Tube
DONE
Scott Waffles
DONE
Motion Pro Throttle Cable
DONE
Carb Rebuild kit
DONE
New Plastics
Seat Cover
Destroyed one of my pinch bolts trying to remove it. So I figure it'd be a good idea to look through ebay and pick up some used nuts and bolts for the whole bike.
Air Filter
DONE
It's a little more thourough of a rebuild than I had planned, but it's proving to be a fun one!