First off, Thanks for looking! My 2nd love happens to be my dirtbike so I figured I'd post up a build page for it, even though it isn't a toyota. I bought it back in '08 when I was in 8th grade and have owned it happily ever since. It came bone stock except for a set of yz bend protapers and scott handgrips. I may not have pictures in order of mods but I'll do the best I can.
Heres a recent picture. Ill have to get a good one since I put the pipe on.
And here it is the day I got it, or close to it.
I didn't like the handgrips and was dying to get some bling so i got a factory effex fender graphics kit and a set of progrip grips. I also got a new brake lever since the old one was about an inch long. I eventually got an fmf shorty as my first performance mod. I love the way it changed the sound and I did notice a good increase in my low end power.
This past summer I realized it was time for some more serious upgrades. I smoked my clutch bad riding out in the badlands so I had to fix that. I went with the dirtracer disk and spring kit. It was pretty cheap and very easy to install and I now have a pretty firm clutch.
I also did my top end with a wiseco kit since it was 4 years old. Alot of people say that you need to do it every year but I never raced and never had any problems, so it was fine. I just did it simply because I wanted more power and guessed the old piston was probably worn pretty bad. Heres some pics of it stripped down in my garage.
And here come the goodies!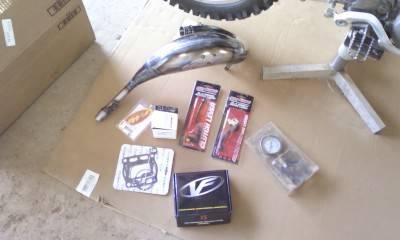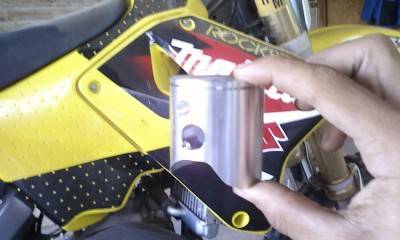 new piston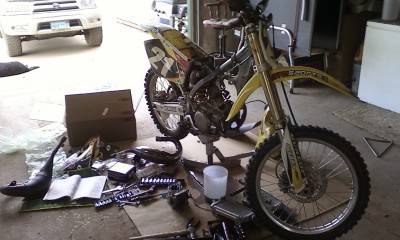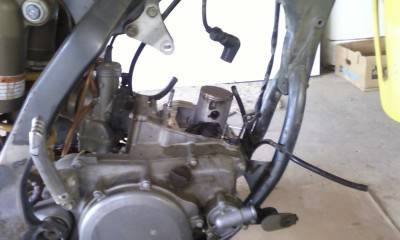 Old piston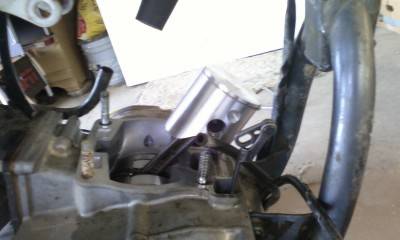 New one installed. Oh, and Ill ad that I ALMOST dropped the wristpin keeper down in the case. I almost shat because i didn't want to be ripping apart a bottom end too. I got so lucky, it was just sitting on the edge of the crank.
Next time ill make sure i have a rag covering the crank and case. Lesson learned, thankfully not the hard way.
I also learned that its a bitch to get the the cylender over the ring and get the pin lined up.
But I did it, and here it is looking like a bike again. I also installed an fmf factory fatty and some vforce reeds. Surprisingly, no re-jetting required thus far.
Oh, and I almost forgot that before all this I got some rockstar/makita/suzuki shroud graphics. Love the look.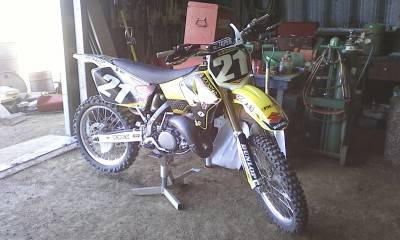 I also have some acerbis handguardsbut don't have them on at the moment.
I also recently got some sealsavers and a motion pro seal cleaner. Very handy things to have.
And I replaced the front tire with an artrax. So far its a good tire and the price is unbeatable.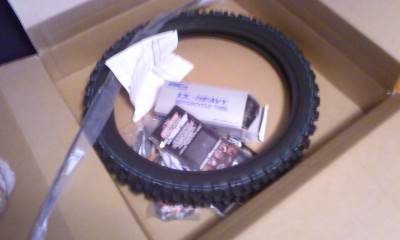 Since I did all the upgrades the bike is scary fast to me. Theres no comparison to stock. Sadly I did lose alot of my bottom end power, but the powerband is crazy, even if it comes at a lot higher rpm. Its ok though because I plan to gear it lower since my sprockets and chain are shot anyway.
And heres some random pics.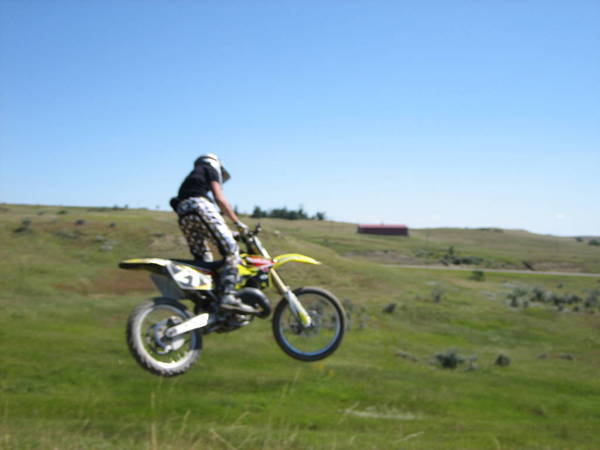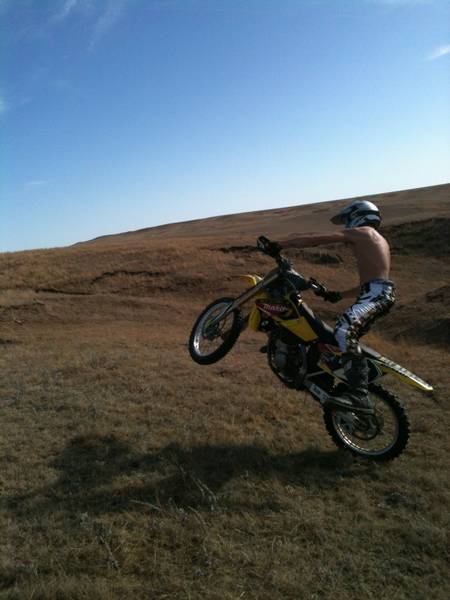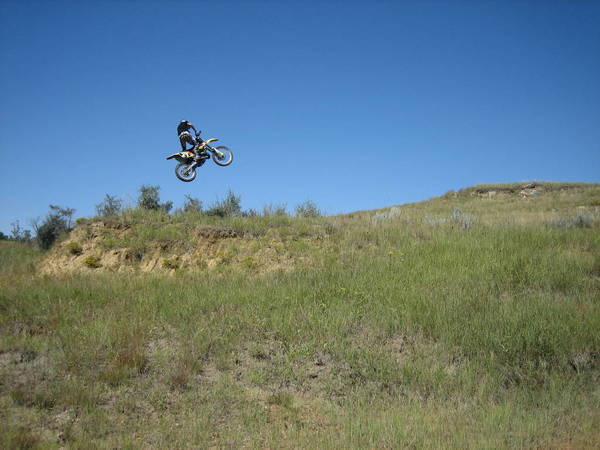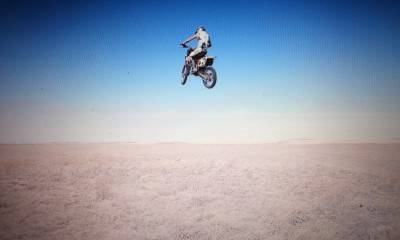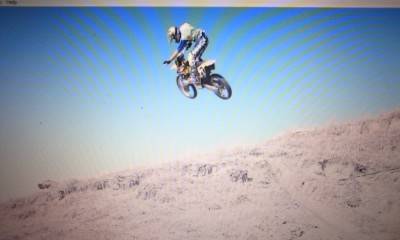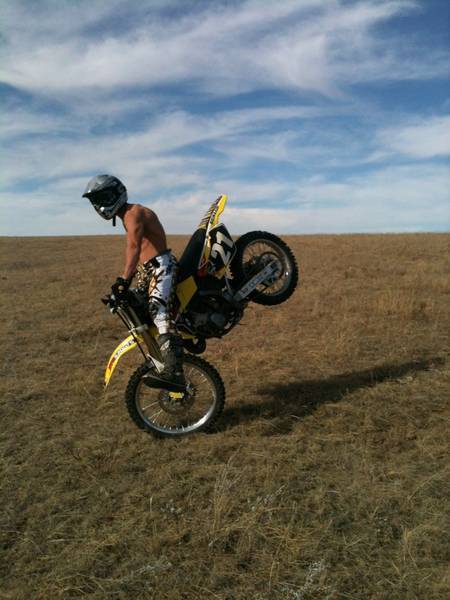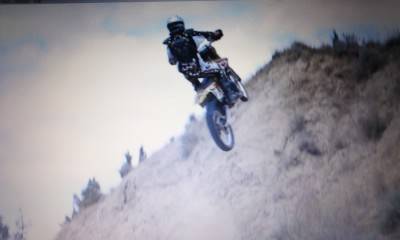 Sorry for the terrible pics, but its all I have at the moment. And yes, some of them ARE cellphone pictures of videos I uploaded on my computer because I haven't figured out how to capture a still shot and save it yet.
And last, but not least, one of the bikes in my truck, and yea, there's three of them in there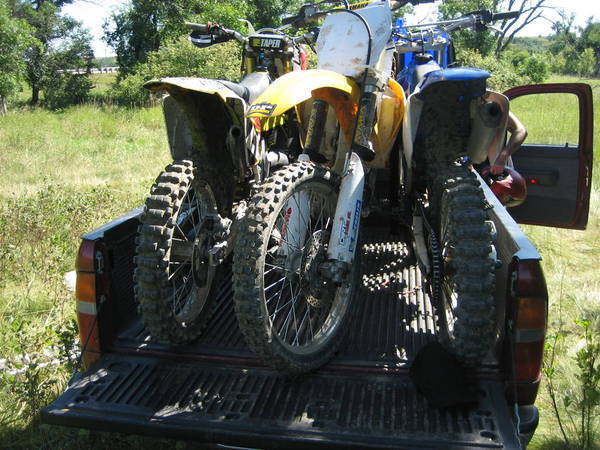 And heres one I just found with my pipe on.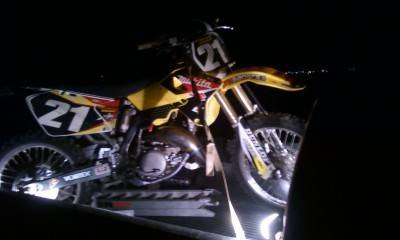 Well there it is! My next upcoming mods will likely be a new chain and sprockets for sure, some new levers and mounts, maybe some pastrana bend handlebars and possibly a set of freestyle plastic. Maybe one day I'll even have enough money for some different rims.