Just picked this up a few months ago for CHEAP!!!! Got a lot of ideas running through my head right now. Funds are limited but main concentration is going to be on paint, limited body damage repair, tear down and rebuild of the hubs and parking break. Removal of the tub and repair the rust and reattach the rear tailgate.
End goal is to make it usable as a ExPo trailer and attach a RTT. Lots of plans and hopefully I will be able to make it as good as some of the other ones out there. Lots of inspiration from a lot of you guys!
(I copied and pasted from my build thread on TTORA so the dates are all screwy so bear with it...)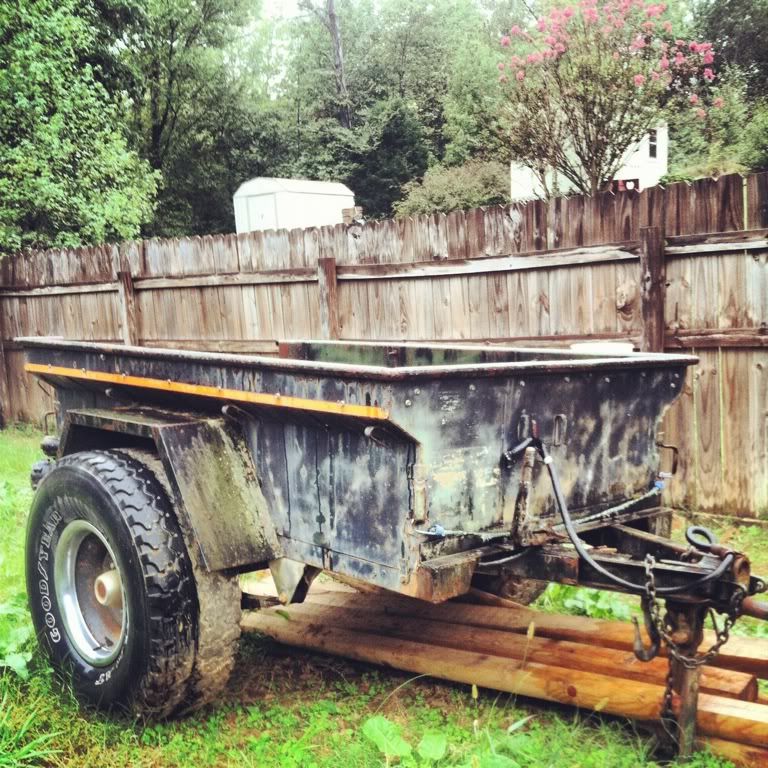 So I finally got a chance to do a little work on the trailer yesterday and all afternoon. A few weeks ago I tried out the sand blaster and man was it tedious! So there had to be a better alternative. I did a little research and came across this...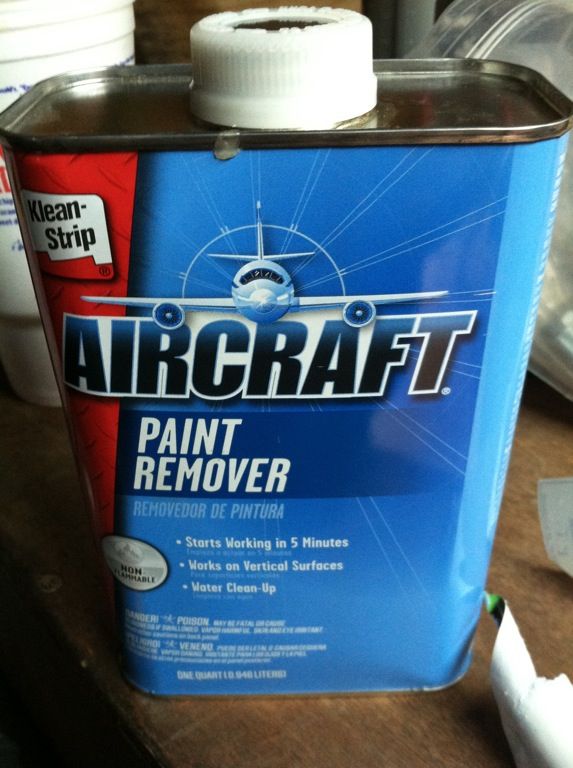 It was worth a shot so I bought a can for $11.99 and went to town on the trailer front. It says on the can to wait 5-15 minutes for results to be seen (it's very evident when it starts to work)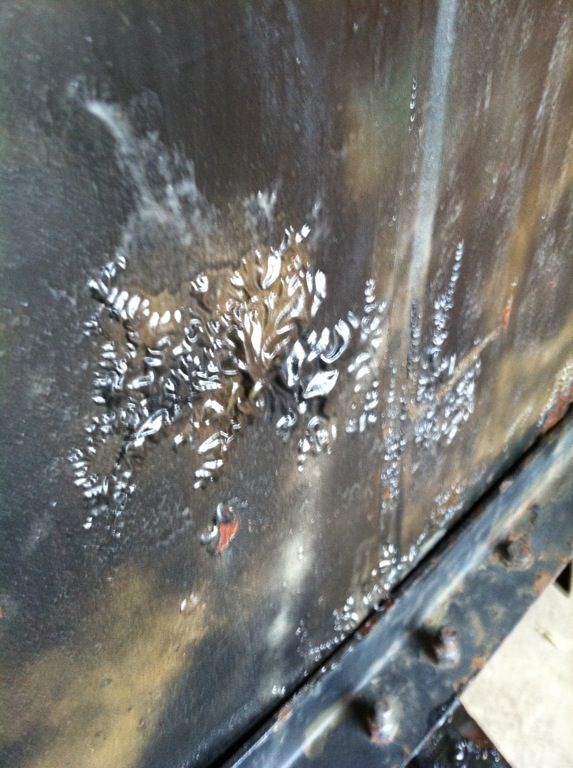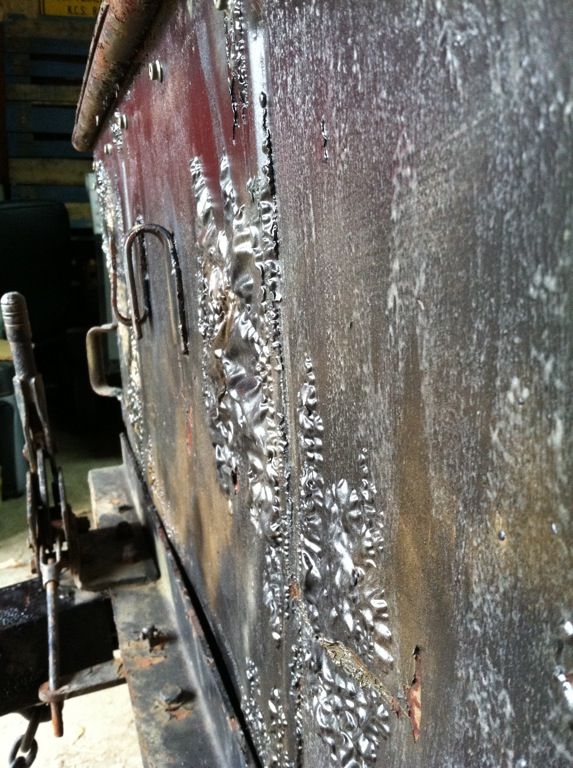 After this I used a plastic scrapper to remove the loosened paint from the panels. IT WORKED!!! I was amazed at the quality of this stuff. In the beginning I was doing very light coats but after 2 or 3 I decided to go thick and really paste it on. That resulted in just about every paint particle being removed.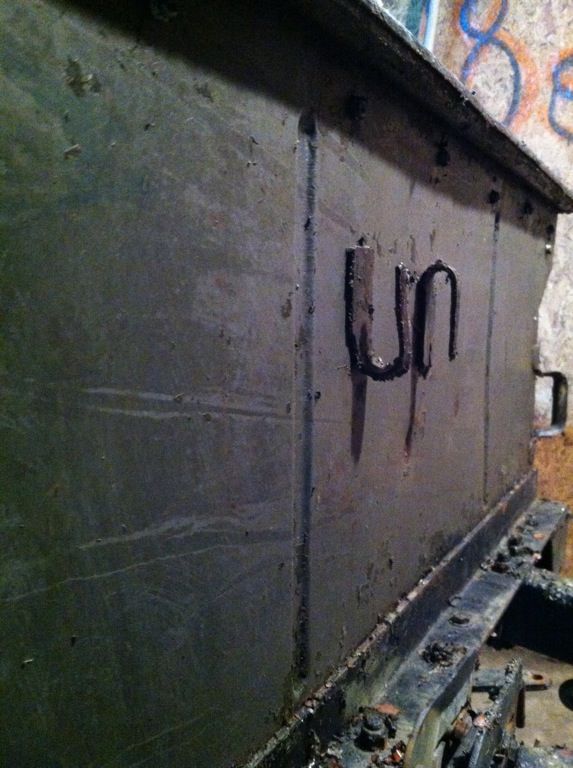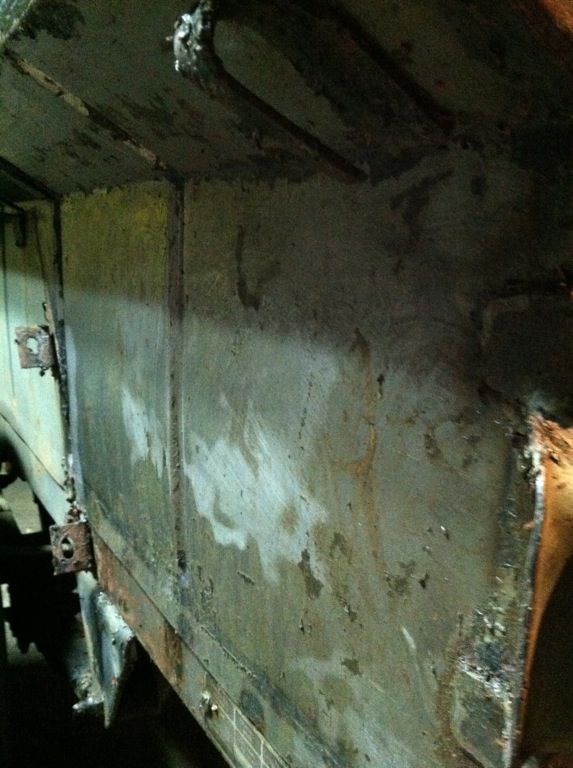 This was the paint that had been stripped from the front and a little bit on the left side of the tub.
I did the fenders too and got them all primered up.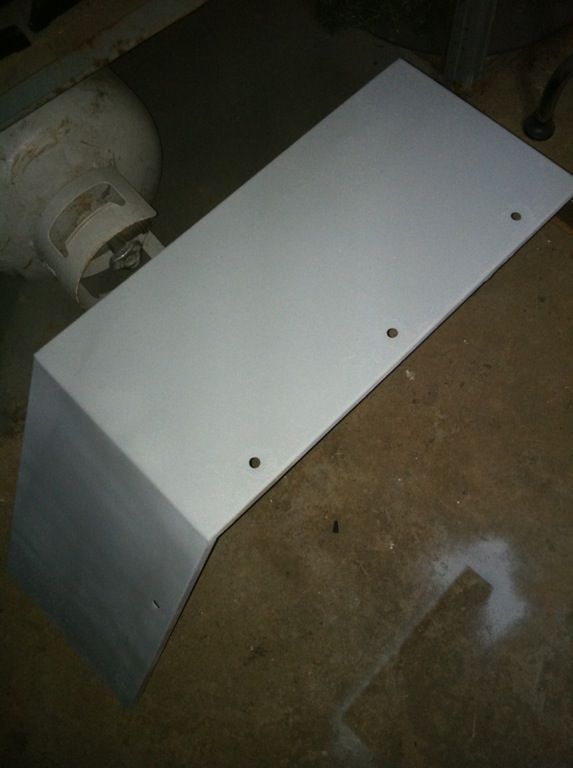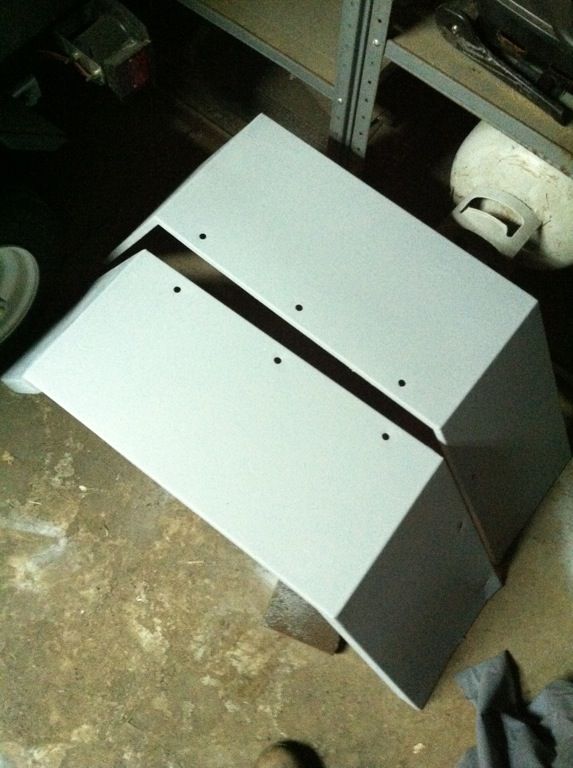 I'm slowly making progress but with school and work its hard to find time to work on the trailer plus my friend just got him a 2003 dbl cab TRD Tacoma so we've been working on making his one off for the past two weeks. Also installed a new lift on both our trucks but since all that is out of the way and work is slowing down a bit, more time should be allotted for the trailer. I'm ready with a ton of ideas in my head and am itching to make them a reality. Thanks for looking.
Did a little work on the trailer this weekend after I towed it home to the shop and had access to a few more tools.
Managed to get the tub removed, partially sandblasted the frame, added new shocks and did some mock up on how the fold down tail gate is going to get done. Little by little its coming.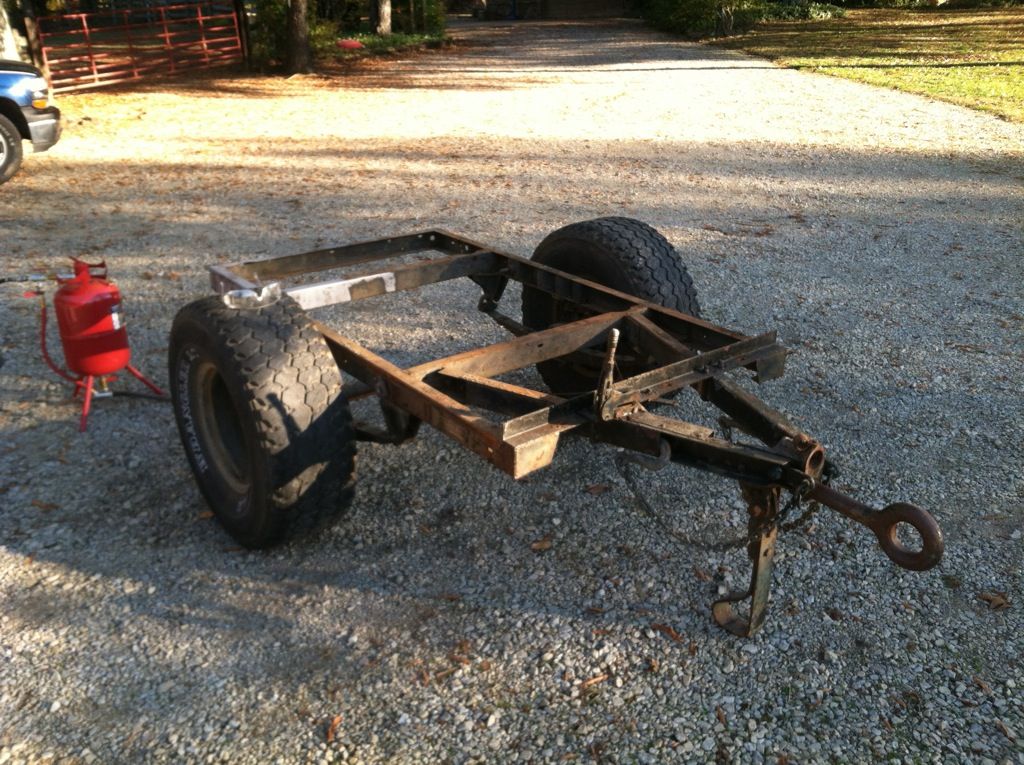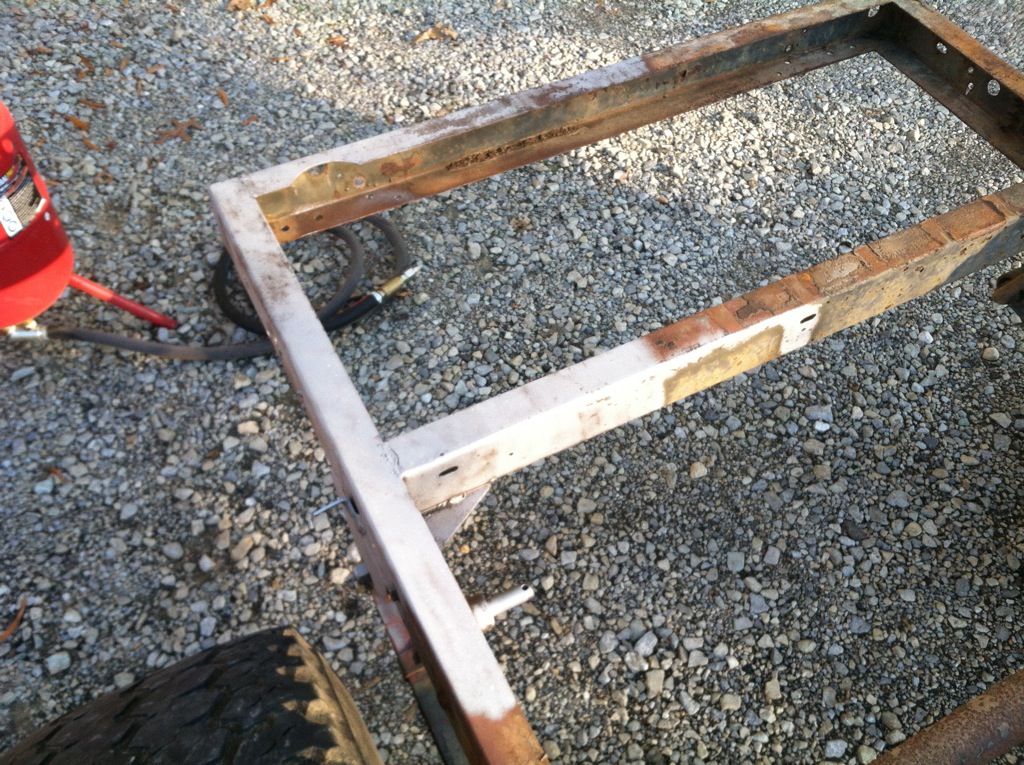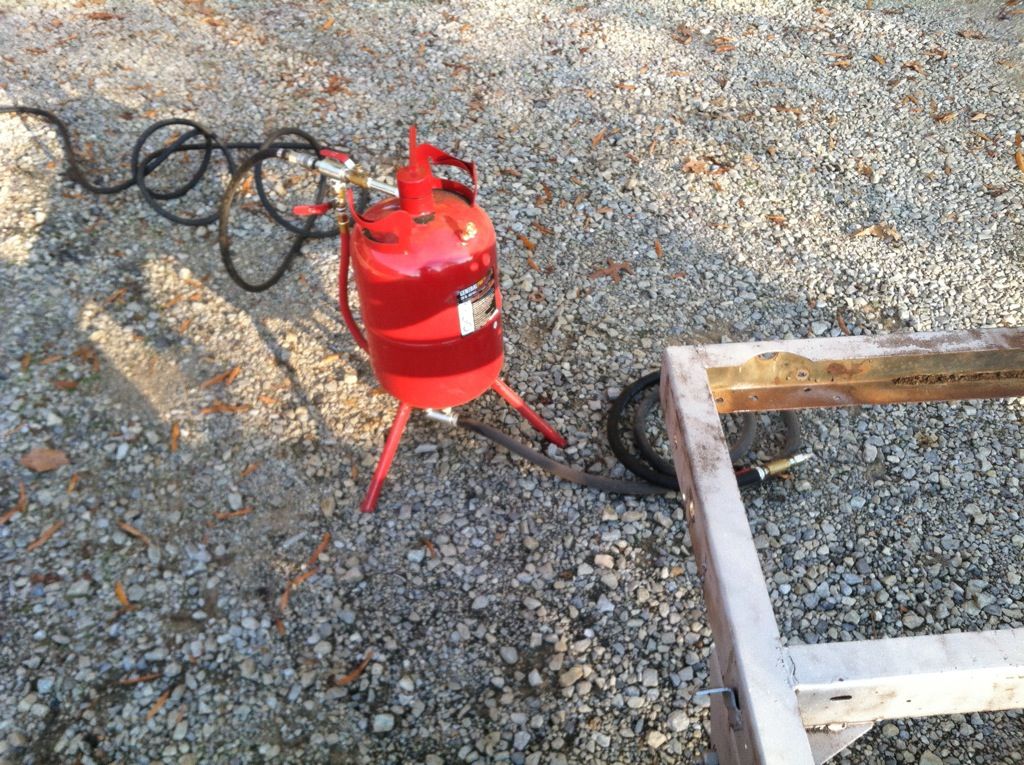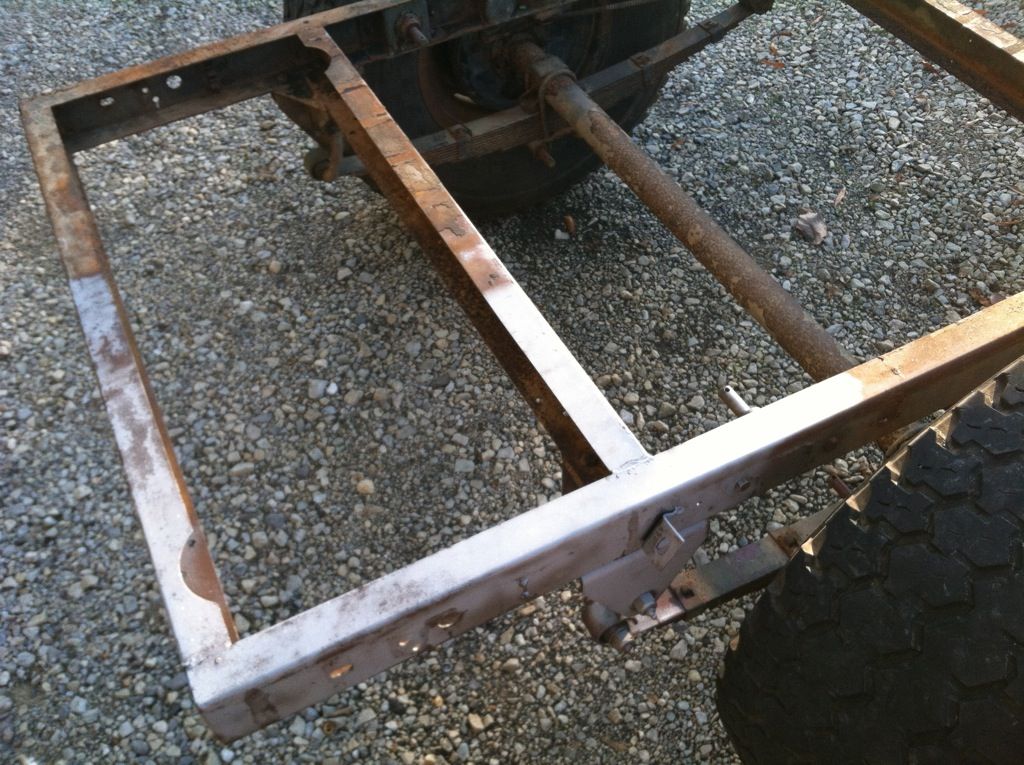 Did a little more work over thanksgiving break. Was able to weld the tailgate back on with hinges this time, do some more sand blasting on the frame, remove the rusted floor and replace it, and repack the bearings. Hopefully over Christmas I'll be able to do some final touches on prepping for paint, get it painted and use it for a little while while I figure out how I'm going to make a lid for it.
Here are some pictures: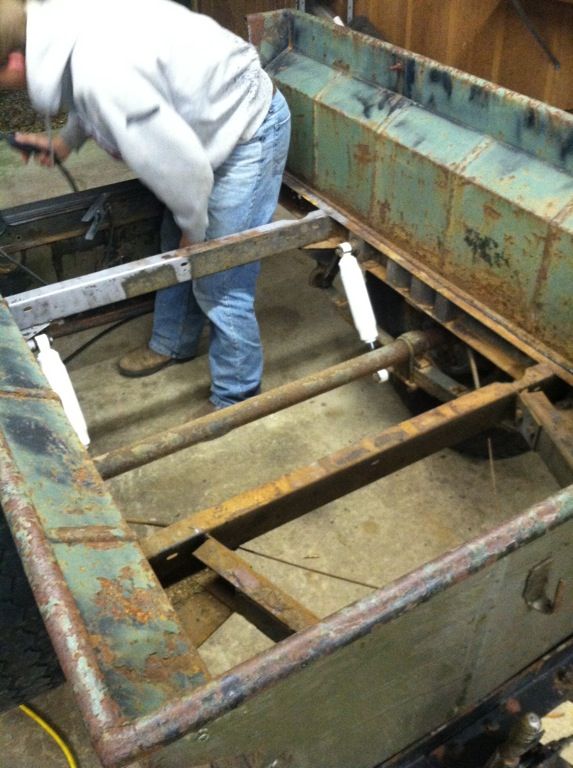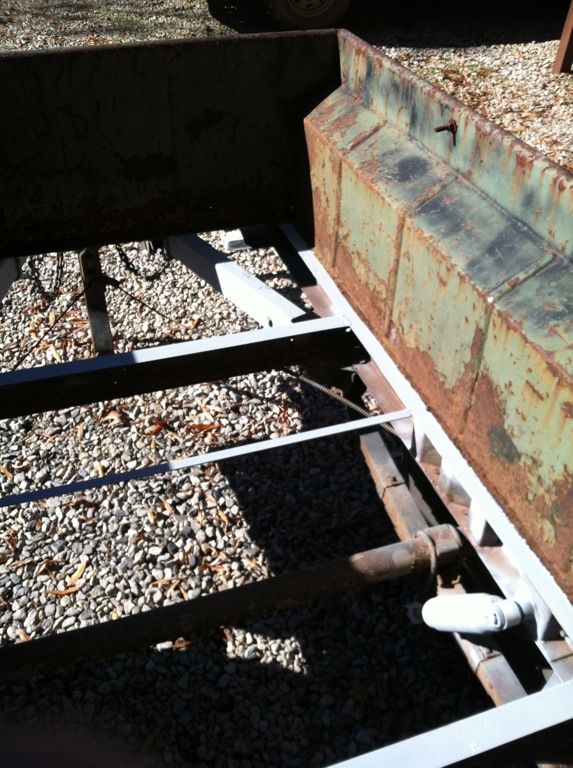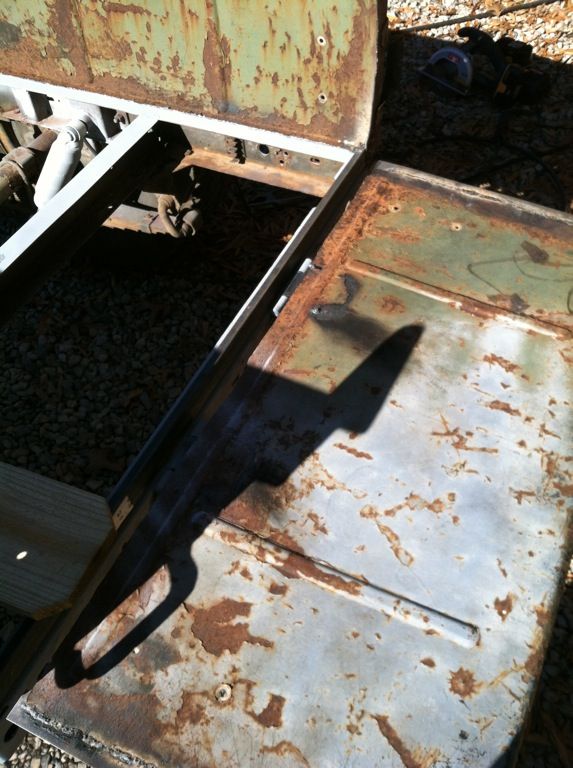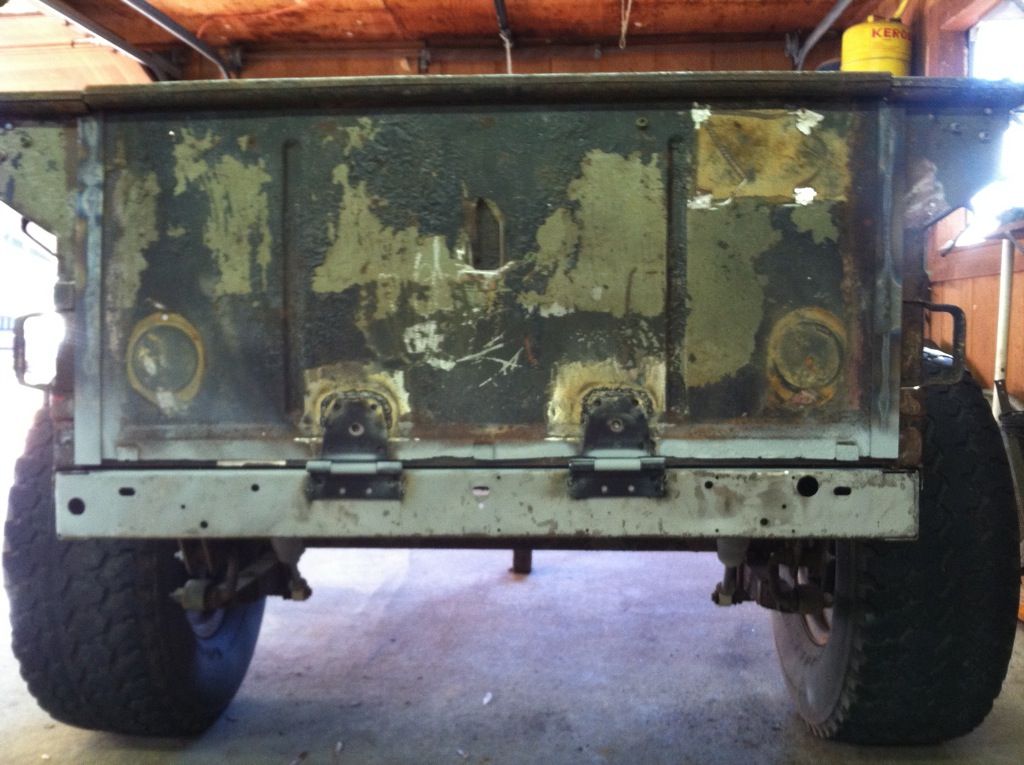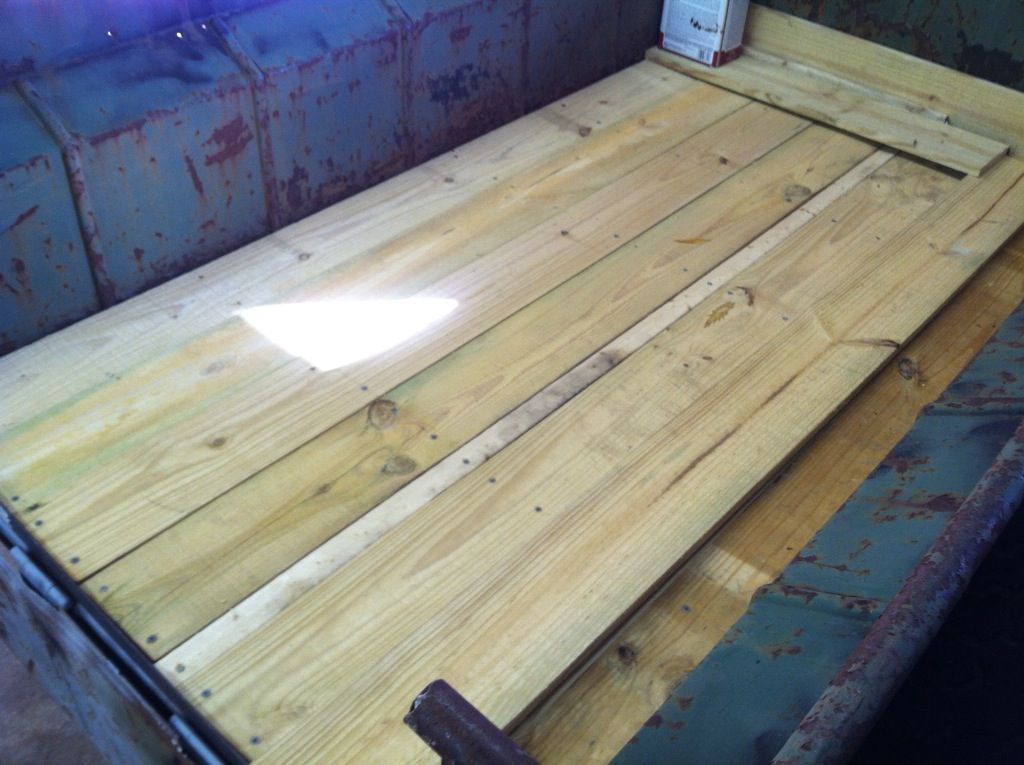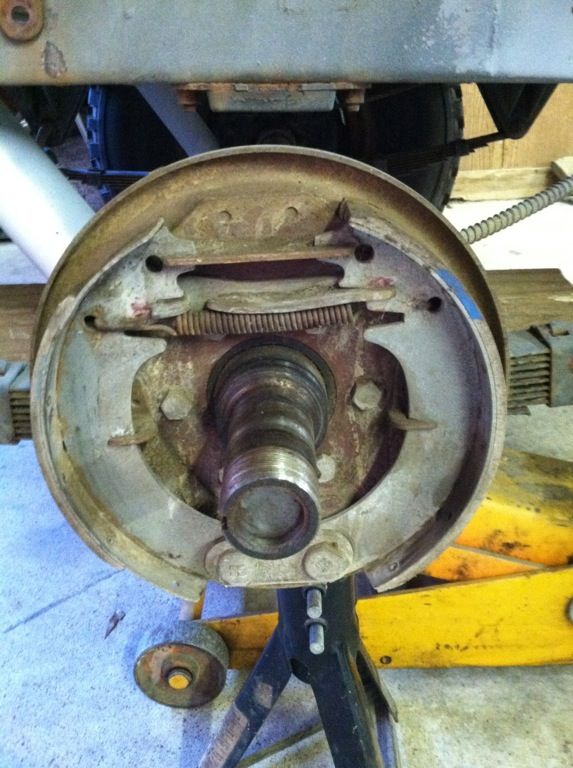 Did a pretty good amount of work, on the trailer over the past few weeks and weekends.
Managed to do more paint prep, sanding and sand blasting and man are they tedious and time consuming but in the end, (after I lost track of how many hours spent on trying to make the sheet metal perfect and all the way back to bare sheet metal, I gave up and just decided to go ahead and paint it.
I was fumbling with ideas for colors and patterns to do the trailer and of course I wanted to color match it but while purchasing the semi gloss black paint I stumbled upon a can of dark green. It was mixed in with the black cans and I sprayed a little test spot on the provided paper and was amazed at how similar it was to the factory color of my truck (Imperial Jade Mica) so I purchased the only can of Charleston Green they had and asked the nearest associate where another store was that had some more cans. Luckily it was only 20 miles away. I went there and got three cans and started prepping, priming and painting. Here are the end results. I am thrilled with the end result and how similar the color of the trailer is to the truck (it's not exact but pretty darn close)
I also relocated the hand brake so I can later add a tongue box for all my secondary wiring, switches, batteries, water, heaters, propane and other etc.
More pictures to come. Only one I have on my phone currently.
After this weekend, I wrapped up the tailgate limiting chains, the latching mechanism for the tail gate, touched up the paint in the areas that needed it, started to herculine the tub but ran out. (I was just using what I had left after a previous project) added some rubber floor matting to help sound deaden the tub and began to run the wire for the tail lights. Hoping to get the tail lights installed in the frame in the next few weeks. Time has been tight since I purchased a new (to me) four wheeler and been working on restoring it to a much newer looking and better performing four wheeler. It's a 1991 Honda TRX Fourtrax 300 4x4.
I know that all anyone wants to see is pics so here they are...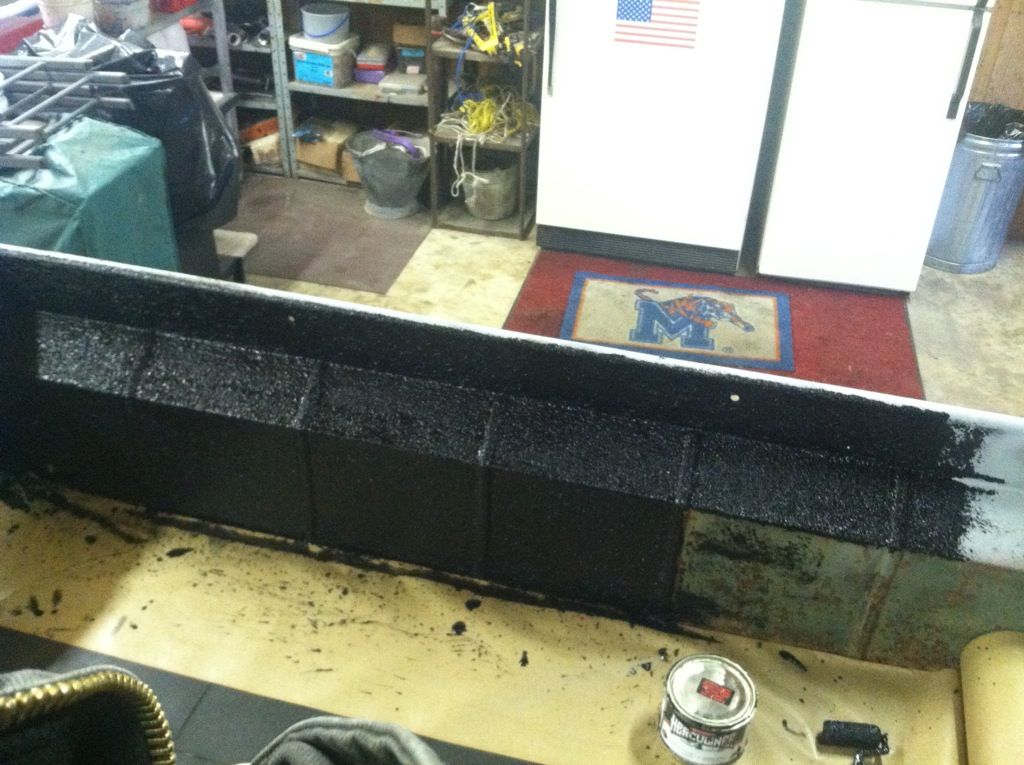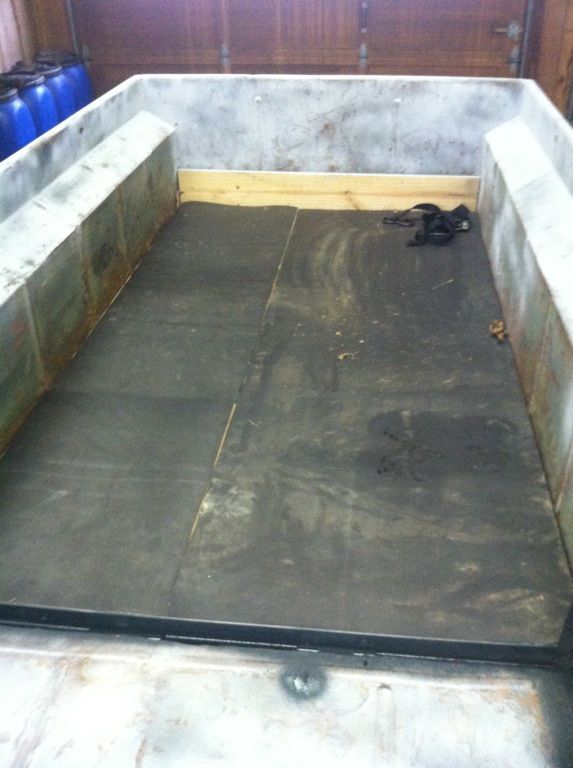 And here is a before and after of the restore of the Honda I've been working on...