I say SS-10 because you could hardly still call this thing a Chevy S-10.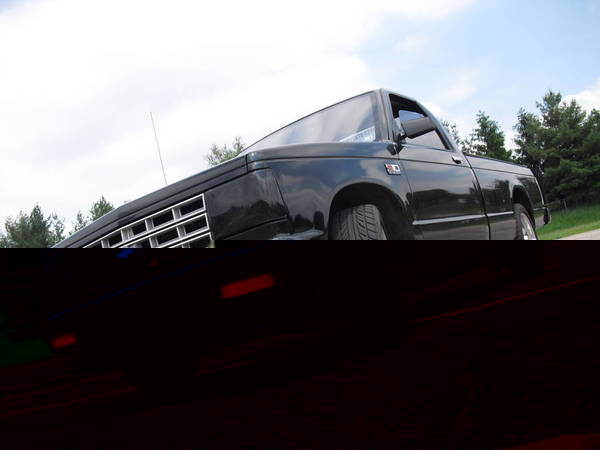 I got it for free from my grandpa who upgraded to a 2000 S-10. it's a 1986 and only had about 68K on it! no rust, perfect condition, 2.8L V6. it ended up becoming nearly a 5 year father/son project.
List of Mods:
-gloss black pain job+clear coat
-Euro taillights
-tonneau cover
-2" front drop spindles
-3" rear block drop
-'85 Camaro 350+700R4 Trans
-Eddlebrock 650 CFM 4Bbl carb
-Eddlebrock low profile aluminum intake manifold
-conversion kit headers
-racing, ceramic boot ignition wires (because they touch the headers b/c so little room/clearance)
-17" American Torque Thrust rims (custom offset)
-225/50/17 Kumo tires
-custom single exhaust (no cat)--loud as hell
-low profile radiator
-low profile electric dual pusher fans (1000+ CFM? i think..maybe 1600CFM?)
-35% window tint
-roll on bed liner
-sun pro tach, engine temp, oil pressure, and bat gauges
-B&M ratchet shifter
-dark smoke headlight covers
-xplod 6X9 (x2) speakers behind the seat
-Sony CD deck (not really cosmic, just to get some tunes in there...it came with AM only radio...ya)
I don't have any pictures of it completely stock (because it didn't stay that way very long) but this is what it looked like after i got it painted.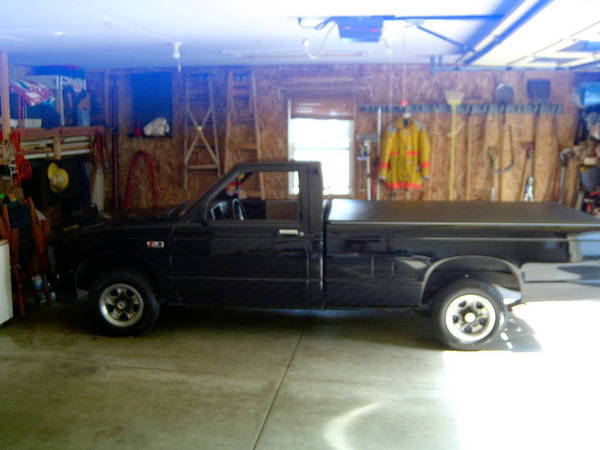 Gloss black $500 through a work connection of my dad's. FREE clear coat! (the guy said it looked so nice, he couldn't help it...so he put it on there for free, lol).
after seeing that awesome paint job, i couldn't help but mod it from there. first some Euro tail lights, but the bit kicker was a high school graduation present to myself. a guy at work just happened to have a 1985 camaro 350 laying around...so i got it and the tranny for $700 with lik 3500 miles on it after being rebuilt. originally carb'd, we switched it to EFI for a while, and then said screw it and went back, mostly because it was way easier...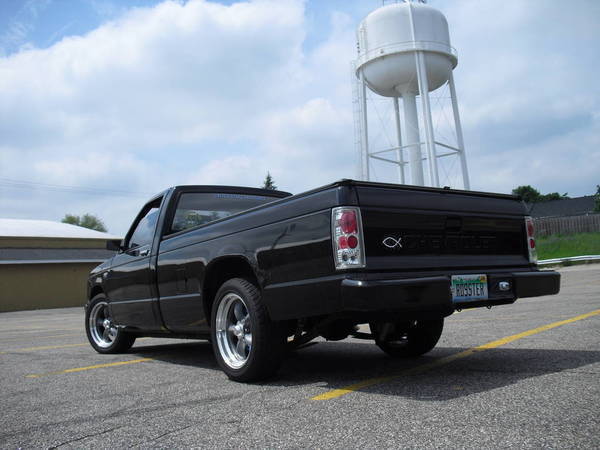 dropped that in there with a conversion kit from LMC. there's not much room in there....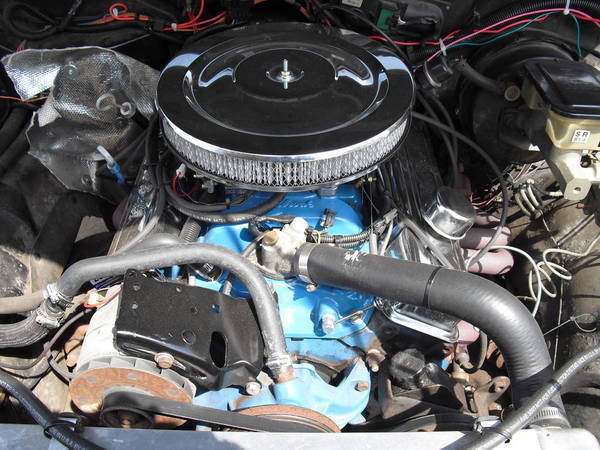 (you can almost see that the steering shaft goes through the middle two headers on the driver's side, lol)
had to get a hi output, low profile electric pusher fan for the radiator and a new, higher performance, low profile radiator (for space). and removed the mechanical fan for obvious reasons. new water pump, valve springs and bushings. had to apply some good elbow grease/sledge hammer to the firewall. also had to get a B&M floor shifter because the column shifter hit the engine block...couldn't shift into drive. (looks way cooler not anyway and the ratchet shift is a blast)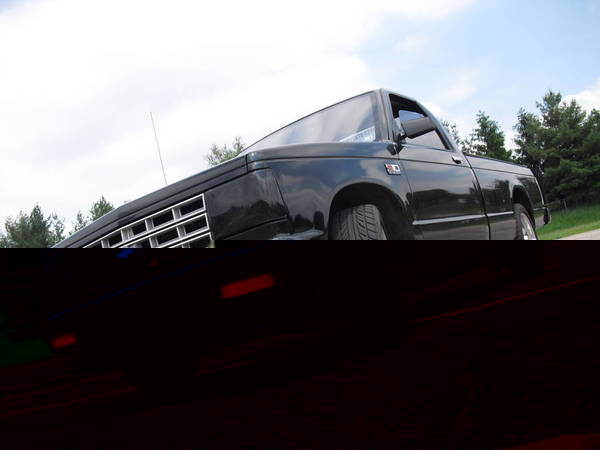 i did some other small things for fun too like painting the calipers and drums and the chevy emblem and the engine block all blue.
she really gets up and goes! only weighs like 3300 pounds. i haven't dynoed it, but i'm thinking around 300 or so ponies to the wheels?
she now sits in my grandma-in-laws. i would love to do a better job on the suspension and get all that power to the ground (she hops like a b****) but i have my taco now and that's what i drive more often so that's where i put my money now. Hope you enjoyed. i'll put up some more/better pics.