Hi Folks!
I thought I'd document my DRZ400 conversion for others to see. This is a 2004 DRZ400e which is just a regular ole dirt bike with electric start. You may have read or seen others convert these machines into street legal bikes, which is exactly what I am doing.
The purpose of this build is to rip up the back roads but still be able to go on extended adventure trips with backpacking gear. Sorry, not going full tard here, maybe sometime down the line.
Here it is when I first purchased the bike in Tampa, Fl. The guy I bought it from used it for extended trips that were strictly offroad. I bought it for about $1700 with about 2,500 miles. The seller threw in a few farkles and an extra back tire too! Woot!
So to get this street legal here in the great state of Kentucky there are a few mods you have to do to a regular ole dirt bike. So I started ripping it apart (before I even rode it). You'll see another DRZ in the background, that's my step dads who is also converting to a street legal bike.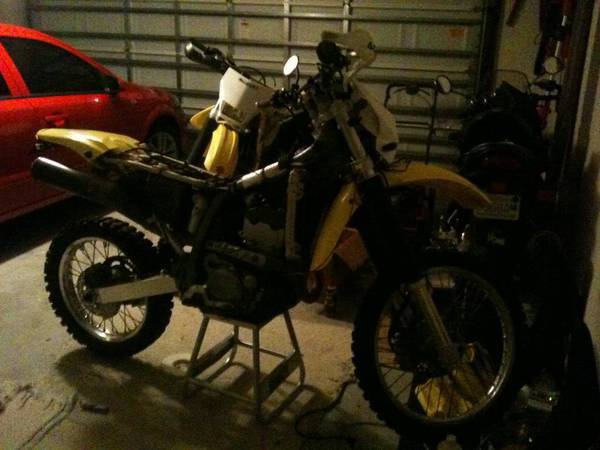 So you may be wondering, why not just buy a street legal DRZ like the "S" or the "SM" model. Well I tell ya, I would've loved too, but they do go for a much steeper price than the "E". Also, the "E" model has a few components that are an upgrade to those with the "S" and "SM" model. For instance, its considerably lighter, has better suspension, I prefer a plastic tank, better carb, bigger stronger cam, and a few other things that have slipped my mind. The weight difference and carb alone make the "E" a much better performer than the others.
Its maiden voyage to Kentucky!
Back to the conversion, I bought a street legal kit from Tusk which comes complete with wiring harness, LED mini-stalk front turn signals, LED flush mount rear turn signals, flasher relay, horn, hydraulic brake switch, LED taillight/brake light, dual sport folding mirror, On/Off switch, and control switch. That's all the components I need to get it street legal in Kentucky BUT that's not where it stops. You have to document every step of your process. For instance, at 12pm on 7/29 I removed all the plastic panels and wired each light into the ignition switch so that they turn off/on with the key.
That's just an example, ideally the more details the better. So, I have about 7 pages worth of notes to submit to the DMV. This must be notarized. You must keep all of your receipts and submit them with these notes. After its put back together, the county sheriff must provide a written statement that my DRZ now meets the state requirements for motorcycles IE turn signals, horn, mirror, etc. After I have all of those documents signed, I must apply for a rebuilt title. Once that is all done, I'll submit all of these documents to the DMV and walla! A plated dirtbike!! WOOT!
The Tusk kit is just alright, to get it titled, its fine. But I have already decided that I want to upgrade a few things that came with this kit. The LED lights are great! They give this dated bike a modern look, and they are BRIGHT! Can't complain with that. The light control switch is cheap and I doubt it will last in the weather. So I bought the stock switch from a XR650, that should arrive this Friday 8/1. I'm also upgrading the mirror, because the plastic one they send you SUCKS!!! In order to actually use it, I sanded the ball so the clamp would grip it and cut up some old bike tubes to keep the clamp from slipping on the bars. Its a terrible mirror, only good for snorting blo... wait a minute! wrong thread!
Here is the mirror I am thinking about, it keeps it in my line of vision and it can be tucked away for off road. Its a DRC offroad mirror.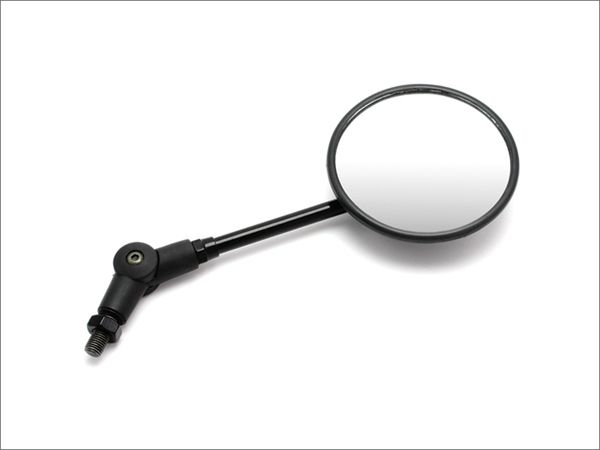 Here are the Honda XR650 controls that I'll hopefully install this weekend.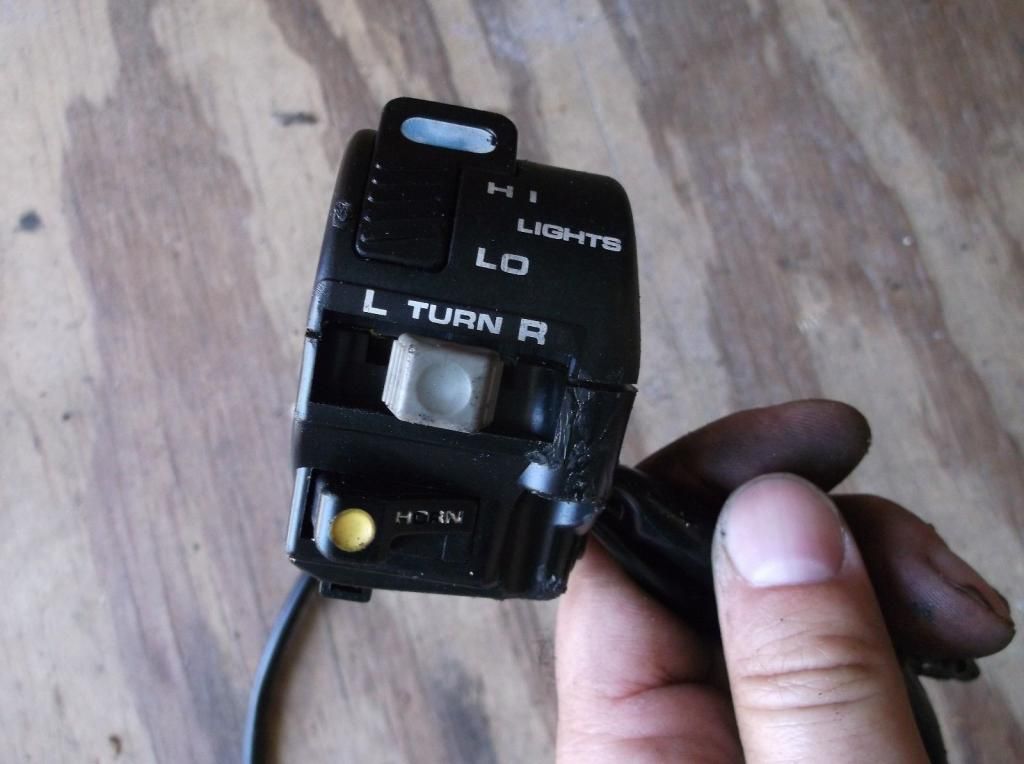 Let's talk about some of the other stuff I installed to get the bike up to par.
I went with the DOT approved Michelin T63 tires front & back. They're rated as a 40/60 tire I believe 40 street 60 off road. They do well on both, I've been very impressed with them on the road. You do feel the knobbies on turns but you can still drop a knee and dig deep. Also, at high speeds 55 - 70mph you can tell you're riding on the middle knobbies. Hard to explain, but I would describe them as agile at high speeds. I think I'll be able to get about 2,500 - 3,000 miles out of these. The dirt is where this tire really signs, its just like any other dirt bike tire, it grips and rips. I haven't ridden in wet conditions, that review to follow.
Next up: GPS Now I made a mistake here, not in what I purchased but how I purchased. I went through
ebay
and bid on the GPS with no intention to buy it. I know, I'm a terrible buyer. I bid on this GPS because it was priced very low, and I figured someone else would outbid me right away! WRONG! No one else bid and I ended up with a Garmin Oregon 300. Not a bad unit, but I have nothing to compare it to since its my first ever GPS. I needed a way to mount it, so I went with a Ram EZ strap mount. It gets ok reviews, many people complain about breaking the main strap. I haven't done this yet. Its a nice mount for the $$, I use it in my truck and on the bike so its nice to be able to remove it from the bars to the truck or vise versa with relative ease.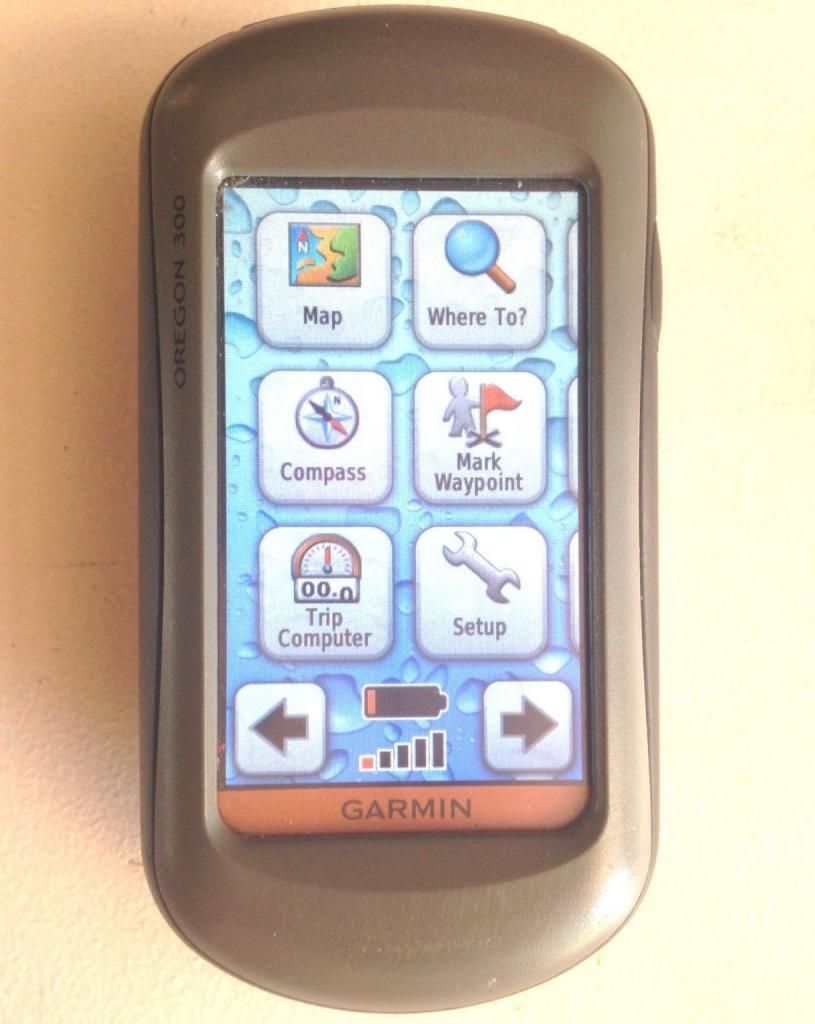 EZ-Strap Handlebar Mount