I thought it'd be fun to start a thread about my 65 Dodge Dart. If it weren't for this, my Tacoma would be AMAZING.
Pay attention to the roof material, antenna, and mirror. All three were changed, but not enough to be noticeable (i wanted it to look pretty much stock)
So i'll start with the body work..
These are from when I drove the car into the shop. We started taking off the trim and chrome that day. The paint is stock from 1965.. the car was very well taken care of.. just had rust in the usual places and the trunk was a MESS.
Also needed a new-to-me bumper. i located one.. which was a damn bitch to find.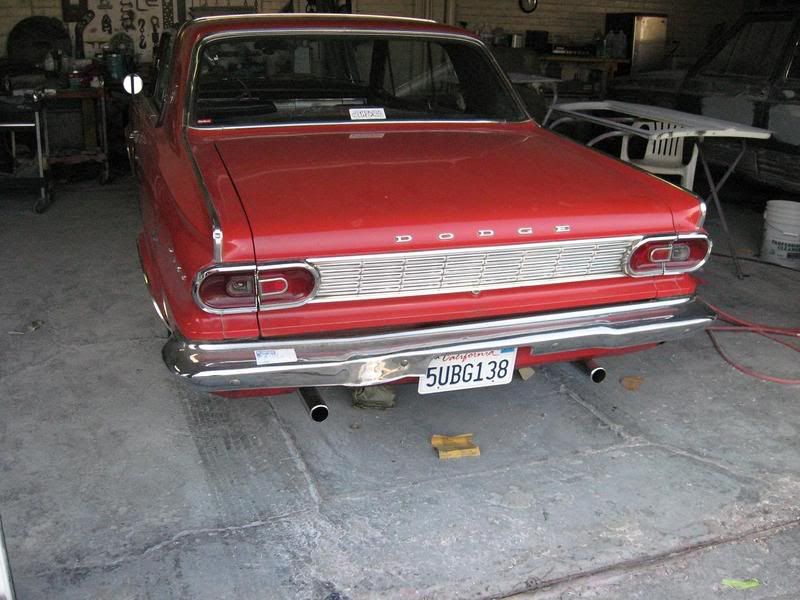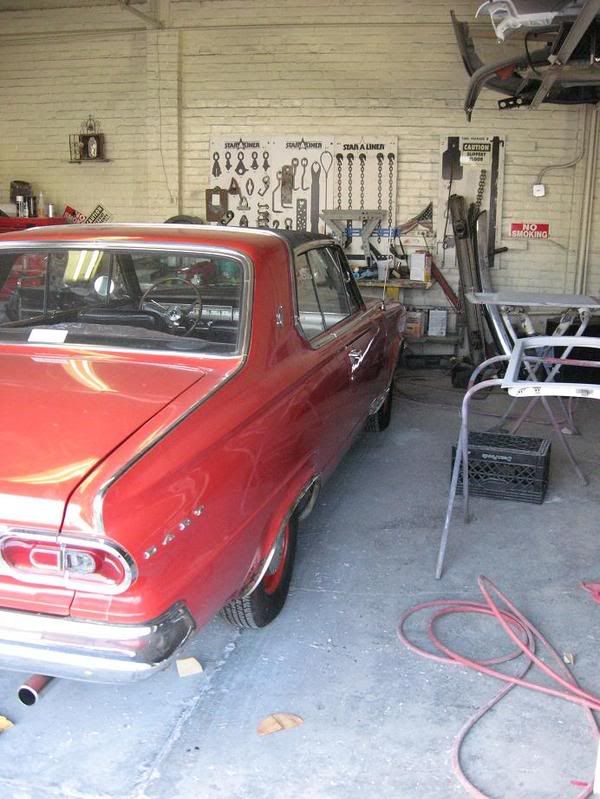 Got a new trim piece for the quarter panel.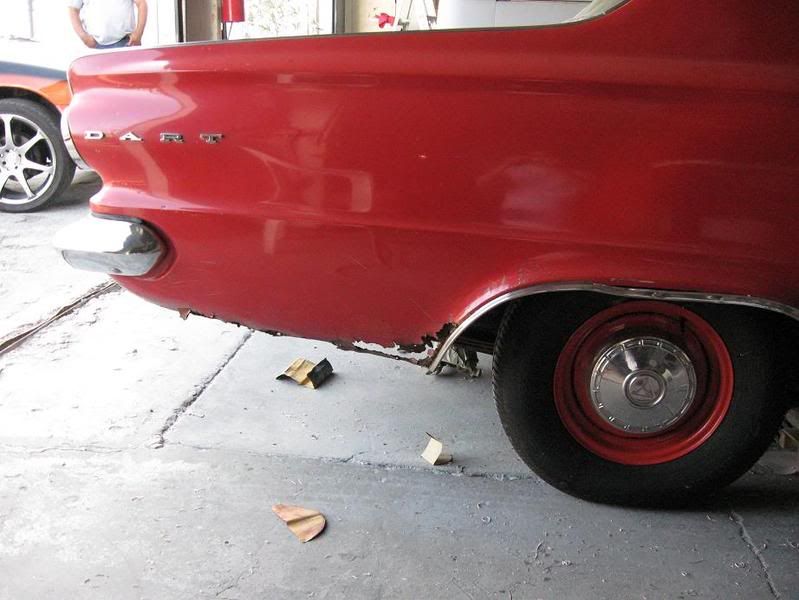 Black roof has got to go.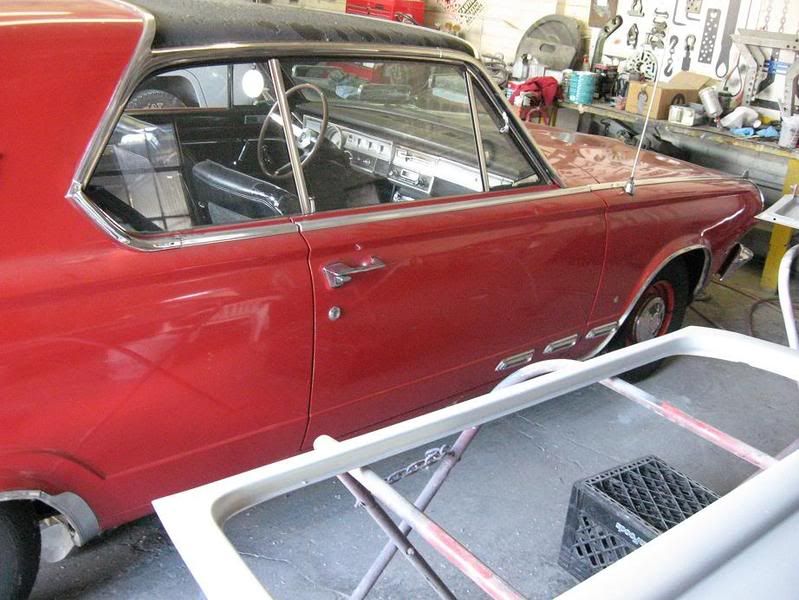 I HATE the antenna.. thats gotta go.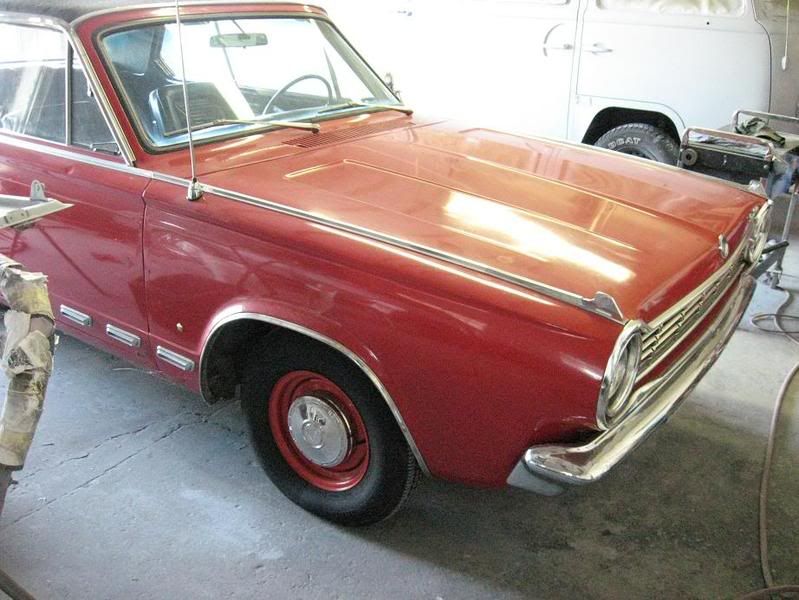 The mirror is incorrect for this model too. That i believe is from a 1955 chevrolet.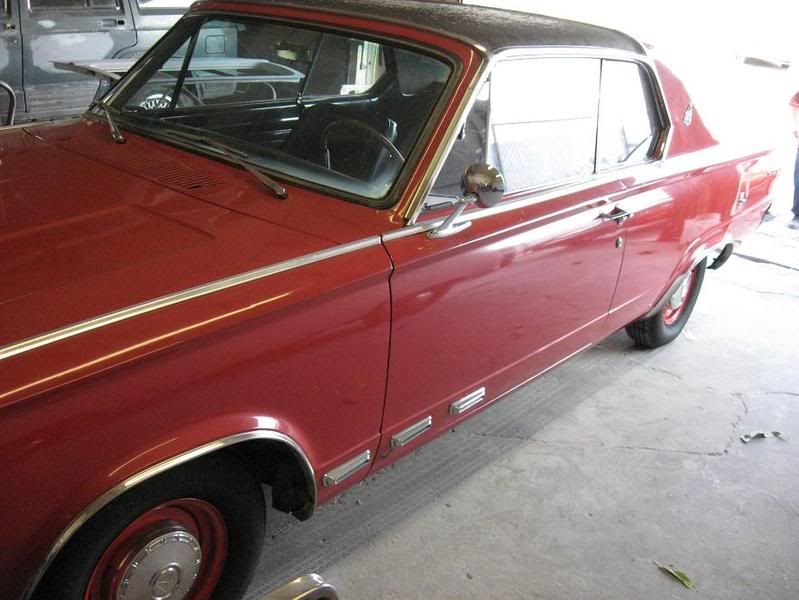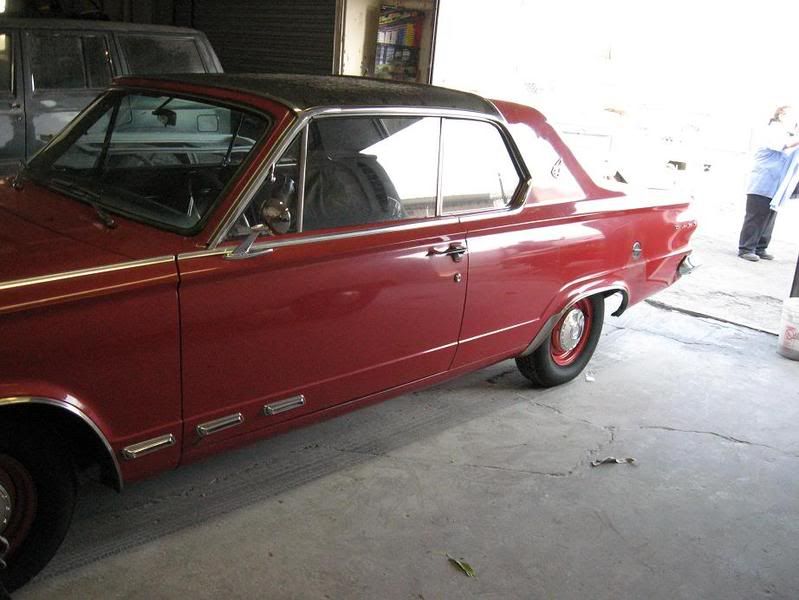 also located a few gas caps and had them painted the correct color. Back in the 60s if you lost a cap, you went to the dealer and they gave you a chrome one instead of the stock color matched one... much easier to keep a stock of chrome caps than a million colors!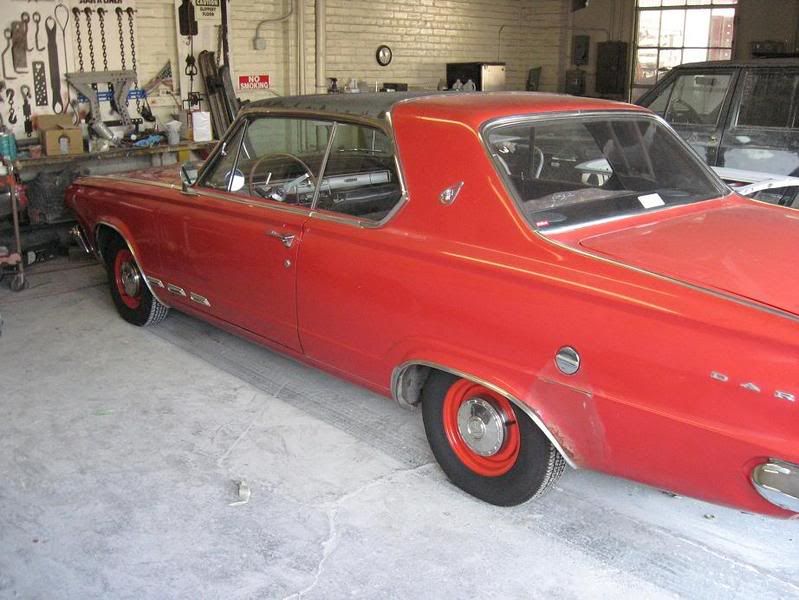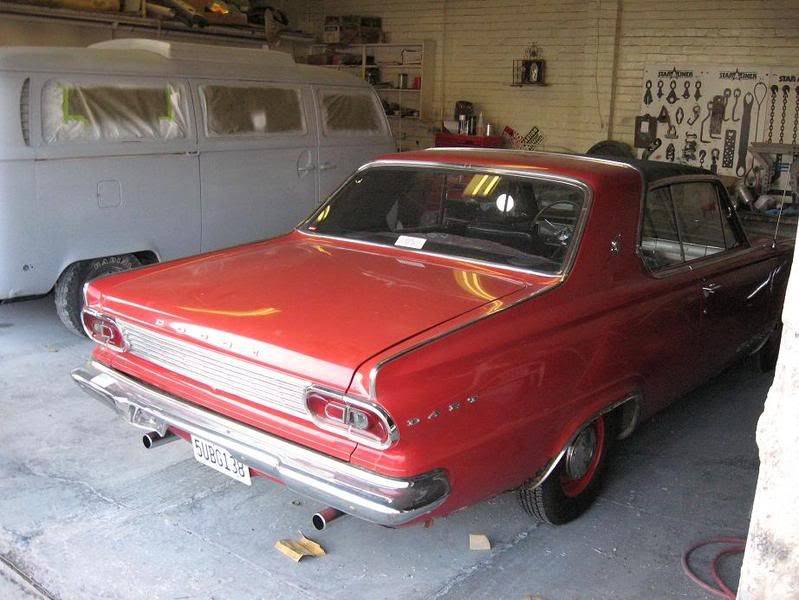 After a few days i was at this point below.. Most of the trim is removed, and the back and front windshields were as well. There wasn't as much rust in the window corners as I thought there might be, which is great. Here are some pictures of the rear window's corners: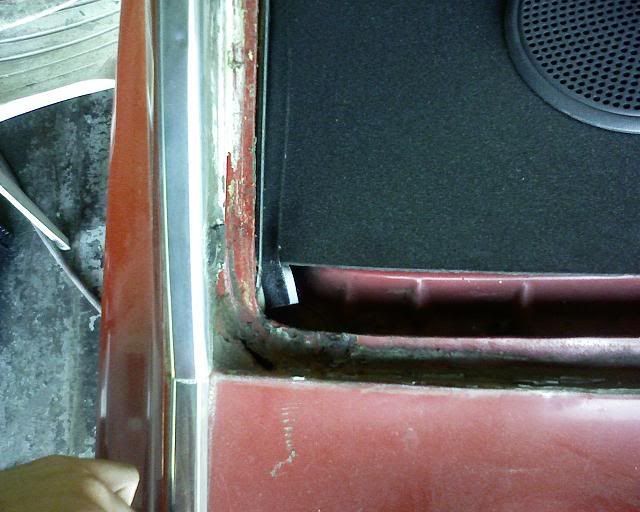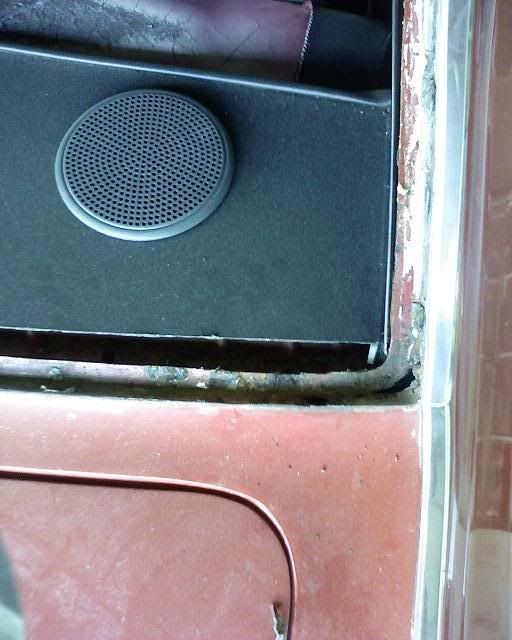 and here is the only rust on the front windshield (driver side bottom corner):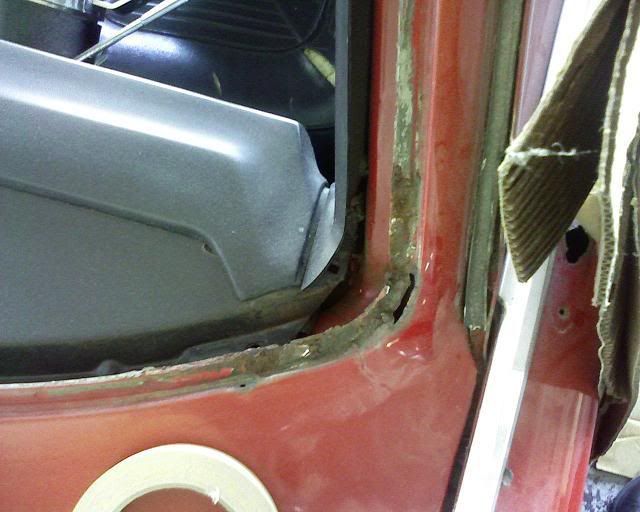 Here are some shots of the full body.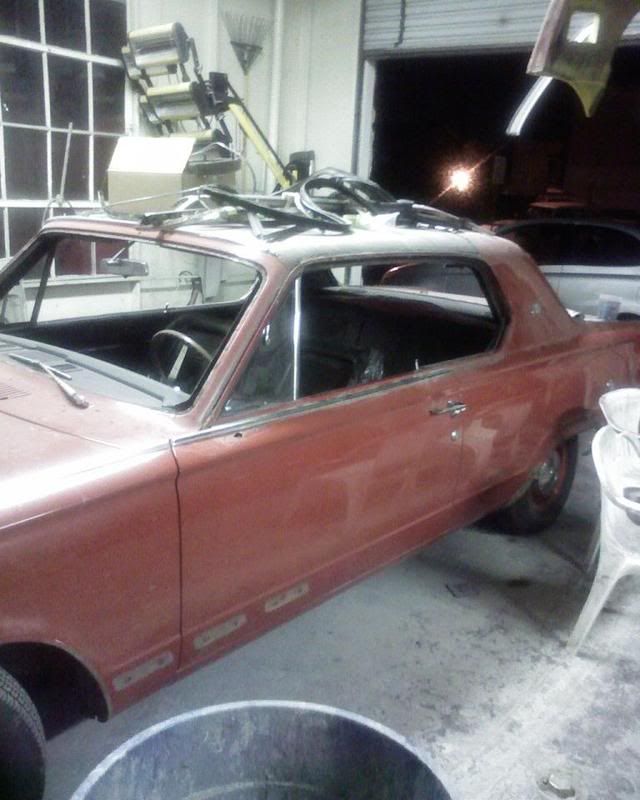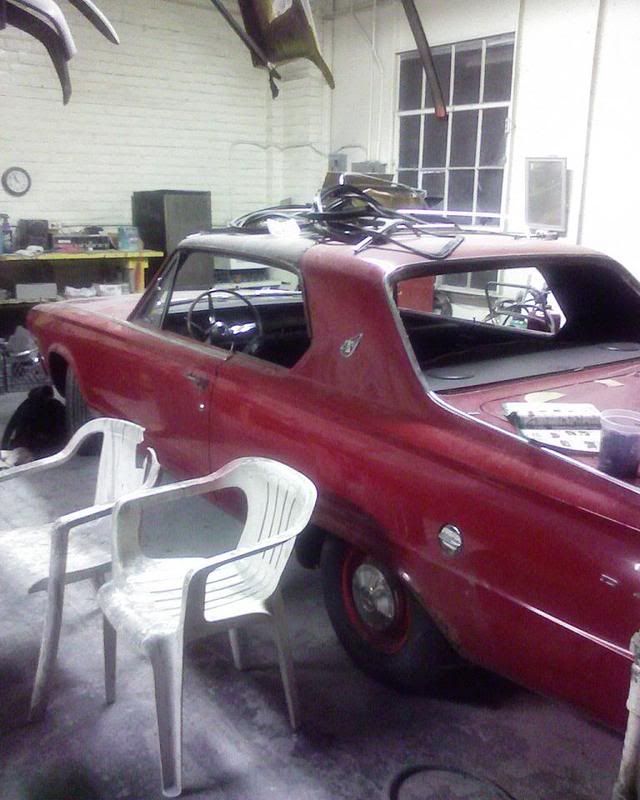 After a few days, i was at this: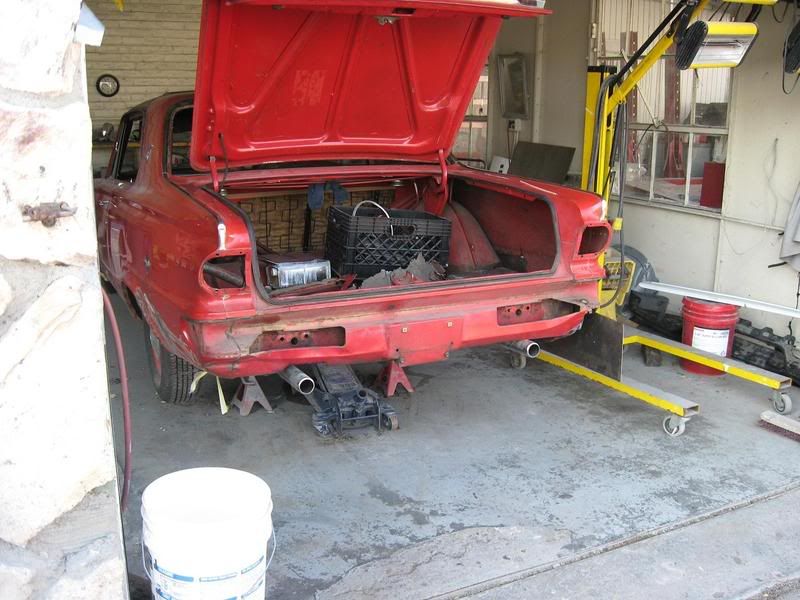 We started on the trunk.. This and the passenger side quarter was by far the worst part of the car.
You can see the old metal still in the trunk that was taken out. All new metal is stainless, so it should survive its second life.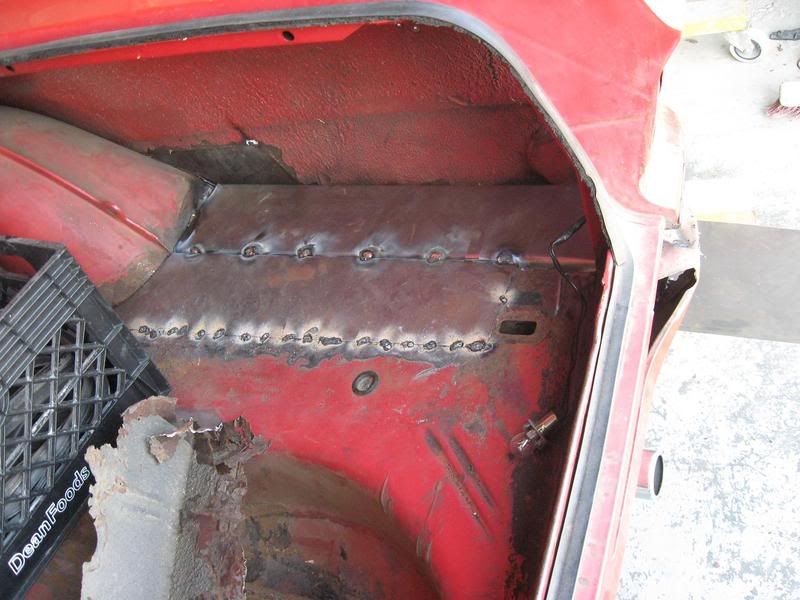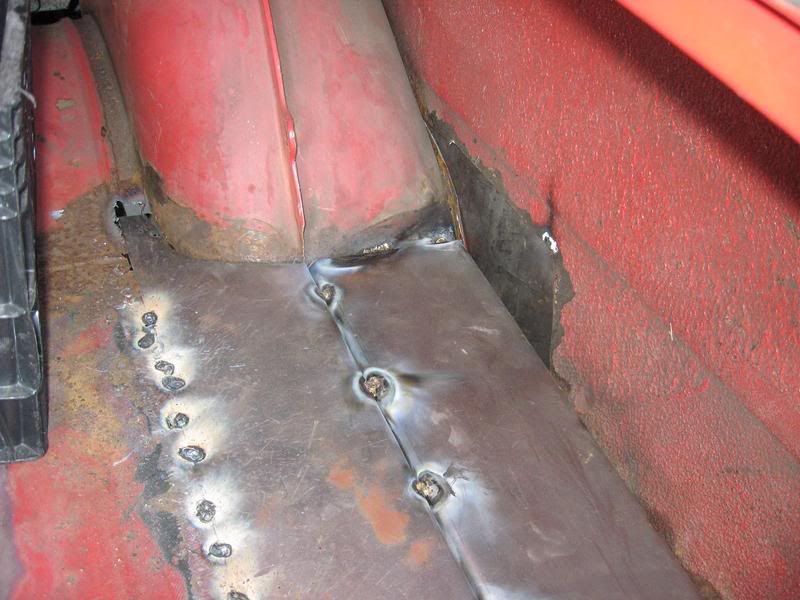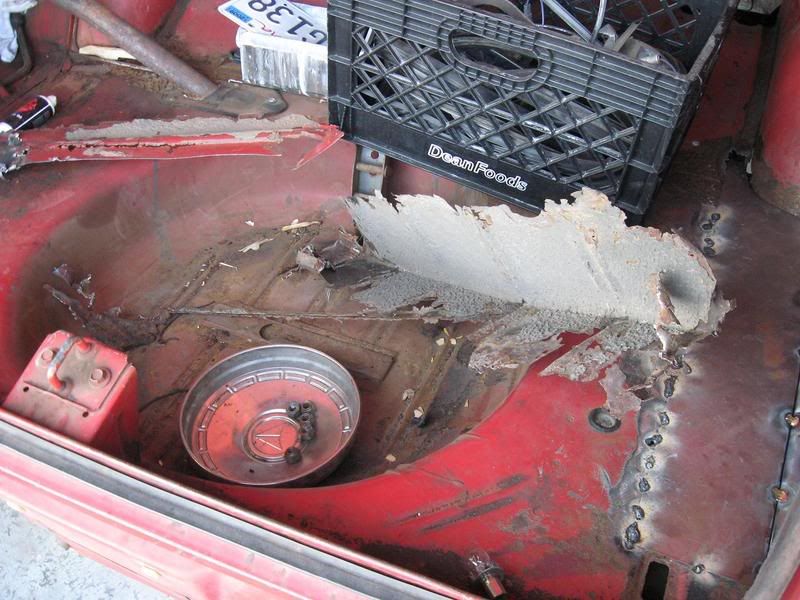 Here is how the new quarter is shaping up. Again, stainless.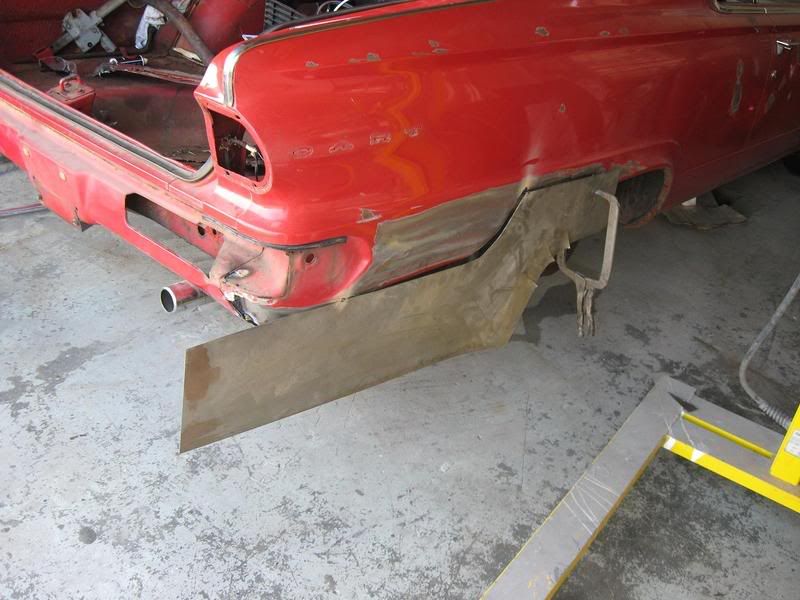 And you can see the trunk patch panel here too. I'll notch the original valance so it matches the other side for the exhaust, so it looks stock.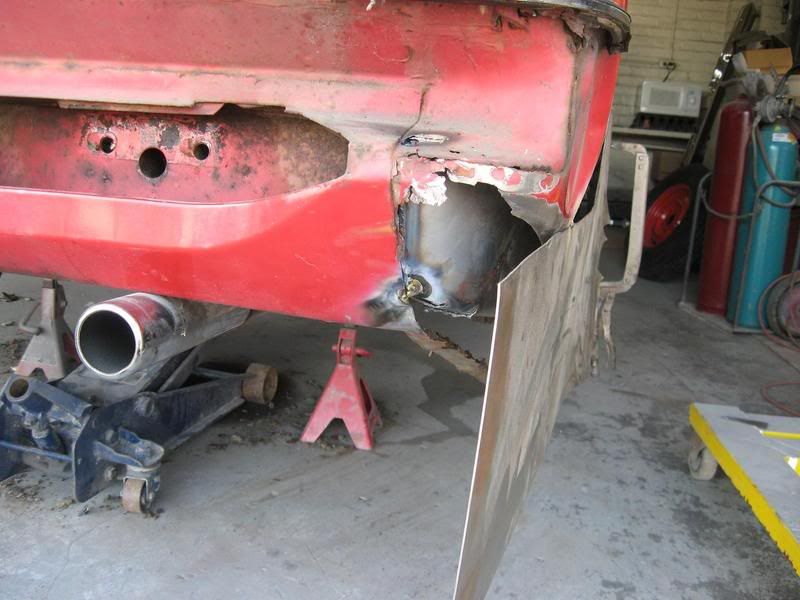 Here, a few days later quarters are on. They're in etching primer and need sanding and some tweaking to make perfect. Trunk is now rust free too (note in the previous picture you can see a chunk of the old trunk sitting on the ground). Pretty exciting stuff
Driver side: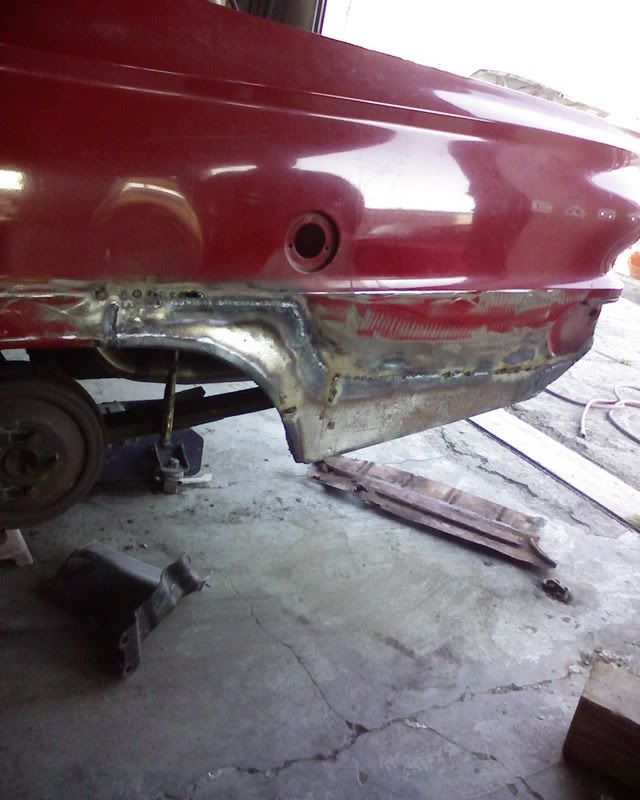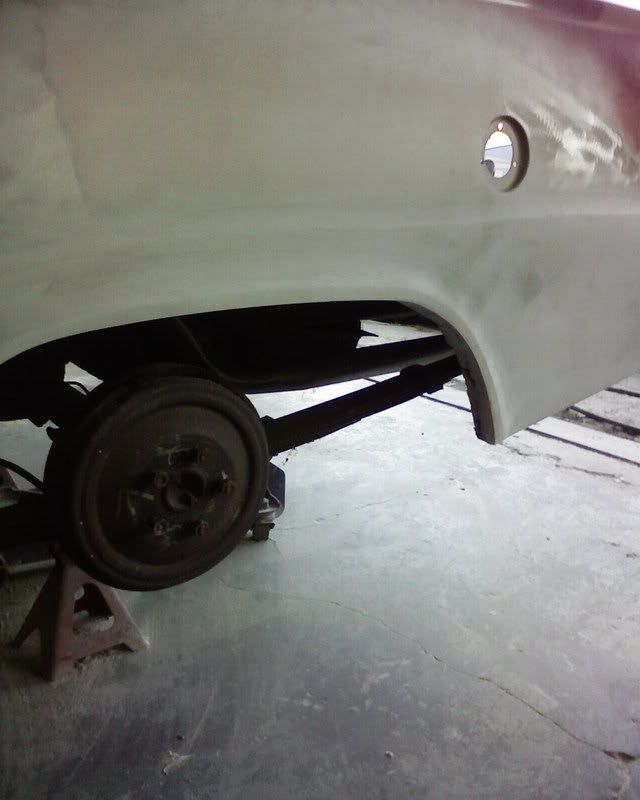 Passenger side: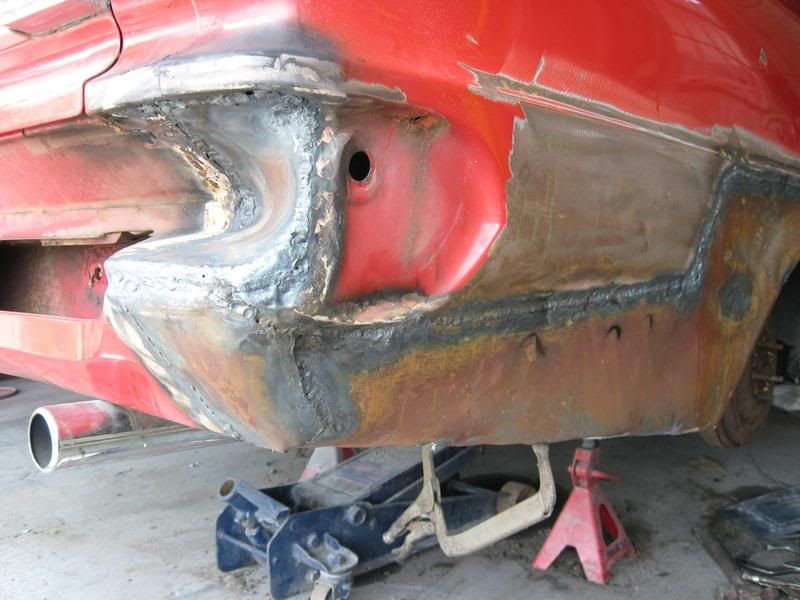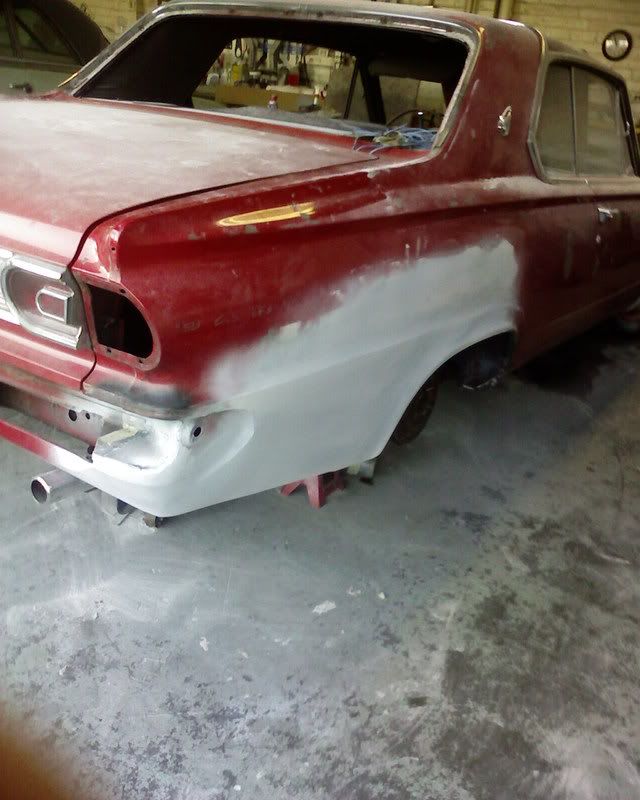 Here, all the trim is removed and rust repaired as well as dents and dings! It's amazing to have my car completely rust free. Watch for this.. i'll shave the antenna off cause i think it'll look cleaner. It was left connected and just shoved into the fender.. greatest thing about that - the radio gets reception JUST FINE! Here's some pictures: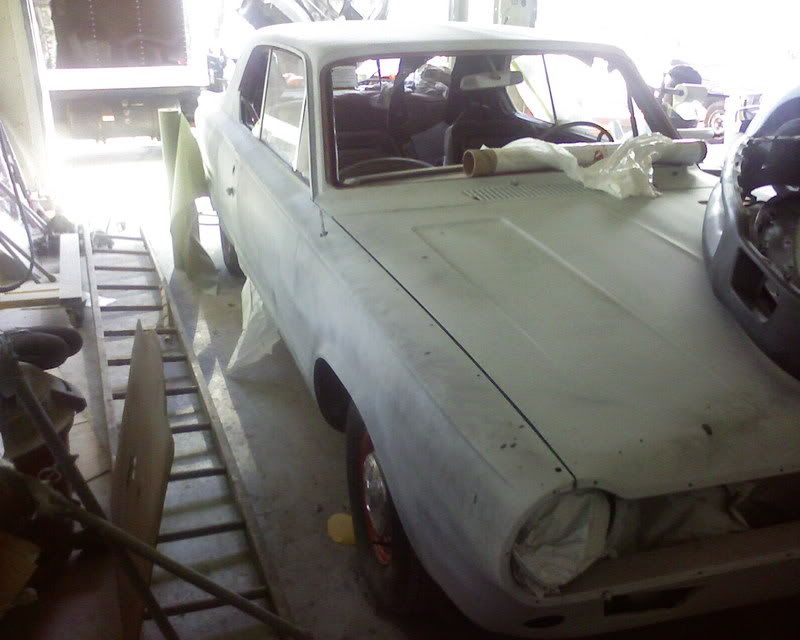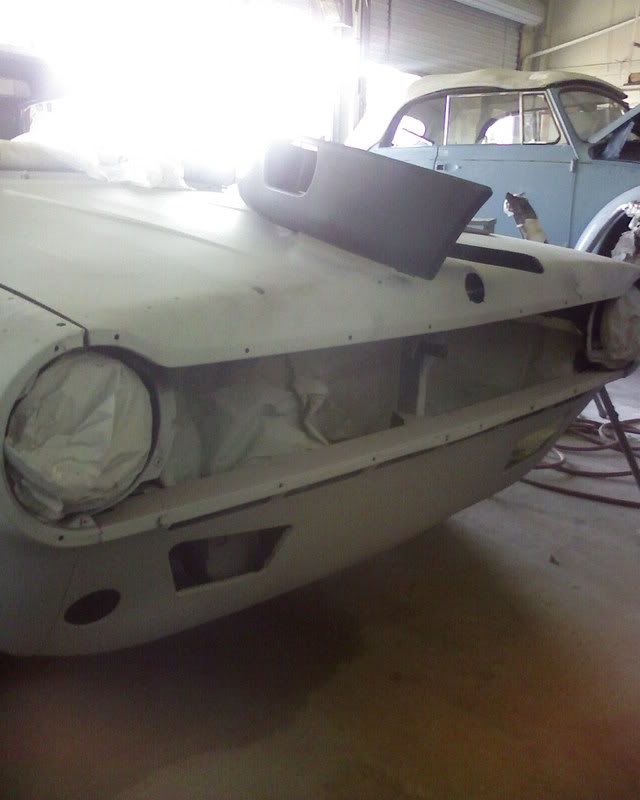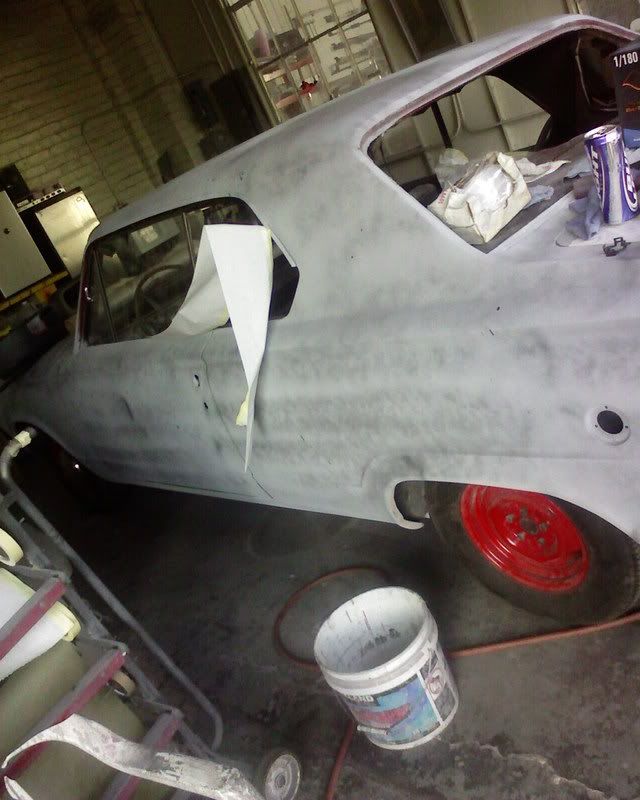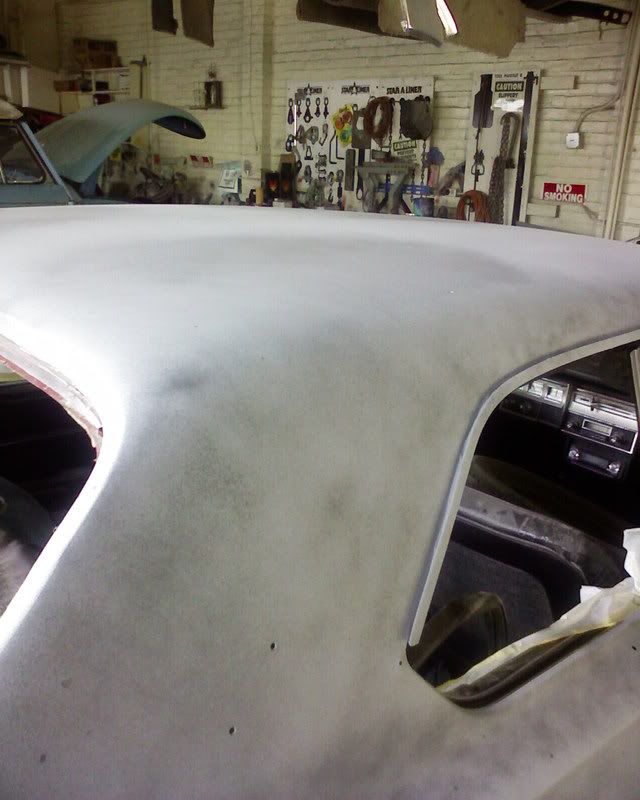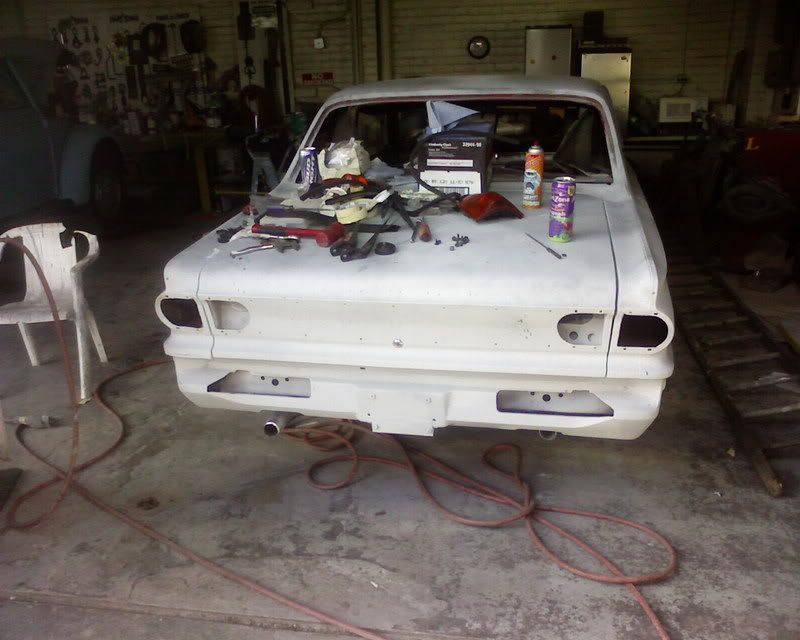 The new notch for the dual exhaust so it looks stock.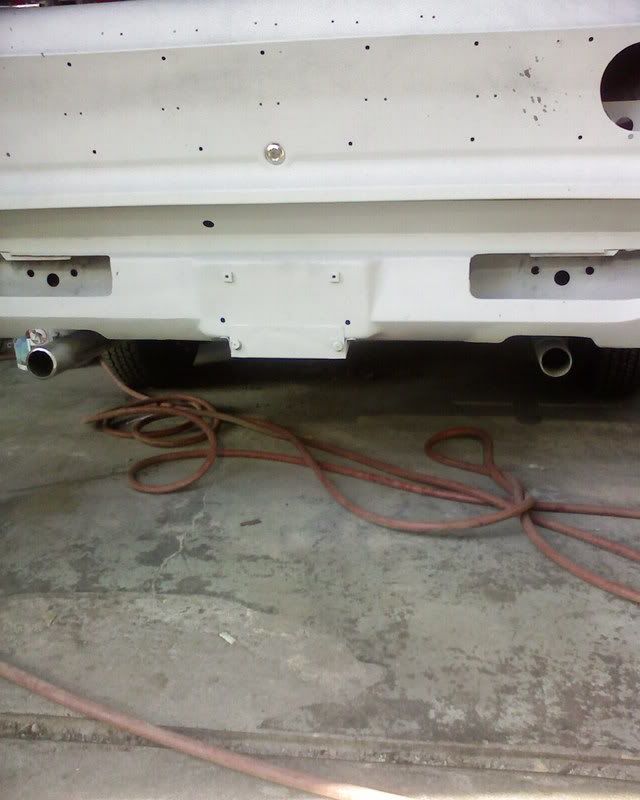 Paint time! It has some orange peal and a bit of fish eye, BUT not a single run. Next will be color sanding to remove the fish eye and such, and then trim. Here's some pictures: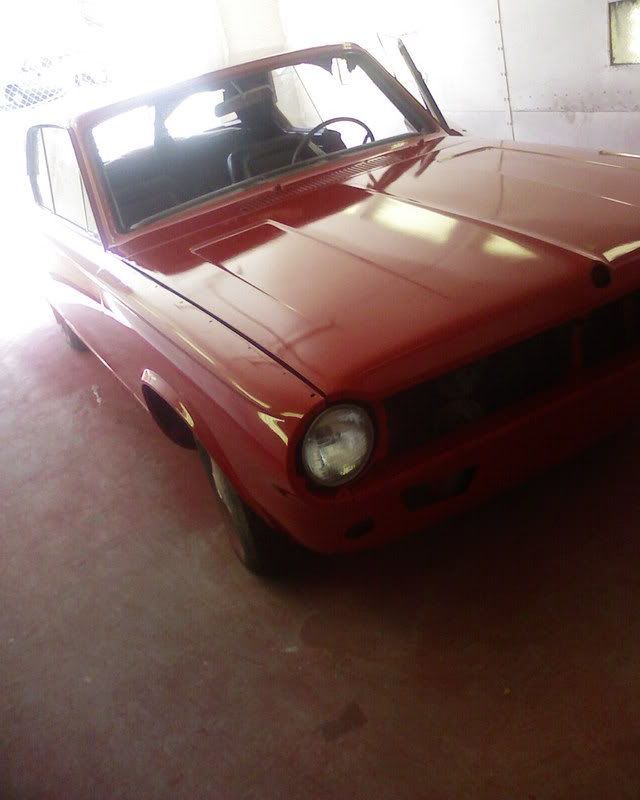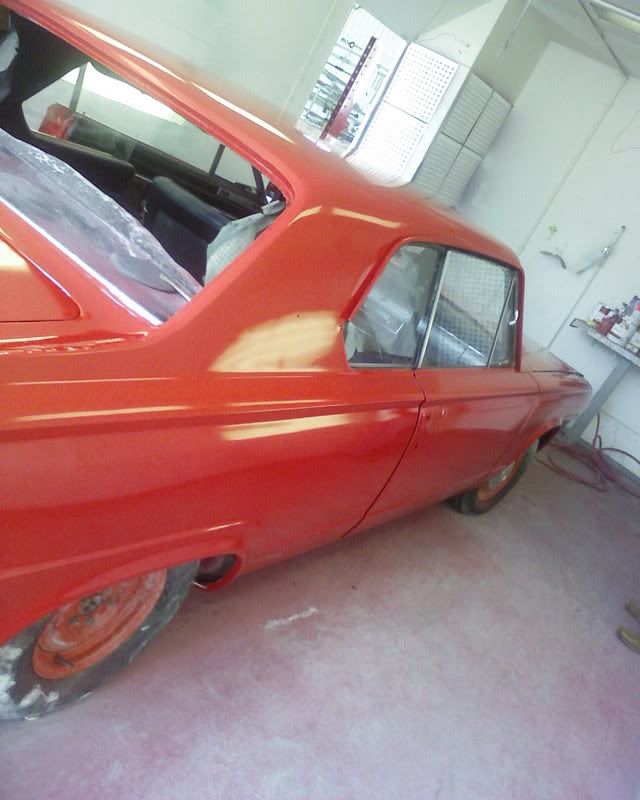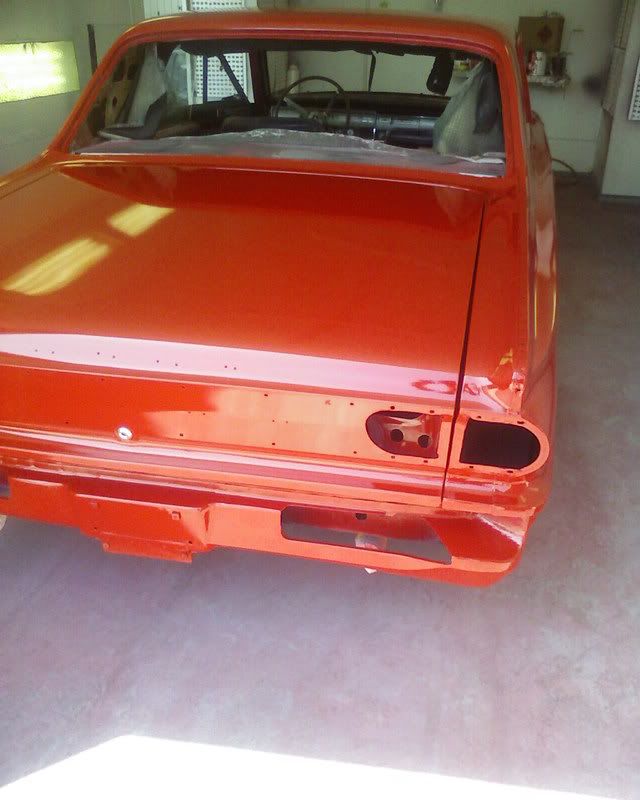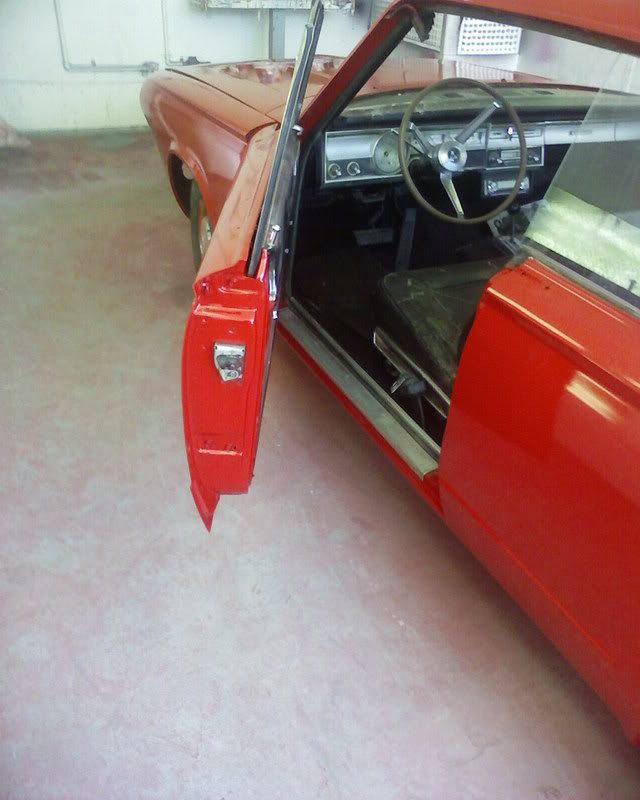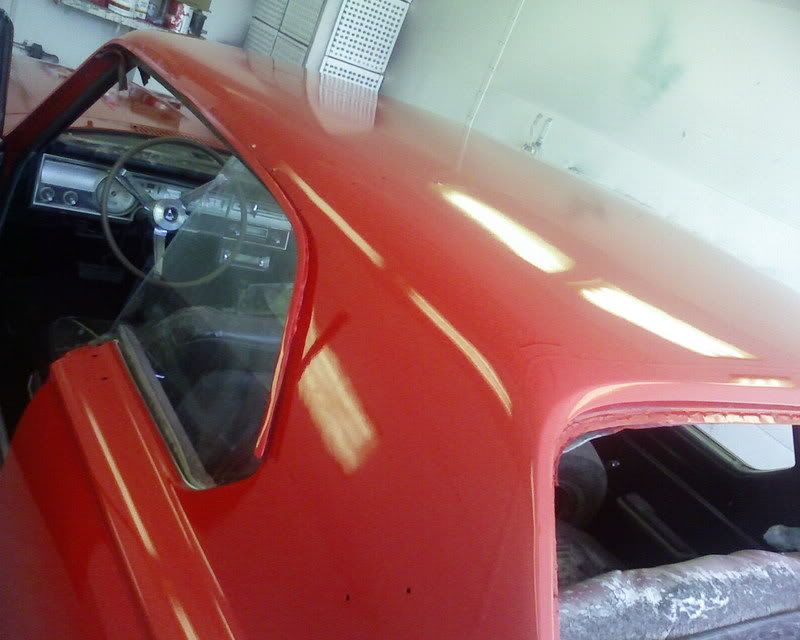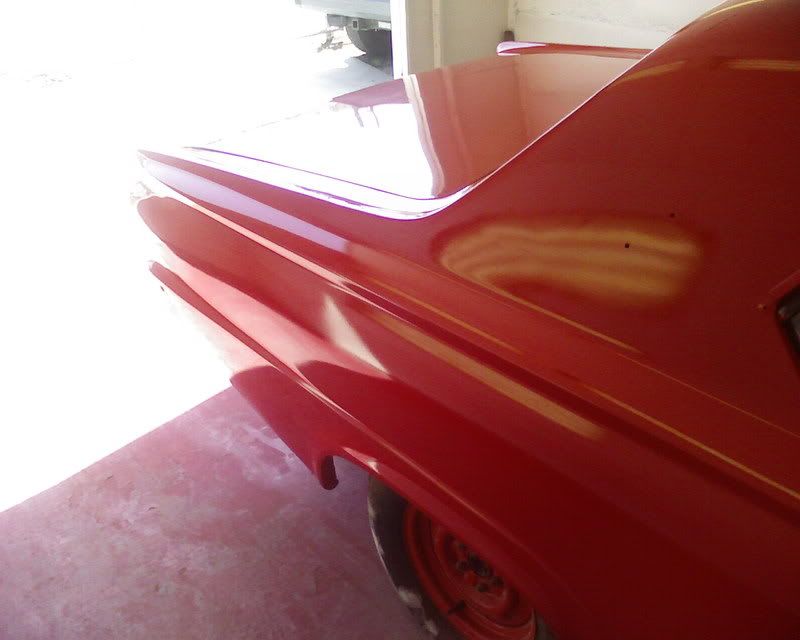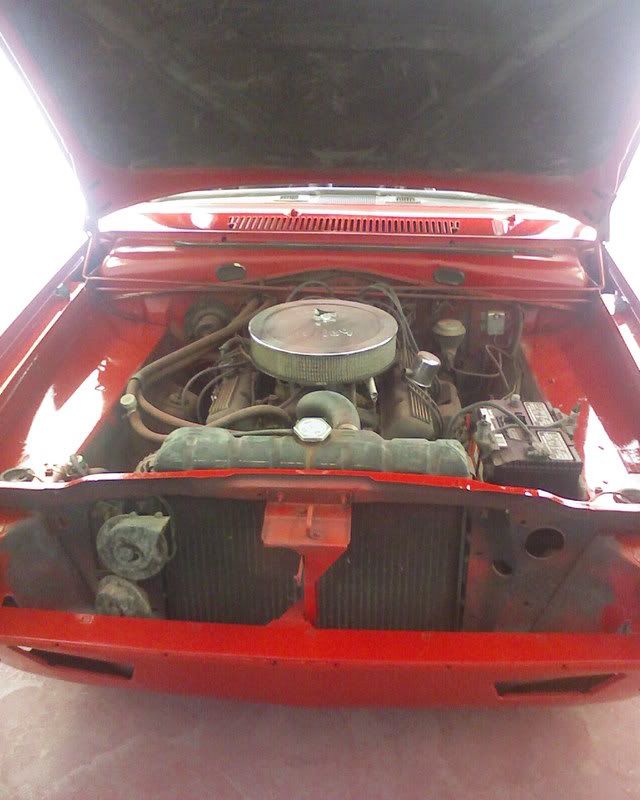 finished the trunk a few days later, here's some pictures of that: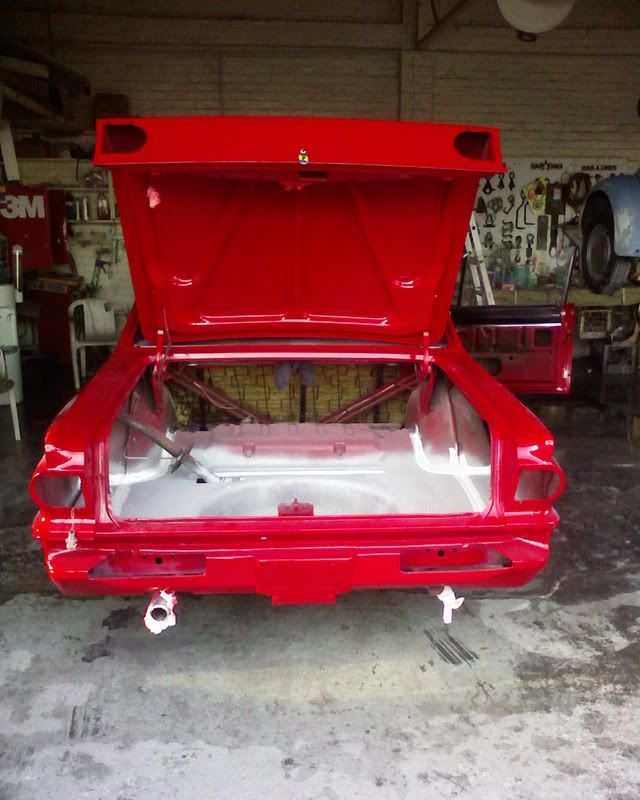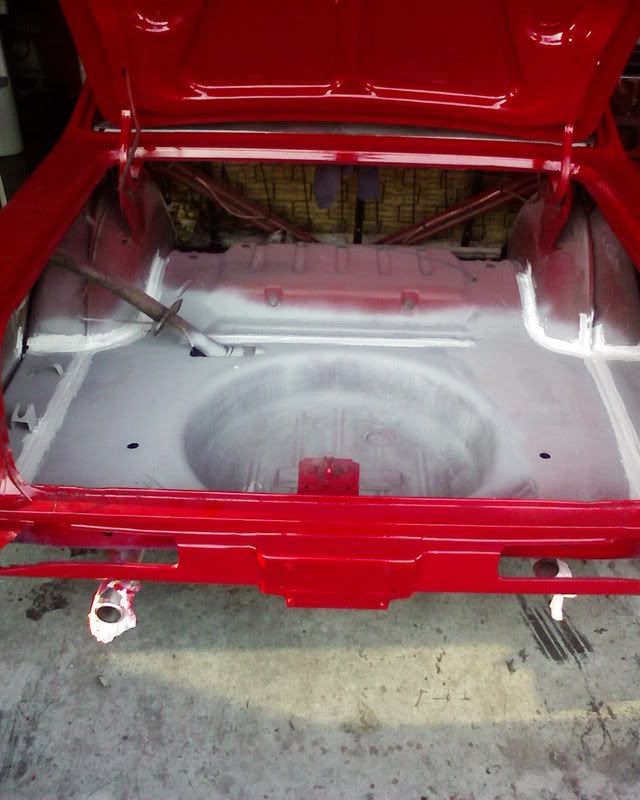 A rust coating will get sprayed on in a day or two and then color matched like they were in the 60s
After the trunk got fixed up it sat for a few weeks. Then it got wetsanded and polished so it could be ready for clearcoat. Heres after the clear was applied: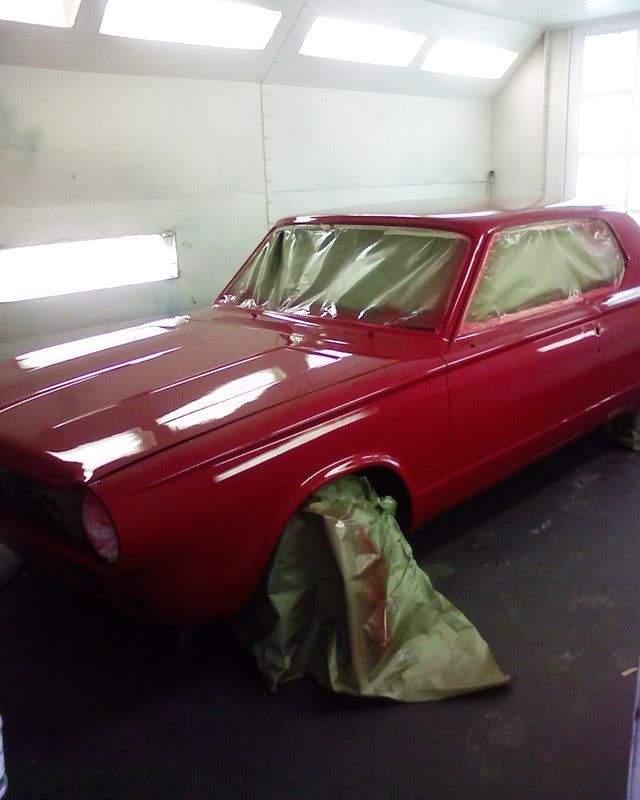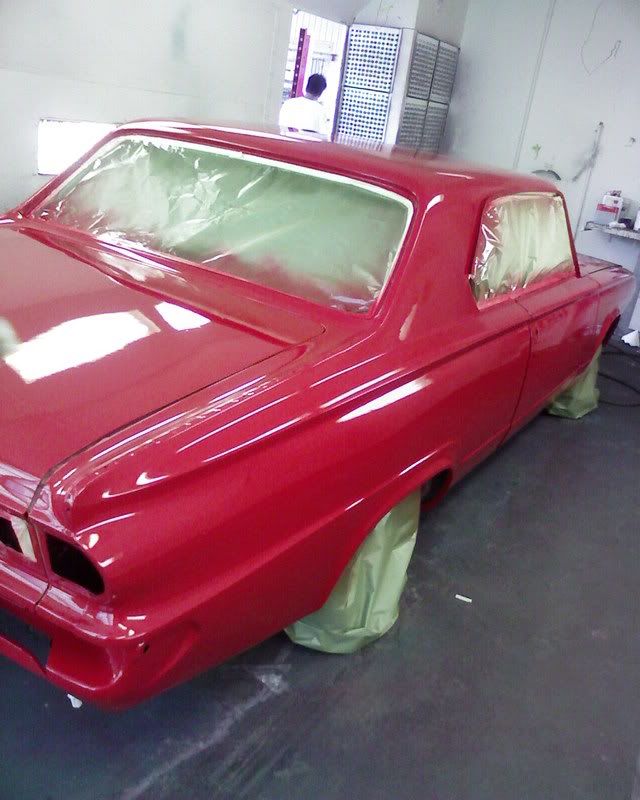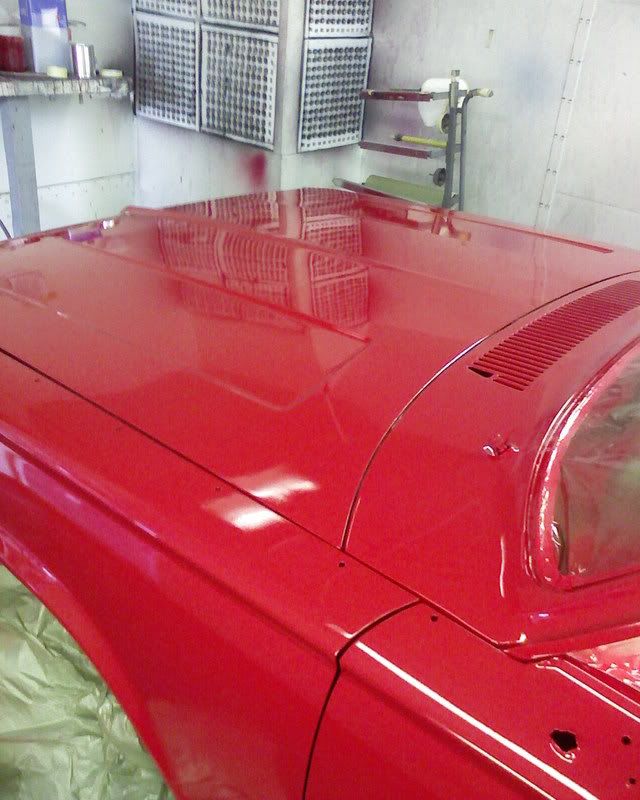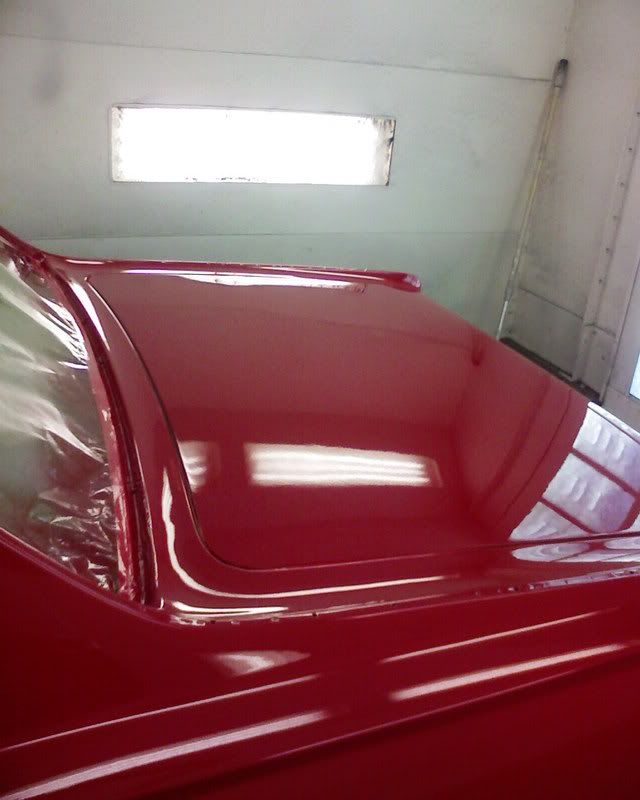 prepping the paint for wetsanding the clearcoat: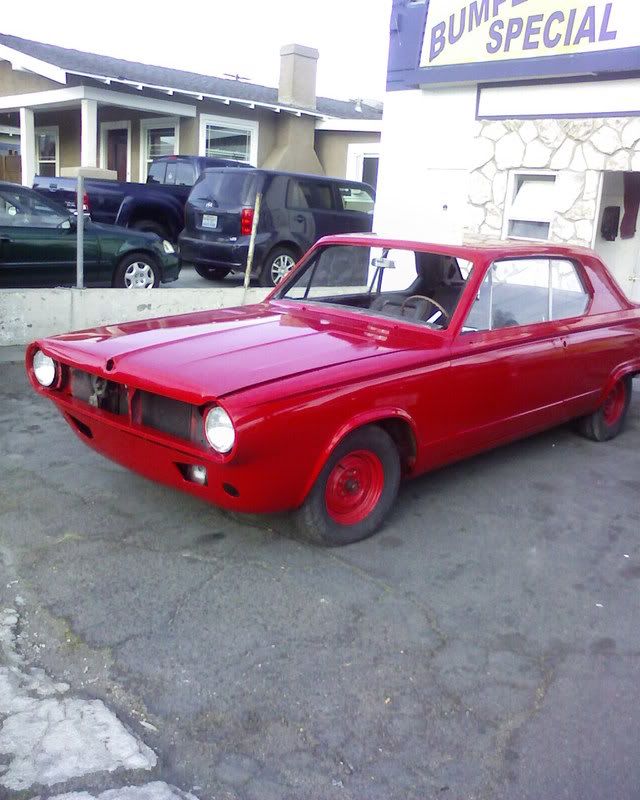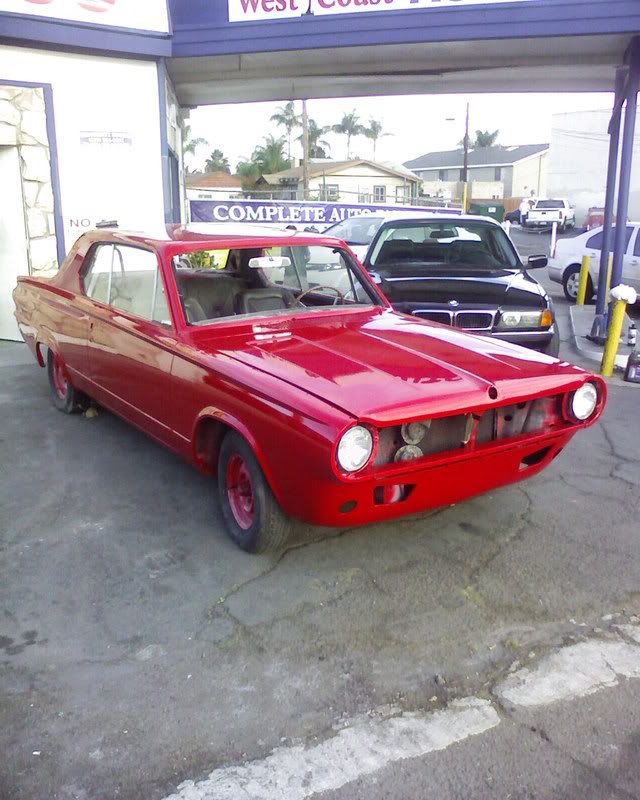 Now it was time to start polishing that trim.... weee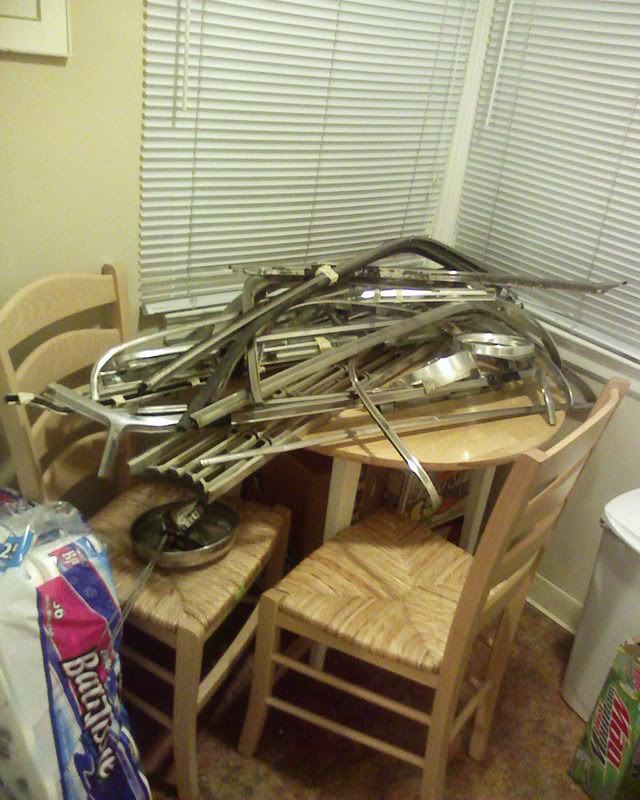 Oh yeah, good times that weekend.
a few weeks later it was time attach all that trim! The of course, windshields..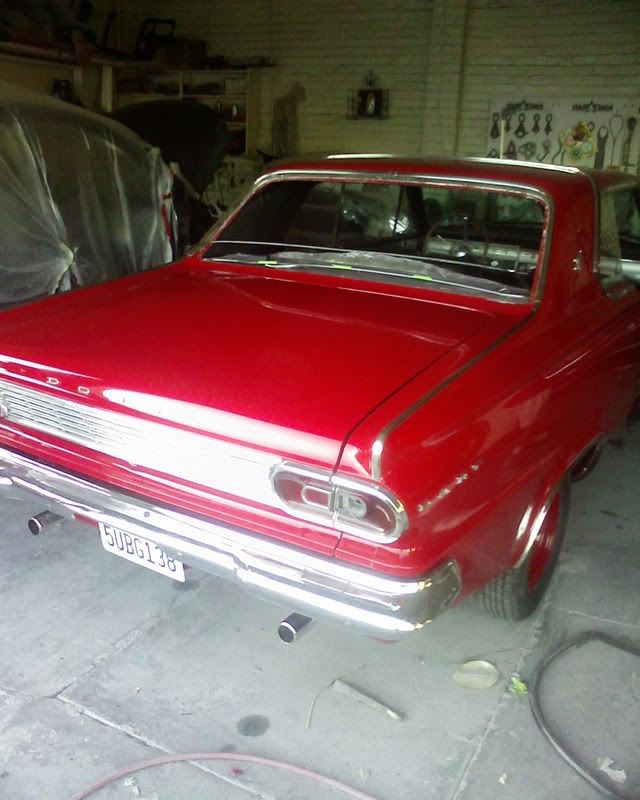 This is after I her drivable again for about a week.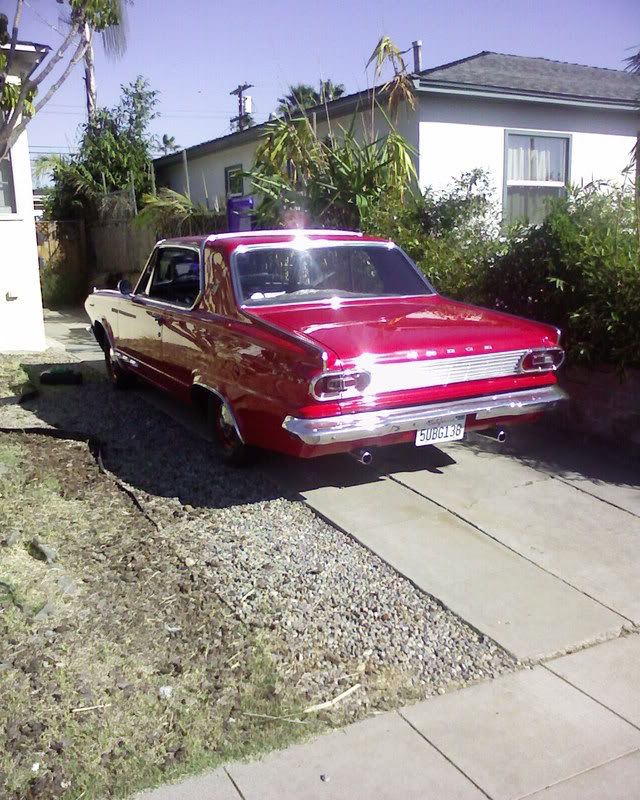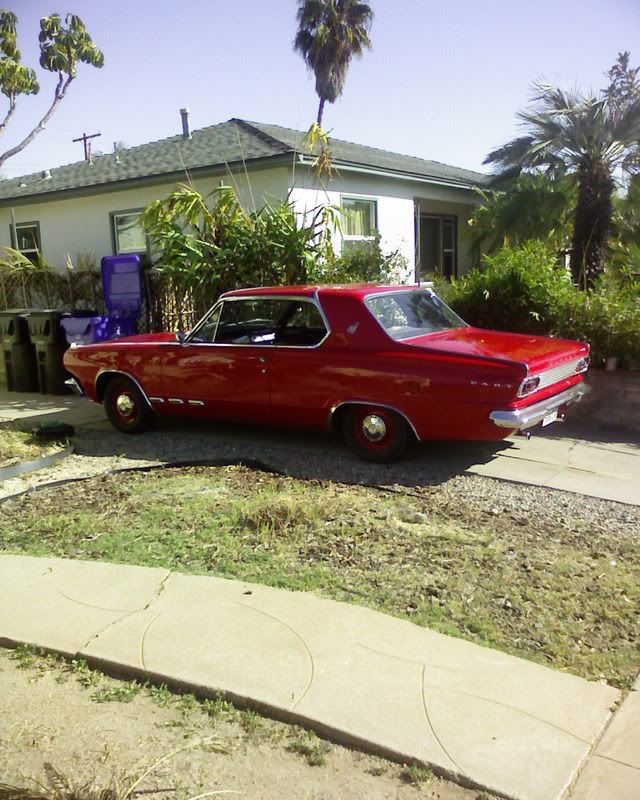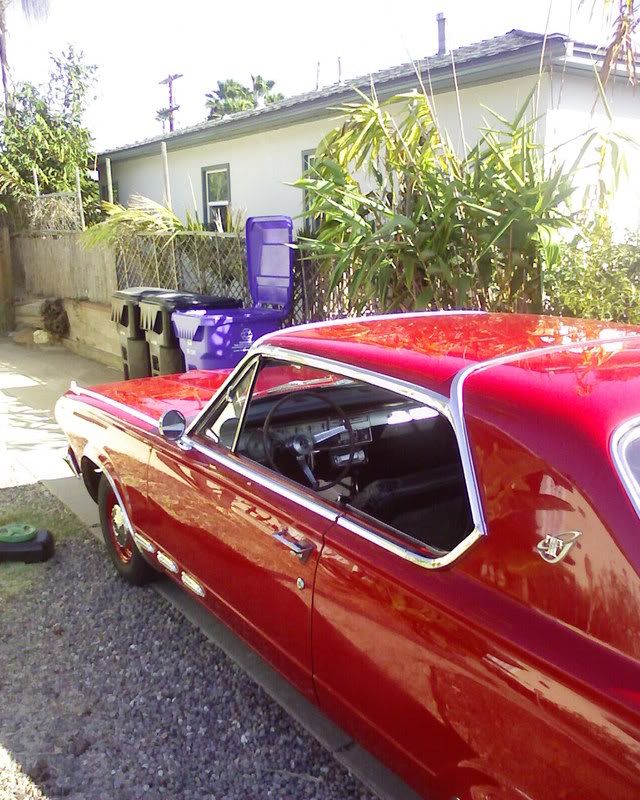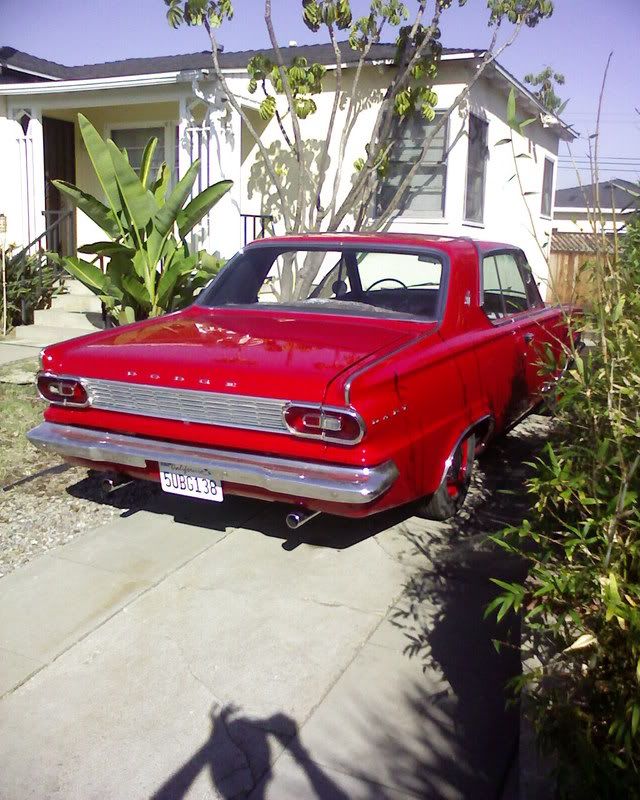 Complete with new headliner! My headliner guy also recovered my sun visors in black leather for FREE! He'll be my guy when its time for the seats. Headliner had to be done in order to get to the screws for the roof trim and side emblems. and since the windshields were out, it was time. It wasnt in bad condition.. but it needed replacing.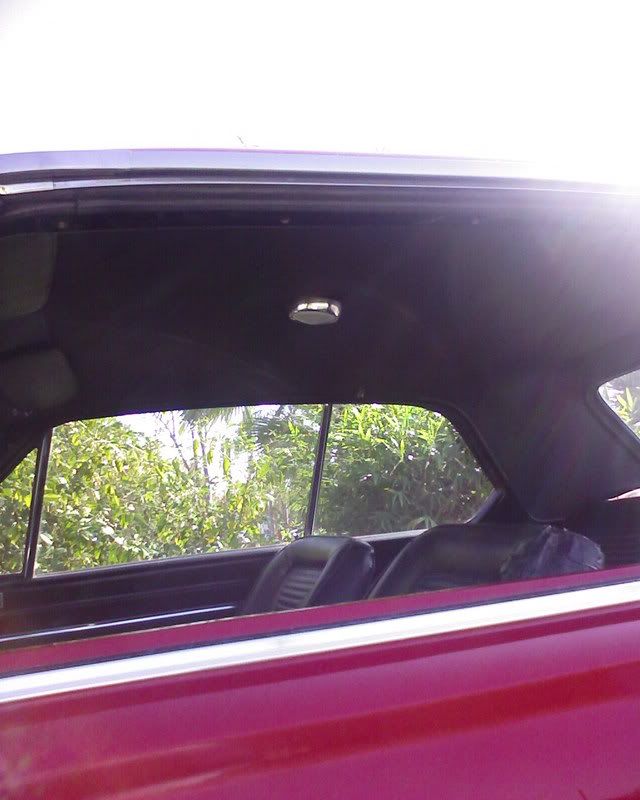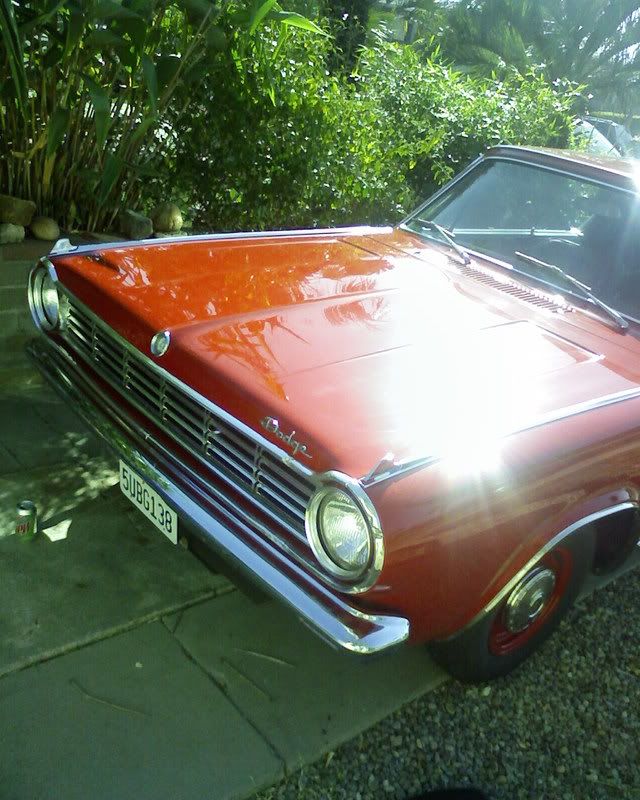 Same day I gave her a tuneup – new plugs, points, oil, and battery. We're devising plans for complete engine/trans/coolant system/break/rear end rebuild right now. Very excited to yank it out and redo!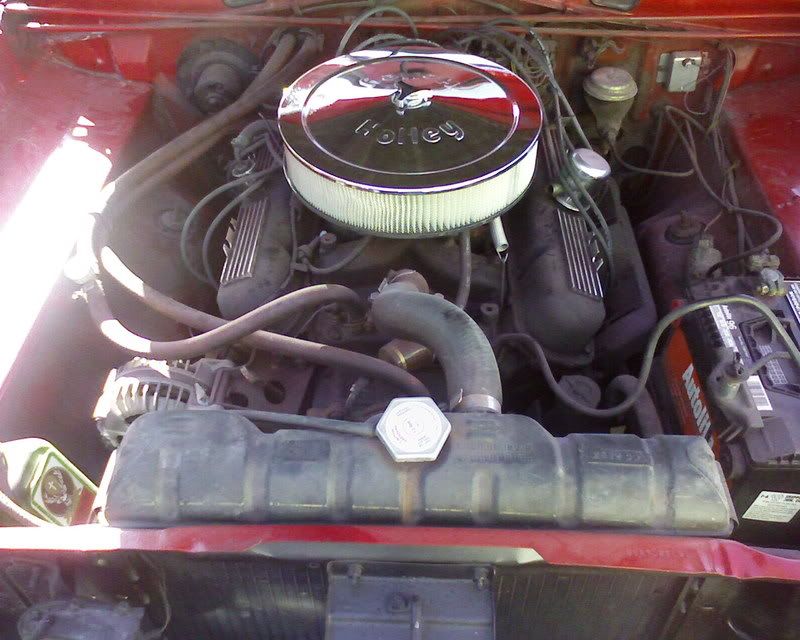 Whats not pictured is the new carpet and shocks on all four corners. a new carburetor and rear end seal was installed a few weeks ago too.
Just finished shocks and the seal for the rear end. Still has a leak in the front, so that'll get fixed in a few days..
Thats all for now. More will come!