Just shipped out by
URD
, they rock
: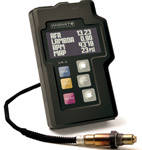 Here is the work I got cut out for me: 1/4 Track run, then;
Remove Header/Reweld possible leaks near Cat conv/Weld On O2 Bung, Dremel & Smooth out all ports on Header/Reinstall Header w/new gasket and lug nuts. Install wideband sensor/plug in scan tool and street tune vehicle/1/4 track run
I think it will be a fun week. Great way to ramp up for Uwharrie. Truck should be in top condition.