Hey guys, figured I would give a little review on a couple intakes I've had and currently have. Both intakes were on my 2005 Toyota 4x4 4.0 V6.
First: AFE Magnum Force Intake- (Past set up)
-This intake was a great intake. The installation was a breeze and everything aligned and bolted up easily, and as it should. The biggest thing I liked about the intake was that it was LOUD! And loud at all times, not just romping on it at 4K. I could hear it working as low as 1500 rpm. The one thing that I didn't like about it was that it was that it wasn't
completely
sealed. All the sides were enclosed besides the one that connects to the fender (where the stock intake location draws air). They just left 'that side of the box' off. That would be my only complaint about the intake. I saw a bit more throttle response over stock and didn't see any mpg gain. But, if you are looking for a fairly inexpensive intake for the NOISE, this is the intake to get. The only reason I got rid of it was because I thought I had a solid deal on a TRD intake and sold it beforehand. Then the deal fell through..
so I was left with stock.
Pic of intake that was on my truck: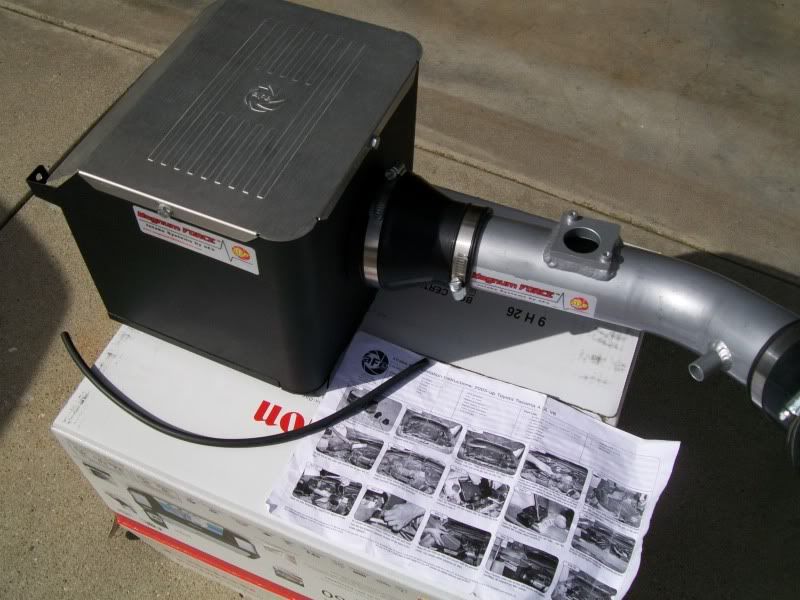 Second: Volant CAI (w/ optional RAM SCOOP)

-I just received this intake recently. The installation was a little bit harder than the AFE, but not too bad. Took around 1hr. The intake took some maneuvering and sliding around until I could get the MAF sensor and all hoses lined up correctly. (One thing that I'm not a real fan of is that the MAF sensor doesn't seem to line up 100% correctly like OEM. Granted, everything works fine just not completely how I would like it too). The VOLANT is 100% sealed which I love. It also fits in the fender wall location perfect. No gaps or anything. As far as performance, my truck seems to have a lot more throttle response over stock, and the AFE for that matter. It gives the truck a nice rumble on start up/idle but is quieter than the AFE (still sounds great though) at all RPMs. I'm assuming this is due to the completely sealed design. I have the optional RAM Scoop on order and will report back when it gets installed!
Overall:
-I like both intakes. The AFE and Volant are the only two brands I have "tested" with and like both. I would like to find another AFE for my 2007 or maybe even try a K&N or TRD. Both intakes sound great and both have their pro's. I would recommend either one to anyone who is looking for an intake for the sound, looks, and throttle response gain. Besides that, I didn't see any real HP and MPG gains with either (and I'm okay with that
)
Pic of Volant Intake (current set up)