I was snooping the late-night internet and stumbled across a significant price change on
Amazon
for the single outlet
Magnaflow
cat back system. I bit the bullet at $380. These are normally $653 online.
I'd originally considered Magnaflow but Flowmaster was closer to my price range. The Flowmaster catback dual kit was $550 but I recently found one for $420.
There are 4 left in stock so go grab one if you need one:
http://www.amazon.com/MagnaFlow-1531...gnaflow+tacoma
Removal:
1) Spray all the rubber hangers with PB Blaster. Let 'em drip a bit & soak.
2) Moved the truck to warm, sunny spot. Lay down tarp & some cardboard so as not to ding up anything during removal. (flat, dry surface, parking brake ON)
3) Remove spare tire (you'll need the room when snaking the stock pipe around)
4) Grab 15mm socket, loosen spring bolts.
5) Loosen rear hanger. Just work it a bit, it will come loose. Do the same for the most forward hanger. Slide under truck, parallel to stock exhaust, place legs on rear hangers, grab pipe and basically hump it until the hangers slip out of the rubber bits.
6) Snake it all out towards the front of the truck. This is where you need the tarp/cardboard whatever to keep from scratching stuff up. Probably a good idea to tape some cardboard or bubble rap over stock tip if it's polished.
Installation:
1) Connect new straight pipe with stock bolts.
2) Hit all those rubber suckers with more PB Blaster.
3) attach muffler, don't clamp down.
4) attach rear piece (be sure to leave protective wrapping on tip until finished).
5) Hit all the hangers with some lube and slip them into the rubber bits.
6) Tighten everything up. Double check all the hangers. Put spare back on.
7) Fire up truck, crawl under and feel for leaks. Turn off and make adjustments.
*8) If you do have leaks and do not intend to weld the exhaust, I advise you go to local auto parts store and grab some Tiger Patch ($4). Put one or two loops of that on each end of the muffler before clamping down pipes.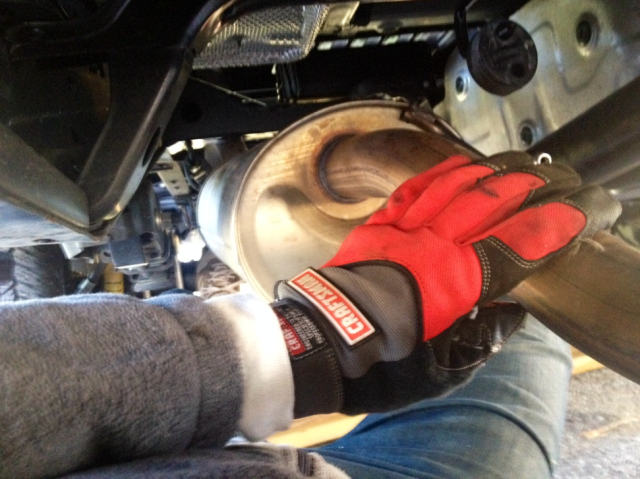 Bye Felisha: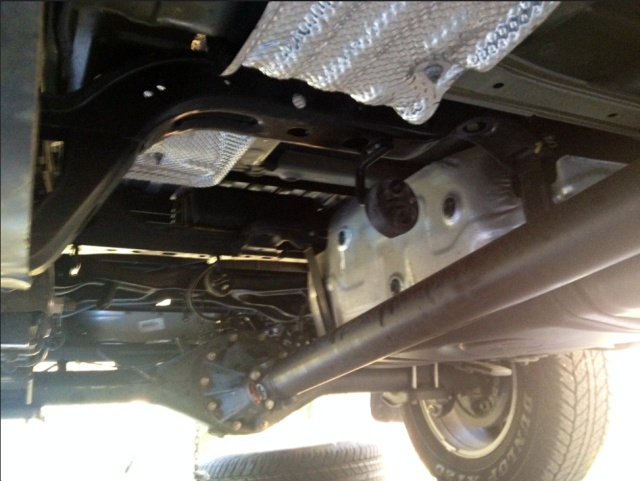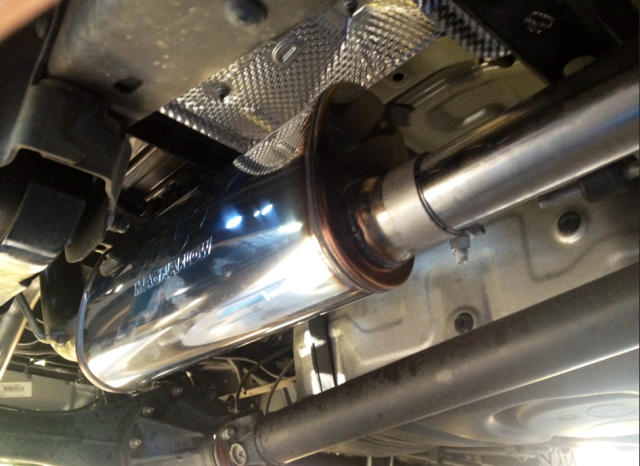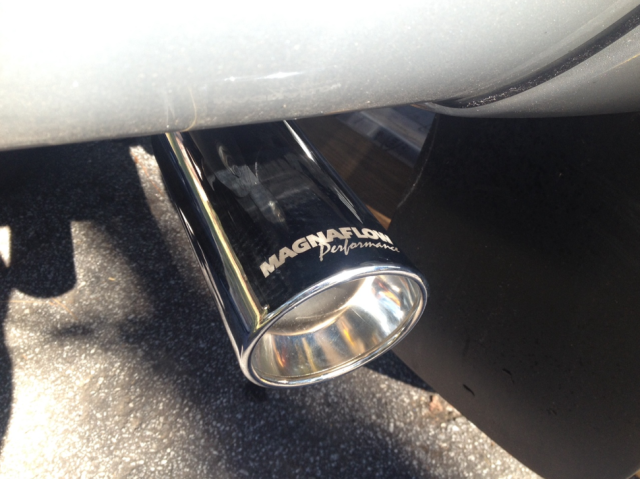 Now, for the sound:

Well.... it sounds like my late-Granddad's '91 S-10 Blazer after backing a boat into saltwater about 100 times. I've just only installed it and I understand there's a 700-800 mile break-in period on these mufflers. Initial crank it drones for a few seconds before settling down. The only drone is at 1100 rpm under substantial throttle. It's nice and quiet on the highway and while idling. My wife & kiddo didn't even notice it until I told them I'd done the swap. I took a video right after install. I'll do another one after 1000 miles to compare.
The main thing I've noticed since swapping intake and exhaust is the idle speed at cold start. The truck originally was up around 1300rpm at idle. After the Volant CAI, idle dropped to 1100rpm. After the
Magnaflow
install, idle is around 750-800rpm. Once the truck is suitably warmed up, idle is around 500rpm.
https://www.youtube.com/watch?x-yt-c...&v=Mei9dg9Wg3Y