So we get a TON of threads regarding what muffler is better, what catback is better, is a catback better then a muffler, so on and so forth.
To help reduce these redundant threads, let's break it down, so any question you can in regards to performance and fuel efficiency will be answered right here. I'm going to try to keep this as short and simple as I can. There is a LOT that goes into exhaust tuning, more then most people care about.
MPG & Fuel Efficiency
- Will a catback or muffler change you fuel mileage?
Simple and straight forward - Not with todays vehicles. With the amount of emphasis put on fuel efficiency intake and exhaust systems will be designed for peak efficiency under normal driving conditions (low load). Changing the exhaust flow will effect performance under high loads, but have little impact on low loads.
If you see an increase or decrease in mileage it is most likely because you have changed your driving habits, even if they are ever so slightly.
Performance
- Will a muffler or catback give me power? Sort of. Depending on your current setup, you'll either make more power, or just change the arch of the power band.
- Which will give more gains? Depneds.
- How is power increased/decreased by changing the muffler or catback?
Short answer, by changing where the volumetric efficiency is the highest. By changing the flow characteristics of the exhaust system you will alter the power band (changing where the volumetric efficiency is at its best). VE is always the highest at WOT. Under partial throttle, VE is going to remain low, meaning fuel efficiency is going to remain unchanged (hence the no change in MPG). In simplest terms, a free flowing exhaust will provide more power higher in the RPM range, where a more volumetric restrictive exhaust will provide more power down low. unfortunately, you usually won't ever have both. Your torque curve is generally a hump, it goes up, peaks, then comes back down. The torque curve represents the power the motor is actually making (HP is a number that is calculated based on torque & RPM which is why its a climbing number that peaks at the highest RPM). I can dive deep into scavenging, exhaust pulses, header design, and so on if there are enough questions regarding optimal performance.
- What size exhaust is best for me?
The better question is.. where do you want to make the most power? Smaller exhaust piping will increase the exhaust velocity. Velocity = torque. So smaller piping is going to give you that power right way, but as you raise the RPMS, and more exhaust starts getting stuffed into the exhaust piping you can see the build up and back pressure that is gonig to happen, this is going to kill your top end. Larger exhaust piping will give you the volume that you need in the high rpm range to keep the velocity up. But your low end isn't going to produce as much exhaust. With less exhaust, the larger piping the exhaust gases are going to slow down creating a traffic jam in the lower band.
I would like to believe that the Toyota engineers knew a thing or to about engine tuning when they designed our trucks exhaust system. And with that in mind, OEM piping is the best all-around size for the vast majority of trucks. And I would recommend keeping the OEM size unless you want to change where your power band peaks.
- Which muffler will give me the best performance?
Again you need to ask yourself where you want your power band to peak. Below are a few pics of some popular muffler designs. Muffler backpressure is going to have the biggest unfluence oh your power band shape. A more free flowing muffler will provide more gains higher up, but could result in a loss of the lower end torque.
There are tons of 'Butt Dynos' claiming power gains from one kind of muffler over another, always take these claims with a grain of salt. The mind can make good things better then they really are, meaning a very sweet sounding muffler will trick you into thinking its faster because you enjoy it more. Only way to know for sure is to look at a real dyno, or flow tests of different mufflers.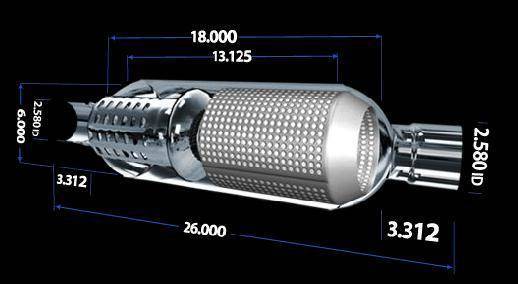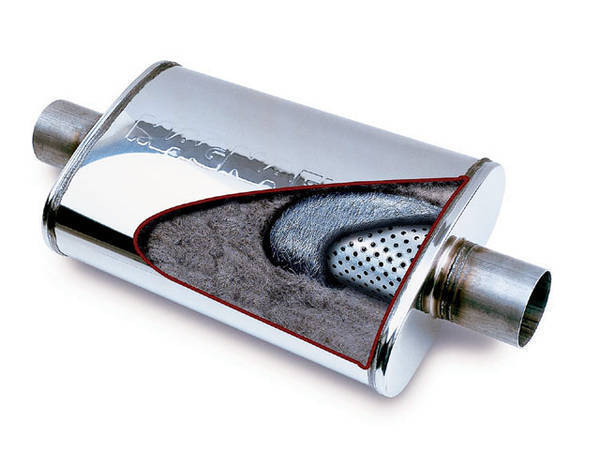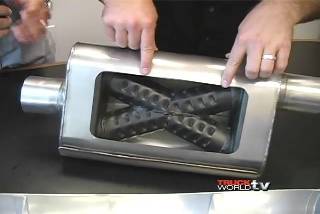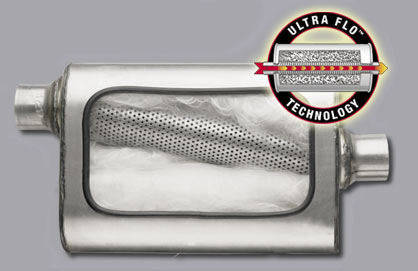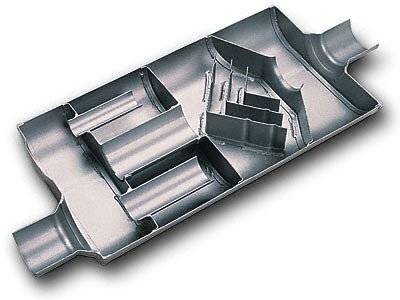 - Do I want a muffler or a full catback?
Our exhaust is mandrel bent from the factory, meaning unless you plan on changing the pipe size of your exhaust, or doing a dual setup, the OEM will perform just as well, so find a good muffler. Now if you planning on running boost, or wanting to make more high end power, then larger piping is what you want.
So now that you have a good idea on the performance aspect of a muffler.. the next question, and arguably the most important one... the SOUND. Your gonna hear it, your neighbor will hear it, and that cutie that lives down the street from you is gonna hear it.. so make sure it sounds good.
Please feel free to ask questions. There are a number of members here that are also knowledgeable about exhaust tuning that can chime in and help as well.