I have done some reading on here & ALOT of people seem to have questions about exhaust systems for there truck.
I wanted to post some pics of the Custom True Dual setup I hade made so everyone can see how I did it & I also explain why I did mine the way I did. Hopefully people will use this info & get ideas for there own custom setups!!
& also let everyone see that you can go above & behond whats available besides the typical "bolt ons" that are out there
I wanted a "true Dual" setup all the way through that would be a high flow/ high velocity system. So I came up with this Sport Truck style setup....
I had the exhaust exit threw the right side of the truck before the back tires. By doing this you eliminate around 6-7 feet or more worth of tubing!
This means less weight. As well as the exhaust does not have to travel as far & therefore will exit the vehical quicker.
The quicker the exhaust can get out, the better/snappier your throttle response will be.
The shorter exhaust system will also give you better gas milaege, better/snappier throttle response, more horspower & torgue, & a very deep aggressive unique sound.
This setup also eliminates around 5 bends/restrictions or so in the exhaust as it no longer has to curve around the rear axle.
Anyways enough of my babble Lol, here's some pics!
Here's how it was done, these pics were taken by a camera phone so they arent the best quality.
Also I recently went mudding & didnt wash underneith my truck Lol.. So it's a lil dirty!!!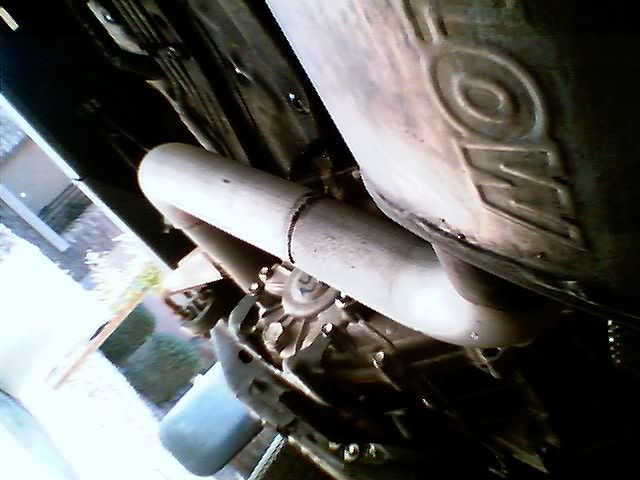 The system was desgined to use the Factory Hangers
Right hanger-
Left hanger-
The design is very simple! Cut the stock pipes off, run a straight pipe on the right side. Then use two mandrel bends on the left side! You can either cut your stock pipes before or after your back 2 cats & then weld the new pipes to the old ones! Very simple.
Believe it or not thats actually a stainless steel
Magnaflow
muffler those pipes are connecting to!
I orignnally had this setup done with two Flowmaster mufflers & it sounded HOrrible!!!
I would not recommend anyone get flowmaster!!
Not only did it sound like crap but it feels faster & has better response with the magnaflow. Has a real nice deep grow to it also =]
Specs; The pipes are 2.5" mandrel bent tubing & the muffler is a Stainless Magnaflow with an X-Pipe built into it. Then used two 4" stainless exhaust tips to top it off!
from the muffler the pipes are then ran straight back a few more inches & then bend out to the right before the back tires, one simple bend! Also notice the angle of the bend, obviously had we used too much piping and done a 90 degree bend instead of a 60 then that would be more restictive!
again the pipes are a lil dirty Lol.. But you can see how it was done!! is the point!
The hanger on the Right uses the Factory mount, the hanger on the Left was added for extra stregth.
Let me know what you guys think! I wanna hear opinions =]
Also let me know if the pics dont post because this is my first post on here, not sure if I did it right?