Here's the original truck: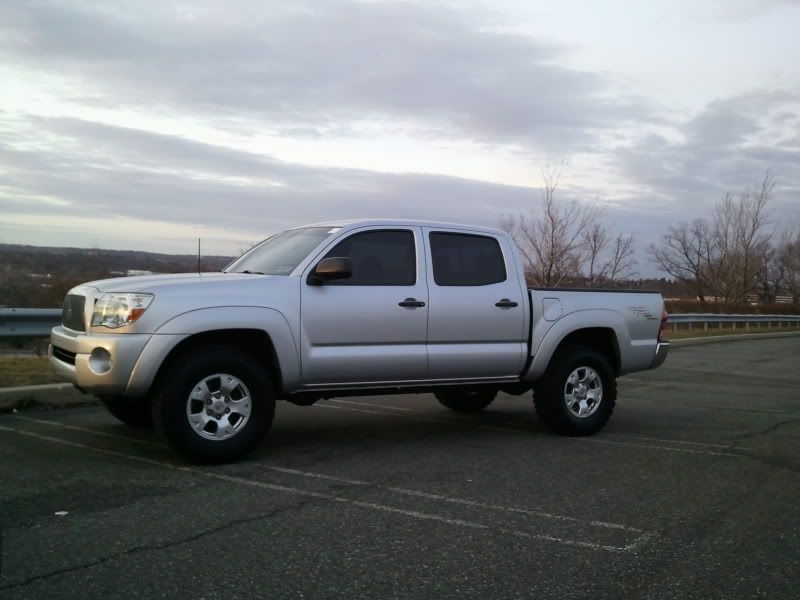 Step 1:
Trace out the wheel and fender. Cut it to a new layer.
Step 2:
Trace out the back wheel and fender as well and cut to it's own layer. Repeat for each visible wheel (including the wheels in the background). Each wheel should be in its own layer.
Step 3:
Select the primary layer. Using the move tool, shrink the horizontal size to about 40-50% of its original size. Notice that the wheels cut to another layer are not affected by the resize.
Step 4:
Position the wheels over their original spots. Don't resize yet. You want the wheels to remain at their original size. As you can see from the picture below, the fenders are too large. So we need to trace them out and cut them to their own layer.
Step 5:
Trace out the fender and cut it to its own layer. You want it in its own layer so that it can be resized without affecting the tire. It doesn't have to perfectly follow the line of the fender. Just get it somewhere between the tire and the fender, without touching either.
Step 6:
Resize the fender. You don't want the fender its original size. Just look for something in between where you are now and its original size. It's okay if it covers the door. Note that it defaults to below the tire layer (it covers the tire and looks wrong). After sizing, I move the tire layer so it's below the fender. That way the tire is the primary thing you see.
Step 7:
With the eraser tool, trim away any portion on the tire layer that doesn't look right. In this case, I have a black fenderwell that is covering the fender and there is some pavement that is a different shade. Also trim away anything that should be covered by a fender (e.g. front of the front fender). Repeat step 5, 6, & 7 for the rear tire.
Step 8: Position the tires on the opposite side of the truck, if any. Also, clone any missing parts (e.g. pavement, fender/body mismatches).
Step 9:
The truck is complete. Merge the visible layers down. If the user wants the truck in a different background, trace out the truck and move it to the desired background.