100-watt 7-inch Off-Road Lights
So Here is the website description...
BL-805c Lamp Kit Specs:

(2) 100 Watt 4100K Xenon White Halogen Off-Road Lamps with Preinstalled Bulbs

Photometrically Designed Hardened Glass Lenses

Adjustable Mounting Brackets Fits Most Light Bars or Attaches to Bumper

Factory Style Switch Illuminated Toggle Switch

Complete Wiring Kit with Fuse Included

Removable Black Lense Guards

Installation Directions Plus 1 Year No-Fault Warranty Included
__________________________________________________ ___________
I installed these lights tonight and boy did their wiring make everything a breeze. So simple with all the clips already on the wiring!
The only thing I would like to see done is the wiring from the batter to the switch made 1'-2' longer for convenience of installation.
The longest part for me was fabricating and welding on some tabs for these lights. After that they went on like they belonged!
Great mounting hardware on these lights. Provides for ALOT of adjustment.
I just temorarily wired up the lights to test them on my drive home at night. I wasn't really sure what to expect since I don't have a whole lot of auxiliary lighting experience (only used once before on roll bar). But man these lights sure are bright, and you can easily tell the difference.
I will be posting some pictures from inside the cabin to show comparison with stock headlights hi/low beams and stock fogs once I get them adjusted properly.
The quality of construction for the price is very good. Only thing I'd be worried about is the covers popping off under high G's
Shouldn't be a problem in our trucks though
Here are some pictures...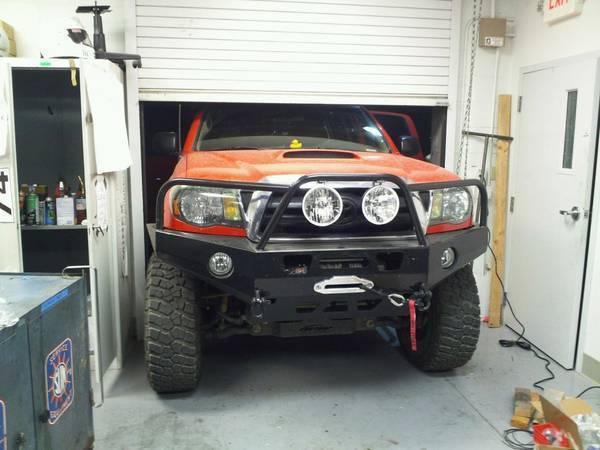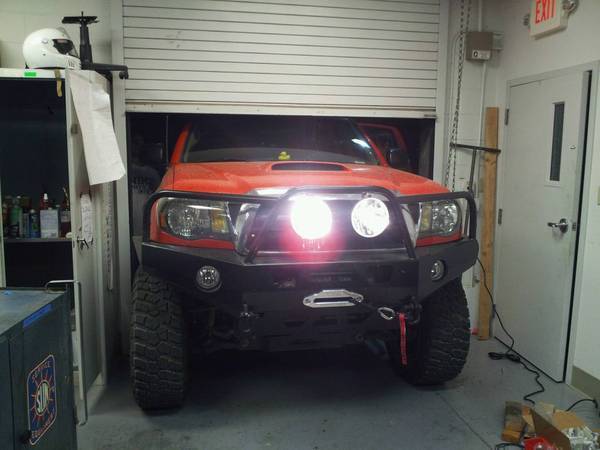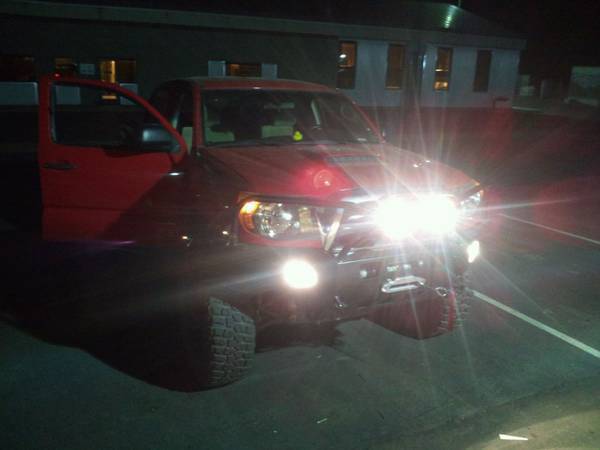 Told you they were bright!
**I will periodically add more pictures/insight with more use