Sup all. Just wanted to put out some info on this product:
First, you can not beat the price
URD
is selling. Saved me over $100.00 easy.
Also, a must have if you are tuning for purpose of MAF Cali and such.
There is no how to. Just plug into your OBDII port, and hook up the Wide Band, (via the O2 Bung being welded in).
I was able to monitor AFR/Open loop/Short term fuel trim/long term fuel trim all on same screen. This made tuning my Taco alot easier to tune. I must say, a more experienced person could probably add some more horses to my truck. But, thanks to the LM-2, and Gadgets PDF instructions, I was able to do a pretty damn good job for an amatuer.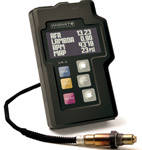 In closing, the LM-2= Great product. The fact that URD provides these products and services for our Tacomas = Priceless.
Enjoy