I have seen a couple threads about gps/phone mounting options instead of using the windshield suction mounts, but this thread will show you how to install the Panavise Mount [2] and the things you will need. I originally had the Arkon TomTom air vent mount [1], but every time I hit a pothole or speed bump I thought my air vents would break, so I went ahead and purchased an indash mount from Panavise [2]. The Panavise mount [2] slides right in next to your HVAC controls. It is made specifically for 2nd gen Tacomas. There are other options, some of which are mentioned in other threads), but for me, this was the option that I liked the most.
Step 1: remove HVAC control I followed spithead051's post [5]. There are 4 white tabs in each corner, (shown in the picture below) that need to be unclipped from the top and bottom of the HVAC control unit. I used plastic trim removers [3] to remove the HVAC control.
Quote:
Originally Posted by
spithead051
1. The first thing you need to do is remove the HVAC control unit from the center console. I didn't take a picture of this but you will need one or two small screwdrivers to pry at the top and bottom to carefully work the module out. It can be tricky so be careful not to damage your dash!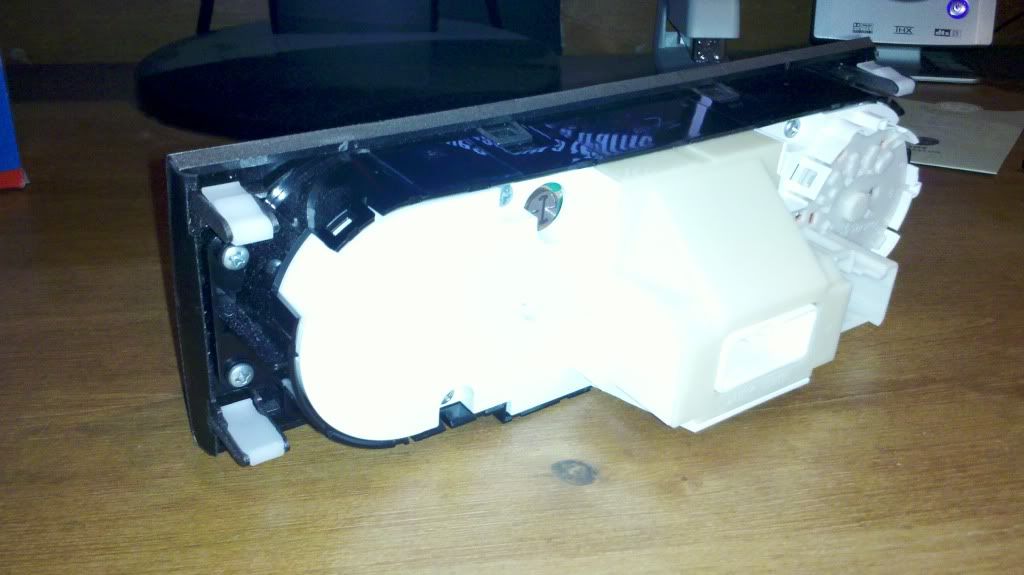 Step 2: Insert the Panavise InDash Mount [2] on the right side of the HVAC control unit. The mount came with screws to attach the mount to your dash, but I elected not to use that and use 3m double sided tape that I had laying around and taped the mount to the center console (you may not even need tape).
Step 3: put HVAC control unit back
Step 4: attach adapter [4], which came with nuts and bots, to the Panavise InDash Mount [2]. According to
Amazon
, the adapter [4] are for garmin gps, but you will need another adapter to fit the TomTom XXL gps. If you have a garmin gps, you should be done now; however, if you have a TomTom XXL or similar gps, proceed to step 5.
Step 5 (for TomTom XXL gps): I already had the TomTom adapter from my air vent mount [1]. I did not see anything on Amazon to purchase just the TomTom adapter, but I am sure you can find that somewhere.
If you are doing the install with a TomTom XXL gps, you can connect your gps and are now done. The panavise mount [2] has many holes drilled for other adapters, so I am sure you can find an adapter for tablets and/or cell phones. It looks like it might also be possible to expand the mount to hold multiple devices.
I have yet to take a drive with the mount (will be doing that tomorrow), but I have tested the mount to see whether or not a passenger's legs would hit the mount. The mount with a TomTom XXL gps does leave enough room for the passenger's legs, but if you mount a tablet (I am not sure if you can, but I don't see why not), the passenger may be somewhat uncomfortable. Pictures will be posted once I get a chance.
The install was very simple and I hope this thread is useful. Thanks for reading.
References:
[1] Arkon TomTom air vent mount ($14 from Amazon):
http://www.amazon.com/TTEP129-ST-RVC...tom+vent+mount
[2] Panavise InDash Mount ($18 from Amazon):
http://www.amazon.com/gp/product/B00...ls_o01_s00_i00
[3] Trim remover ($5 from
Harbor Freight
):
http://www.harborfreight.com/5-piece...set-67021.html
[4] Arkon adapter ($6 from Amazon):
http://www.amazon.com/gp/product/B00...ls_o00_s00_i00
[5] Spithead051's "How to: Paint HVAC controls" thread
http://www.tacomaworld.com/forum/2nd...-controls.html