I have had my Goodyears on for about 10K miles, and I thought I would share my opinion on them.
Goodyear Wrangler MT/R
265/75/R16
Load D
On road use: I am pleased with their on road handling. They are not a super load tire, but by no means are they quiet. Tight corning is difficultat a high rate of speed, so you'll need to slow down for curvy roads.
In rain they still handle well, I haven't felt much if any slip in the rain. Ice and snow they still handle well. They clear fresh powder extremely well. They remain solid on ice and packed snow. On daily driving they do seem stiff, rough roads will rattle a bit but I am using Bilstein 5100's.
Off road use. This is where the Mtr's shine! Air this baby's down to 15psi. With a load D the side walls flex very well. They will clear sticky clay and hold firm on hills. In loose rock they will dig if you go to fast. On larger rock the will grab and not let go, even in the rain. Even smooth slippery river rock is no problem for the mtr's. At Holister I was able to climb a super slippery raven full of tree roots with ease, I was also able to park on a muddy down hill with out slipping. I have rubbed these against ragged rocks and tree root with little side wall damage. The side wall lugs are great for climbing out of ruts and the side of rocks.
I would recommend rotating as oftem as 3-4k miles and go front to back on the same side.
As long as the milage hold out on these, I would highly recommend them for a MT tire. And do your shopping on these, the price vary widely with tire outlets. I bought mine at
Americas Tire
, they match the best price I found.
Here you can see the flex of the side walls and the tires are at 20psi.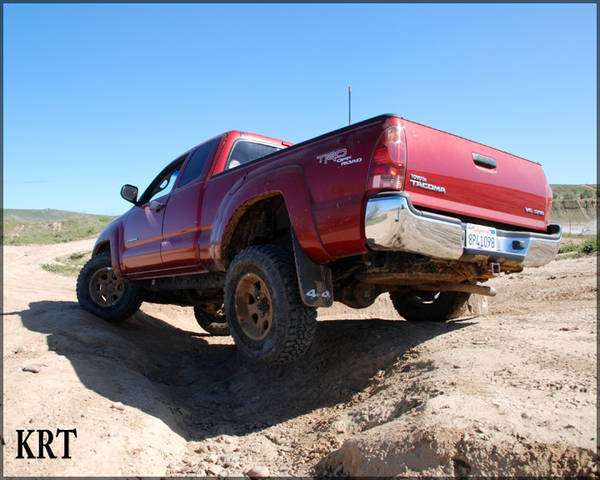 Any one else running MTR's want to put there opinions of them.