Fresh release for 2012!
Completely redesigned, All-new 2012 Tacoma front plate bumper matched to the styling and lines of the new front grille/headlights.
View this item on our website
HERE
Bumper highlights:
* 3/16" thick CNC cut and MIG welded steel structure with additional frame reinforcement plates standard, winch mounting plate (for 8000-9500lb non-integrated solenoid winches with the standard 4.5x10 mounting pattern only), 3/4" thick steel recovery points, hi-lift notches, and grade-8 hardware is standard!
* Recessed winch fairlead mounting area for greater approach angle, cleaner look.
* Optional recessed fog light cutouts for 4" Piaa or similar fog/driving lights
* Optional top tubing. Center light bar hoop, or full front end guards available
* Optional logos/graphics/whatever can be cut into the steel via the in-house CNC plasma table (at a surprisingly low extra cost!!). This is your chance to make your bumper unique! I can also do any custom mods to the basic design (within reason of course) for only minor additional fees.
* No vehicle modification necessary to install.
Bumper pricing:
*Base 3/16" steel plate bumper with standard 3/4" thick recovery points, hi-lift notches, and standard winch mount in bare metal: $799 + shipping ($925 + shipping for Aluminum version).
No powder coat currently available, sorry.
Option add-on's:
*Recessed fog light mounts for 4" aftermarket lights: add $50; $65 on Aluminum
*Center grille section tube hoop, 1.75" tube: add $75; $90 on Aluminum
*Summit guard, hoop with brace bars add $115 steel; $130 on aluminum
*Predator guard full top 3 hoop tubing (center section and headlight protection, 1.75" tube): add $150
*Other custom requests: $TBD Ex. Custom CNC cut 'Tacoma' or 'TRD' in lower skid, or other logos/images for only about $20 additional!
Shipping:
Shipping is through Fastenal Blue line freight. Fastenal ships from one of their stores to another, not to a home or other business addresses. To look up your local store, enter your zip code
HERE
. These bumpers are pretty big (around 115lbs base bumper) and require being strapped down to a pallet and freight shipping. I don't charge anything for the pallet, nor my time of packaging them all which deducts from my overall profit from the bumpers, so I assure you i'm not making a penny on shipping fees and you're getting the good side of the deal!
Shipping price breakdown by location:
Pacific time zone: $75
Mtn time zone: $100
Central time zone: $125
Eastern time zone: $150
Hawaii: $150
*** If interested in ordering rock sliders, a rear bumper, or skid plates in addition to a front bumper, I can ship them together for only an additional +$20/item to the prices listed above. For the guys on the east coast, this can save you as much as $260 versus buying and shipping each item separately!!!
Notes:
see attached PDF file for my product liability disclaimer statement.
Bumper installation:
Installation of the bumper will require: NO vehicle modification! Just remove your factory front plastic bumper and aluminum impact bar and fasteners, and bolt the new bumper in place with basic hand tools.
Installation on 5-lug requires drilling 2) 1/2" holes into lower crossmember for additional mounting support where 6-lug has holes from factory.
Product images:
Base/fogs/Predator tube/TRD cut shown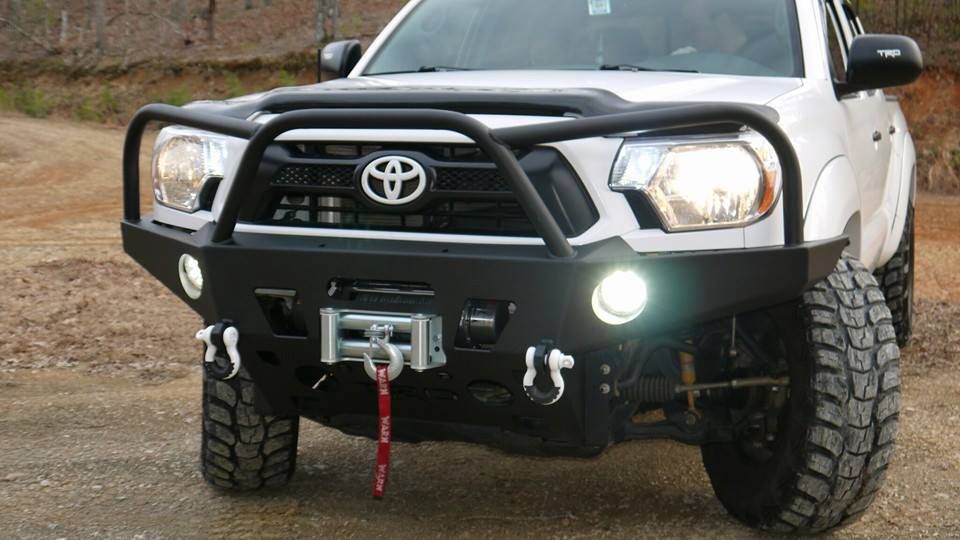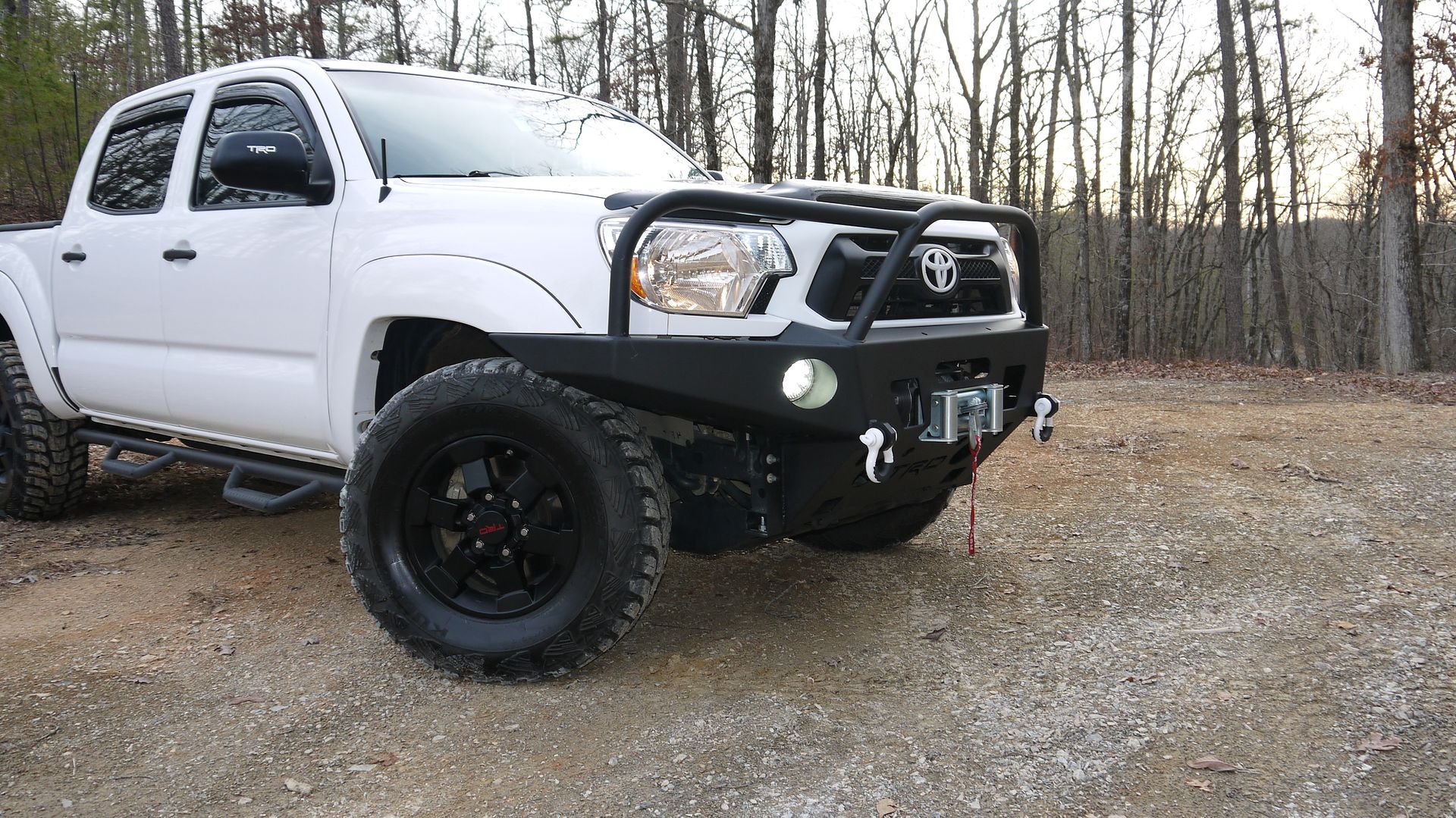 Base/fogs/winch delete custom cut shown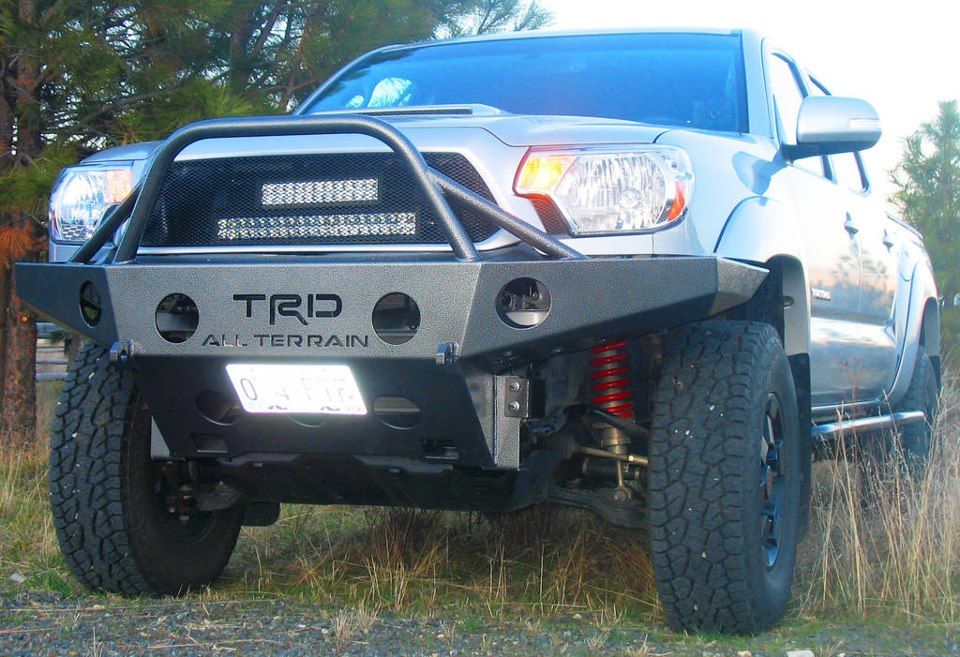 (Prototype bumper shown below on 5-lug tacoma for mock up)
Base front bumper with fog light recess option: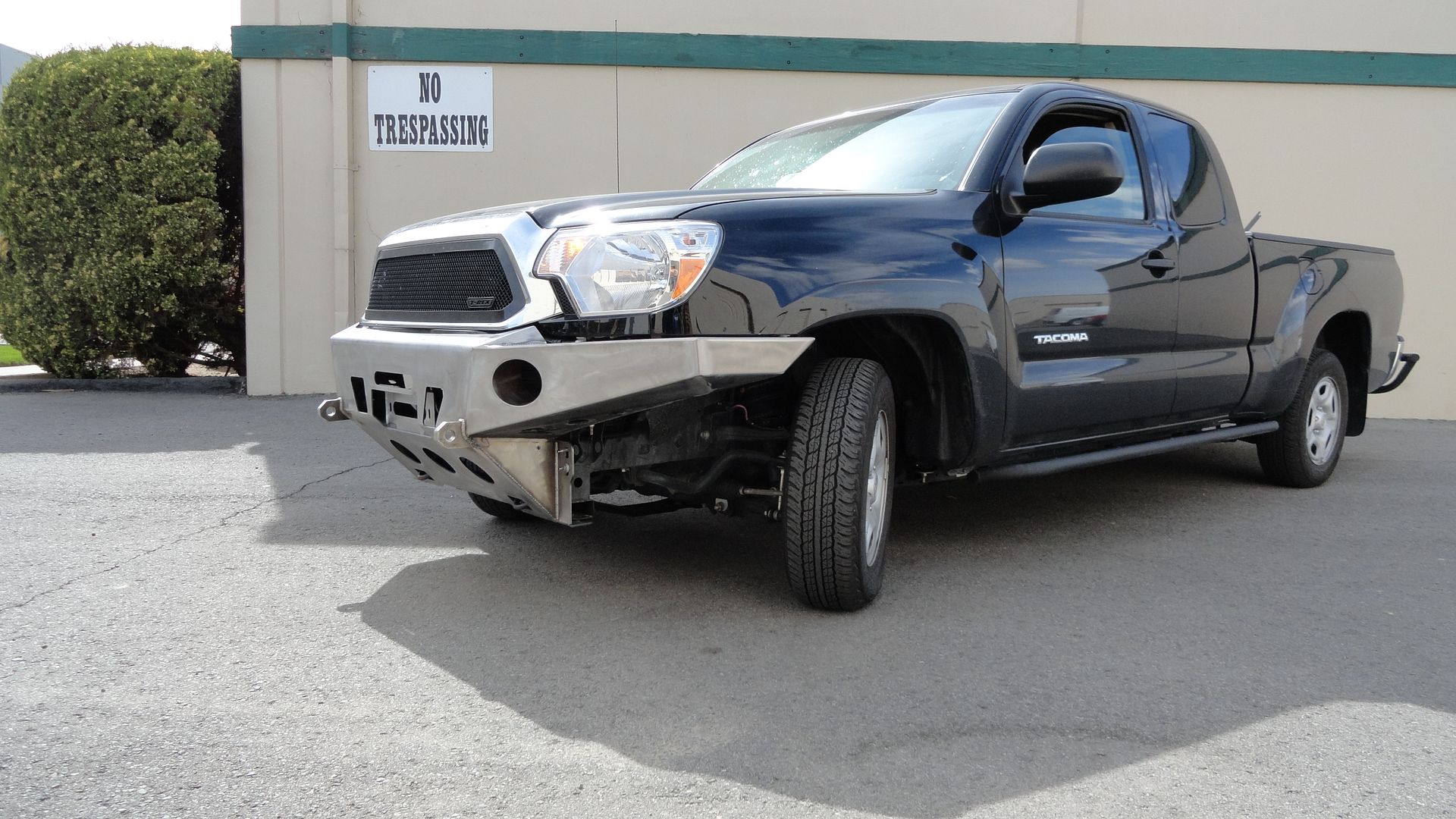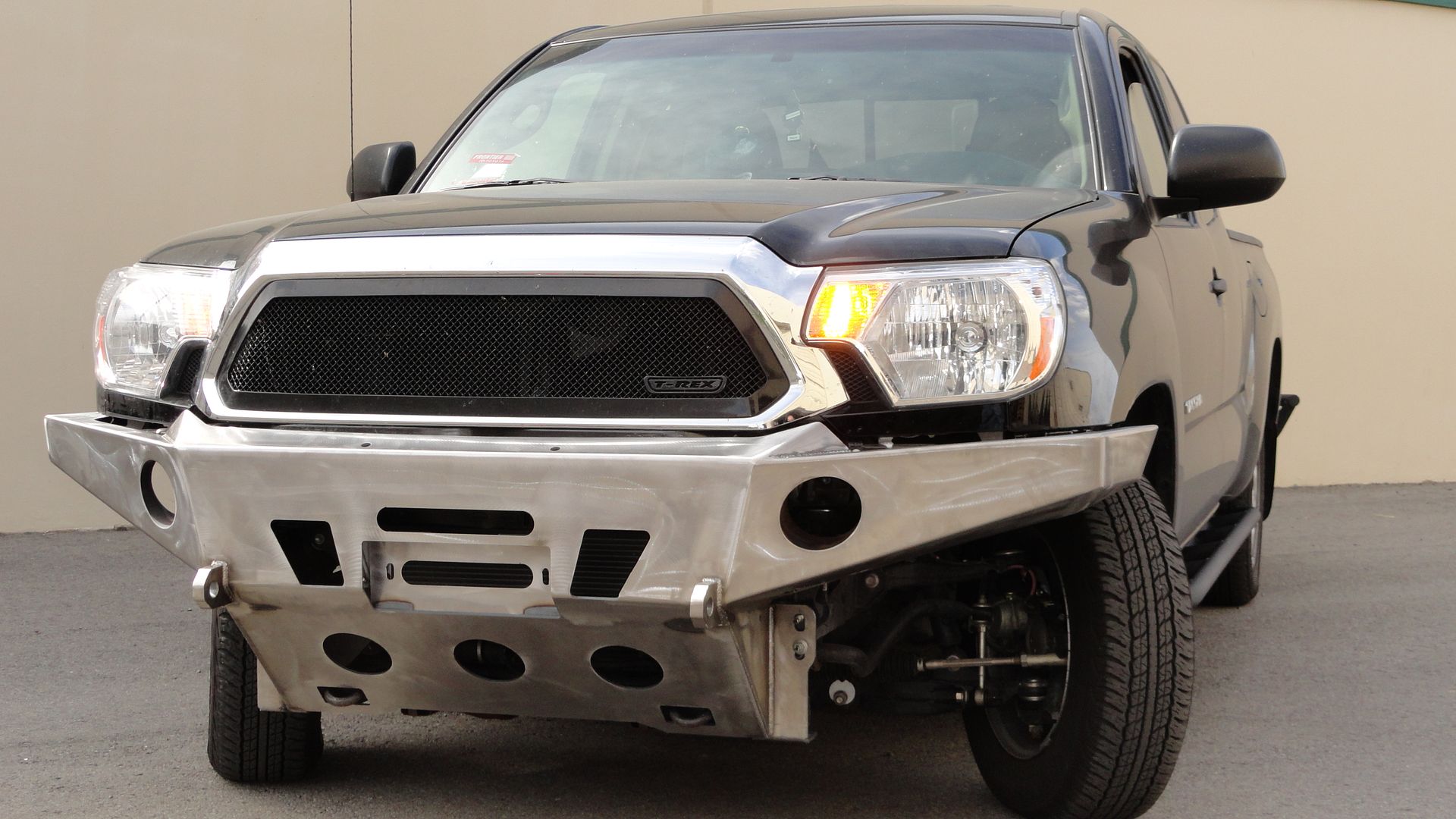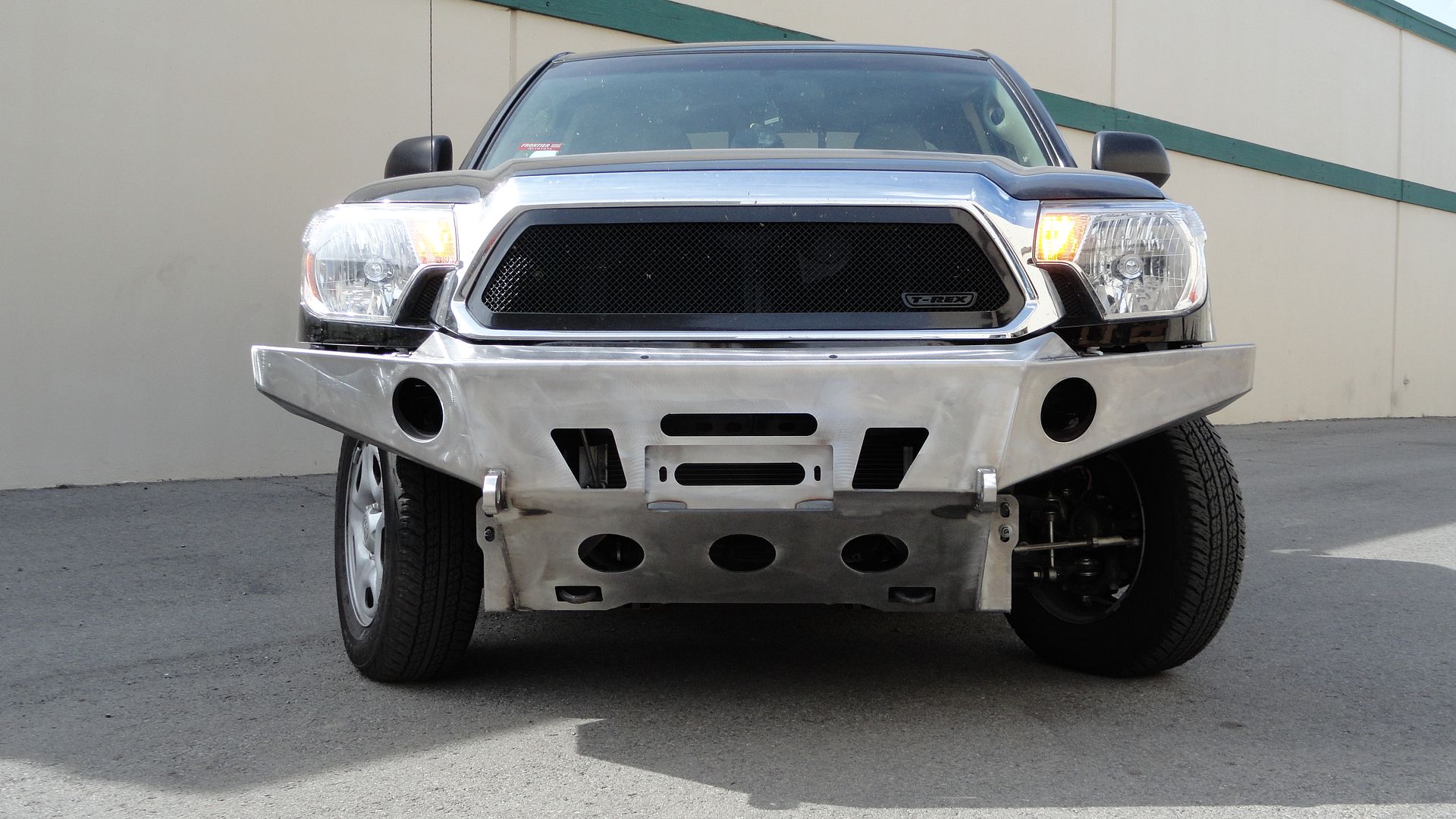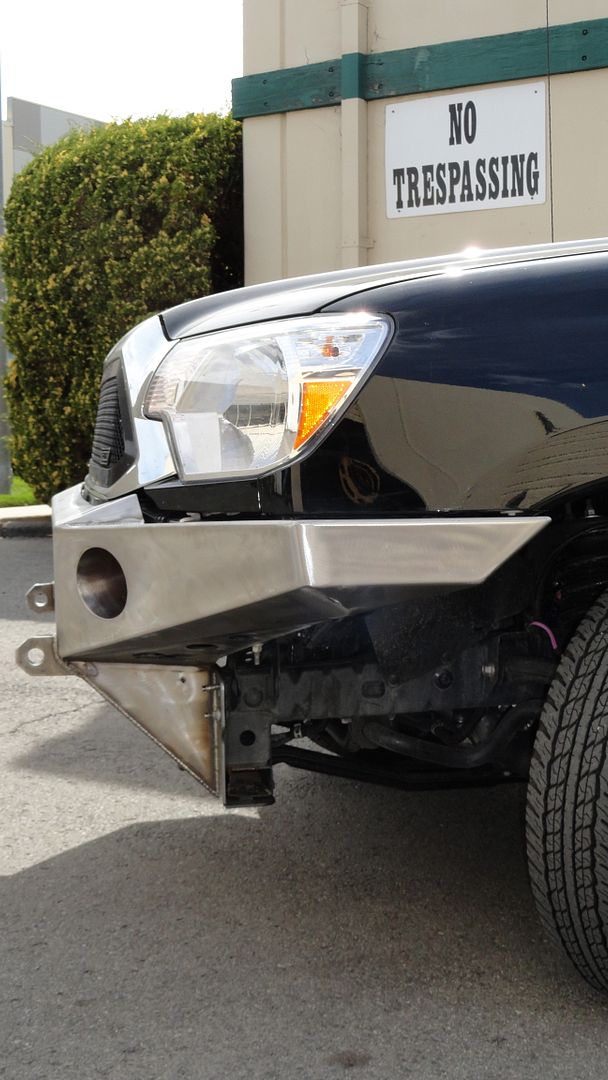 Shown with optional fog light recesses and center hoop: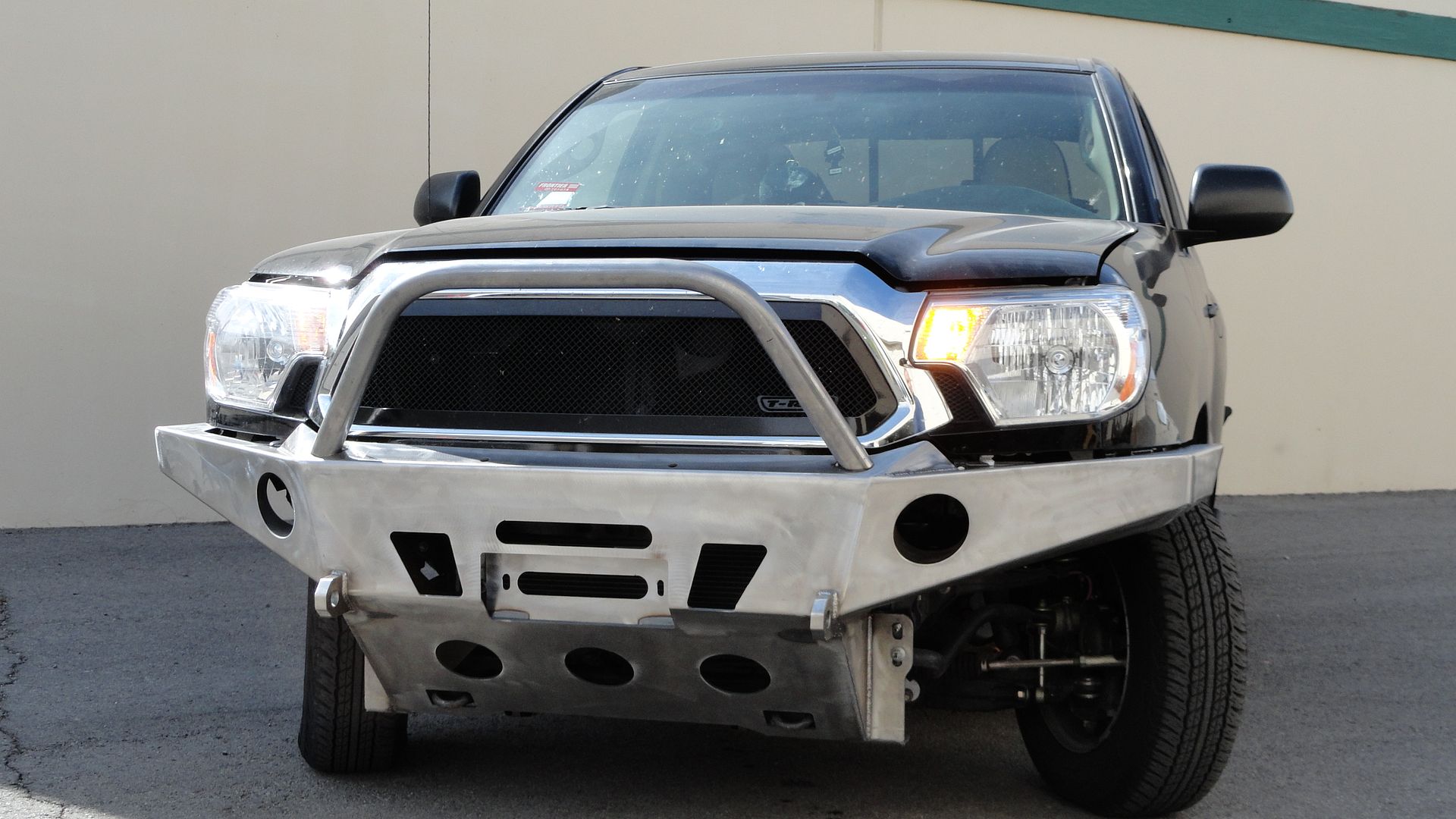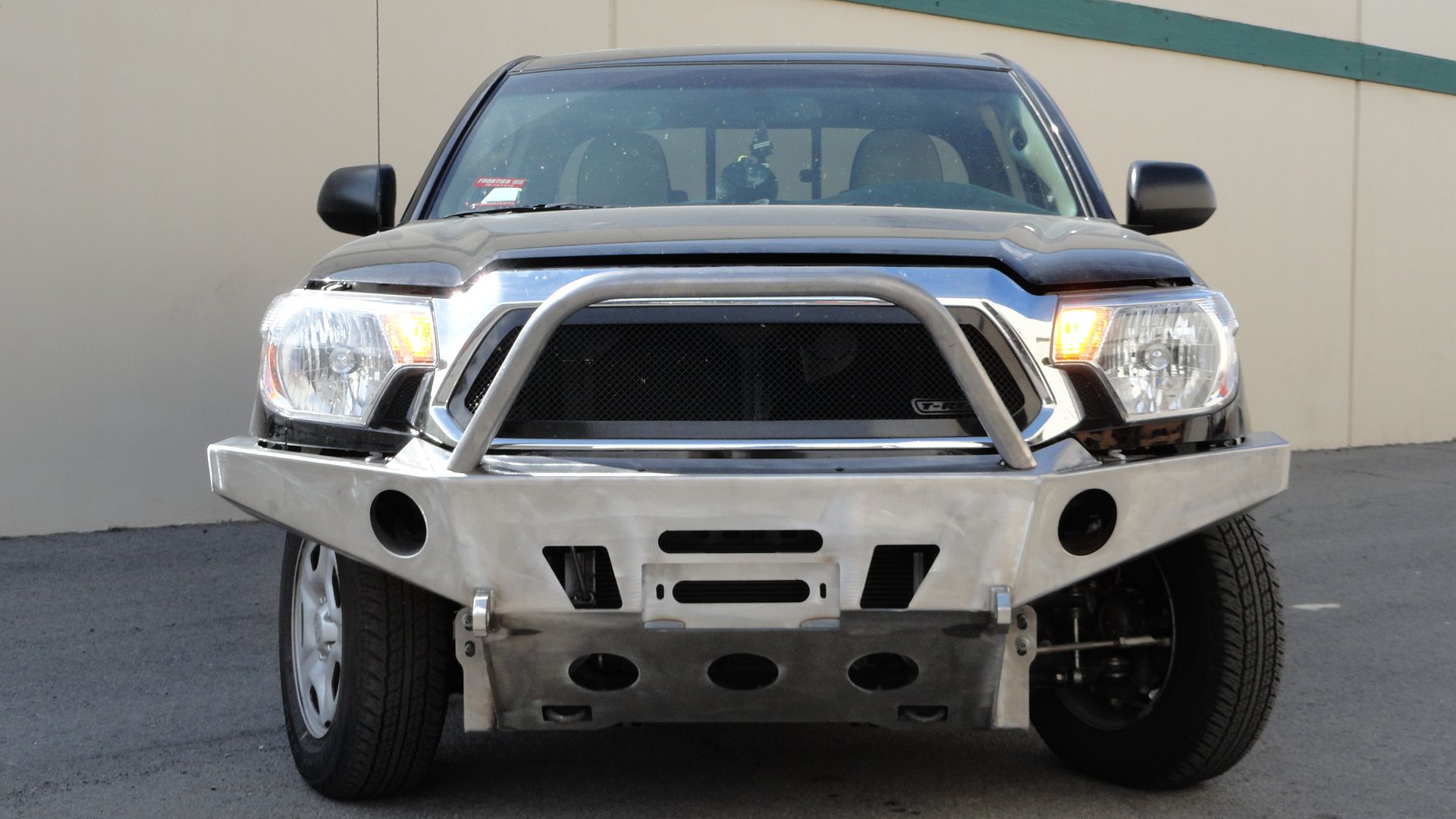 Shown with optional fog light receses and Predator guard top tube: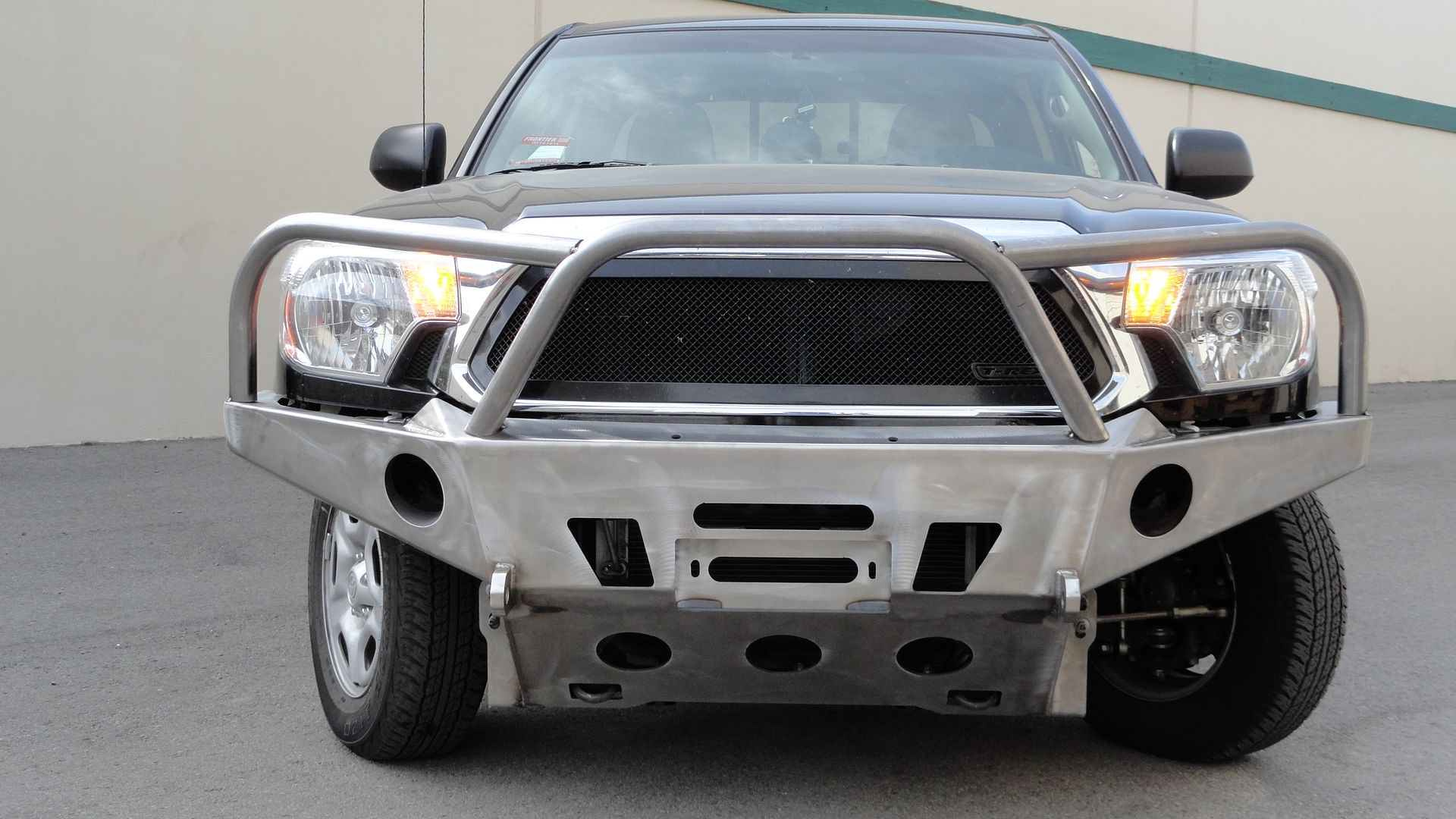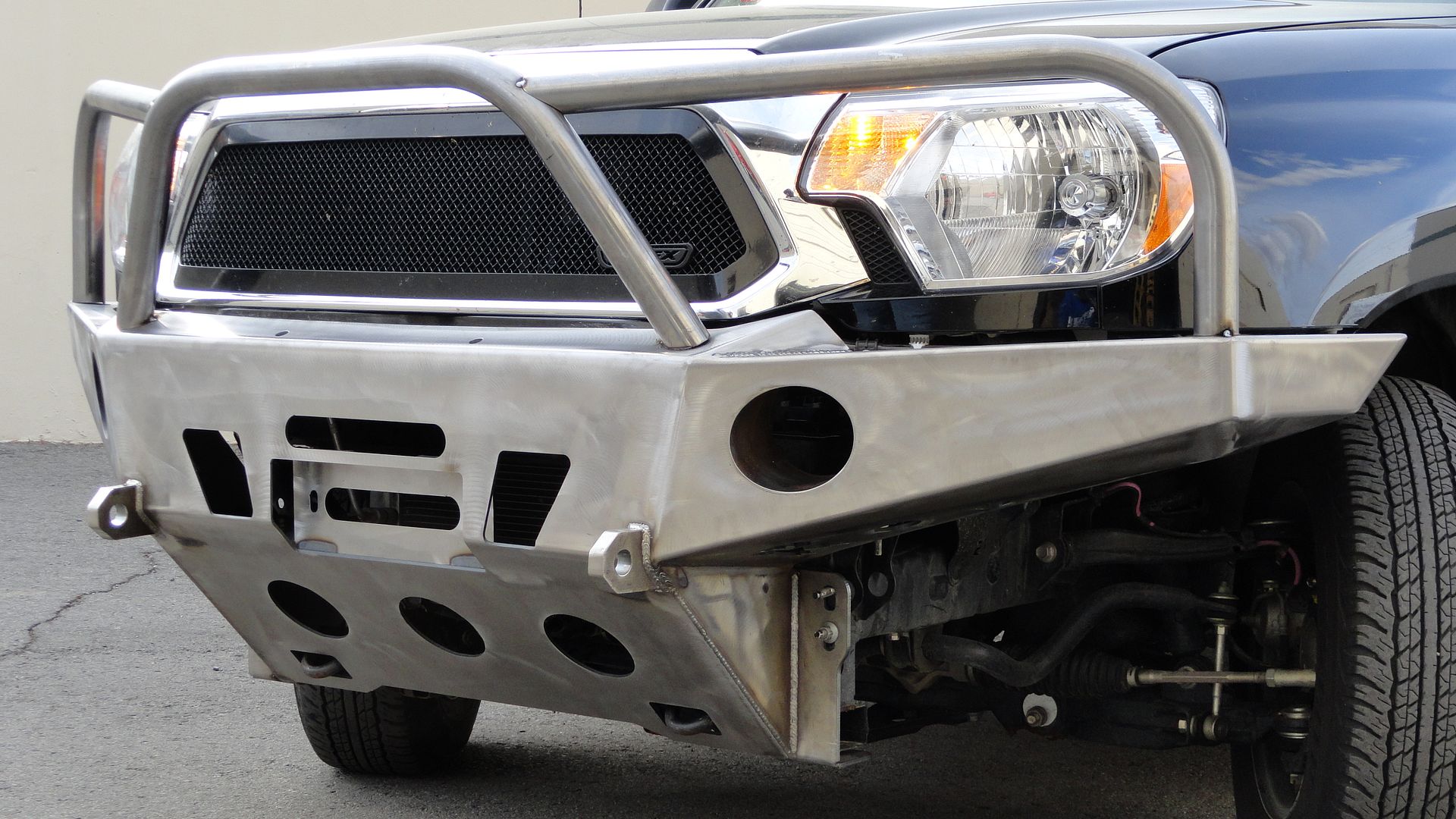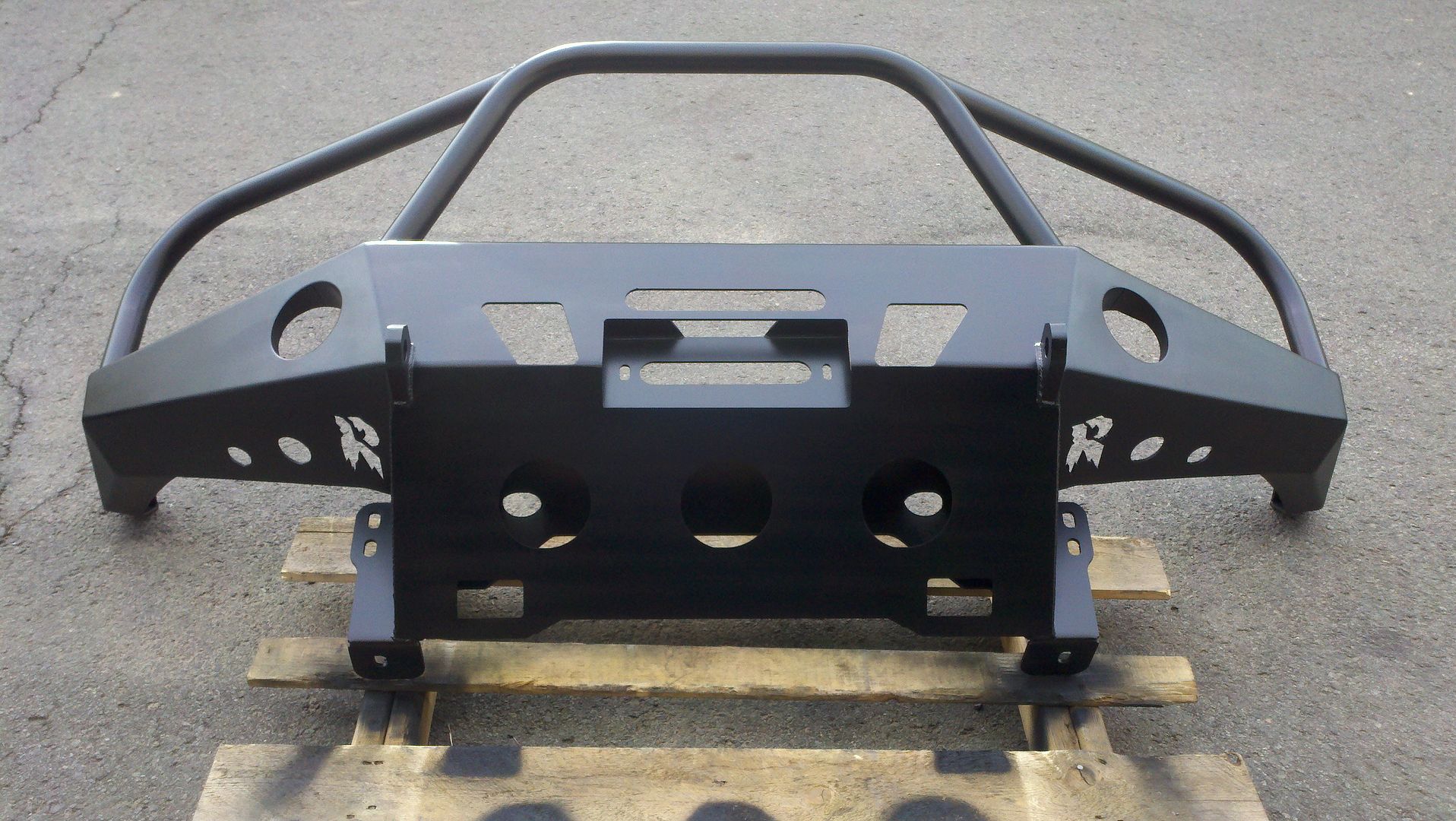 Installed pictures of customer bumpers: